Pumpkin season is back and I for one am ready to make the most of it!
There's something so wonderful about trying to eat seasonally. Not only is it better for you, the environment, your pocket and the flavour department, but it gives you things to look forward to.
Those first new potatoes, asparagus, strawberries, peaches, pumpkins, oysters, all become a gift and something to be savoured while they're at their best.
This cheeky little soup makes the very best of the new season pumpkins and squashes.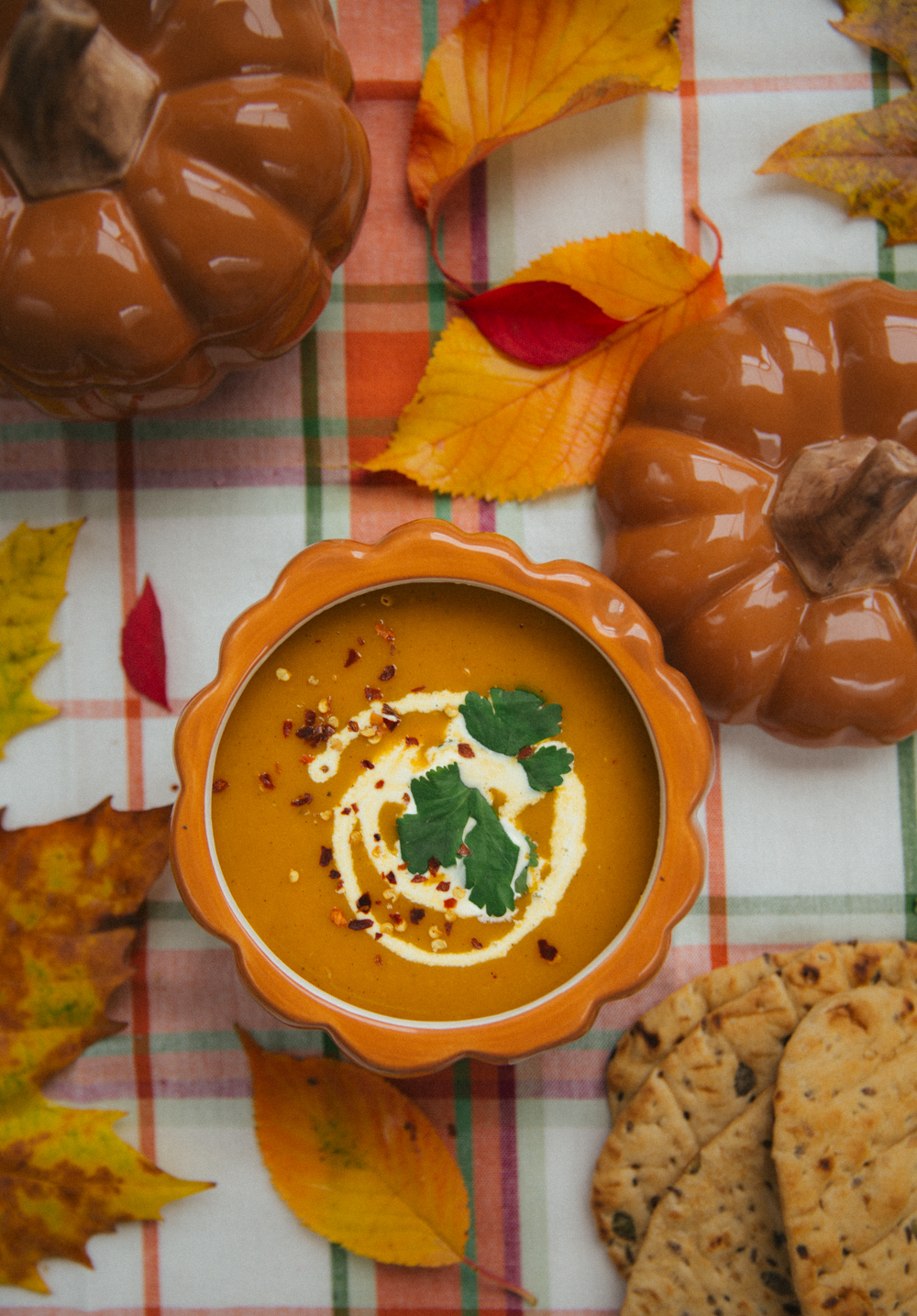 Fragrant, gently spicy, creamy, rich and packed with as much flavour as a Friday night take away, with none of the regret.
Naturally vegetarian and can very easily be made vegan.
To serve 2 you'll need:
1tbsp Olive oil  
1tbsp Sesame oil 
1 Onion, chopped 
1 Large clove of garlic, peeled and crushed 
Piece of ginger (about the size of your thumb), peeled and crushed 
1tbsp Red Thai curry paste 
700g Pumpkin or squash of your choice, peeled and chopped (butternut is excellent and you could always buy it pre-prepped)
3 cups vegetable bouillon  
1 Tin of coconut milk 
1tbsp Fish sauce 
Juice of 1 lime
1tbsp Soy sauce 
To serve: 
Sriracha 
Coconut cream 
Chilli flakes
Coriander 
Heat your oil on a medium heat, in a big saucepan. Throw in your chopped onion, garlic, ginger, red curry paste and fry together until soft.
Add your pumpkin/squash and mix until coated in that delicious spiced mix!
Add your stock, coconut milk, and leave bubbling away on a medium heat for about 15mins.
When the time's up, add your soy sauce, fish sauce and lime juice,
Either transfer to a blender or use a stick blender until smooth.
Pour into bowls and serve with a small jug of coconut cream for people to add a swirl if they please.
Chilli flakes and coriander are also nice extras.
If you want to go a little autumn crazy and cover the table in fallen leaves the colour of jewels, well that's up to you!
Silver & gold saucepans (new and I love them!)
Ad - Shop this post