You know very well how I feel about picnics.
They are the very best way to make the most of summer, and when your summers are as short lived as London's, you really need to make the most of them!
These little Banoffee Pie Jam Jars will slip into a picnic basket/tote/briefcase or gym bag. Perfect for al-fresco lunches, suppers or perhaps a very civilised afternoon tea on the lawn.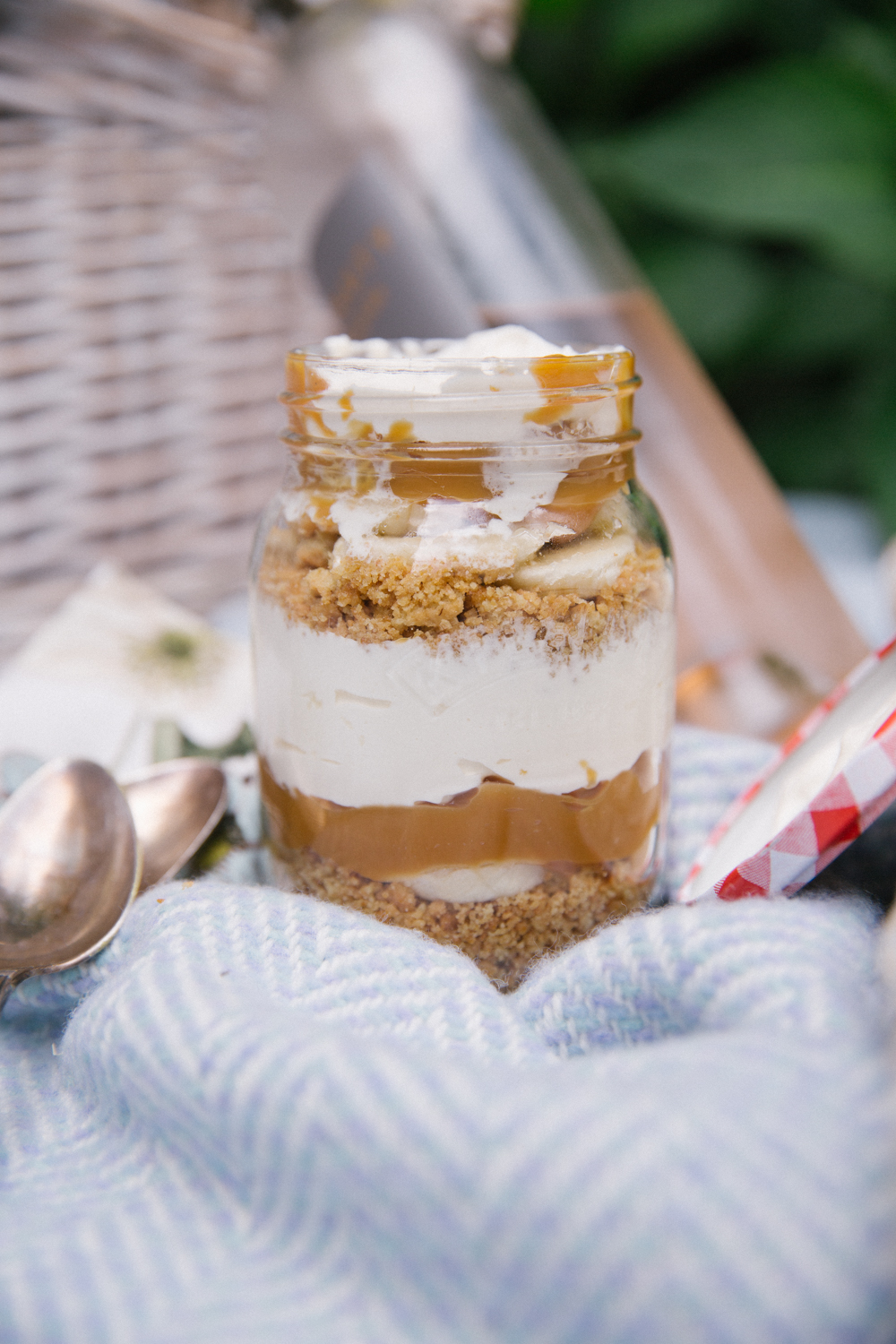 You can make them as small and dainty or big and beefy as you like.
My lack of small jam jars means I'm forced to make huge ones…
…it's a real hardship.
To fill 4 regular sized jam jars (the type you actually buy jam in) you'll need:
8 digestive biscuits
60g butter
1 jar of caramel
2 bananas, sliced into coins
200ml double cream
1 tsp vanilla extract
4 jars with lids
Start by popping your biscuits into a sandwich bag and bashing them into a rough sand sort of consistency.
Melt your butter and stir into the sand until nicely combined and glossy. Place on one side, ideally in a bowl.
Whip your cream and vanilla extract together until it forms stiff peaks.
Flop into a bowl and set up your layering station.
(This is a particularly fun recipe for kids to help with, there's no risk of burning and it really is plain sailing from here on out.)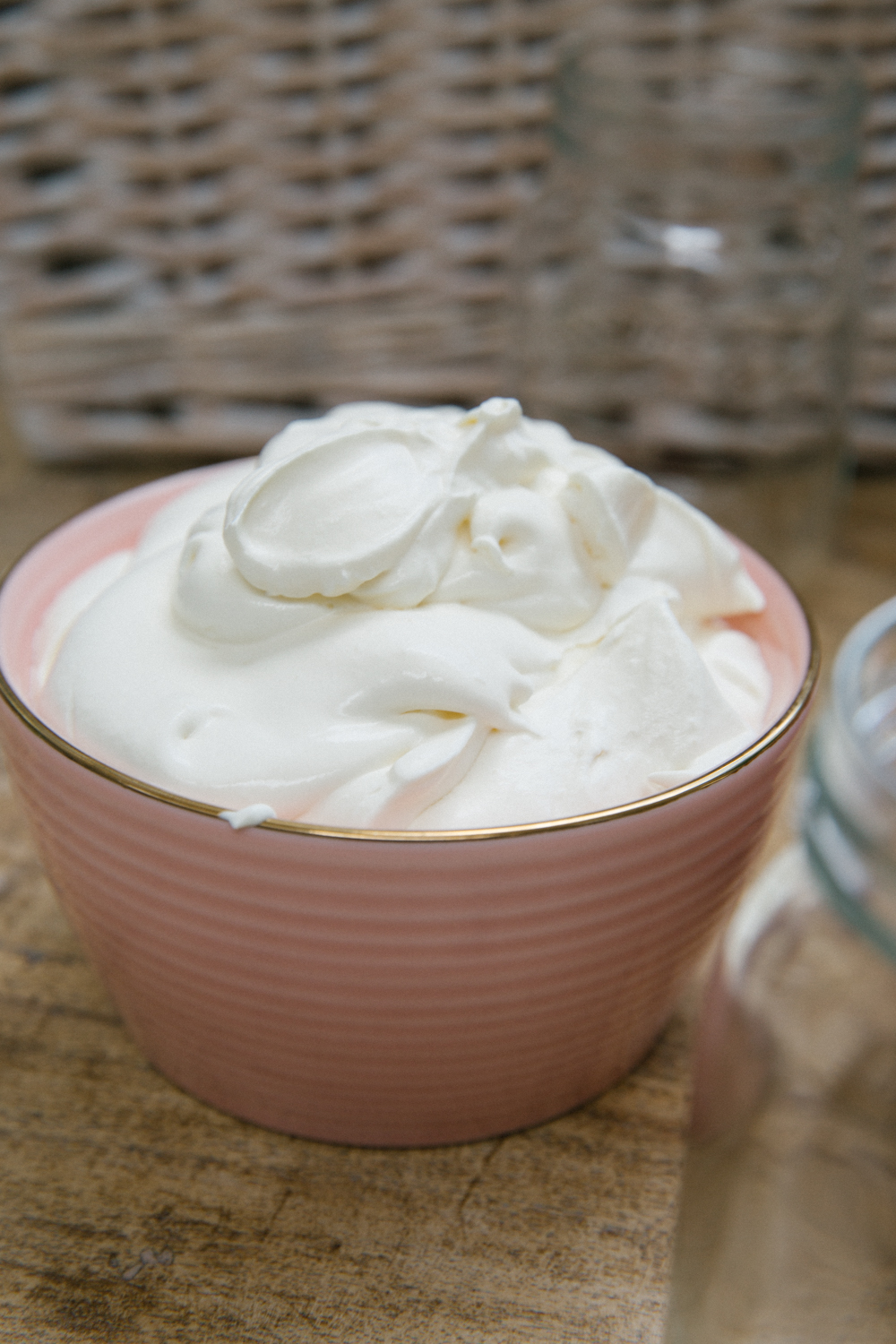 You could always make your own caramel, but when the weather's this close and clammy I'd rather not.
Particularly when you can find things like this on supermarket shelves…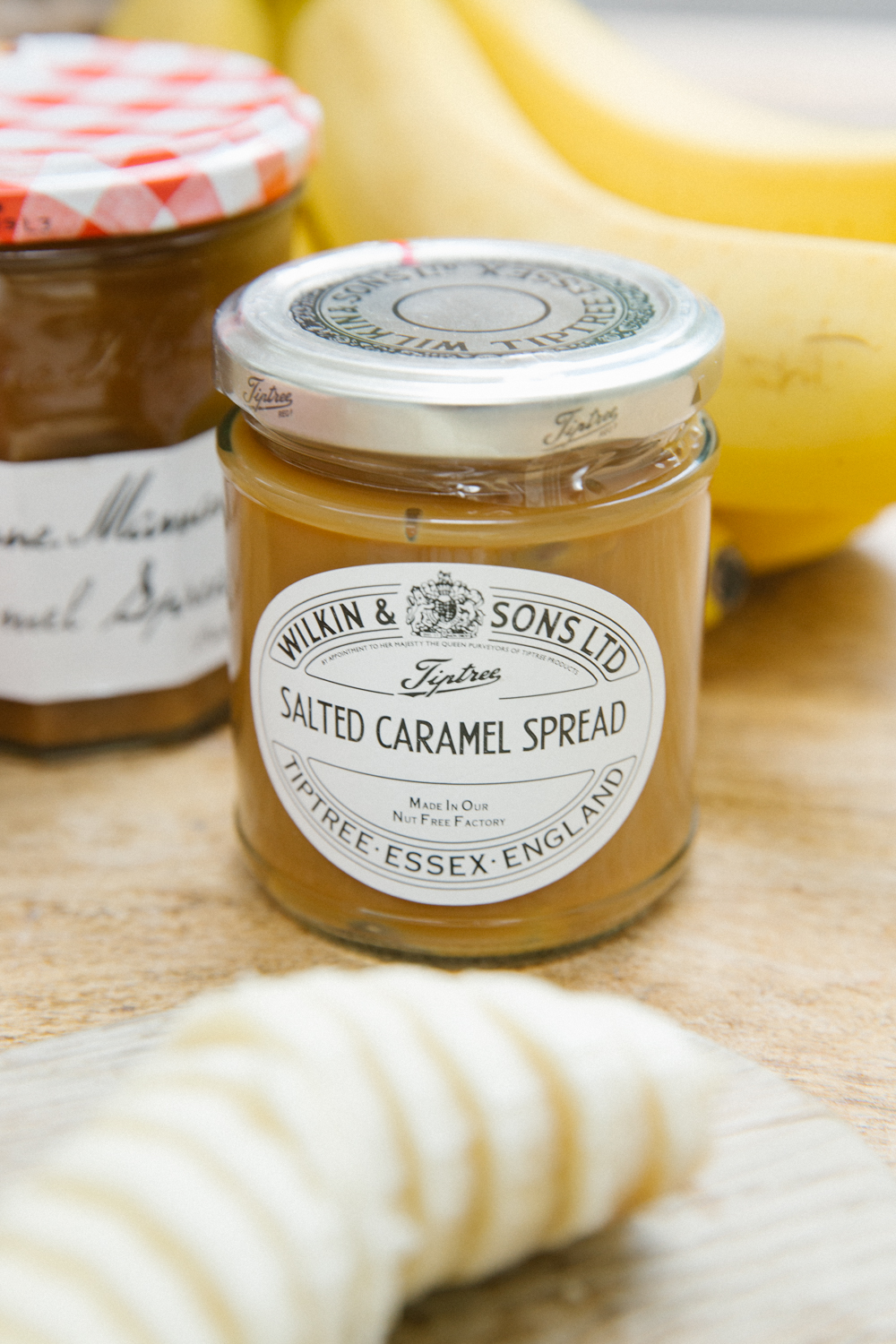 Layer up your jars. Starting with your buttery biscuit base.
Top with a few banana slices, followed by a spoonful of caramel.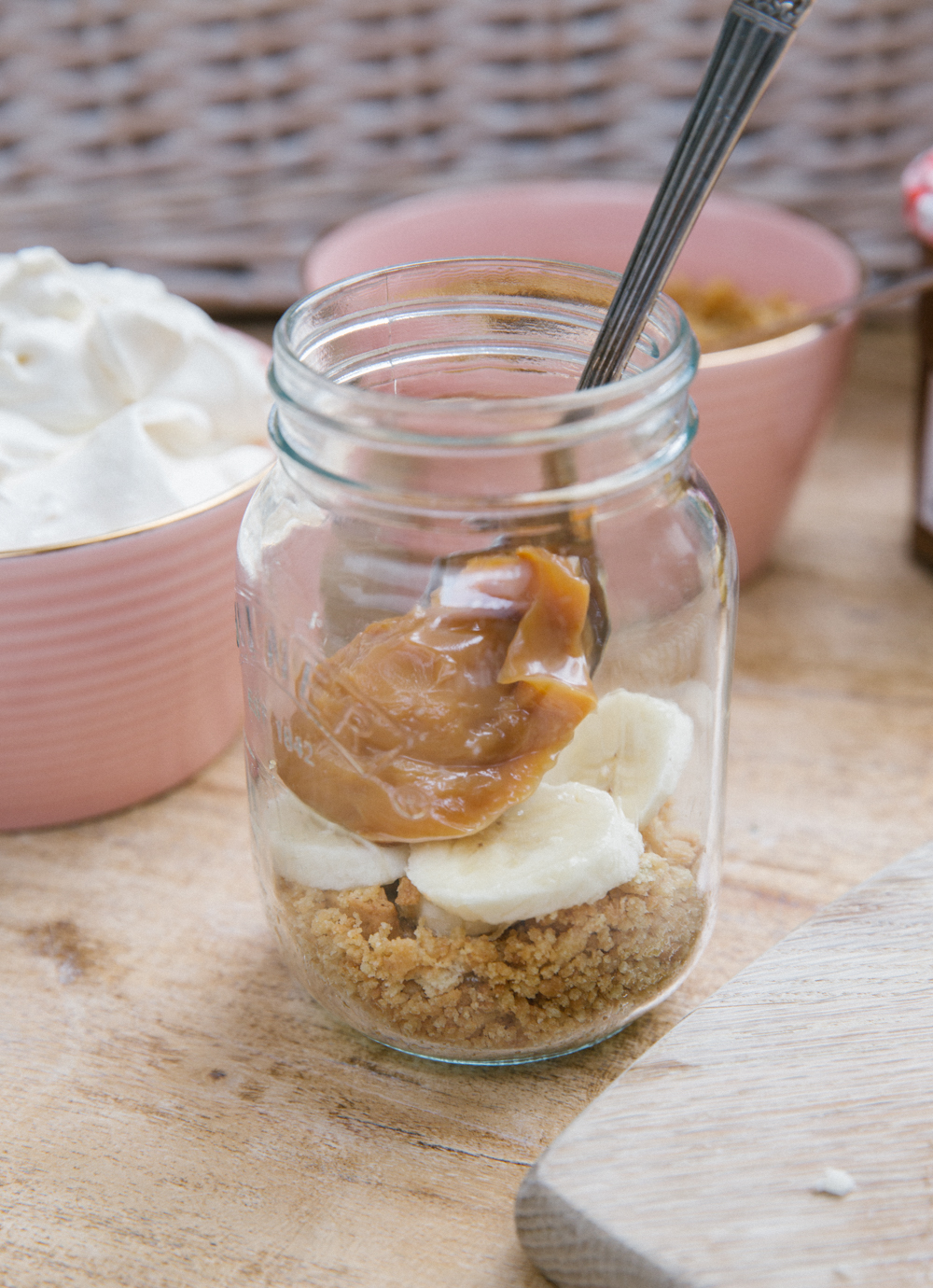 Top with cream.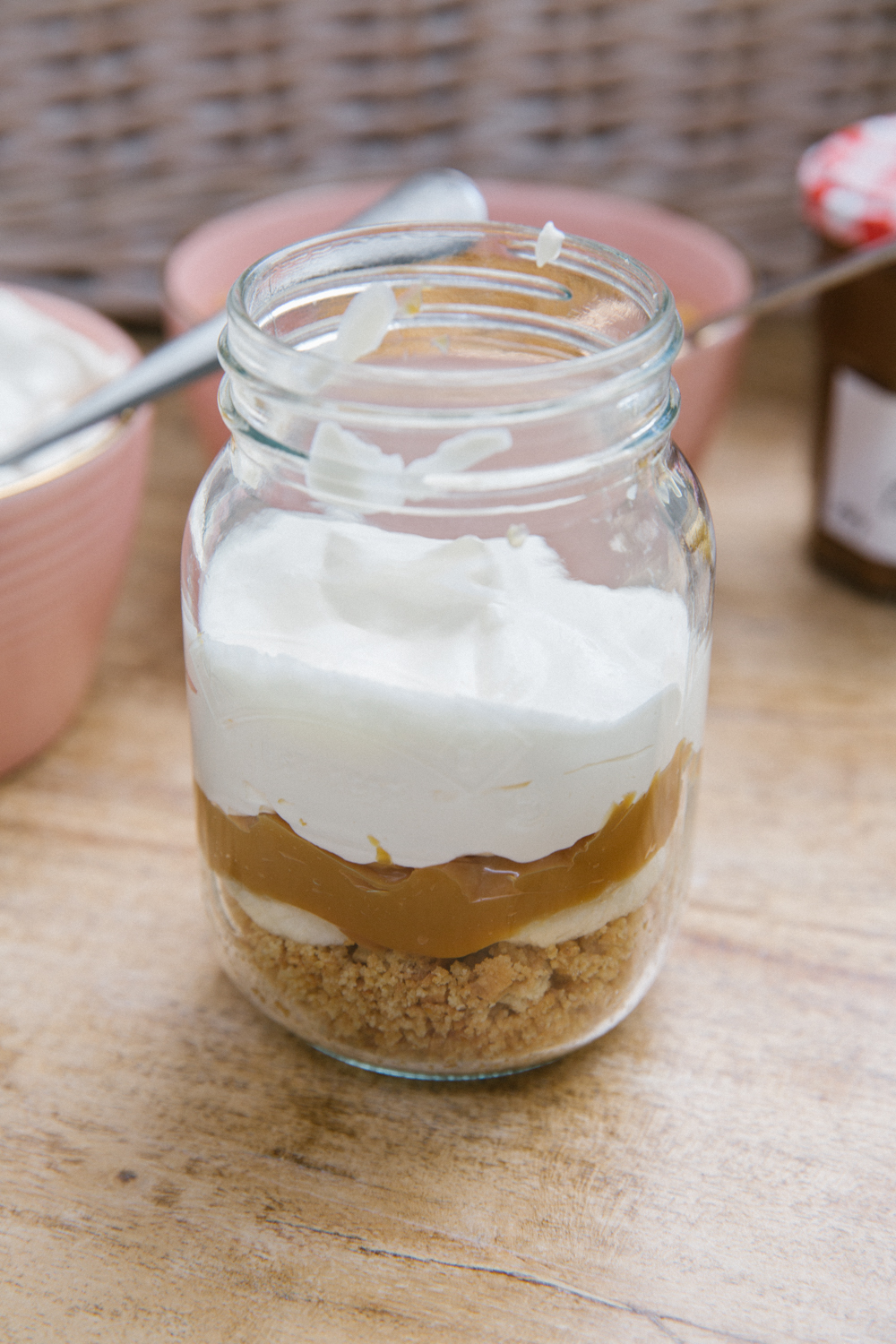 Repeat until full.
Seal them all up, pop 'em in the fridge until you need them – you could easily do this a couple of days in advance.
Then just grab and banoff-you-go!
The sweetest travelling pudding you ever did see.
Don't forget to pack spoons!
Not that your picnic buddies wouldn't love to see you try and eat these without one.