I have butterflies writing this post!
Isn't that funny? That after all these years of writing to you I can still feel nervous and excited.
For a long time after I started this blog I treated it as though I were corresponding with a friend, far away in a foreign land. Someone I knew and loved who was eager to hear of my adventures.
Over the last couple of years the internet has changed, I don't know anyone online who hasn't felt the shift. Somehow it feels darker, people can be crueler than ever before – emboldened by their supposed anonymity and embittered from watching others share their seemingly unattainable lives. For a lot of people the sheer noise of negativity has drowned out the love. Drowned out the positive voices of friendship and replaced them with the twisted loathing of "haters" (who, as we all know really only hate themselves).
I work in an industry where people discuss this darker side a great deal and for a short time I wondered if it was true, if the light had died out and that sharing snippets of your life had become so dangerous that it was silly to continue. I rarely meet a blogger anymore who doesn't discuss their "exit strategy" because the shine has been lost. To me it's all felt very sad and almost like the end of an era, and the end of innocence online.
And then last week happened.
The first person I wanted to share our happy news with, having facetimed our loved ones in floods of tears, was you.
Not to show off or crow, but to share it with you.
I posted my sparkly Instagram and then watched in utter amazement as the world I had fallen so in love with all those years ago when I started come bursting back into life. Comment after comment of joy, encouragement, excitement and love came pouring in and I savoured each one as though they were chocolates! To feel reconnected with the people I write to almost every day and to get a hefty reminder that we are friends and that they are there for me was so truly special I can't even describe it. People who've followed all along, seen me through all the bad times, terrible dates, all the boyfriends – good and bad (you have to kiss a few frogs!) to share in my excitement about a new chapter was incredible. It's the sort of connection I find at meetups, wherever I host them, and it meant the world.
It has completely revitalised and renewed my love of blogging and our friendship. I hope it lasts a lifetime.
So in return for all of your gracious kindness and excitement, I thought you might like the whole story!
It started on Valentine's Day.
With a bunch of flowers came a letter, typed on his most prized typewriter. Long and romantic, it told me that we'd be having an early supper in Covent Garden before catching the final performance of Max Richter's new ballet.
That I should be ready at 6 and pack a weekend bag with comfy shoes, a dress for dinner and a bikini. (Quite the combo!)
As usual I left everything to the last minute and hurriedly shoved a few bits and bobs (along with wellies!) into a bag before racing off to supper.
The evening was magical, the perfect date and we went to bed very late and completely exhausted.
He woke me at 5am and said we had to go, you can imagine I was pretty thrilled by the early start! He bundled me into the back of a car where I promptly fell asleep, mouth wide open, only the slightest hint of drool and occasional snore. V ladylike, as ever. Waking up with a prod as we arrived at the train station.
I stared at him in amazement and he winked saying he quite fancied lunch at Brasserie Lipp and asked if I'd join him.
We grabbed a couple of croissants and some enormous coffees and hopped onboard. A few chapters of my book later we stepped out into glorious Parisian sunshine.
Paris holds wonderful memories for us. It's where we fell in love and where he lived when we first started dating. Hotel Costes was where he'd take me for some of our favourite dinners and I got a little jolt of excitement when he said we'd be staying there.
We left our bags in the room and immediately strolled out into the city in search of lunch.
At my favourite place, with my favourite rule.
To say we feasted is an understatement! Safe to say we left very full and beaming from ear to ear.
We took a stroll hand in hand around Paris, wafting garlic as we went.
The day was spent enjoying the city and each other's company, eating and drinking, followed by a swim and chill at the hotel.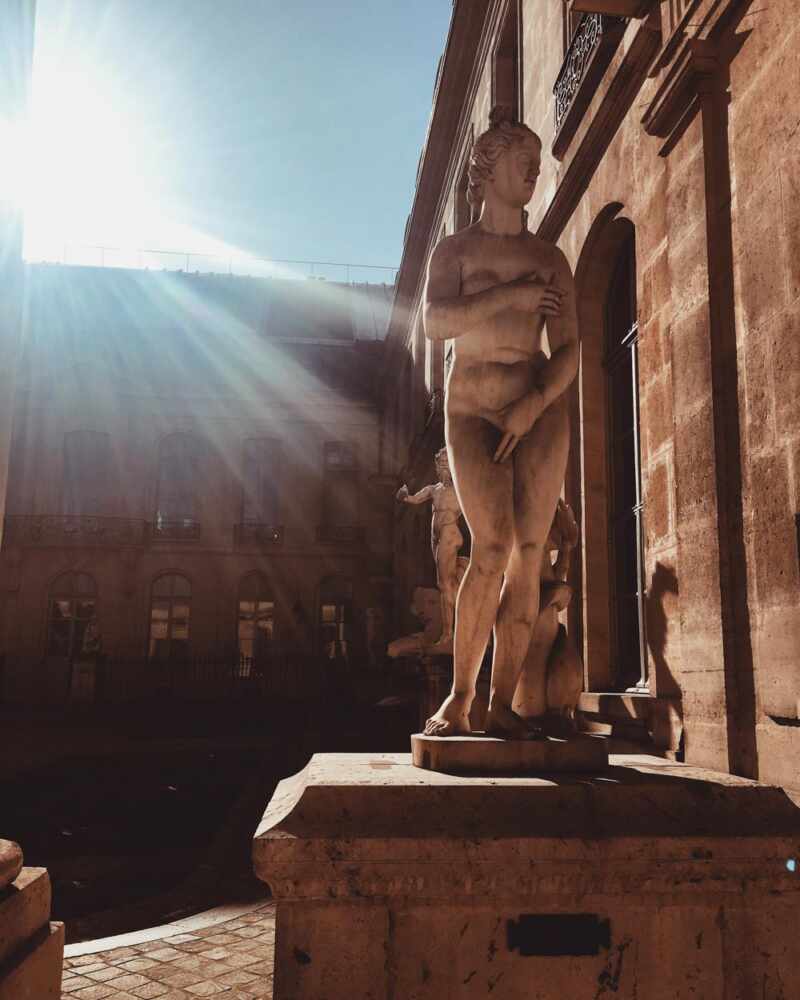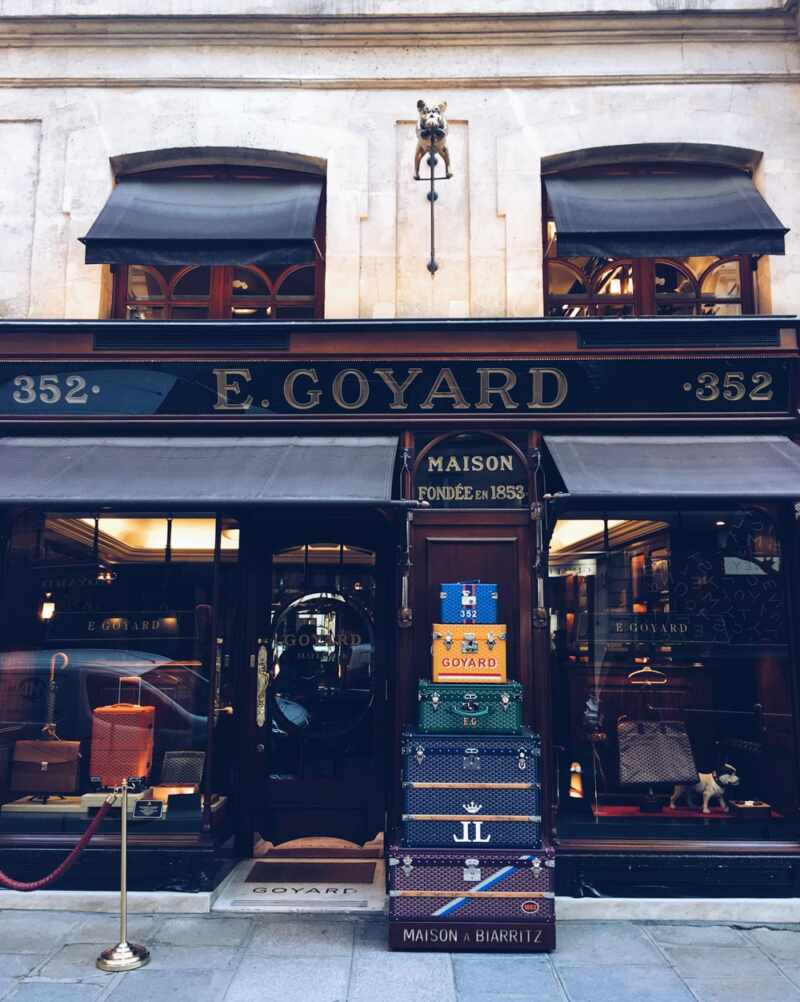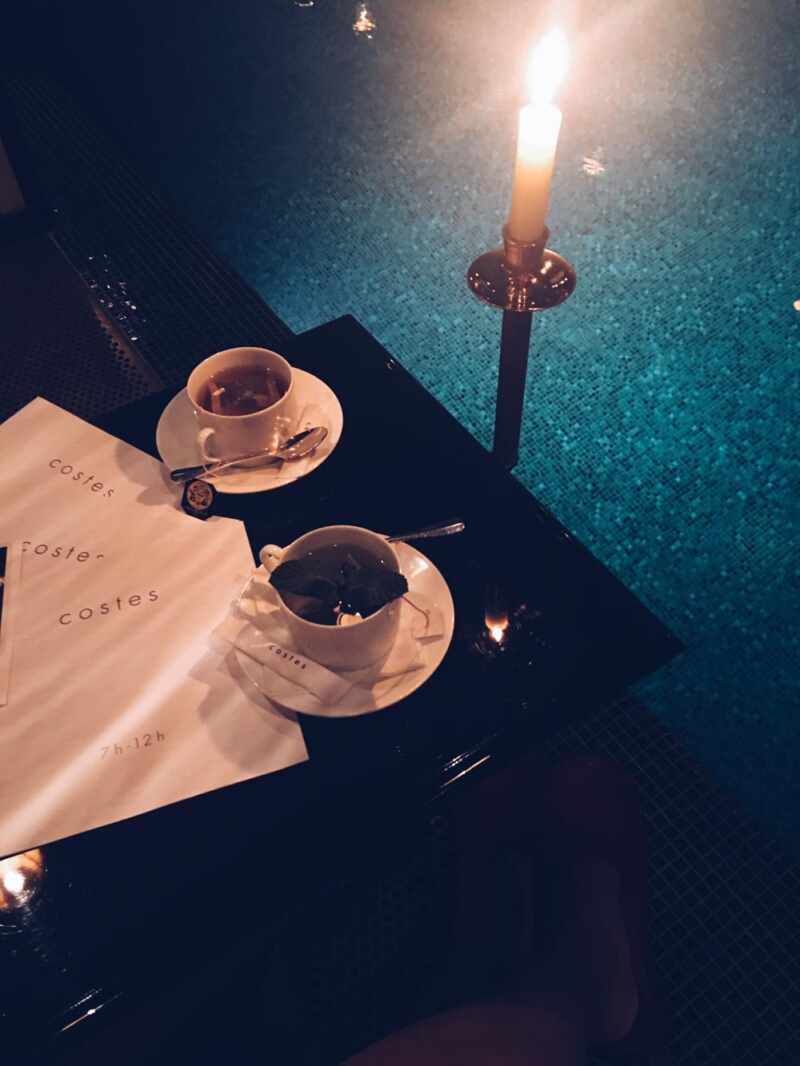 For supper he booked our usual table on the Costes terrace and we had supper lit by candlelight beneath the stars.
After desert we took our usual walk to watch the Eiffel Tower sparkle.
We snuck into an abandoned part of the gardens and as the lady lit up, he took to one knee.
After lots of tears on both sides and a very emotional chat I said yes at 11.11pm exactly.
We stayed there chatting late into the night and called friends and family who all cried and cheered with joy! That night two very happy fiancés fell asleep in Paris with smiles that wouldn't budge.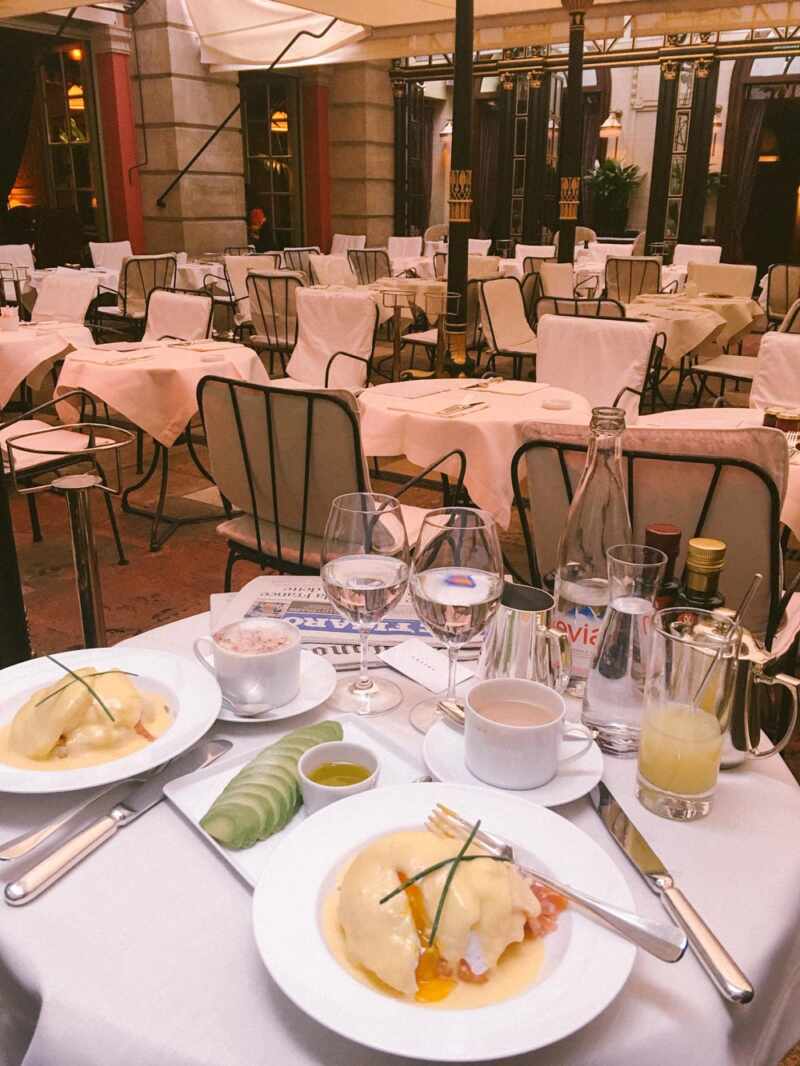 The next morning we had a late breakfast on the same terrace, this time with the place to ourselves.
And discussed rings.
He had proposed with a family ring, two beautiful yellow diamonds – one canary, one cinnamon, side by side on gold bands that meet underneath. Explaining that he wanted something special to pop the question with, but perhaps we could go shopping for the official one while we were in town.
I've always wanted an antique/vintage ring because I think it's a romantic idea to give something so precious another lease of life, and I generally prefer the styles.
With no idea about Parisian jewellery shops we decided to go out for a relaxed wander and look around. We never dreamed we'd find "the one".
And of course it was waiting for us.
The second ring I ever tried on in the second shop window we peered into!
We went for lunch to think about it… over cheese.
And raced back soon after to pick her up.
The most beautiful ring I'd ever seen, in the exact colour as my mother's.
Meant to be.
We returned home that evening to find mum waiting for us, a very excited Mr Custard and lots of well wishes. Ever since life has been a whirlwind of dinners, drinks and flower deliveries.
Not that I'm complaining!
I'm excited about this next shot!
I feel like I'm showing my best friend!
A pale blue sapphire with a cluster of diamonds and the tiniest of platinum bands, almost as though it were made for me!
And that's that!
Our story, or a chapter of it anyway.
Thank you again for all of your wonderful support and well wishes, I can't tell you how much I appreciate it.
I'll be hoping for some wedding advice very soon…