As everyone knows, there's no such thing as "leftover tacos".
These are Leftovers Tacos. Epic and incredibly easy tacos made from yesterday's roast.
You can make them from a Sunday roast chicken or have a Boxing Day taco fest with the rest of the turkey!
They're very versatile, fresh, spicy, zingy and just what you'll be craving after a couple more weeks of Christmas cooking.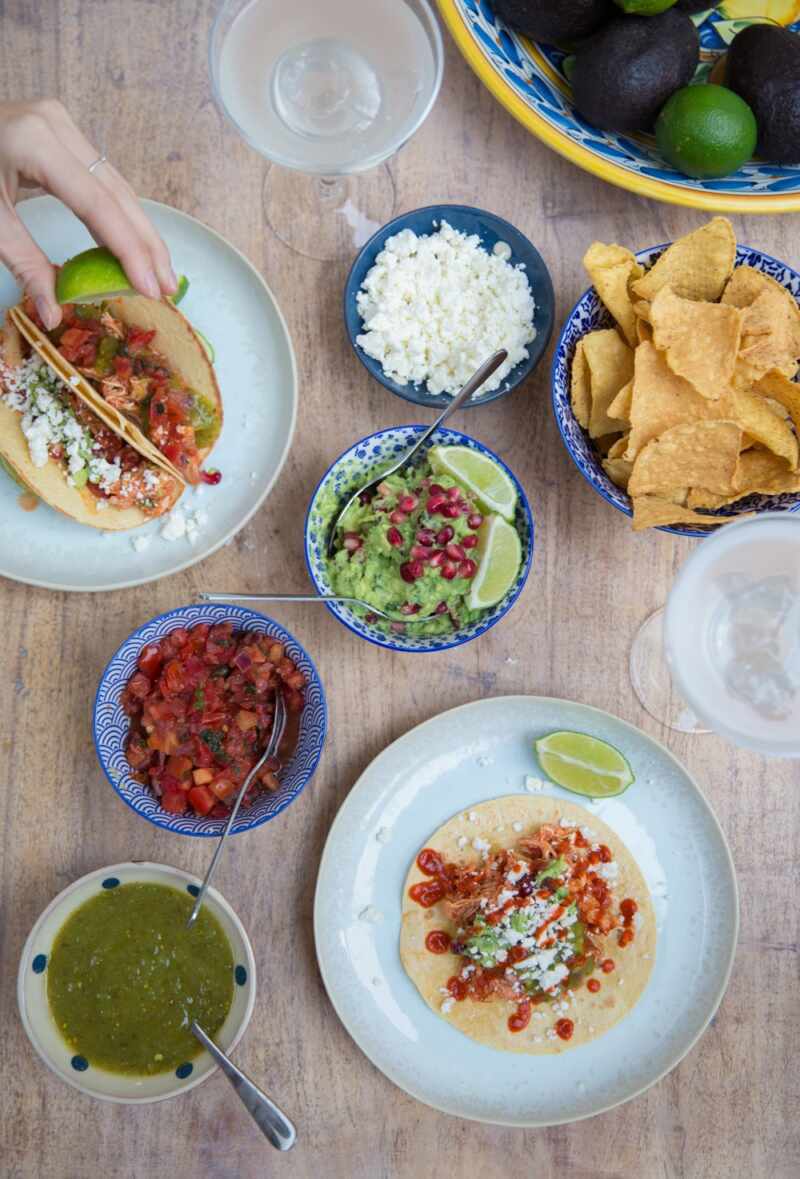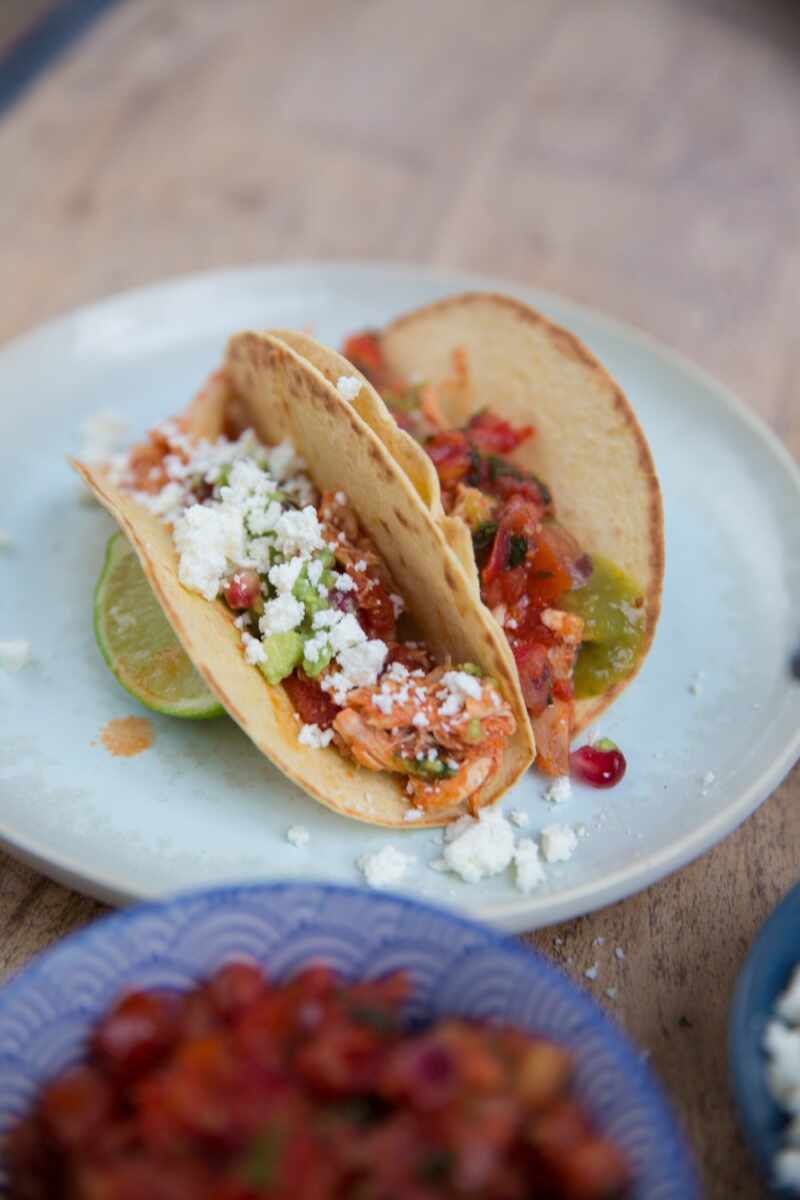 To serve 4 people you'll need:
Filling
Olive oil
1tsp chilli flakes
1 clove garlic, crushed
4 good handfuls of shredded cooked meat (turkey or chicken)
1 400g can of chopped tomatoes
1-2tbsp sriracha or hot sauce
Salt
Feta cheese
10+ soft tacos
Guacamole
2 ripe avocados
Juice of 2 limes
Torn handful of coriander, chopped
Handful of pomegranate seeds
Salt
Salsa
2 handfuls cherry tomatoes
1 handful spring onions
1 handful coriander
Splash of white wine vinegar
Juice of 2 limes
Salt
Start by shredding your bird. It's easiest to do this by hand when it's at room temp. Put the meat to one side and heat a good glug of olive oil in a pan.
Add your garlic and chilli flakes, cooking gently & flavouring the oil.
Once the oil's good 'n' hot, add your meat and toss.
Add the toms, hot sauce + pinch of salt.
Cook on high and stir until bubbling away nicely.
When it looks about ready, remember the meat is already cooked you're just heating it up and thickening the sauce, turn the heat way down and prep your sides.
To make the guac, crush your avocado, add lime juice, chopped coriander, pinch of salt and fresh pomegranate seeds.
To make the salsa, blend or roughly chop the ingredients listed in the "salsa" section above.
Crumble your feta into a bowl.
Heat a dry frying pan and use it to toast your taco wraps on each side. Let them bronze (maybe even blacken a little) and pile up.
Now you're ready to roll!
Or should that be ready to wrap?
Serve up and let everyone get stuck in.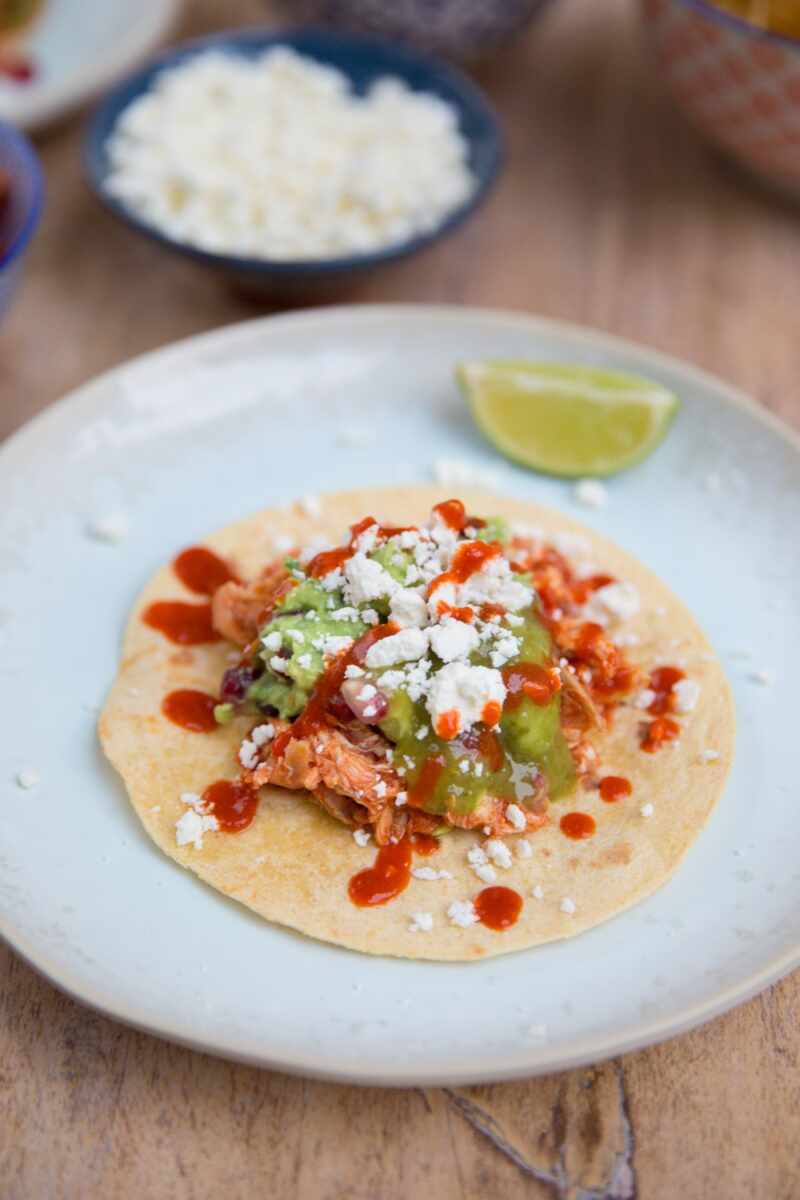 Personally I like to pile meat on first, then guac, then salsa, then queso then hot sauce.
But just go with whatever feels right!
Mix it up a bit.
Either way, you're going to love the variety, the spices, the freshness.
I can see this becoming a weekly habit.
Just keep prying noses away…
If you really want to go all out, serve with my frozen margs.
And if you were to say… pop out to buy a rotisserie chicken rather than using leftovers and maybe even just buy a jar of salsa… well, I won't tell if you won't.
Taco'bout easy!
Ps. My new plates are from here.