He's making a list, checking it twice…
So whether you've been good this year or you're just really good at being bad, it's time to send your own list to St Nick.
I've popped a little inspo below, whether you're shopping for loved ones or yourself… hopefully you'll find something that tickles your pickle.
The Outdoorsy Type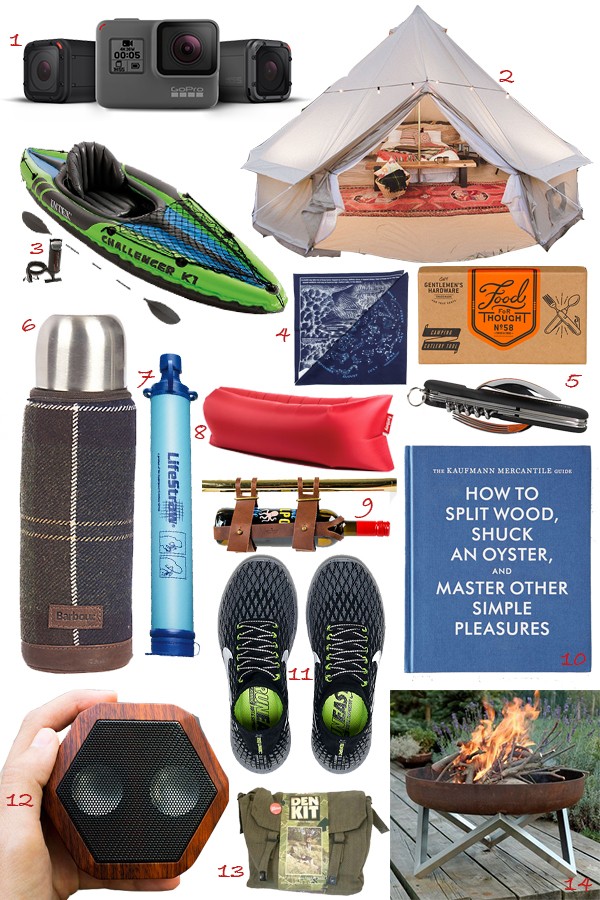 Gifts for the adventurer in your life!
1.GoPro – to capture the adventures and relive them for a lifetime
2. Glamping Tent – For the "I'm outdoorsy in that I like to drink wine on terraces" sort of loved one.
3. Inflatable Kayak – You never know when this'll come in handy!
4.Sky Bandanas – Map the stars and keep warm in style 5. Spork Camping Tool
6. Flask Cosy flask to keep your tea/mulled wine warm. Particularly good for the hunting/fishing/shooting type.
7. LifeStraw Water Filter – For the wannabe Bear Grylls. 8.Air-Filled Couch – Great for camping, concerts, pools, the first genuine innovation in the inflatable world! Very cool.
10. How to Split Wood, Shuck an Oyster and Master Simple Pleasures
11. FlyKnit Shield Trainers – Waterproof trainers. Need I say more?! 12. Wood Water Resistant Speakers
13. Adventure Kit – For young adventurers
14.Steel Fire Pit – For when you want to feel outdoorsy from the comfort of your own garden. Marshmallows not included.
The New Home Owners & The House Proud
Perfect pressies for those just getting set up, or those who fancy a bit of a refresh. Great "joint gifts" for couples, too!
1.  Cream Artisan KitchenAid – A classic to thrill even the hardest of cooks. 2.Gold and Glass Cocktail Shaker – As beautiful as it is handy.
3. Sonos Speakers – The gift of music, wirelessly, throughout the house. We use these, they're life changing.
4. Peacock Merino Wool Throw  5. Granite Pestle and Mortar 6. Stone & Brass Book Holders
7. Snuggly Robe for Her 8. Blue Non-Stick Pots and Pans – A set of beautiful, but more importantly useful cookware.
9. Blue & White Porcelain Dog Bowl – For the classicists with a sense of humour. Also top of Mr Custard's list.
10. Snuggly Robe for Him 11. Dachshund Bookend Set – Dachshund lovers are almost always book lovers. A gift that satisfies both passions!
12. Winter Home Scent & Candle – Heaven scent
13. Travel Backgammon Set – A must for every household since the 70s.
14. Personalised Stocking Bag – Who wants a stocking when you can have a whole sack?
15. Le Creuset Cast Iron Pot – A gift for a lifetime's use
16. Soft Sheets – The gift of a good night's sleep and better skin? Priceless.
17. Cream Nespresso Coffee Machine – Espresso yourself!
The Foodie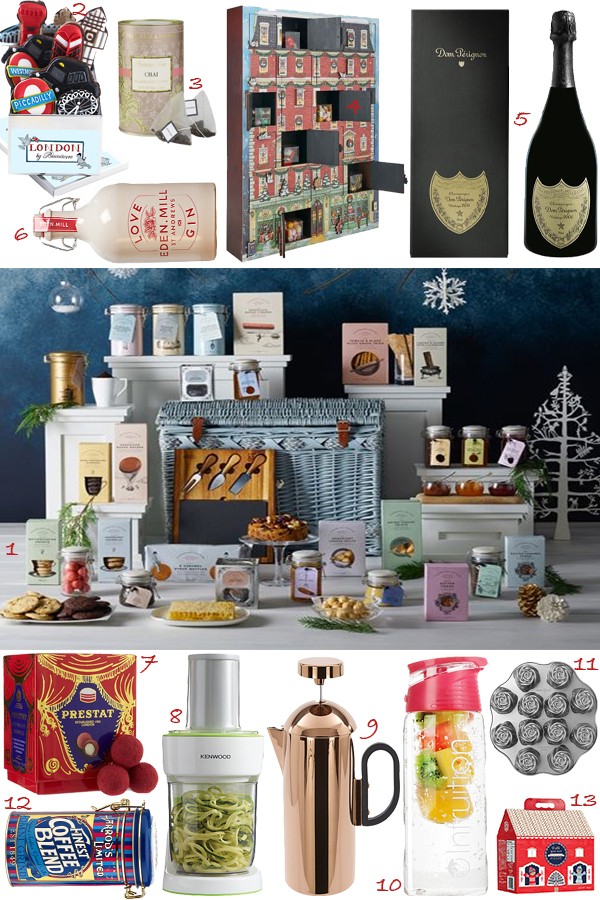 1. Christmas Hamper – The cheat's way out, and they'll love you for it!
2. Tin of London Biscuits 3. Chai Christmas Tea – All those Christmas flavours in the (tea) bag!
4. Wooden Advent Calendar – A beautiful festive tradition that'll last through the years. So much more special.
5. Bubbly
6. Alpine Eden Mill Gin – Particularly good for mothers who will no doubt deserve some after all that Christmas prep.
7. Red Velvet Truffles – The best of the best.  8. Electric Spiralizer – Just in time for that inevitable January health kick
9. Rose Gold French Press 10. Fruit Infusing Water Bottle – Great for those on the go, or getting healthier al-desko
11. Roses Cake Pan – A rosy treat for the baking mad
12. Collection Coffee Blend – Mostly for the packaging if I'm honest
13. Build Your Own Gingerbread House Kit
The Littles
This is enough to make me want sprogs!
1. Activity Set – Perfect gift for busy littles. All natural, all good.
2. Christmas Jumper – Compulsory.
3. White Horse I mean, who doesn't want to wake up to a pony under the tree?!
4. Animal Crayons – Easy for little fists to hold onto.
5. Sophie The Giraffe – The gift for babies. Trust me.
6. Make your own Paper Rocket – Feed their imagination. Combine with #4.
7. Personalised Bunnies – The "I love you to the moon and back" bunnies, with your names embroidered. My fave Littles option.
8. Grow your own plant kit  9. Foxy Gloves
10. Retro Racing Car – I won Christmas with this gift last year. Just saying.
11. Christmassy Onesie – LOOK AT IT!
12. Ride On Pony – See reason #3.
13. Box of Tricks – Buy this, then start practicing your face of amazement.
14. Dragon's Castle Construction Kit 15. Furreal Dragon – I would have wanted this for sure. Pro-tip : Keep it away from the dog.
The Silver Fox
Once you reach a certain age only the best will do. No gardening shears or socks this year.
1. Special Edition Scrabble – It's time for an upgrade. They deserve one. 2. Moisturising Balm – The ultimate cream for cold, dry hands.
3. When Life Gives You Lemons Deck Chair – Maybe His'n'Hers for the garden?
4. Jo Malone Perfume Selection 5. Silver Salt & Pepper Shakers
6. Leather Portfolio – The new briefcase  7. Silk Scarf – A forever gift
8. Polka Dot Pocket Square – For the refined gent
9. Oversized Knit Blanket – A big, snuggly, heavy knit blanket for snuggling under. I have this, it's the dream!
10. Personalised Mug  11. Rose & Violet Creams Chocolates
12. Smart Leather Gloves 13. Chicken Apron – For all that clucking cooking they do!
14. Leather & Tartan Gloves 15. Words Game – Something they can beat you at all afternoon
16. Royal Collection Tea – The priceless gift of a good cuppa (in a lovely box to go on the kitchen shelf)
The Fashionista
If she lives for fashion, she'll love any/all of these!
1. Valentino Tote – A total splurge, over the top, wow gift. Big enough to slip a laptop/ipad into. Smart enough for work, chic enough for every day and dress up. A real all rounder!
2. Rose Gold Water Bottle – Every fashionista knows that the foundation to looking good is drinking lots of water. This is a chic little update on an essential she'll love having on her desk.
3. Velvet Jewelled Flats – The ultimate festive flats (with a high st price tag – for the luxury ones go here)
4. Silver May Sparkler –
"White topaz is said to foster success. It helps to clarify your thoughts and manifest your intentions into reality.

If you're feeling a little overwhelmed and all over the place, you need a little more white topaz in your life."

What better gift than a lifetime of success and a little sparkle to go with it?
5. 'The Ultimate' Beauty Kit – 32 products to make her feel brand new again  6. Embroidered Silk Sleep Mask – A busy fashionista's essential. Especially if she travels.
7. Breton Stripe Mittens 8. Bronze Roll Top Clutch
9. Pineapple Sneakers – A lot like the Gucci ones, a lot cheaper.
10. Embroidered Burgandy Bra – Only if you're dating her!
12. Satin Bow Heels – Designed by Sex & The City's very own shoe goddess: SJP – a shoe lover's dream come true!
13. Silver Snowflake earrings – Beautiful and inexpensive.
14. Burgandy Mulberry Bag – A new classic 15. Cat-Eye Shades – Old school chic
16. Black Bowed Mule Flats – Ahem, top of my list Santa…
17. Leather & Silver Headphones 18. Dusky Pink Clutch Bag
19. Soft Two-Tone Wool Scarf – A big snuggly scarf never goes amiss 20. Chanel N°5 Kit – Heaven scent
21. Trio of Bangles – Handmade with love, mixing tones means they go with everything and will last a lifetime.
The Fashionisto
Let's not pretend it's just ladies who like to get spruced up! He deserves to look his best too.
1. Navy Pyjama Set 2. Classic Ballpoint Pen – A very grown up pressie he'll treasure forever
3. Cufflinks – Handmade cufflinks in fearsome tiger's eye or amber
4. Tortoise Shell Sunglasses – Good enough for Steve McQueen
5. Leather Weekend Bag – darker colour
6. Avocado Shaving Cream 7. Set of jaunty socks – A must for each and every man in a suit
8. Skull Cream Cableknit Jumper – Killer twist on a classic & not just for Christmas
10. Camel Trench Coat – A serious investment in style. There's very little more delicious than a man in a good coat.
11. Navy Leather Briefcase – Laptop, paperwork, the works.  12. Leather Notebook – For all those clever, billion dollar ideas.
13. Kiehl's Moisturiser – A handsome man is a moisturised man.
14. Sandalwood Shaving Set – Smooth like a sexy sandalwood smelling dolphin.
15. Suede & Leather Backgammon Set 16. Gold Aviators
17. Leather & Needlepoint Belt – Exclusively for chaps. The sort who proudly wear coloured chinos.
18. Purifying Mud Mask – Real men do face masks.
19. Black & Grey Details Peacoat – A timeless classic. 20. Tartan Scarf 
21. Tortoise Shell Glasses – Find out his prescription and hook him up with some gorgeous t-shell glasses
22. Monogrammed Wallet 23. Interchangeable Lense Camera – to capture all those stylish moments
Cheap and Chic
Lovely bits and bobs that won't break the bank. Stocking stuffers if you want, or just nice pieces for friends.
1. Jungle Print Pyjamas – Silky palm print pjs 2. Celebrations Chocolates – It wouldn't be Christmas without a tub of chocolate!
3. "Please Be Gin" Mug 4. Nail Art Pen – Particularly good for early teenage years!
5. "Merry Christmas Ya Filthy Animal" Jumper
6. Chocolate Orange – It's not Terry's, it's mine.
7. Feathers Paper Print – I have these marvellous prints up in my office and bathrooms.
They come in all kinds, and are really very beautiful. Incredibly cheap because they're actually wrapping paper!
8. Embroidered Striped Shirt – 100% cotton, 100% adorable
9. "The Mum" Book – Witty little book for mums everywhere  10. "Failed It" Book
11. Cinder Toffee Coal – For bad boys and girls  12. Heatable Unicorn – The gift of a nice warm cuddle(ing unicorn!)
13. Red Lipstick 14. Jelly Beans 15. "The Dog" Book
16. Sweet Shop Favourites Box – Ideally give to someone who'll let you share.
17. "The Husband" Book – Good one for brand new or very worn in hubbys.
***
For The Others 
Put yourself firmly at the top of Father Christmas' nice list.
With all of the excitement and sparkle around Christmas it's easy to get wrapped up and swept away with it all.
This is the time of year when even the smallest gesture can have the biggest impact.
Please consider just buying one or two pressies for people you'll never meet. Those who are struggling, without loved ones, alone, out in the cold or fleeing their own personal hell.
Give a home to a family without one (£5 – £80)
Give a gift to women and children fleeing domestic violence (£5 – 3100)
Give warm clothing to a child in Syria (£34)
Give a sleeping bag, a tent, a blanket to refugees in Calais (£10 – £100)
Teach someone to read (£10)
Immunize a child (and more) (£10)
Fuel a lifeboat (£10 – £100)
Give granny or grandad some company (£20 – £75) – or donate time for free!
Do whatever speaks to you. And put at least one on your Christmas list for others to buy you too.
If we all chipped in just a little we could make one hell of a difference!