Last week I was treated to a little one-on-one session with some of the world's most incredible painters.
Even better in fact, I was invited into their favourite gardens.
You follow me on social media, you know how much I love a good garden.
Life really doesn't get much better than this!
This is the last week to see The Royal Academy's "Painting the Modern Garden: Monet to Matisse" and you have to go.
It is quite simply breathtaking.
I won't share too much, just a little hint of what hides behind those grand doors.
Why not start with my pick of the bunch?
P. S. Krøyer's "Roses"
His wife relaxing in a deckchair in 1893 at Madam Bendsen's house. Marie Krøyer reads as the dog snoozes at her feet, an empty chair beside her, where perhaps Peter would sit when he wasn't busy painting or photographing her.
There's something spellbinding about the light on the roses, the shadows and sense of calm.
The perfect Sunday afternoon, immortalized.
There are countless incredible paintings, from many of the great Impressionist, Post-Impressionist and Avant-Garde artists from the early 1860s right through to the 1920s.
Rhododendron in Tuxen's garden – 1917
Orange Lilies, Broadway, Worcestershire, ca. 1911
There are rooms filled with Monet's lilies.
You can swim your way through them and drown in his brush strokes.
There are greenhouses filled with sketch books and note pads.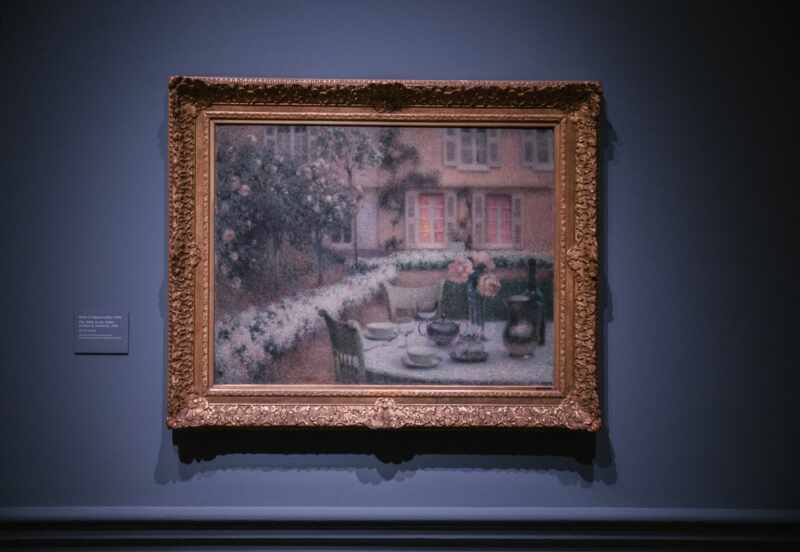 The Table in the White Garden at Gerberoy, Henri Le Sidaner
Painted in 1900 but it appears timeless.
Henri Le Sidaner's Les pots de faïence, 1928
Painted in the Gerberoy gardens near Picardy.
Just the tiniest taste of an overwhelmingly marvelous exhibition. I can't recommend a trip enough, and there's still time if you hurry!
Book tickets online here Or become a member and get free ones.
The best idea is to go early, and then you'll have time to pop out to breakfast afterwards!
Just a stroll across the road and you'll fall into a very comfortable booth at The Wolesley.
Just the place for a little post-culture feed.
English breakfast with all the trimmings.
Eggs Benedict.
Toast with butter, jam, marmalade, lemon curd and chocolate spread.
Don't even get me started on the strawberries & cream doughnuts.
Breakfast of dreams. Book a table, or risk it and sit in the bar.
Before you race off, make sure to peer into every window of the Piccadilly Arcade.
Less crowded than Burlington and just as wonderful.
You'll find some of the most dapper mannequins you could ever hope to come across.
Along with similarly dressed gents scuttling in and out of the shops.
Blue jeans // Pink slippers (similar)
Pop into Maille for some truffle mustard and Santa Maria Novella for a bag of their perfumed potpourri.
Your house will smell like a Florentine cathedral and that mustard will all but change your life.
Not bad for a morning's pootle on Piccadilly!