What on earth could possibly be better than apple pie?
Salted caramel apple pie.
That's what.
Now imagine that mouthwatering combo, in teeny tiny mini form! As cute as they are delicious, that fit in the palm of your hand!
Imagine no more, ma chérie. Your dreams are about to come true.
Puffed up little fluffy pockets of joy.
Filled with warm cinnamon flecked apple and oozing with salty caramel.
The perfect balance of sweet, sour, salty and buttery.
Inspired by my boyfriend's two favourite childhood treats; appelflappen (potentially the best name ever, so fun to say!) and stroopwafel (also a pretty excellent word. Perhaps I should rename my pies?) with a little Pinspo. The recipe is very simple, even for the most novice of cooks.
For about 8 pies you'll need:
2 rolls of all-butter puff pastry (I like this one)
1 large cooking apple
Juice of 1 lemon
2tsp cinnamon
1tbsp caster sugar (granulated)
Caramels (like these or these) or caramel sauce or dulce de leche
Pinch of rock salt
1 beaten egg
Caster sugar for dusting
Unroll your pastry and cut as many circular disks from it as you can.
Use a cookie cutter or a glass.
Do this to both sheets, ensuring you make the same number on each sheet.
Peel your apple and cut into tiny cubes.
Pop into a bowl and squeeze your lemon juice over it.
Add your cinnamon and sugar.
Toss about a bit until all the apple's coated.
Breathe it in, it smells uhmazing.
Line a baking tray with parchment and gently lay one sheet's worth of disks on top.
Top with a little apple, leaving a good border at the edges.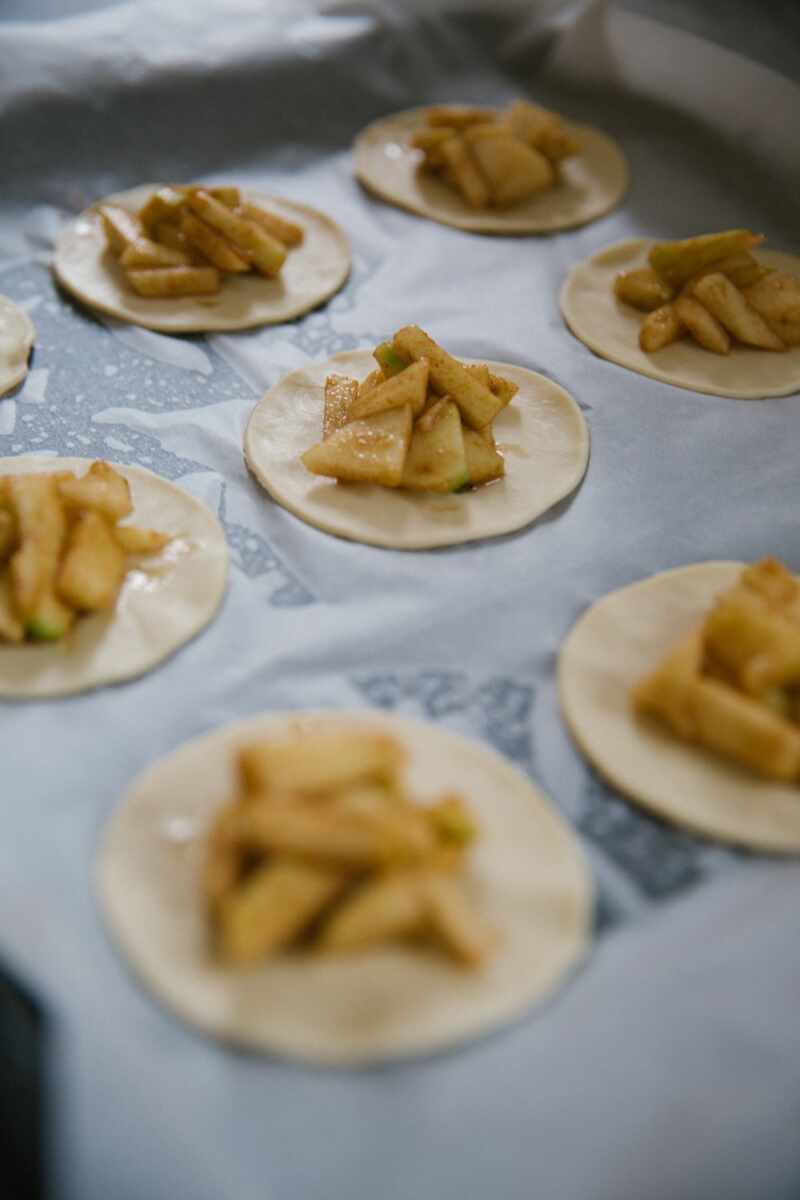 Now, you can choose what sort of caramel topping you want.
I went for a mix of soft caramels and caramel sauce.
I have to say the caramel sauce variety is my fave. You get a much better distribution of sauce, and it's easier than cutting up all those sweets.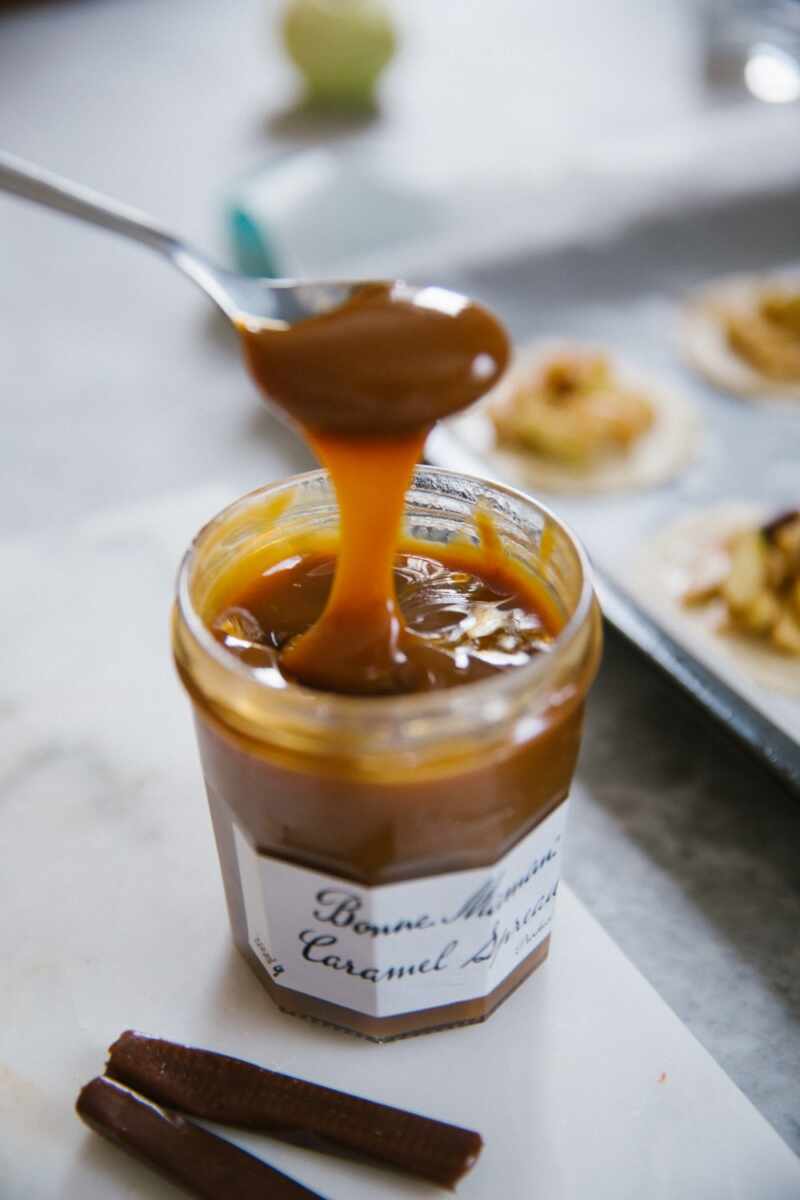 Dollop a generous scoop onto your filling.
Or dot the pieces of caramel around, if you'd rather.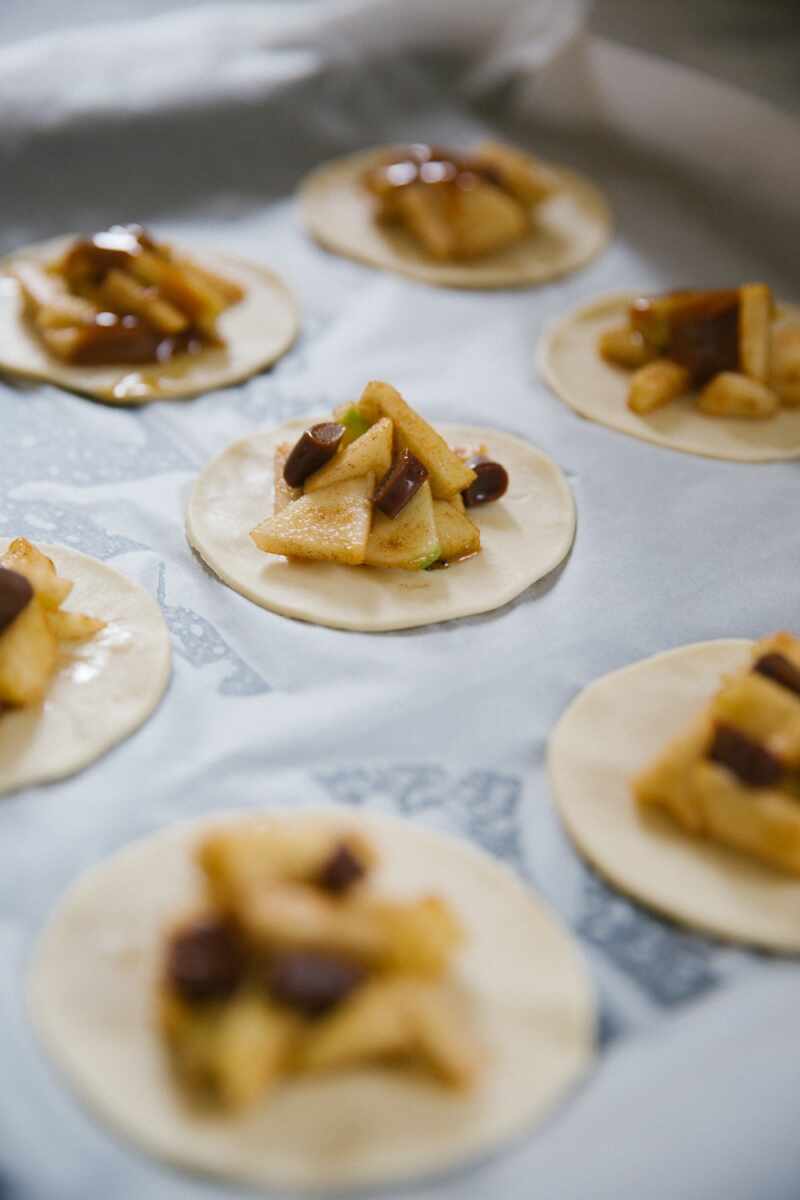 Sprinkle with a little rock salt.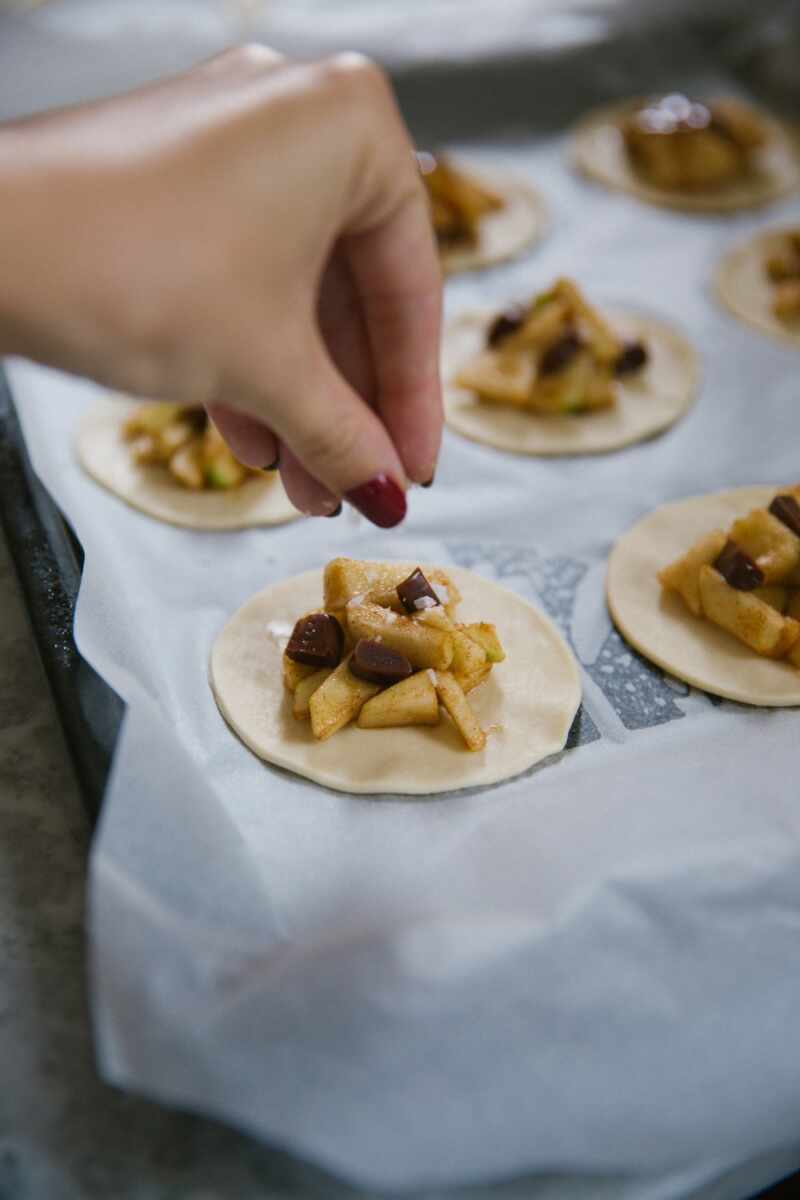 Be sparing, just a few flakes each.
Top with the rest of the pastry.
Close the edges with a fork and poke a few holes in the top with it too.
Brush over your beaten egg.
Sprinkle lightly with caster sugar, and they're ready for the oven.
Bake on the middle shelf for 15-20mins, until they're golden.
Like this…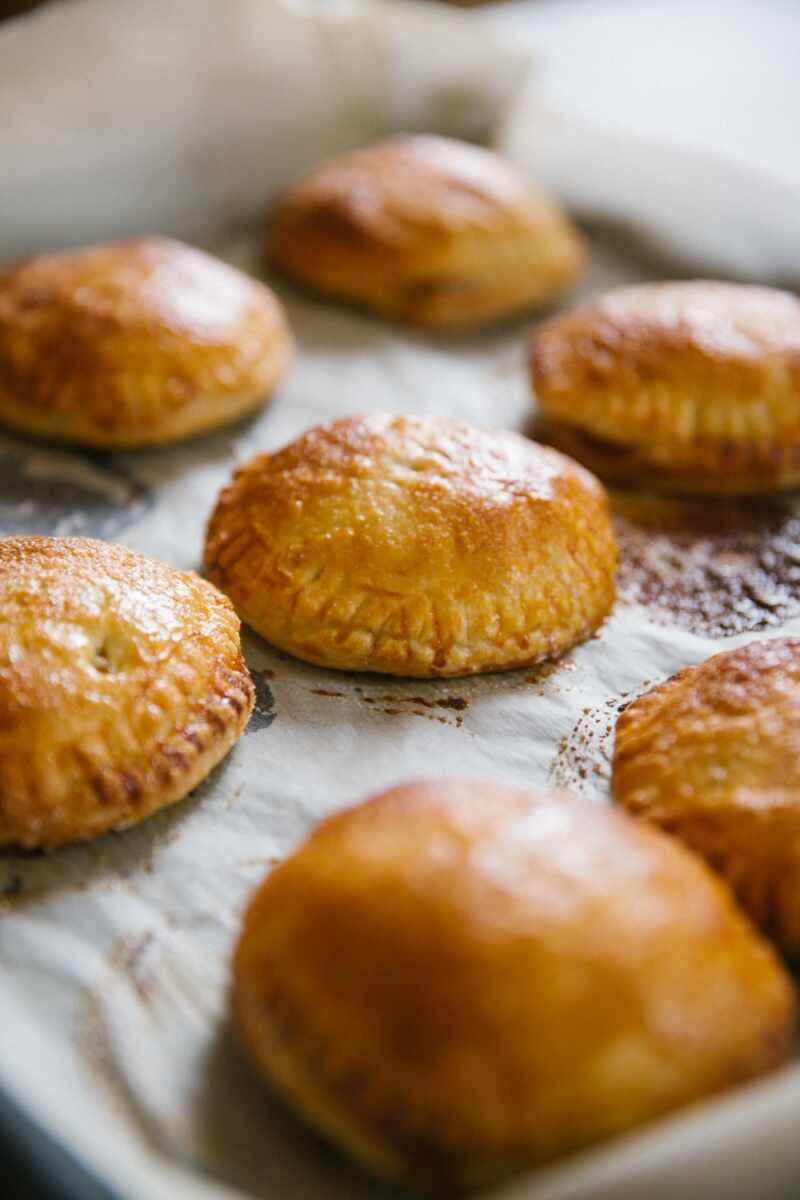 Pop onto a wire rack to cool.
But serve when still warm inside.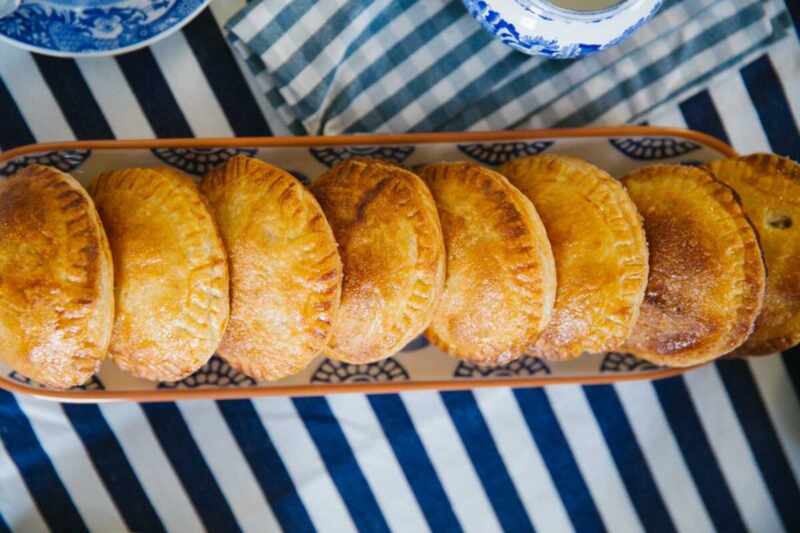 Lay them out and pour a nice cuppa.
Perfect little puffs, just begging to be bitten into.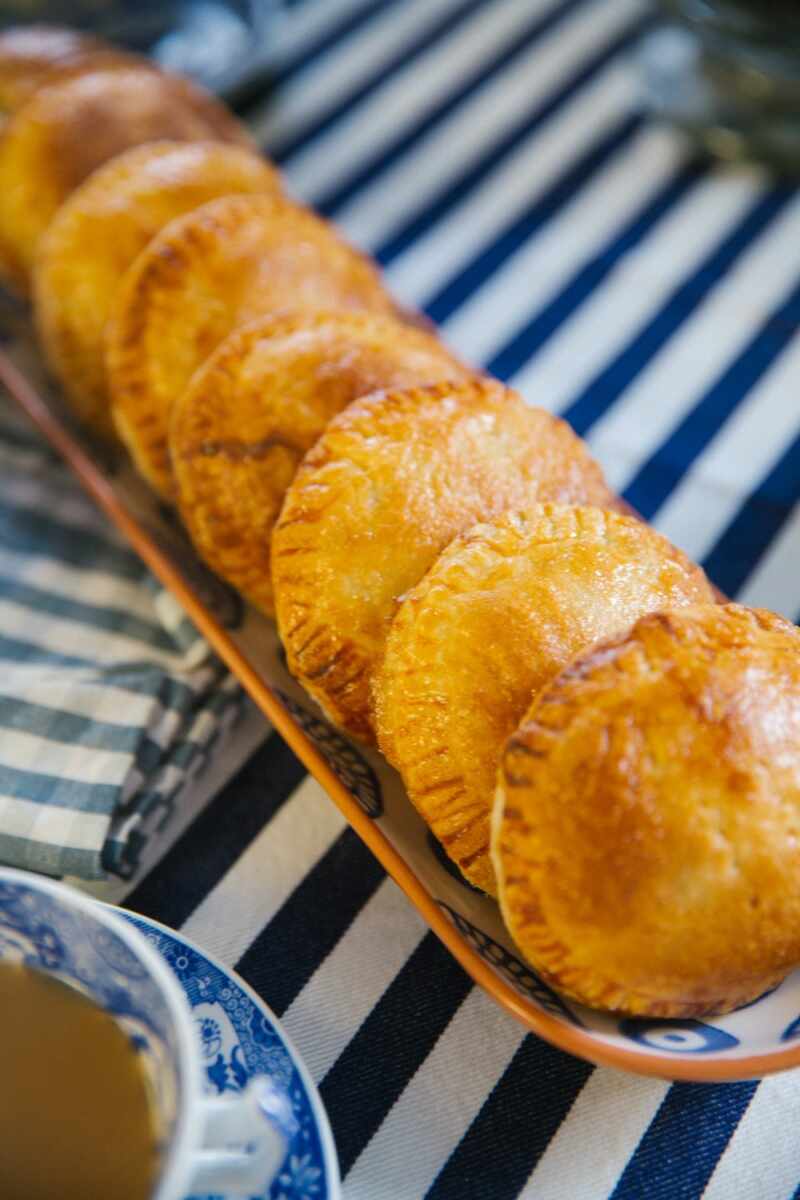 Light, crisp pastry, warm, gooey filling and a gentle caramel kiss.
My fella gave them five stars and thinks they're the best thing I've ever made him.
The kids in his town used to line up outside the bakery in the morning for the warm appelflappen, and he thinks these are better.
Which is the only review I'll ever need!
I wonder if I could even convince the family to give them a go for Christmas instead of mince pies….
Because appelflappin 'ell they're good!