Now, I already know that if you've given The Londoner's Swedish meatball recipe a go… that you loved it.
C'mon, how could you not?! The Swedes know a thing or two when it comes to meatballs.
Infact, you could say they're the best in the world.
But you'd get yourself into trouble with the Italians.
And mama mia! Do the Italians know their meatballs!
So in the interest of fairness, I couldn't resist knocking up a little competition for the Swedes. My take on Italian meatballs, in Italy's own colours… red, white and green.
Deeply delicious meatballs, swimming in a spicy, garlicky bath of tomato sauce, enrobed in molten mozzarella and peppered with herbs.
Add this one-pan-wonder to your recipe repertoire and you'll be hooked faster than you can say "mama mia, thassa spicy meatball!"
For two people (for a generous meal) you'll need:
20 meatballs (I use pre-rolled beef ones from the butcher, but feel free to branch out into pork, chicken, or even tofu if you like! Double brownie points for making your own.)
1 large clove of garlic – crushed
1-2tsp dried chillies
Half a glass of wine (whichever you're drinking)
350g Passata (about half this size)
1tsp honey
Salt + pepper
1 ball of buffalo mozzarella
Heaped handful of grated mozzarella
Fresh or dried oregano + thyme
(Ideally you'll also need a frying pan with a heatproof or removable handle. But we can work around it if you don't have one.)
Pre-heat your oven to 180C/350F. Heat a fryingpan on a medium-high flame. Toss your balls in, dry. Fry until browned on each side but not cooked through. Pour them out into a bowl, keeping the fat left behind in the pan.
Turn the heat down a little and add your garlic and chilli flakes.
Once starting to brown, add your wine.
Bubble away for a minute. Add your honey and stir through, before pouring in the passata.
Cook, stirring frequently for 3-4mins.
Sprinkle with a pinch of salt and a grind or two of pepper.
Gently place your balls into the bubbling sauce. (Maybe I'll take a break from blogging to write strange, foodie erotic novels, what do you think?!)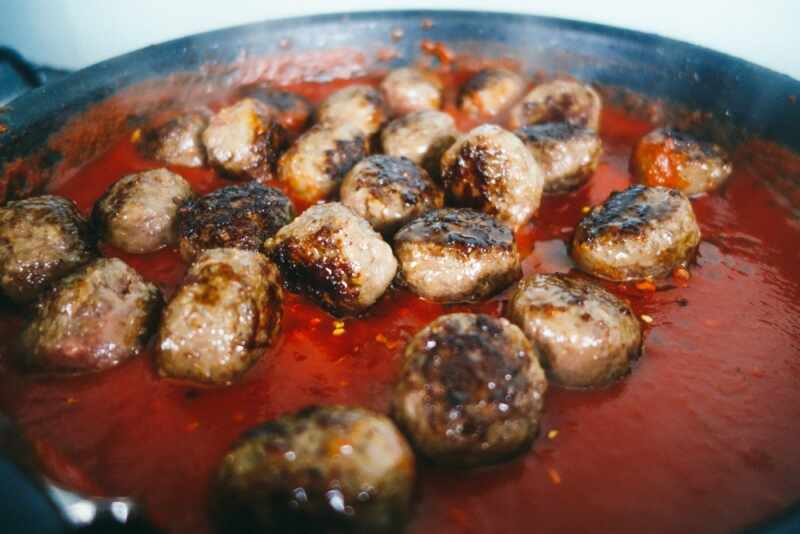 Toss them around until they're tomato coated and glossy.
(Now, if you don't have a bakeable frying pan, transfer the whole lot to a baking dish and carry on with the steps below, once in the dish.)
Sprinkle with oregano.
Tear your buffalo mozzarella into chunks and place around and in-between the meatballs.
Cover the whole shebang with grated mozarella.
Sprinkle with a little more oregano and thyme, even a little chilli if you're a hot head!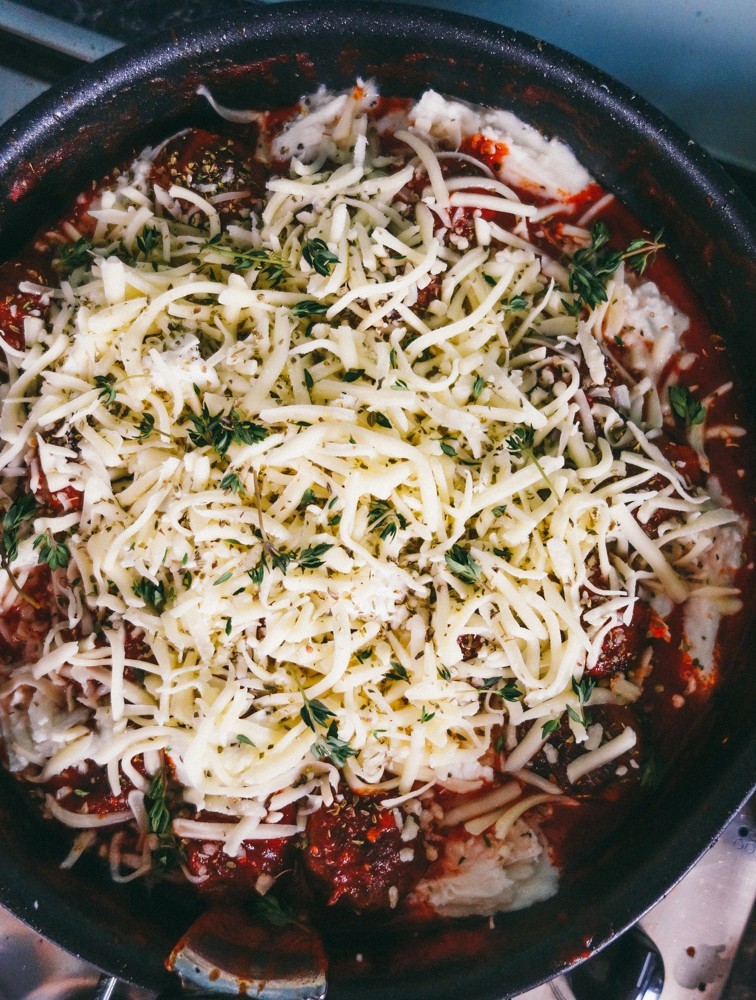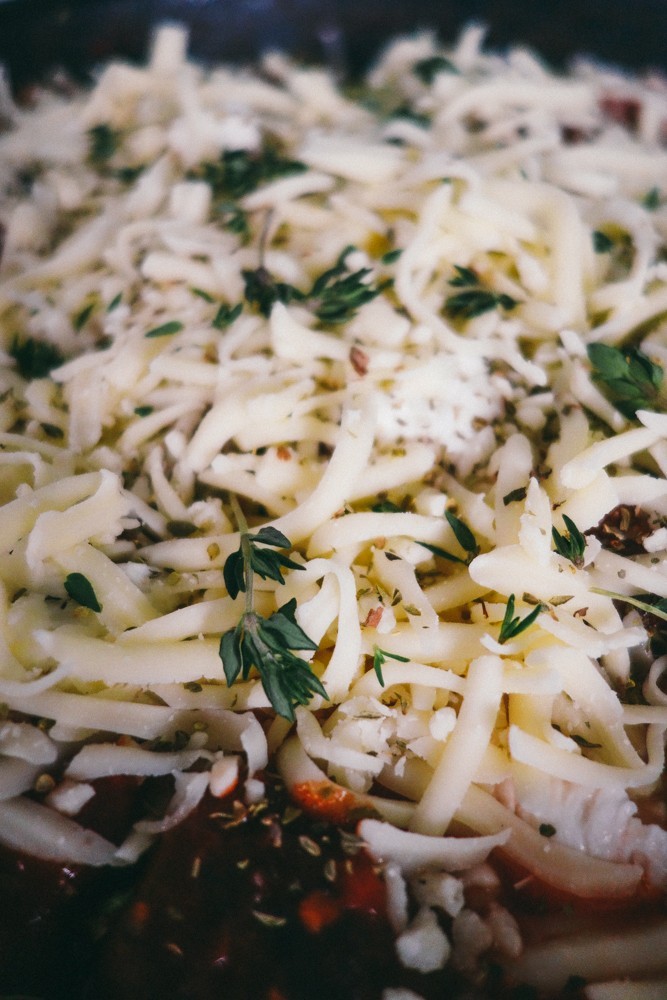 Bake on the top shelf for 10mins.
Pop a mat down and serve right from the oven.
Use plates if you like, but we like to dive right in and share!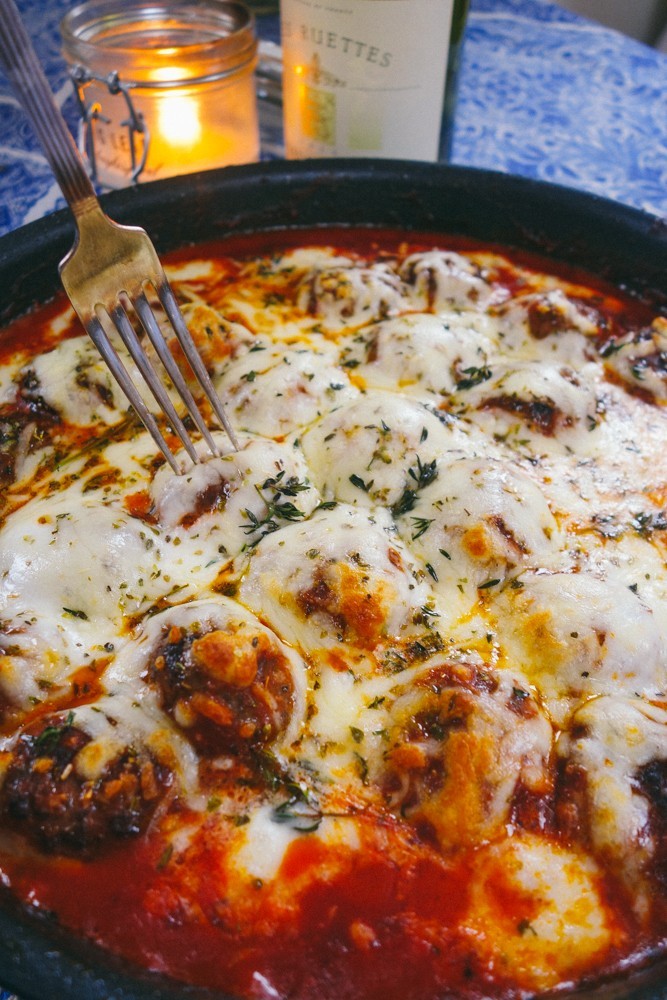 Tuck in, enjoy the ribbons of cheese oozing all over the place. Spoon up the spicy sauce and wash down with a bottle of something decadent.
I didn't have a bottle of Italian red to hand… so I guess I'll just have to make these again.
Balls.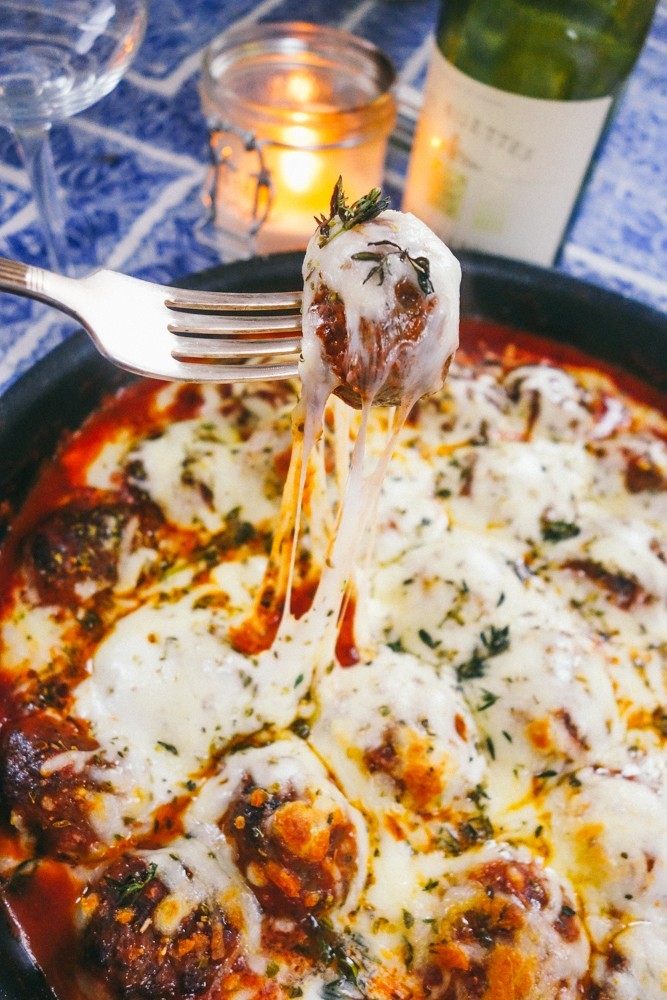 Ps. Don't forget to save any left overs for incredible baguette sandwiches. Take them to work, on a picnic, to school.
Just don't be surprised if you cause a tidal wave of food envy amongst your lunch buddies!