I have a band you need to check out!
But first, dinner.
Nowhere new this time, let's just grab a bite at a little tapas joint, called Barrafina.
There's no silver service, no fancy white table cloths, no tables at all in fact! Just a bar and a line of people waiting their turn.
You grab a glass of wine, a few slices of jamon, maybe some capers, a little pan con tomate, and chatter away in true Mediterranean style.
Hands down my favourite place in London.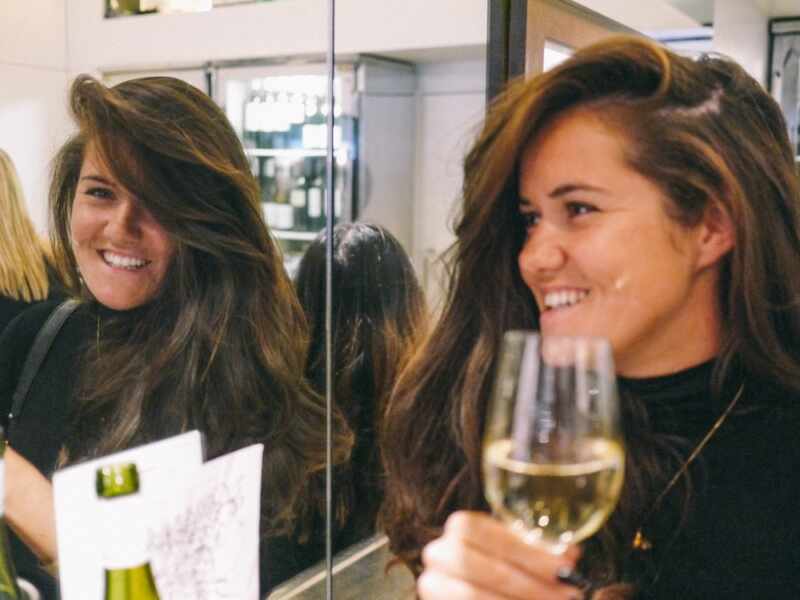 This isn't the first time I've mentioned Barrafina on the blog, and I'm sure it wont be the last.
They open for supper early (at about 5.30) and the place is packed out all night long.
There are no reservations, so try and get there around 7.30 if you want to eat at a reasonable time.
Whatever you do, order the tuna tartar.
I made a little copycat recipe here, if you fancy giving it a go at home.
If your tastes are a little more classic, you can't go wrong with the tomato & garlic rubbed toast. A true Spanish treasure.
Indulge in a few slices of hand cut ham.
Try the prawns.
Dunk them in cool alioli.
Promise me you'll have the octopus?
Always perfectly cooked, tender, delicately spiced, and scattered with sharp little capers.
It's a life changer!
Oh… but the courgette flowers, you can't leave without trying a courgette flower.
Stuffed with goats cheese, fried, salted and drizzled in honey.
God, I just want to lick the screen, don't you?
I'm going to start dribbling any moment now.
These chicken thighs and romesco sauce aren't helping at all.
I could go on like this all day!
But I know, I know. I promised to tell you about a little music.
The band's name is "The Ghost of a Saber Tooth Tiger" or "GOASTT" for short.
It's the love child of Sean Lennon and Charlotte Kemp Muhl. We befriended each other about two years ago when I went along to watch one of Sean's mum's rehearsals. Since then we've bumped into each other on either side of the Atlantic for dinners, parties and catch ups… but I'd never seen them really do their thing on stage.
Well, obviously this had to change!
I went along to their gig in Camden and watched them rock out.
Am I cool enough for Camden? Probably not. But the bouncers didn't know that, so let me in anyway.
Sean sings and jokes along with the enraptured crowd.
Charlotte plays the bass, wiggling away in tiny shorts, seemingly oblivious to the love struck gazes below her.
Tim plays drums.
Jared's on keyboard.
Robbie's on guitar.
Conner, the little rockstar, nails the chimes.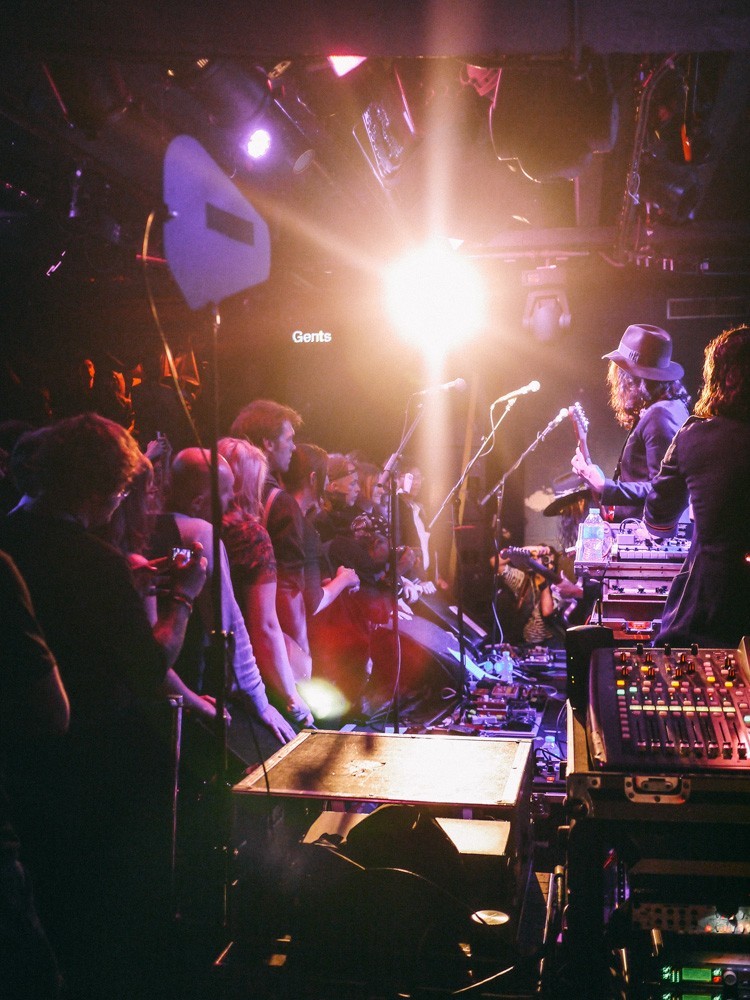 The music is sort of mystical rock.
Is that a genre?
It should be.
Here, maybe this'll give you a better idea.
[iframe allowfullscreen="" frameborder="0″ height="315″ src="//www.youtube.com/embed/KhcR4rdzzoM" width="560″]
I think it's safe to say I don't have a future in musical journalism, but I was blown away by how great the band was live.
The energy was infectious and you couldn't help but wish you were up there strumming along too.
I'd love to have gotten some better (front on) shots, but the venue was utterly packed. Shoulder to shoulder, those uber-fans were not moving for anyone!
After the show we all crammed in backstage and chilled.
The band were visited by fans new & old, all keen to pat them on the back and spread the GOASTTly love.
And take a few selfies, naturally.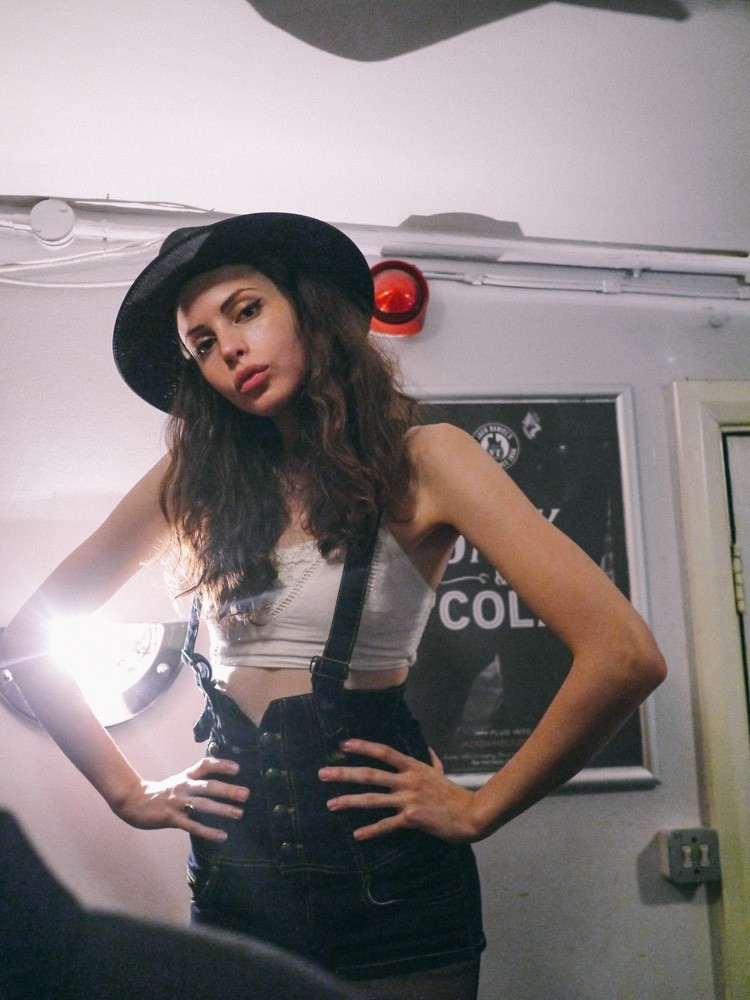 Charlotte, like many girls I know, is the sort of person you really want to hate. Horribly talented, sickeningly bright and painfully beautiful… but she's just so ridiculous that you can't help but fall head over heels in love with her.
We all stayed chatting late into the night.
Then, all too soon, the band piled into the van, slid the door closed and vanished into the night.
A fleeting kiss to London, and they were off again.
There are still three dates left on the tour, so catch them if you can.
[iframe frameborder="0″ height="120px" scrolling="no" src="http://currentlyobsessed.me/api/v1/get_widget?wid=29&blog=The%2BLondoner&product_ids=n_5300523,n_15663094,n_15663170,n_15663090,n_15663106&rows=1&cols=5&brand=1&price=0&hover=1″ width="600px"]
[iframe frameborder="0″ height="120px" scrolling="no" src="http://currentlyobsessed.me/api/v1/get_widget?wid=29&blog=The%2BLondoner&product_ids=n_9301456,n_14710344,n_15663466,n_15663462,n_14816426,n_15663394&rows=1&cols=5&brand=1&price=0&hover=1″ width="600px"]