What do you do when a visiting American comes to London?
You take them to tea, of course.
Julia & I met at the Reward Style conference in Dallas.
She got in touch to say she was coming to the UK and asked if we could meet up and do something fun!
After a furious game of calendar battleships, we finally settled on a late tea.
We plumped for the refined splendour of Cafe Royal.
Our chaps came along too, and we whiled away a few hours with champagne, tea, sandwiches & scones.
Low Sidecar muffin. Stuffed with truffle cream cheese and a pipette of sauce.
Wild boar, crackling, pickled apple and mustard bun, goat's cheese puff and wine jelly, Mary Rose prawn cocktail, London Cure smoked salmon and quail's egg sandwiches, and cucumber and cream cheese sandwiches.
In between courses, we learnt a little of the history of our venue. A wonderfully enthusiastic waitress proclaimed:
"Formerly the Grill Room and originally established in 1865, this stunning room has been restored exquisitely to its original Louis XVI detailing and renamed, in tribute to its most famous patron, as the Oscar Wilde Bar.
Nestled between the elegance of Mayfair and the creativity of Soho, the Oscar Wilde Bar is the space where great minds came together to change the world. It is in this very room that Oscar Wilde fell in love with Lord Alfred Douglas, Aubrey Beardsley debated with Whistler, David Bowie retired Ziggy Stardust and Mick Jagger, The Beatles and Elizabeth Taylor danced the night away."
And before we could blink up at her, she whipped out our second selection of goodies… the sweets!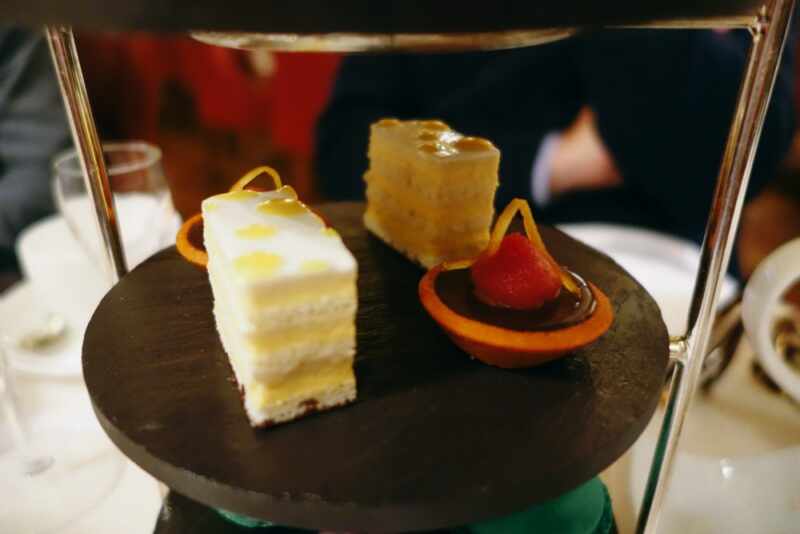 "Profile 66†& "Opéra 1865â€.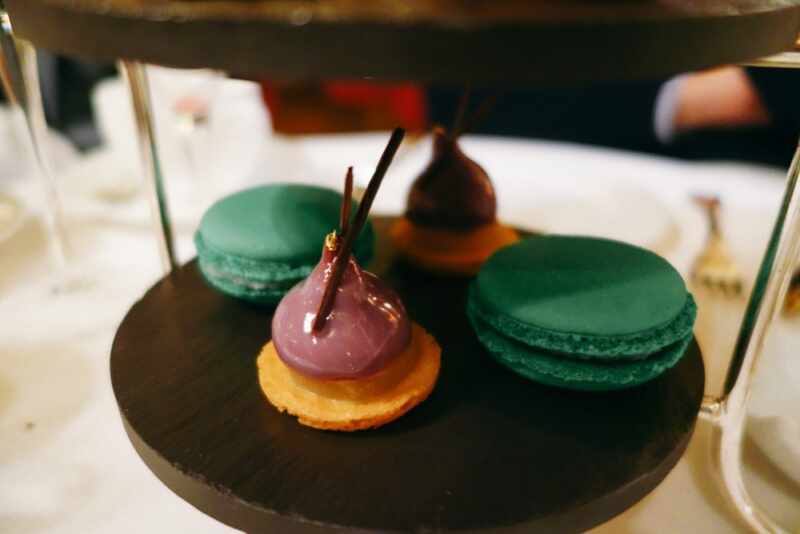 Absinthe Green Fairy macarons and blackberry and apple Regents.
Quickly followed by my favourites!
Beautifully presented, glowing scones.
With clotted cream, jam & lemon curd in tiny tubes.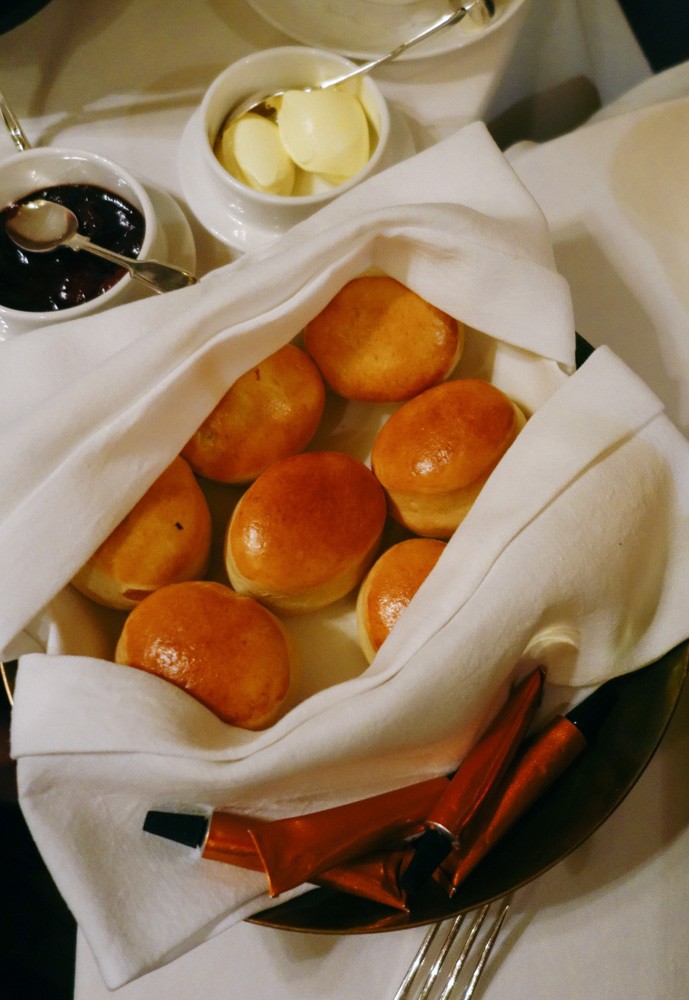 So lovely to be able to enjoy such treats in a room steeped in so much history.
I think it's safe to say this girl's seen some hijinks in her time!
It was so much fun to sit down with Julia and her husband.
You know when you start chatting to someone and find that you have a weird amount in common? Yea, that happened. My boyfriend leant over at one point and said "this is so weird, it's like she's you… but American."
The blogging world is a very strange place. It's jam packed with some of the wittiest, brightest, most beautiful and funny women I've ever had the pleasure to meet, but it seems to get a bad rep. Because you post pictures of clothes, and holidays and nail polish, some people wonder what you do with your time. They think you most be stupid and superficial.
No-one sees the work that goes into creating a blog. The pressure to constantly come up with fresh content, shoot it, edit it, write it, build the website, negotiate, have meetings, make time to respond to comments from all over the world and try and take a breath to just enjoy it. There are no weekends, there is no "clocking off" at the end of the day. You work from when you open your eyes to when you close them. All by yourself, usually.
Don't get me wrong, as I say to anyone who thinks about getting into blogging; it is the best job in the world!
But, sometimes it's really, really nice to sit down with someone with the same job. To be able to geek out over SEO, analytics, branding and web design. To talk about social media trends and what's coming next.
The blogging industry can be a very insular one. It's so young that there's no path set out, no career goals to meet. Once you leave your "real job" and commit to blog full time, you're essentially running headfirst into darkness… so it's nice to be reminded that, as Ricky Gervais put it, "No-one else knows what they're doing either!"
I'm going to try and plan a few blogging meetups or sessions so that other bloggers/social media types can get together and talk. Let me know in the comments if you'd be keen to come along, or if you want to plan one in your area!
After tea we tried to snag the perfect Instagram, to commemorate our little afternoon.
Try as we might, we couldn't find anywhere with good enough light to avoid shaky snaps.
So we headed out to try again!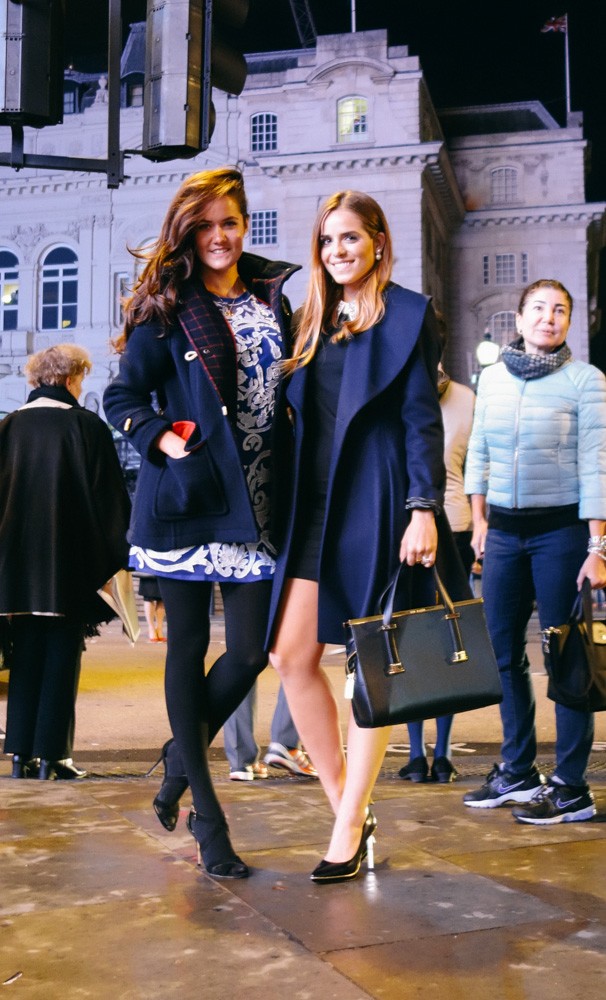 And, even found Julia a little slice of home!
Blue & white dress // Coat // Shoes // SilverMay rings & necklace
[iframe frameborder="0″ height="120px" scrolling="no" src="http://currentlyobsessed.me/api/v1/get_widget?wid=29&blog=The%2BLondoner&product_ids=n_14879086,n_15734026,n_12218806,n_16237370,n_16001878&rows=1&cols=5&brand=0&price=0&hover=0″ width="600px"]
Julia's Blue coat // Collared dress // Shoes // Bag
[iframe frameborder="0″ height="120px" scrolling="no" src="http://currentlyobsessed.me/api/v1/get_widget?wid=29&blog=The%2BLondoner&product_ids=c90909b33e61ee45da42ede913b7602a,f28664d7f71f4d365552d5d66b7a3c20,56242515f4e1f13b87e9f735358ddc6a,f305d88653324c2ccea14ffff0176d86&rows=1&cols=5&brand=0&price=0&hover=0″ width="600px"]
Finally a classically British big red bus came by…
…and Thomas got his shot.
All in all, a teariffic afternoon!