It's been too hot to sleep this week.
The sky is in constant turmoil. It can decide whether to thunder and rumble or blaze with heat.
Down here the breeze is barely rustling the leaves. You toss and turn all night. Still so firmly British that we refuse to give up our feather duvets, but kick them off anyway.
Suppers are long and slow affairs.
We sit in the garden with candles burning and the heavy scent of sweet peas all around us.
When life's like this you can keep your heavy puddings.
We want something light, fresh and natural.
This…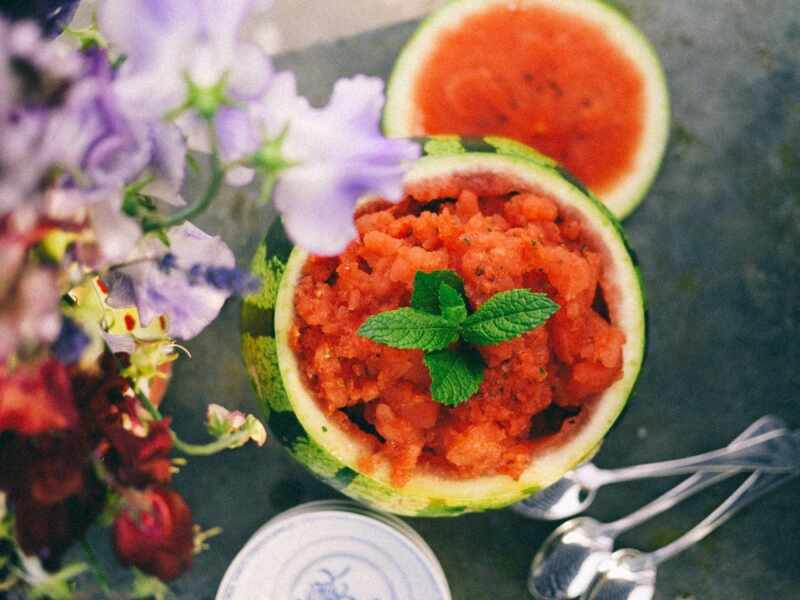 …is perfect.
A cut watermelon stuffed with it's own treasure.
Icy, refreshing, sweet and wonderfully satisfying.
It's easy. All you need is:
1 mediumly sized watermelon
2 limes (juice and zest)
Handful of fresh mint
Cut the top off your melon. Scoop out the innards and blend with your lime & mint.
Pour into a tupperwear box, seal it up and pop into the freezer. Freeze for about an hour, then take it out, scratch it all up with a fork, put the lid back on and shake it, baby!
Put it back in for another half hour, then repeat. Half an hour later you should have a pretty well frozen granita (sort of sorbet texture).
Scrape it into your watermelon, plant a sprig of mint in the middle and serve.
(Oh, if you want it to look a little more… abundant… pop an orange in the bottom of your watermelon first. It'll take up some space and you can serve up a melon with ice rising like a delicious mountain outta the top!)
A deliciously natural pudding, with no added sugar or nasties.
Ideal for those who are a little too hot, or just trying to avoid the naughtier puddings!
Plus it gives you a chance to really wow friends and family with this cracker-
Q: Why do watermelons have fancy weddings?
A: Because they cantaloupe.