The Mr took me out for a fancy seafood dinner.
The restaurant (which I'll get to later) is in Belgravia.
We arrived early and took a stroll around the quaint little neighbourhood. Enjoying the last of the sunshine and window shopping for enormous white houses, that you'd have to be a Saudi prince to afford.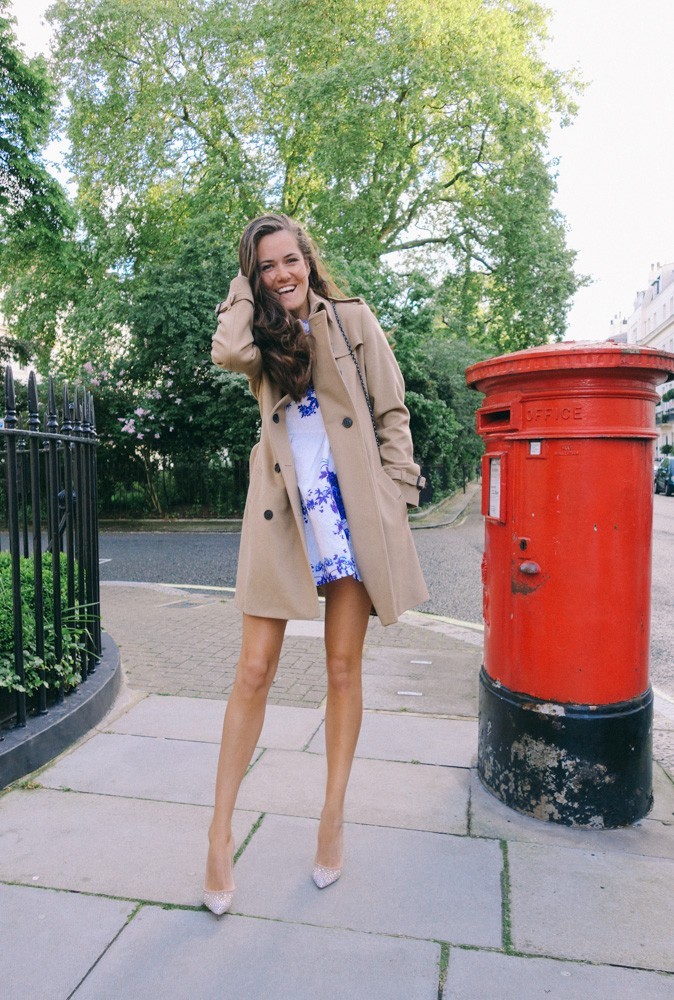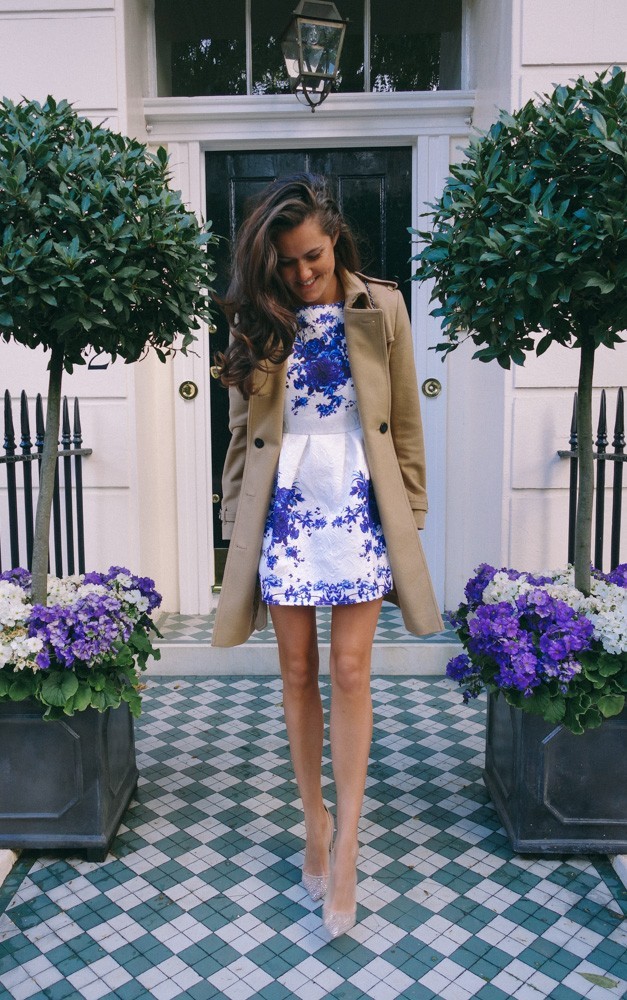 This dress is a recent pick-up and I love it.
You already know I'm obsessed with all things white & blue and I don't think I've ever had more compliments on an outfit. My date was certainly pretty taken with it!
But what makes it it really delicious is the price tag, which is just ludicrous… go on, take a peek.
Paired with sparkly Louboutins, a Burberry coat and a Mulberry bag, it had me feeling like the bee's knees.
Just what you want on date night!
Ok, that's enough about the get-up.
I know you're keen to get into the restaurant and get stuck into the food, right?
I feel the same way, my friend. So here we go…
Welcome to Uni.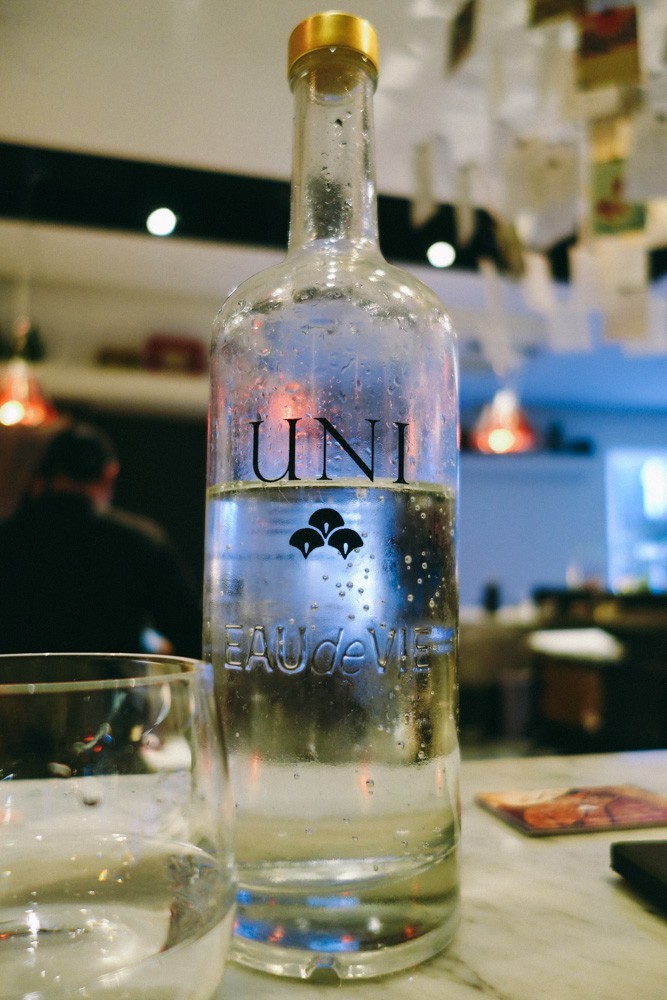 It's a relatively new sushi shop with a South American kick.
The decor is fresh, the staff are chipper and the food is cracking.
We sat at the bar, surrounded by funky lights made out of pop bottles.
I always like to sit at the bar in sushi restaurants so I can watch the chefs work their magic.
We had salted edemame beans.
Salmon tacos; salmon tartare, cucumber, tomato, masago & creamy miso on a crispy wonton.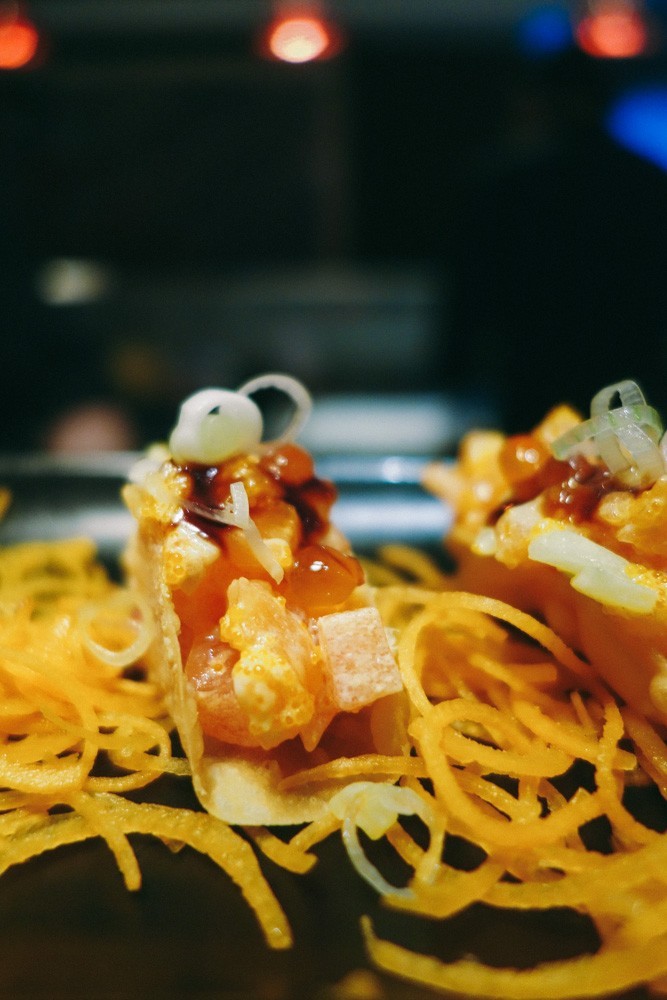 Deliciously crunchy, salty, sweet parcels. Two mouthfuls a pop.
Not the easiest thing to eat with chopsticks, but worth the effort!
Seabass ceviche.
Citrussy, light & fresh with the saltiness of soy sauce slicing through it.
Tuna tartar with guacamole.
Good quality, raw tuna topped with the food of the Gods (avocado) and drizzled in unagi sauce.
Quite the spread to get started with!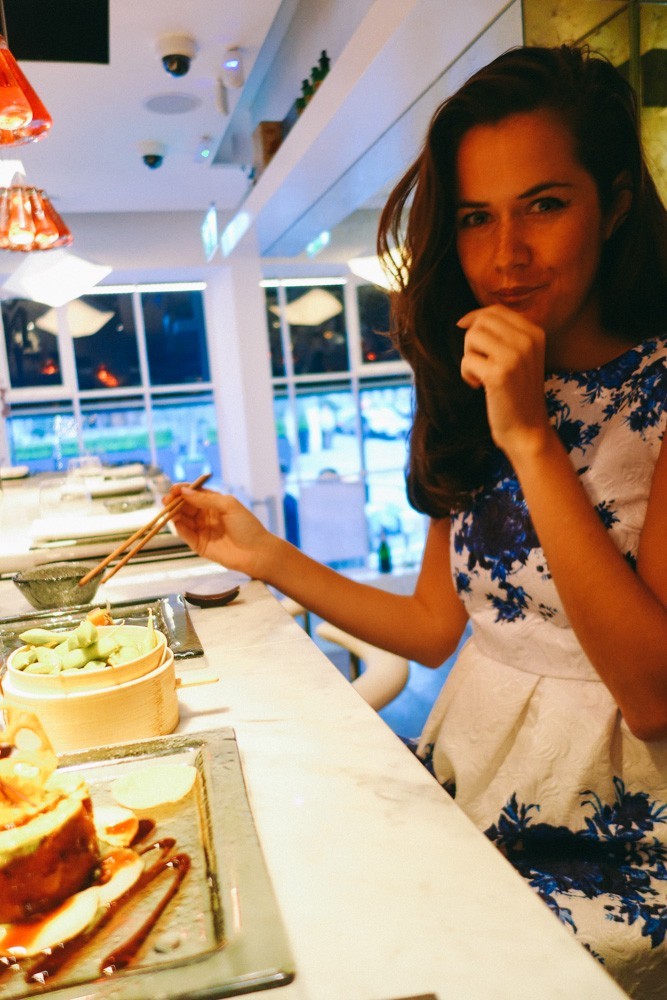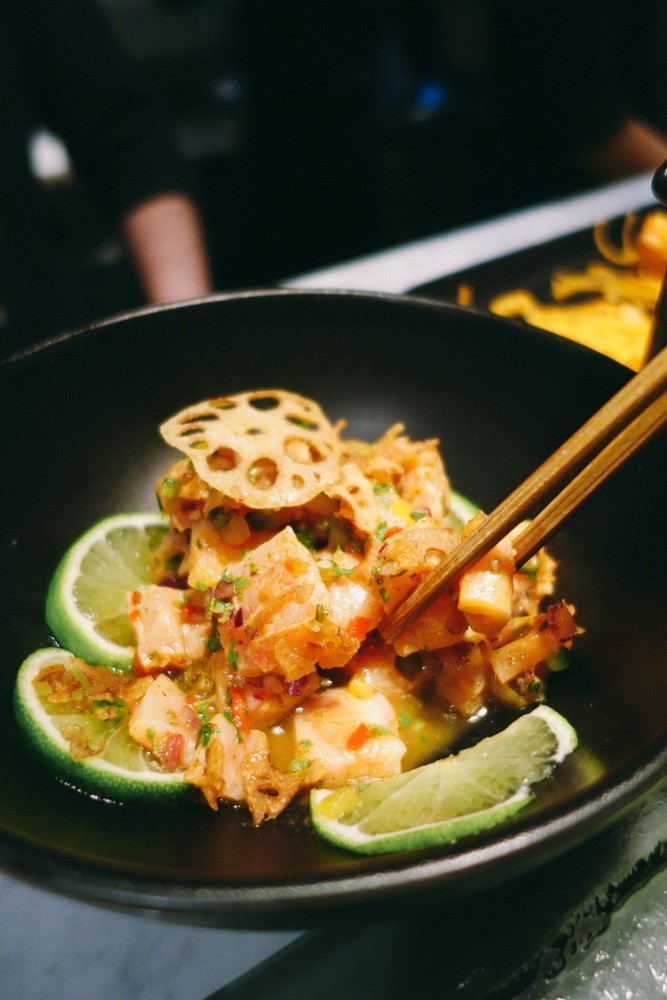 We followed it up with some more traditional sushi.
Old school. That's just how we (maki) roll.
Soft shell crab in one, prawn tempura in the other.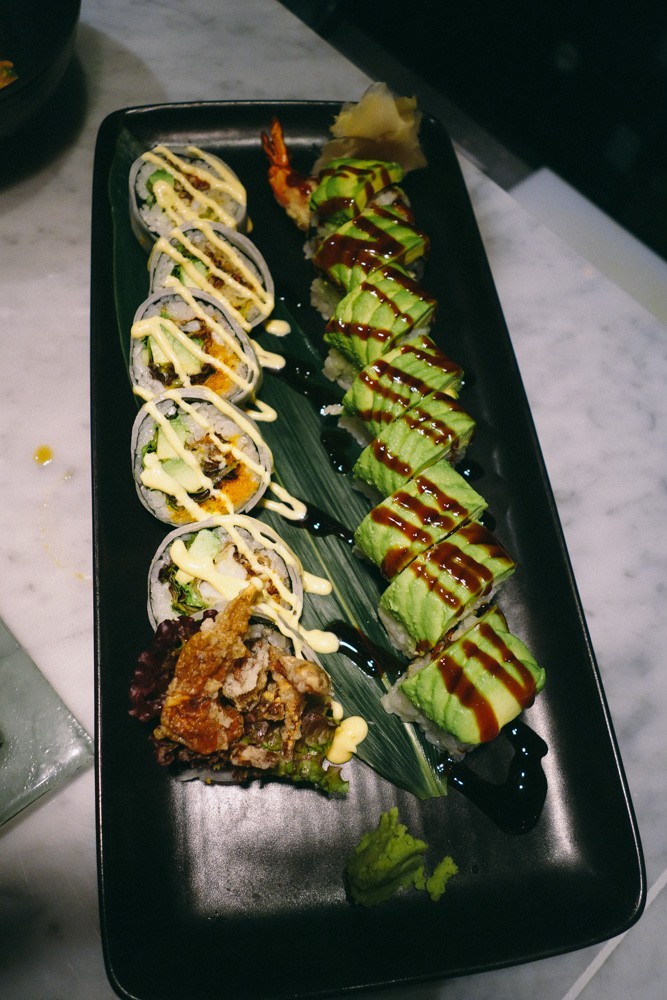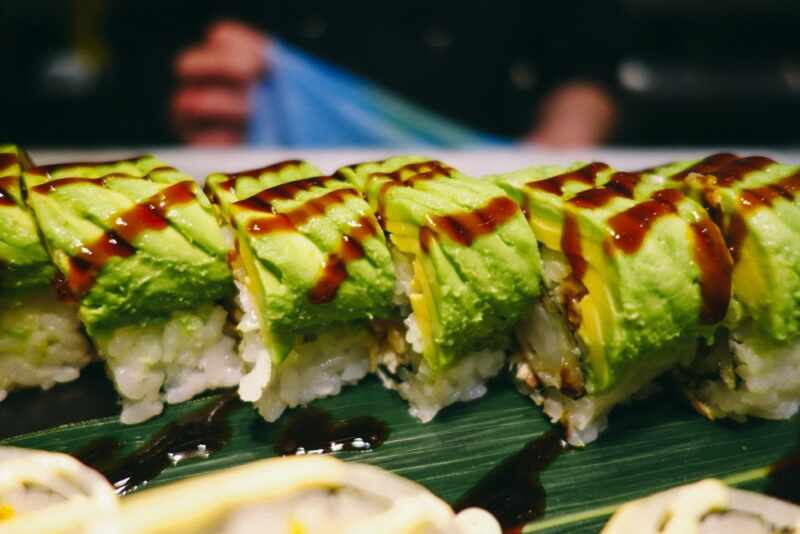 Followed by another healthy option, rock shrimp tempura.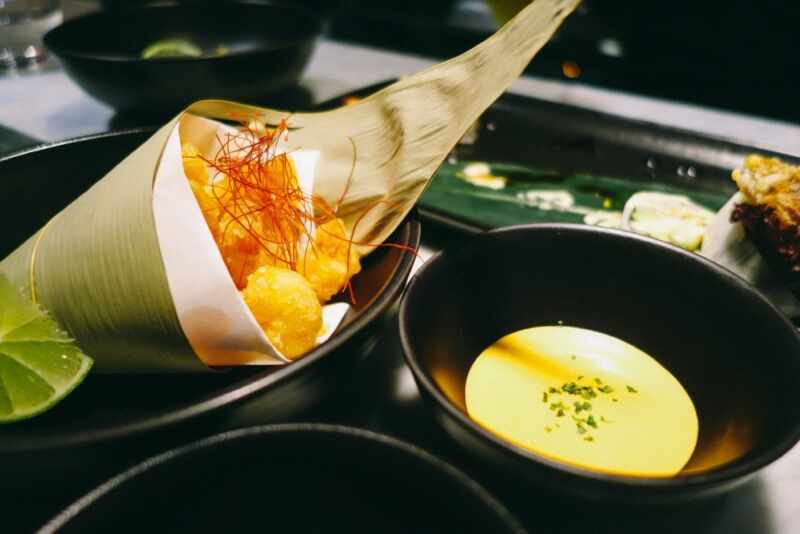 This stuff is the crack of the Japanese food world.
Just one is never enough and before you know it you've demolished an entire bowl of them and you're climbing your way over the bar, begging for mooooaar with spicy mayo smeared across your brow.
No?
Ok, just me then.
Let's just say they're pretty good.
We slurped on a few cocktails as we reminisced about meeting each other, which seems like a lifetime ago already!
And then finally got down to some proper, grown up sushi.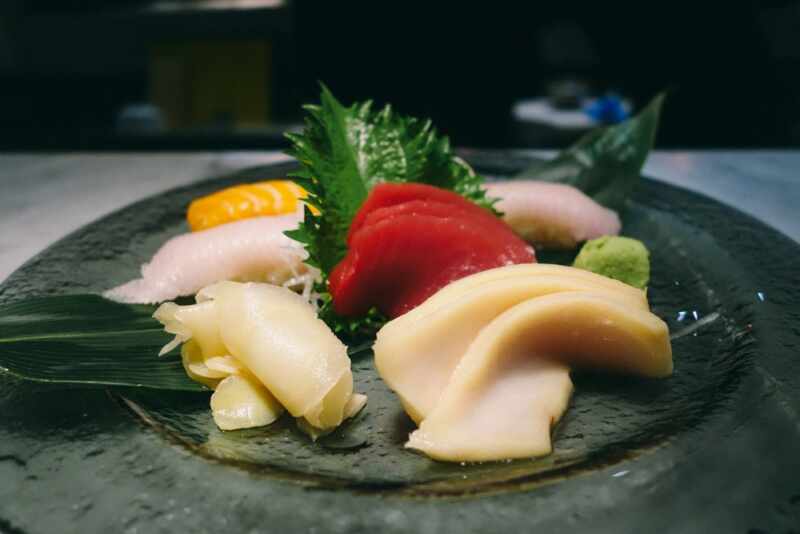 A plate that included my first taste of butterfish sashimi.
The most delicate, rich, creamy fish I've ever tasted. It almost felt as though it would melt on your tongue, like butter.
He kindly let me have more than my fair share and I traded him my slices of tuna, which was a little metallic for my tastes.
One more cocktail later and we caved, and asked for the black cod.
The true test of any new japanese haunt.
It didn't disappoint. As good as any I've tasted.
As I've said, the food was excellent. But… the restaurant needs a little something extra.
It was worryingly quiet. I like buzzy, packed places where you can speak your mind and laugh uproariously. Here the (understandably) bored waiters were listening to every word of our stories, and it didn't make for the most romantic of atmospheres.
The paper displays on the roof proclaim sad tales and different quotes about women all being liars, love hurting and general hate, in every language imaginable.
Is it weird to think that the sentiments were oozing into the restaurant?
I still had a lovely night and loved the food… but I think I'd wait for a busy Saturday night to go back again.
My dress on the other hand, can look forward to many more outings!