This makes a cracking supper.
You throw all the ingredients into the slow cooker in the morning, then forget about them until supper time.
When you finally return you'll be greeted with a kitchen that smells like heaven and a great, big pot of rich, meaty goodness waiting for you on the side.
Then all you have to do is take the lid off, whizz up your mash, pour a couple glasses of wine & serve!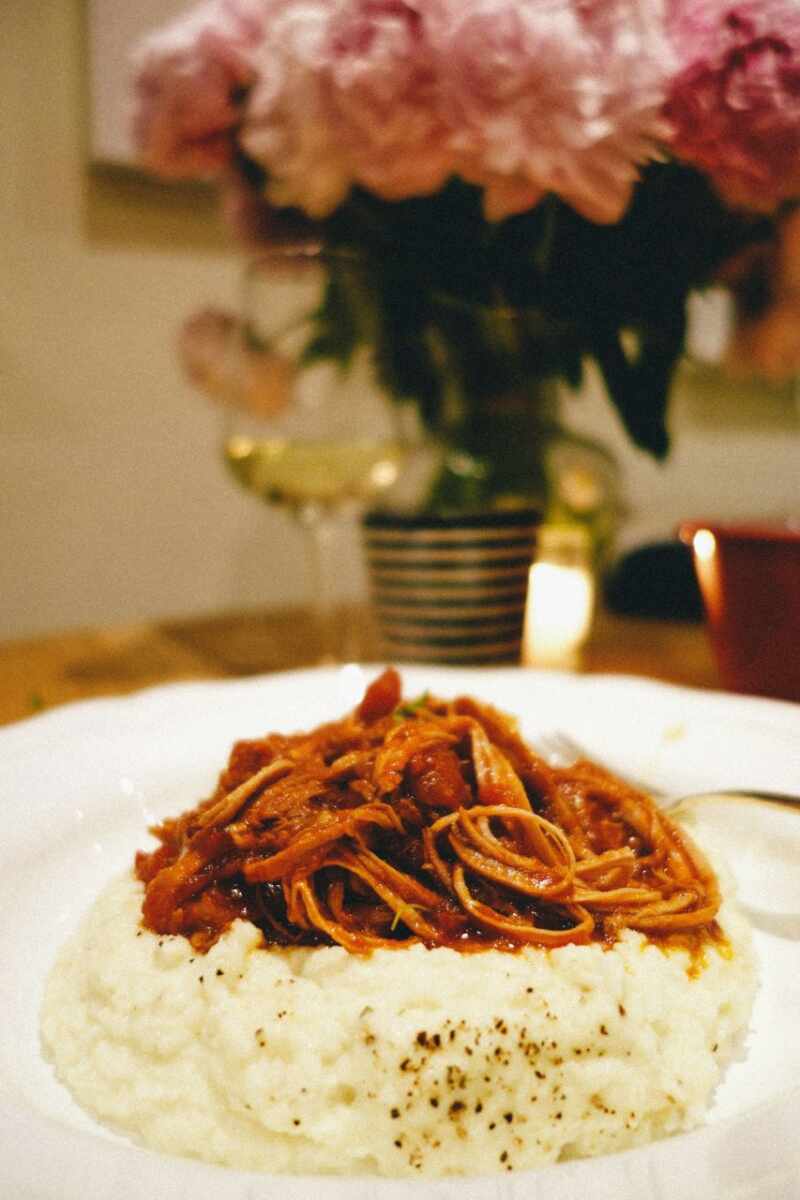 I'm a big fan of low carb mash.
It feels decadent & comforting but you don't get that "uggh" heavy feeling you get with potato. You also effectively trick yourself(/significant other/children) into eating a big bowl of vegetables without even noticing!
This recipe serves four people, but I like to make it for two and then enjoy the leftovers for a couple of days.
For the ragu:
Leg joint of free-range pork (about 900g)
2 tins of chopped tomatoes (400g each)
2 red onions, quartered
4 large cloves of garlic (peeled)
1 large glass of wine + 1 small glass of water
Squeeze of honey
2tsp smoked paprika
1tsp cocoa powder
Few splashes of soy sauce
Big pinch of salt & pepper
For the mash:
1 large cauliflower
1 pack miso paste
Butter
Cream
Mature cheddar cheese
Salt & pepper
Throw all of your ragu ingredients into your slow cooker & set to "low". Leave it all cooking away for a good 5-6hours. When you return it should be easily shreddable & fall apart when poked with a fork. Shred it all up. Put on "high" and cook for 30mins.
After about 10mins you can make your mash.
Put your miso paste into a large pan with about 2inches of water in the bottom. Get it boiling and cut your cauliflower into separate little trees. When it's boiling put them in and cook for about 10mins or until a knife slides through with ease.
When it's ready, drain the water away and put the cauli in a food processor. Add a generous knob of butter, a splash of cream, two handfuls of grated cheddar cheese, salt & a good grind of pepper. Whizz it all up until you've got mash! You can decide how "thick" you want it, by how much cream & butter you add.
By this time you should be ready to serve!
Pop it all on the table…
Add a little fresh greenery to the meat if you like.
And a little extra pepper to the mash.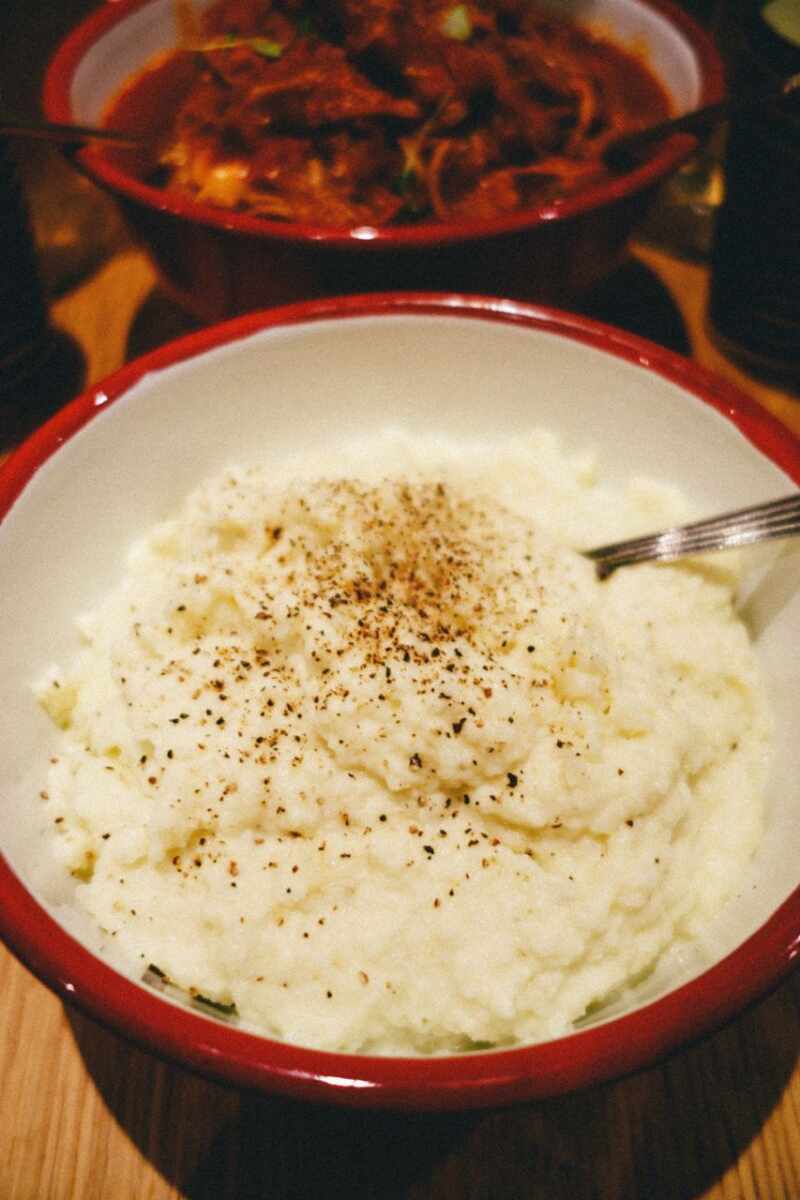 And dig in!
I made it for Tom and he was blown away. If a gruff, rugby playing boy approves carb free mash, then I can't see anyone having a problem with it!
But by far my favourite bit is all the leftovers. The flavours mingle overnight in the fridge & become steadily more delicious by the hour.
Eggsellent with eggs in the morning.
And you just have not had a grilled cheese sandwich until you've had a slow cooked pork grilled cheese sandwich!
The sauce soaks into the bread but the outside stays crispy. The cheese melts into the cracks & oozes out of the sides.
You could stir it through pasta, put it on top of more veggies or you could always just stuff a baguette & take it to work!
But if you do, you have to promise me that when you're surrounded by jealous coworkers asking "oh, what have you got there?" that you'll crack this joke…
What do you call it when you cross a dinosaur and a pig?
Jurassic pork!
…should clear a space in no time.