After lunch in the clouds with Milly, I went home.
(Skipped home is more like it!)
But as I got to the door I couldn't help but notice an ominous black car waiting on the street, with a very serious looking driver. There was no-one else around and I could feel him staring at me… I fumbled with my keys and quickly let myself in.
Sitting in the hallway was an enormous bunch of blossoms and a note;
"Grab your stuff and jump in the car, you're not coming home tonight Birthday Girl! xXx"
I smiled and rushed upstairs. Grabbed a few jumbled (fairly random!) bits & pieces and ran back outside again.
This time the serious driver was standing with the car door open and smiling. I grinned, jumped into the back seat and immediately called my mum.
We wound through the streets as I chatted away excitedly and it wasn't long until we came to a stop in Belgravia.
We had arrived at The Halkin. (I've blogged about this place before and it was a little nod from the boy to let me know that he reads the blog and knows what I like.) I laughed to myself and the front desk sent me up to my room where he was waiting with bubbles and cake!
He gave me my pressie and we got ready for dinner.
I'd love to have snapped him in his smart, blue suit… but honestly, based on his reaction when I have a camera in my hand, you'd think I was waving a gun around.
He wanted one on his iPhone, so I stood for the firing squad (sorry about the quality).
I am head to toe in birthday gifts!
Oh My Love scuba dress // Givenchy Clutch // Louboutin Shoes
Thankfully I didn't have to walk far in my new shoes. Just down the stairs to the Ametsa Restaurant.
He insisted we both go for the full tasting menu. What followed was a series of delicious and beautiful dishes… and people pouring things over them.
It all started innocently enough, with little nibbles and wonderfully plump scallops.
Next we were presented with beautiful crab on a bed of snow.
And from here on out, it was simply a masterclass in drizzling.
Pouring…
Drenching…
Dolloping..
And glazing.
Even the puddings weren't safe!
Each course came with it's own, unmissable wine. Each wine was chosen to compliment the dish and make every flavour sing.
8 courses of wines and a bottle of bubbly made for a fairly merry Birthday Girl!
So it's lucky they had one more pudding up their sleeve to sober me up!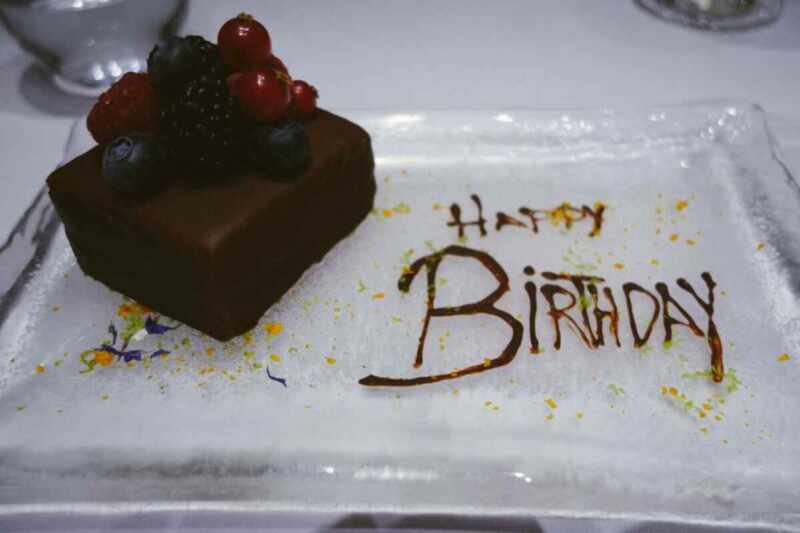 We stayed in the restaurant until long after everyone had left.
The waiters abandoned us as we continued to chat into the early hours of the morning.
Eventually we retired and headed upstairs. I crashed out, sprawled myself across the entire bed and we both woke up fully clothed, shoes & all!
Not quite the night of hotel romance he may have had in mind… but a hell of a fun one!
The next morning we padded down for breakfast at the very same table.
We continued our date over pancakes, bacon, berries and tea.
He went off to a meeting on Motcomb Street and I headed back to Notting Hill.
I planned to detox for a week… but my girlfriends had other plans. I'll tell you all about that little shindig tomorrow, though!