I'm going through something of a breakfast food obsession at the moment.
For a while I used to skip breakfast, especially at school when I'd have skipped anything for an extra half hour in bed. But in my old age I've found a new appreciation for all things brunch-like.
Smoothies, pancakes, bacon, toast (particularly with mum's carb-free bread oddly enough), granola, & eggs, especially eggs.
This is a recipe inspired by a little brunch place in Los Angeles called Stella. They serve up "Moroccan Eggs" in tiny individual skillets to hungry, heavily caffeinated customers.
With a lack of tiny individual skillets and a distinct absence of Moroccan goodies in my cupboard I whipped up what I like to call "Dip 'n' Share Eggs".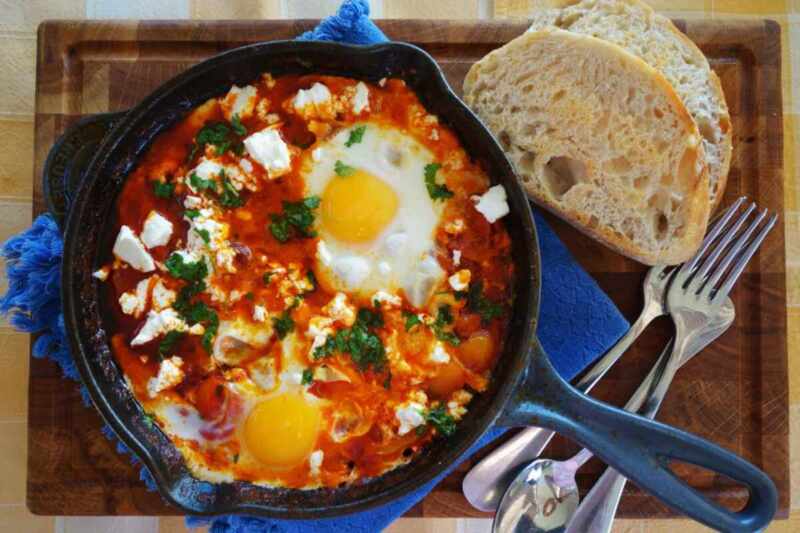 I thought I'd post it today while you're (hopefully) still on holiday and with tomorrow's hangover in mind. Knock this up for brunch and knock that hangover out of the park.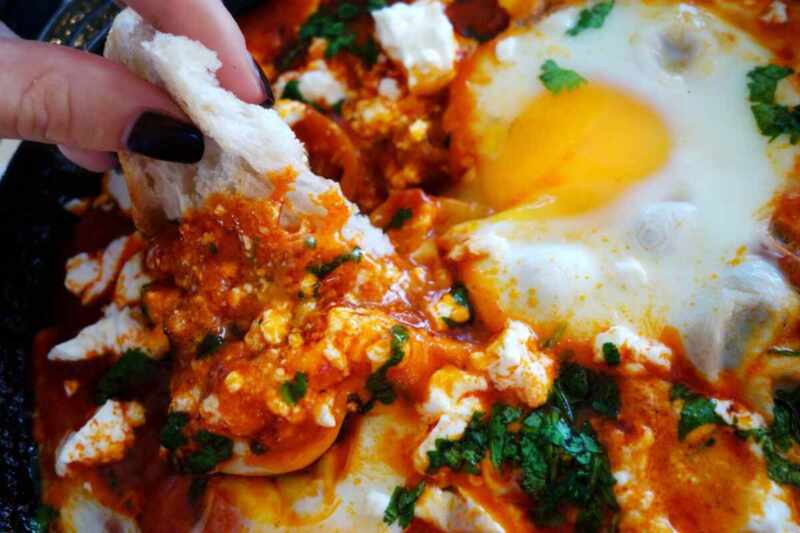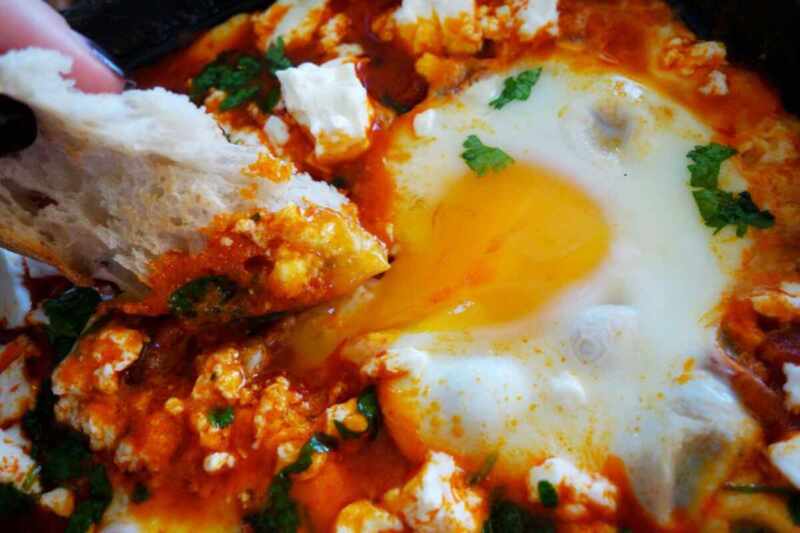 You can make endless variations on this recipe, just use the bits & pieces you have in the fridge.
To serve two I used:
Olive oil
1 large clove of garlic, crushed
1 small uncooked chorizo sausage
1 can of tinned tomatoes, crushed by hand
Handful of cherry tomatoes
Handful of chopped peppers
Sprinkle of salt, smoked paprika and dried chilli flakes
A blob of honey
Big pinch of chopped coriander (cilantro)
2 eggs
Handful of feta
Another pinch of coriander (cilantro)
And sourdough bread.
Start by chopping up your cherry toms and peppers.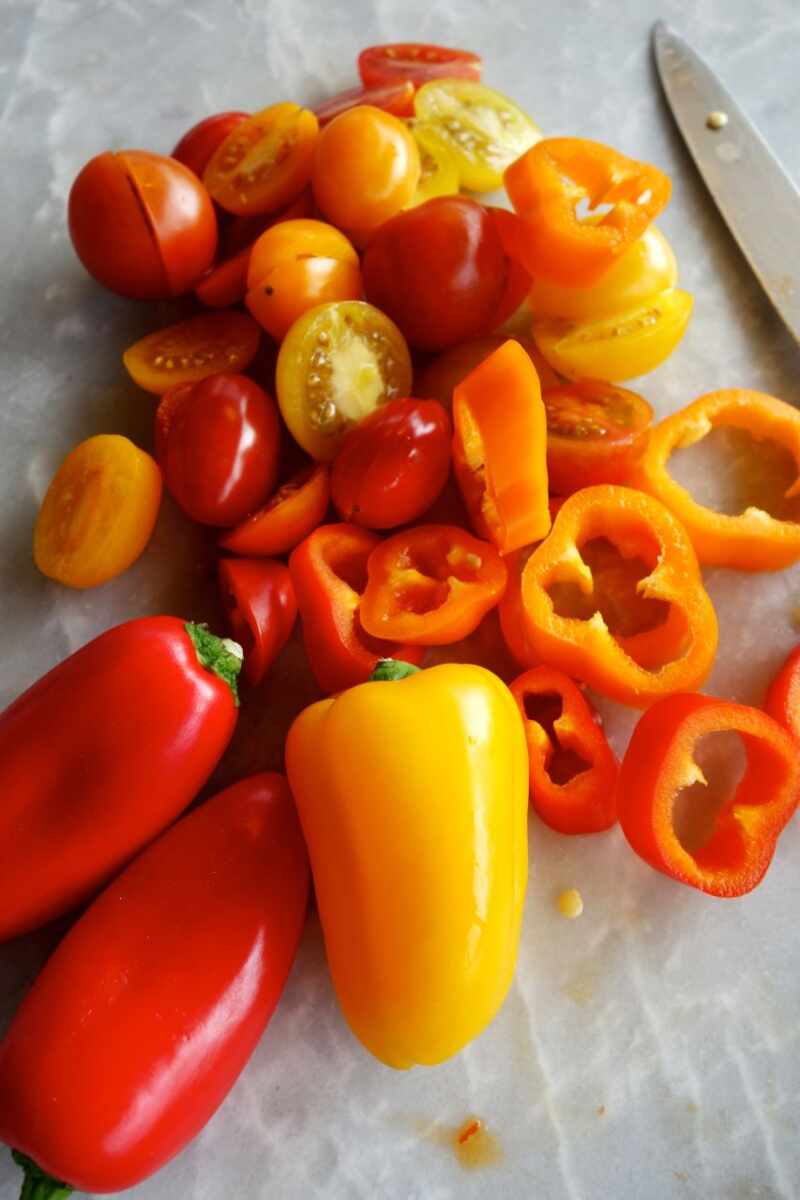 If you can, choose a nice heavy based skillet/frying pan that you can serve your eggs in at the table. I used a small one for two people. If you're feeding more, use a bigger one!
Heat it on a medium/high heat and add your olive oil. When it's nice and hot add your chorizo, all sliced up and your crushed garlic.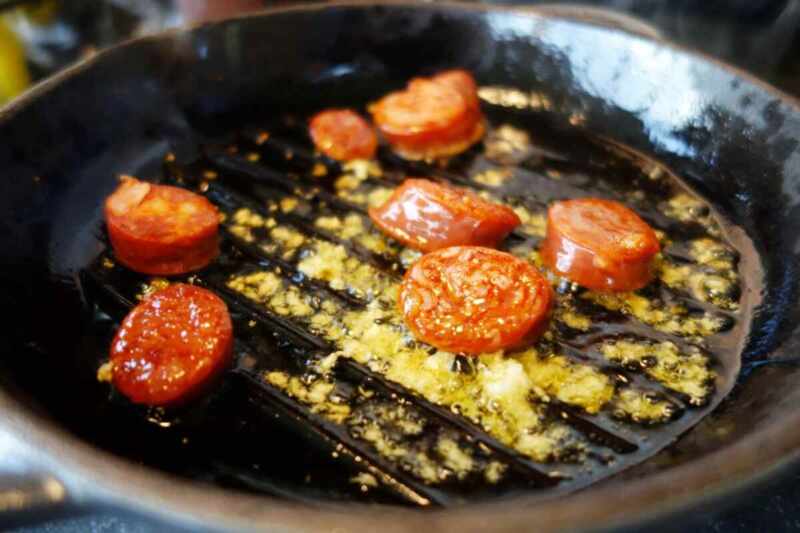 Fry until the garlic turns golden & keep moving the sausage around.
Now add your cherry toms and your peppers (careful the fat doesn't splatter you), then pour over your tinned tomatoes.
Sprinkle with a generous pinch of flaked salt.
Dust with smoked paprika, a good snow of chilli flakes and your blob (technical term) of honey.
Now you want this to cook away and reduce down for a good 15mins on a medium-low heat. Stir it now & then.
Once about half of the liquid has cooked off, add your first big pinch of chopped coriander (cilantro) leaves.
Give it a good mix about and break two eggs, gently onto the top.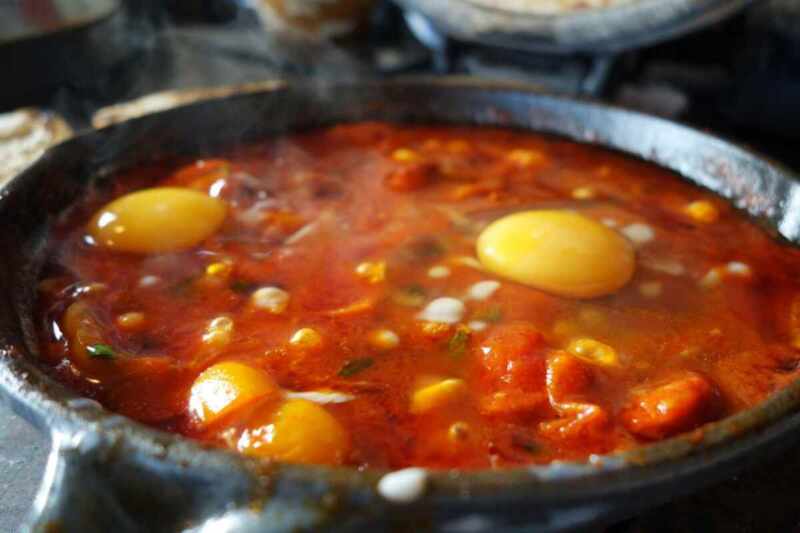 They should poach away nicely in the sauce. While they're cooking pop some of your bread onto toast.
If you're cooking on an AGA, place them right onto the hob.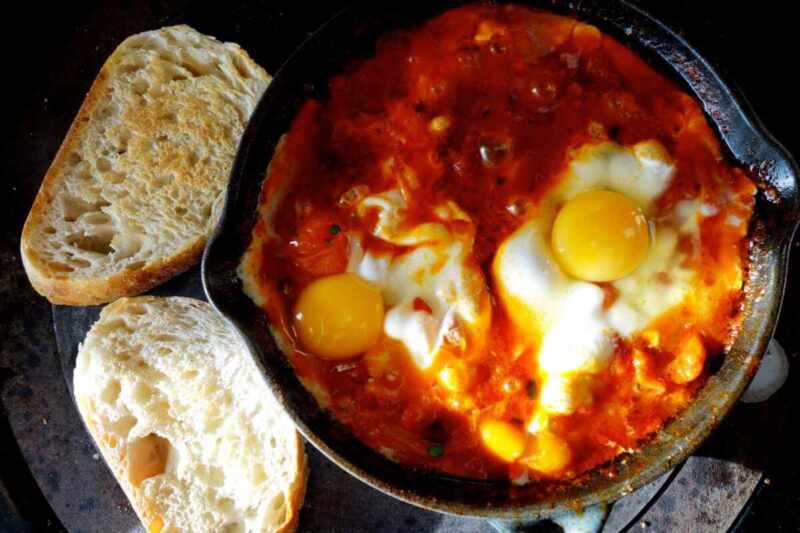 Otherwise, use the toaster!
When the eggs look almost done, crumble over your feta.
And sprinkle with the rest of your coriander.
Leave it to cook and melt for a few more moments.
And then serve (on a chopping board so you don't burn the table).
Throw your toast, some forks and at least one spoon aboard too.
Now, grab that gorgeous creature you woke up with, dip that bread in 'n' share some of the best eggs you've had all year.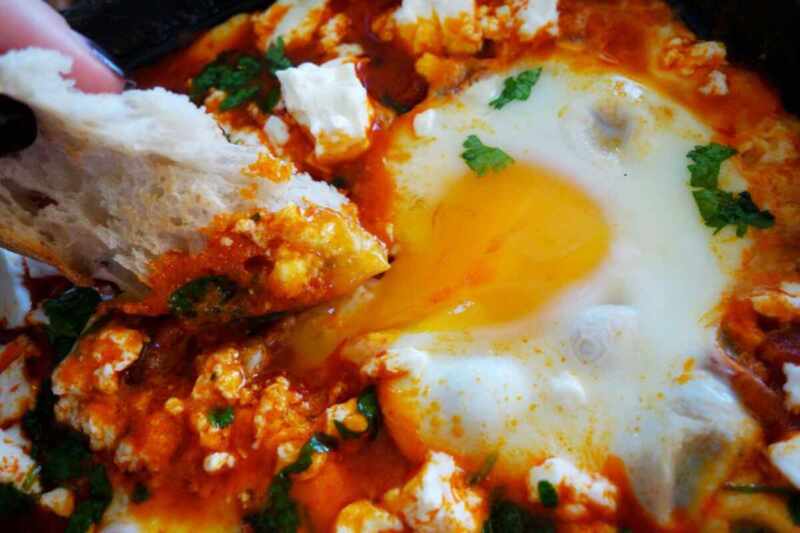 The ultimate way to start the new year with a bang.
I hope you have fun tonight, I plan on freezing my tail off at the fireworks so let's hope it stays bright & clear! Fingers crossed my dress arrives in time…