The usually green & lush Kensington Palace gardens have been totally re-carpeted in my absence.
The rolling lawns have been coated in glorious yellow and orange leaves.
Even on a grey drizzly day it looks more like a painting than a park.
After a hearty lunch Luke & I went for a bit of a leg stretch.
Ducking under trees to avoid the occasional sprinkling of rain.
We weren't the only ones!
I'm completely obsessed with this foxy little smock dress from ASOS and may just wear it every day until Spring.
The print is so wonderfully Autumnal and the cut means I can eat and eat until I'm the size of a house and it'll still be flattering.
Honestly what more could you ask of a dress?
Anyway, let's get back to the walk.
Gorgeous Lukey boy (who has his own blog as it happens) is rocking Adidas Gazelles, skinny jeans, NYC shirt, bomber jacket and an RI backpack.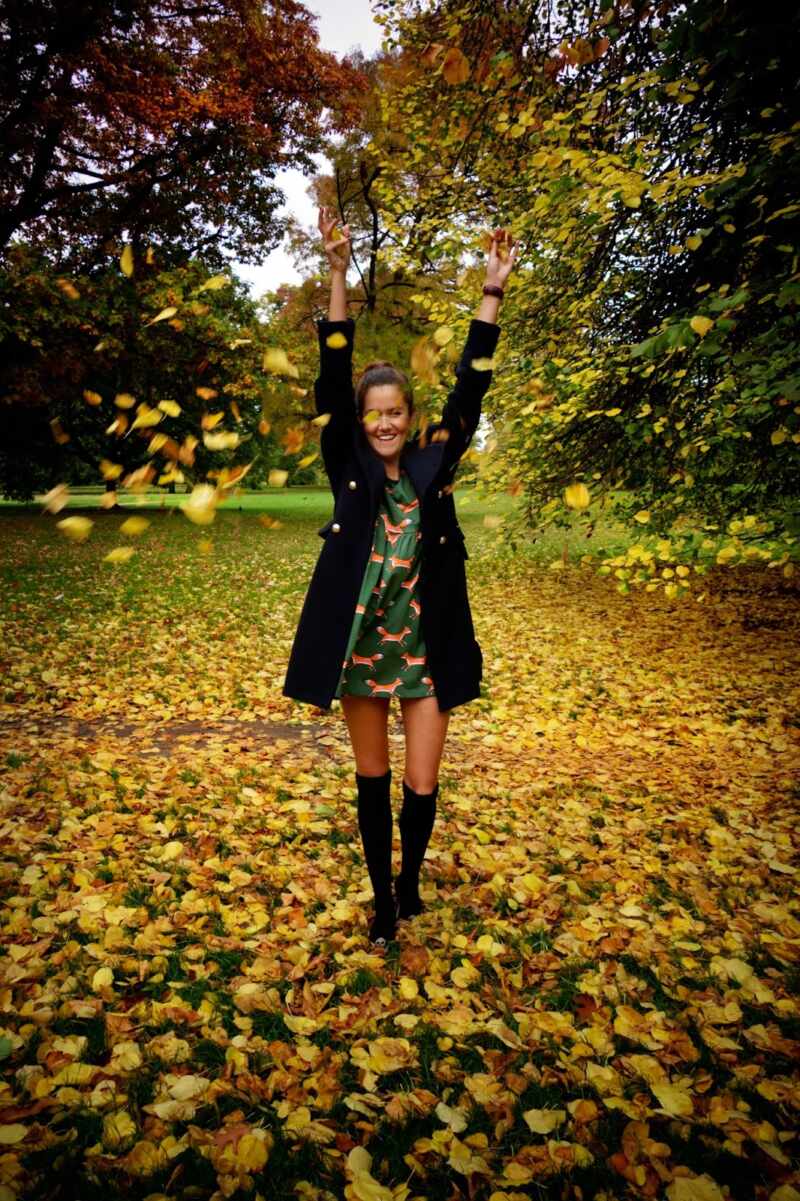 I'm in an old coat (so sadly don't have a link for it, but have popped some other options below), foxy dress, snuggly socks, skull slippers (these are similar), bad-ass handbag, and an all important umbrella.
[iframe frameborder="0″ height="120px" scrolling="no" src="http://currentlyobsessed.me/api/v1/get_widget?wid=29&blog=The%2BLondoner&product_ids=n_2336049,4268f41828b56893ac84de19835cdc9a,6a7dd874f0353b56322358cea1d9bec4,6e5cdbdeacff39d5613967d791e41f76,07325fab4fdd32668d180c2227f38b21,27c8507f14feb928a2ac75972fe8ea14,3c25685e2c95b09a8f2c0c61f7dd4f30,d074ff26b1b73fc54636507cf61a3711,n_2277435,n_2116731&rows=1&cols=6&brand=1&price=1&hover=1″ width="710px"]
Which turned out to be the perfect squirrel taming outfit.
Luke's didn't have quite the same effect on the local wildlife…
I told this chap that he was very handsome and I liked his ears.
He said "Oh stop it yoooou!"
And we continued our walk to Kensington, for tea.
Which we had outside a very sweet little teashop called Blanche.
Nail polish is Lacy not Racy and my watch is a Daniel Wellington men's one (the same one my brother has).
L.M Montgomery famously said "'I'm so glad I live in a world where there are Octobers."
What a wise lady.