For as long as I can remember my brother & I have been having diving competitions.
We'd line up our toes on the pool/boat/cliff edge, count ourselves in and on 3 we'd plunge head first into the water below.
Our long suffering parents would peer over their books & give us a score (Strictly Come Dancing style).
Mum was always more generous with her scores so with a lack of baby brother or Dad to challenge my perfect 10… I took myself off to the hotel rocks for a dip.
My first attempt was a little lack lustre:
Legs apart. In-elegant. A very average 7/10.
For my second leap I took a little more time to prepare.
I came up & asked for the verdict.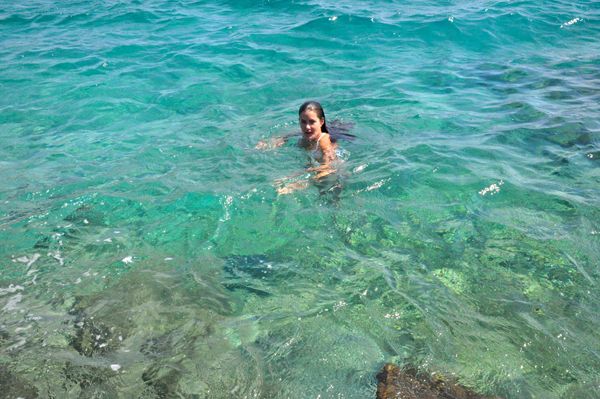 Legs together, not much splash. 9/10. Not quite my perfect 10… but worth a celebratory mermaid flick anyway!
I lured my snap-happy mother mermaid into the sea to play with the fish.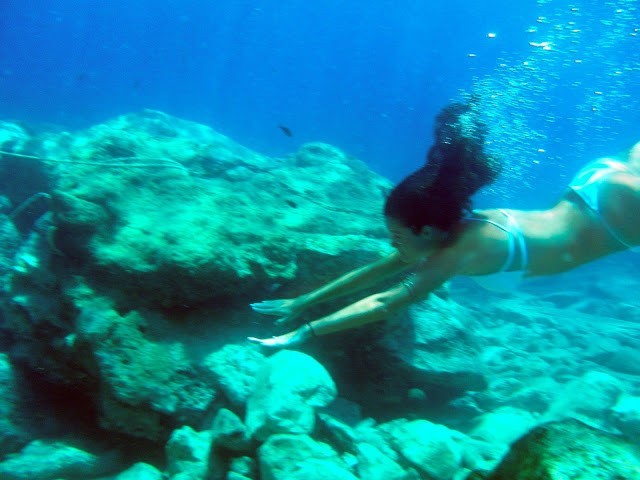 Having flipped, twirled, dived & swallowed enough seawater to float a battleship we decided it was time for tea, see?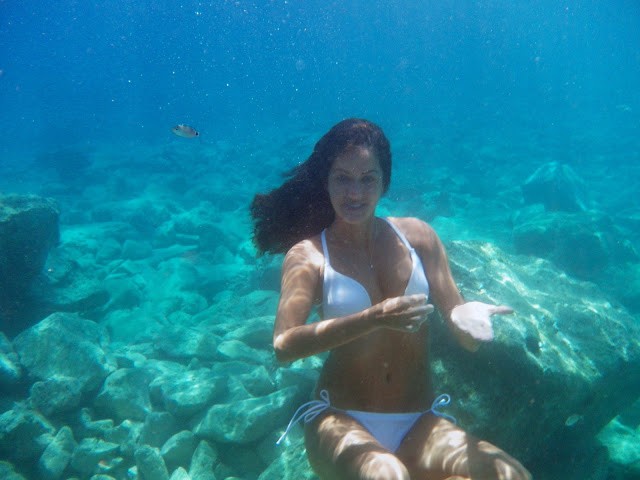 So swam to our sunbeds to dry off before lunch.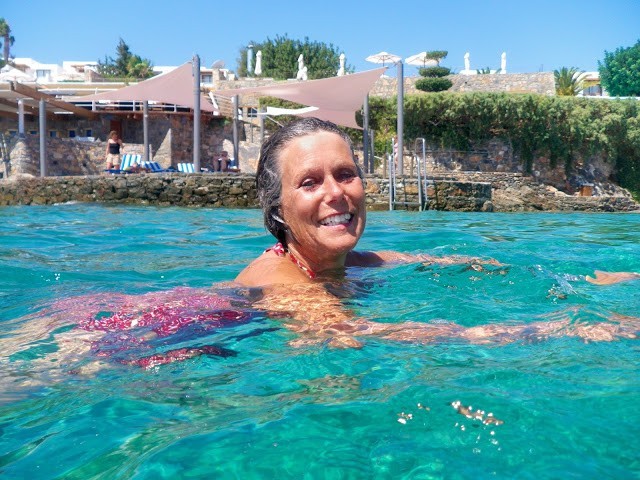 Bikini top , bikini bottoms & I was trying to get a tan line with the snake but it didn't work sadly!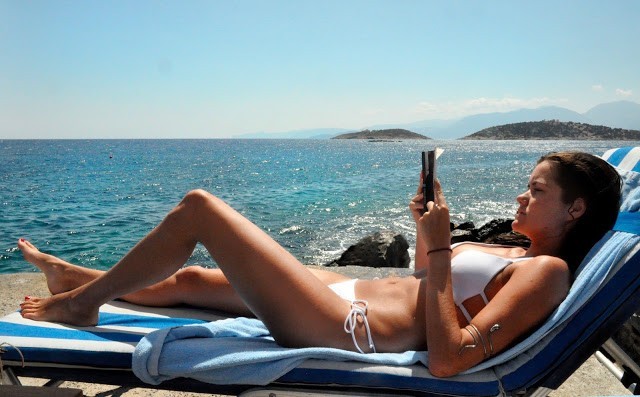 I ran out of pages in Neil Gaiman's book so moved onto Hemingway … who I'm not enjoying quite as much, but I think I'll get into it.
Lunch at the hotel is lovely so we didn't see any need to travel further afield. While you peruse the menu they bring you drinks & bits of veg with huge chunks of sea salt.
Mum went for her favourite, a towering pile of Cretan Greek salad (the Cretans add capers which is an inspired addition if you ask me).
I had seabass sashimi
And a salad with huge ice-cream sized scoops of soft goats cheese, capers (my favourite) and vinaigrette.
After lunch mum went for a snooze & left me to sink into my story.
If you're thinking of heading to Crete then St Nicolas Bay is well worth a look. The private beach & restaurants mean you can pootle around without your shoes or wallet. All you need are your room keys & your book. Friendly staff bring drinks to your sunbed & kids tend to stay up in the pool so it's very peaceful down there. It is expensive. We went with " Great Hotels of The World " where it's much cheaper. Having chatted to the staff it sounds like the best time to come is September, so we're going to try and persuade dad that we need a family trip! The only thing that lets the place down is the breakfast (which really is pretty bad). Other than that, it's the perfect little Cretan hideaway to explore the island from. Talking of which, I have the blog post I'm most excited about to put up tomorrow! It's been so hard not to put it up already… Can you guess what it's about?