A good BBQ is a juggling act. You have to try and get everything ready all at the same time, cook enough for a small army, with the perfect level of charcoaly goodness, a mix of different flavours & you're expected to socialise at the same time. On the plus side you get to stand out in the sun & you end up with food that looks like this: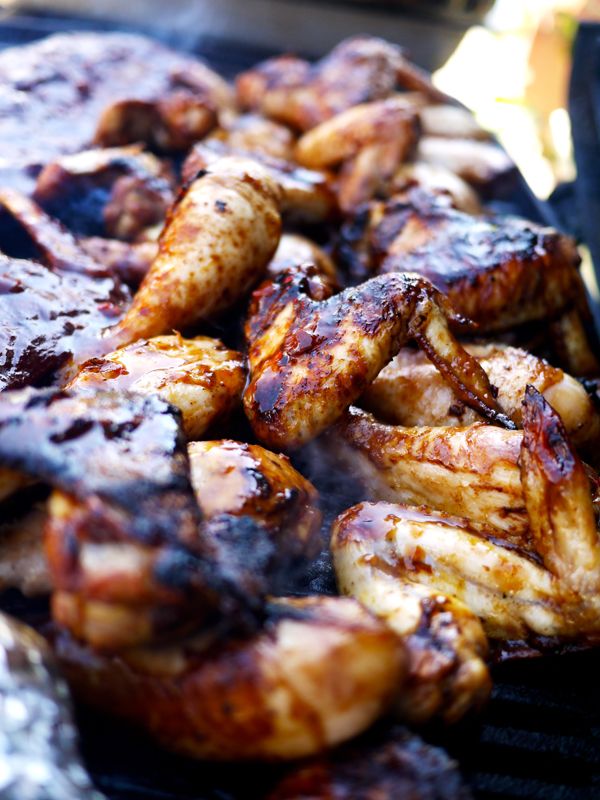 I wanted to do a couple of BBQ recipes but I wasn't sure how to do them with all the timings etc, so decided I'd just walk you through one of my BBQs instead. Does that make more sense? We had a family BBQ on on sunday, the hungry hoards descended ready to be fed & watered (wined).
On Saturday night (9pm) I made my chicken marinade. 1/2 cup of tamari soy sauce 1/2 cup of sesame oil 2 cloves of crushed garlic 1/4 cup of honey & tossed a whole load of drumsticks & chicken wings in it. Put them in an airtight container & left them in the fridge. Sunday morning (11am) I got my ribs ready. 2 racks in a big baking tin. Smothered them in smoked paprika, chipotle paste, a few splashes of Worcester Sauce & poured half a glass of cloudy apple juice into the bottom. Covered with foil & popped into an oven at about 150C/300F
12pm I fired up the BBQ & poured a few jugs of Pimms (I like a drop of elderflower in mine too).
While the BBQ heated up I prepped the corn.
Popped a big handful of coriander (cilantro), paprika, salt, chillies, lime juice & butter into the Magimix & blended it. Paired up the corn, smothered the butter all over them & wrapped them 2 by 2 into foil packages.
Next I crushed garlic, chopped parsley & blended with butter before squidging it into big, fat mushrooms.
By about 12pm people were starting to get peckish so I threw a few shrimps on the barbie, mate!
Soaked a bunch of wooden skewers in cold water while tossing the prawns in lemon, coriander & olive oil.
While they marinaded I made 2 sauces, one with ketchup, mayo, & tabasco…
… and the other with a little fried garlic, lemon & mayonaise.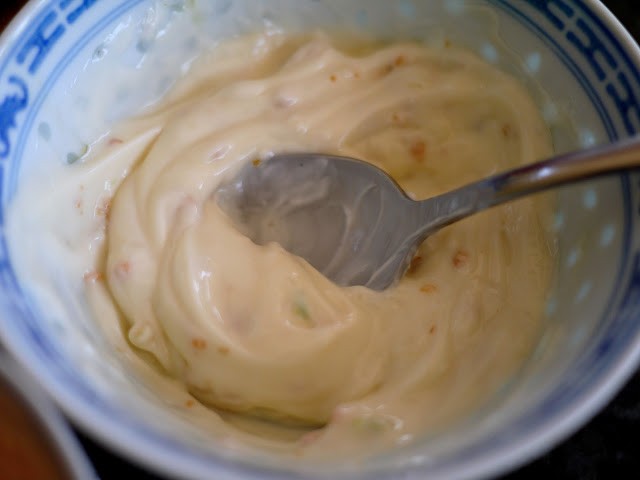 Skewered the shrimpies
& sizzled them on the grill until pink & golden.
Served them with a very cold bottle of Chablis, sat down & chilled with everyone for a while.
The prawns disappeared alarmingly quickly so it wasn't long before I was back to my post. 12.45pm the chicken went on.
While it frazzled away happily, I checked the ribs.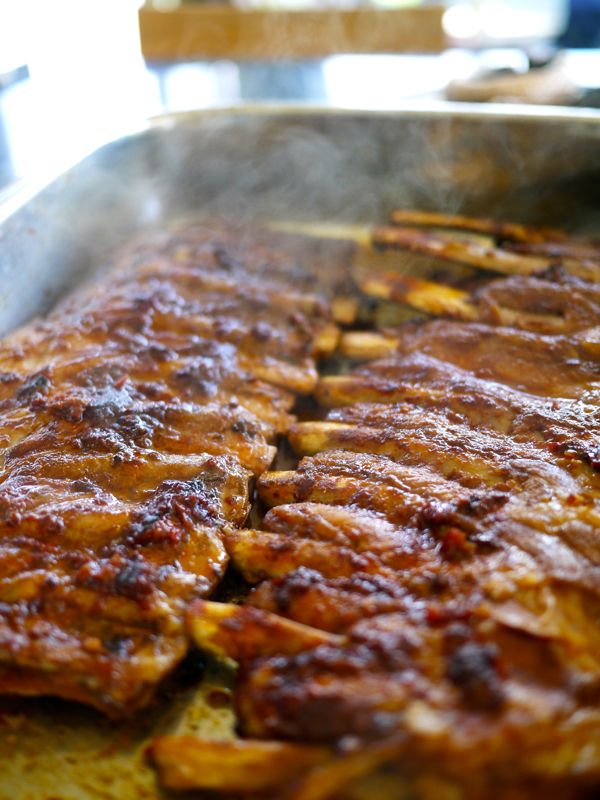 Coated them in BBQ sauce (you could make your own but I just grabbed a bottle to speed things along).
Once the chicken had almost cooked through, I added the ribs.
Pushed all the chicken to the back to keep cooking gently for another 10 mins.
And added the corn.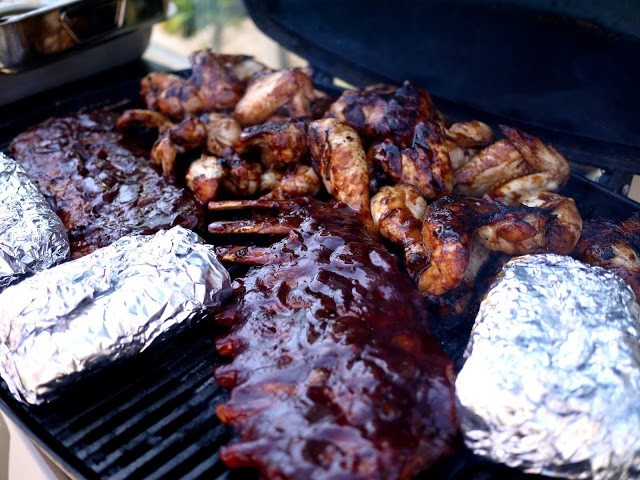 At 1.15pm (ish) I took the chicken off (due to lack of space) & popped it into the bottom oven to keep warm. Threw the mushrooms on…
And filled in the gaps with sliced halloumi cheese.
A salad miraculously appeared & lunch was served at about 1.30pm!
By 2.30pm all that was left was a happy, sticky family & some very jealous dogs.
An unconventional "recipe" post but I hope it helped a bit. It's supposed to be a scorcher this weekend so get as naked as possible, grab a cold one & fire up that barbie!