When we were little my brother & I essentially lived in the garden.
I'd spend my summer holidays with muddy hands, grazed knees & wild, untamed hair. We built forts, assault courses, hideouts & tree houses. They were always wildly ambitious and never turned out quite as we expected, but they were our palaces nonetheless.
Inside, we were kings. My brother would carry around his favourite Guinea pig (Horlicks) and the dogs would lay quietly at our feet as we planned our next adventure.
Mum would bring us sandwiches & big glass bottles of her homemade basil lemonade with corks shoved in the top. We'd pull out the cork (usually with our teeth), fill our tin mugs & clang them together like pirates.
Harry's working in London now. No more Guinea pigs for him.
On Sunday he popped round with a great big bunch of roses for me, so I repaid him with a little taste of our old adventures with a bit of a grown up kick.
Basil Lemonade Grenades use my mum's exquisitely simple basil lemonade recipe, with a big ol' slug of vodka. They're dangerously delicious.
To make a jug for 4 you'll need:
The juice of 6 lemons
1 cup of sugar
Handful of basil
1-2 cups of vodka
Lots of water
Lots of ice
Pop your sugar into a saucepan over a medium heat with 1/2 cup of water. Add your basil & stir until all the sugar is completely disolved. Juice all your lemons & pop the juice into a jug, sieve your basil syrup into the jug, add your vodka & fill up with water. Your vodka/water ratio depends on how strong you like your drinks, I'll leave it to you.
Serve over lots of ice & garnish with a little extra basil & a lemon slice if you're feeling fancy.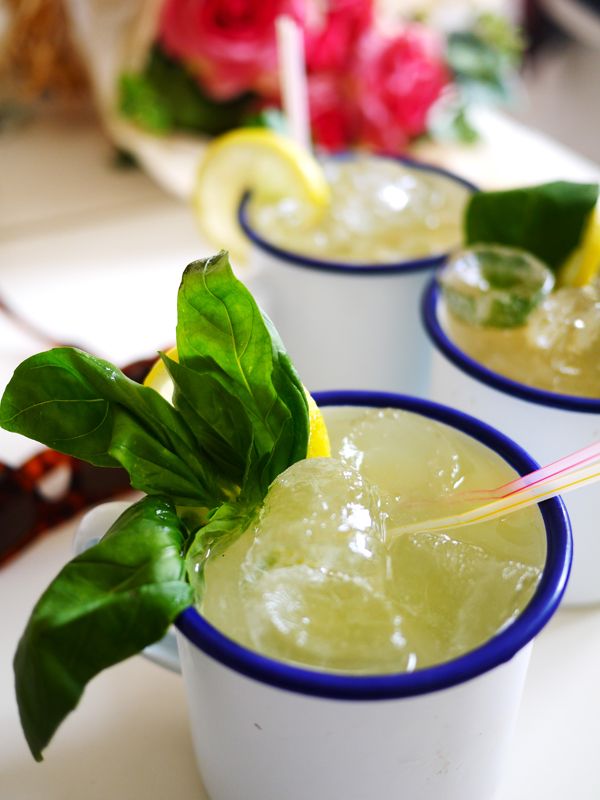 Clang your cups together & shout "BOOM"!
The ultimate summer cocktail, whipped up in a jiffy.
If you like you can also make lemon bellinis, just combine the basil syrup & lemon juice, pop into the bottom of a champagne flute & top with bubbly… maybe just lightly *chink* your glasses & whisper "boom" for this one!