When we arrived in Cannes we made a pact to be glamorous.
We said we'd play Gossip Girl and wear pretty dresses & heels every day. We'd be polished & perfect little Cannes girls.
It lasted two days.
By day three I was sick of wearing makeup, sick of towering over everyone in uncomfortable stilettos & smiling politely while chatting to people wanting to tell me how important they are.
I needed a day by the sea. Sandals, suncream & peace.
We grabbed breakfast on the hotel deck & sunk into our sun loungers.
It was such a wonderful change of pace. Nothing to do but sit & watch the boats sail through all the different shades of blue.
Kim wore one of her new collection of bikinis to cool off with her Gucci trilby.
We had a light lunch of sushi in the sun…
… followed by hot chocolate & a snooze.
Thoroughly recharged & feeling my more "holidayish" we headed back to civilisation with wet salty hair & brand new sunfreckles.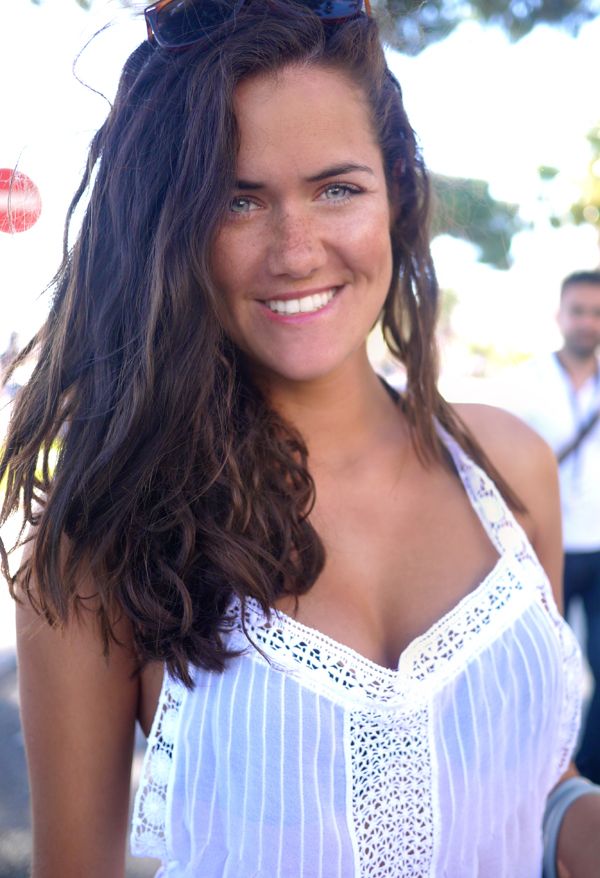 I'm wearing a lace coverup from ASOS , Prada bag & Topshop sandals. Hardly very Blair Waldorf… but Kim's certainly rocking Serena!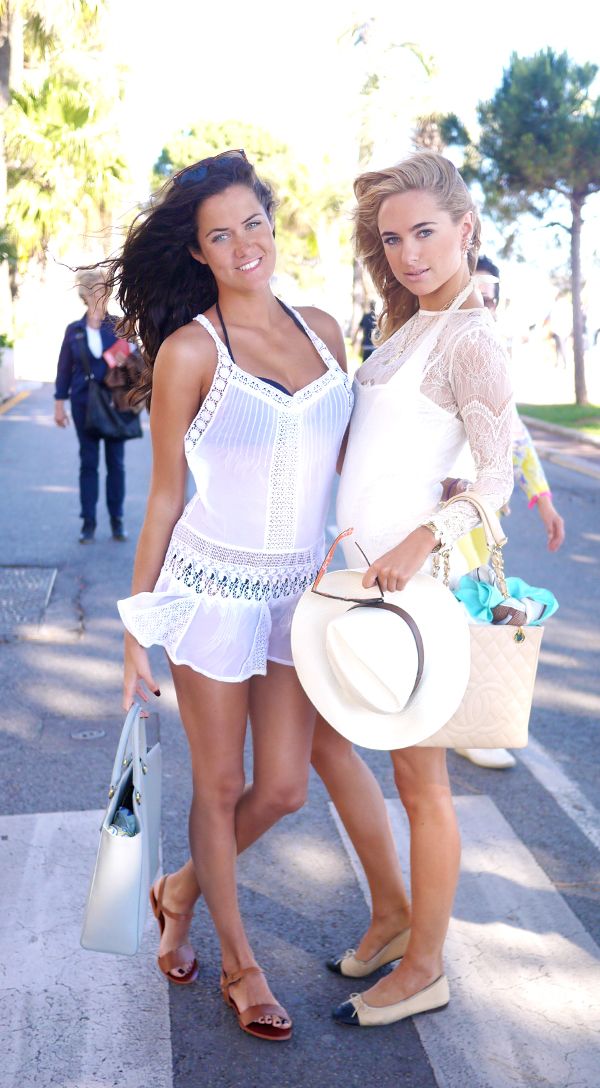 Wandering along the front we saw a big convoy of beautiful classic cars.
We hopped into the back of the shiniest one & hitched a ride down the strip.
Laughing, we thanked the driver & jumped out at one of my favourite restaurants, Vesuvio for an early supper. Where we made up for having such a light lunch!
After a quick shower & change it was time to head to Gotha to see Italian DJ Luciano do his thing. Hosted by Beat (a late night club in London) they'd taken over the whole outside area & thrown up a tent out back.
Inside was intense (or should I say in-tents?!) The crowd throbbed along with the music as Luciano slowly whipped them into a frenzy.
As the sun went down the beats got heavier & the crowd wilder.
I lost Kim & just as the sun dipped below the horizon, I did.
I suddenly felt as though I were drowning within myself. Like I could see everything that was going on around me but I couldn't get to it or touch it.
It was a bizarre mixture of being sucked under & floating, all at the same time. The euphoric music thumped & rattled in my head and everything just span out of control.
Everyone around me who had seemed so friendly & smiley turned into menacing monsters trying to claw me down with them. Eyes seemed wider, smiles too big, everything was moving in slow motion.
I made my way through the crowd, avoiding grabbing hands and jeers from men. Found a taxi & took myself home.
Safe & alone in my room & went to splash my face with water & noticed my eyes. This definitely wasn't sunstroke or one too many glasses of champagne. Someone had dropped something in my drink.
I spent the rest of the night hiding under my duvet slipping in and out of consciousness.
Just after midnight Phoebe called & listened to my incoherent babbling for over 2 hours, calming me down & making sure I was drinking water & staying safe.
I woke up incredibly tired but unscathed.
Things could have been so, so much worse.
I'm usually pretty careful with my drinks but drinking from those silly huge glasses must have made me an easy target. If you're out please be careful.
– Never accept a drink from someone you don't know unless you take it directly from the waiter/barman.
– Watch your drink. If you put it down to go dance, get a new one when you come back.
– If you're dancing in a big group with strangers around, try and cover your drink. Easiest option is to get a bottle & keep your thumb over the top.
– Stick with your friends, you never know when they might need you or you them.
If you think you've been spiked don't do what I did. Had I been in my right state of mind I'd have gone to an official or a policeman & I'd have asked to be taken to hospital.
I was very, very lucky. Please look after yourselves & each other.
Drink spiking isn't just something your parents try to scare you with & it really does happen… far too often.