You can't beat a good sandwich.
I don't mean those flimsy, silly little things you buy in plastic at the garage.
I mean a stonking great beast of a sandwich, oozing its' fillings all over the place & seducing you with a
glance.
This bad boy has it all going on.
Steak.
Cheese.
Guacamole.
Salsa.
Garlic butter.
Oh yea, he's a veritable Manwich & he's a little bit of a hunk…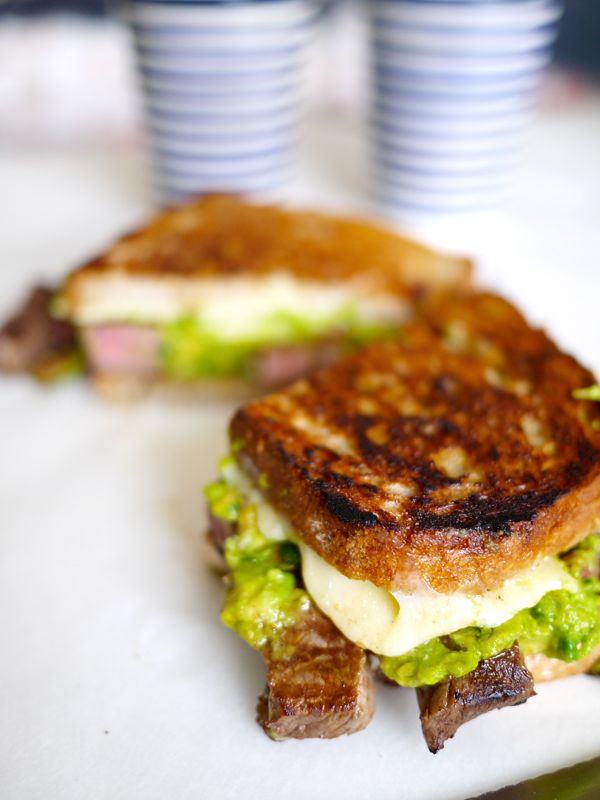 Grab a steak.
Smother it in hot sauce & sprinkle with salt flakes.
Heat a griddle pan until it starts to smoke, throw your steak in & cook for a couple mins on both sides.
Leave it to rest while you knock up your guacamole. Squeeze an avocado into a bowl, mash it with some chopped coriander, salt & a big squeeze of lime. Slice your steak.
Get a good rough, tough piece of sourdough bread & lay your steak on. Spoon over your favourite salsa.
Smear on your guac.
Add a layer of extra-extra-strong cheddar. This is a manwich after all.
Heat a frying pan with some garlic butter (I use Lurpak Garlic Butter but you can use anything you fancy, or just fry up some garlic in normal butter). Lay your sandwich gently into the pan, top with bread.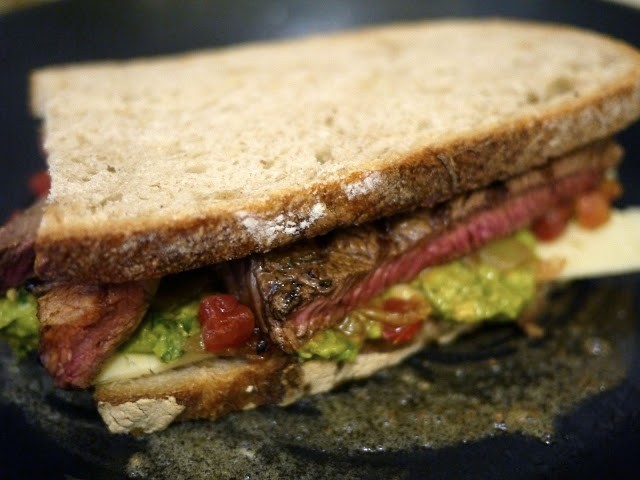 Now you're going to want to press it down. Put a baking tray, plate or anything flat onto the sandwich & press down with a few cans.
Look at him cooking away all nice & snug down there!
Cook for about two mins on each side (being very careful when you flip it). And you're done!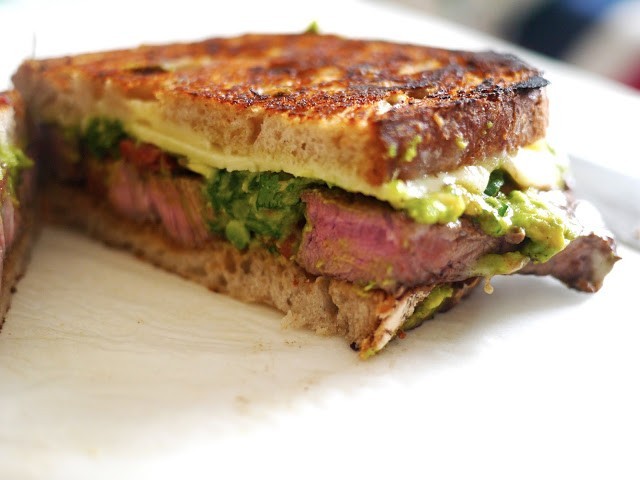 I did intend this to serve two people… but accidentally ate the whole thing.
I don't know what happened!
One second there was a spare sandwich, I blinked and suddenly it had gone & I had guacamole all over my hands.
Ps. Incase we're not friends on Facebook & you didn't see my 4ft wide grin yesterday… the date went really well!