S'mores are a very American/Canadian thing.
When we go camping over here we tend to just toast marshmallows on sticks and eat them right away.
Luckily for me, my siblings & friends, my dad knows better. He coached rugby in Canada when he was young, so he knows all the best wilderness tricks… including squidging that hot marshmallow up with some chocolate in between 'Graham Crackers' (digestive biscuits for us).
We camped every summer. In the day we'd hike, swim, fish & play with the dogs. When night fell mum would cook up the catch of the day & we'd eat around the fire. Plates would get washed up in the stream & finally we'd all snuggle down for s'mores & stories. I'd let one of the dogs squeeze into my sleeping bag with me and mum & dad would pretend not to notice.
They're some of my favourite memories.
If I'm ever down or a bit homesick there's one thing that'll always send me right back to those summers. S'mores.
On this occasion I didn't have any biscuits, but I did have Oreos left over from a batch of Slutty Brownies . Long story short, S'moreos were born.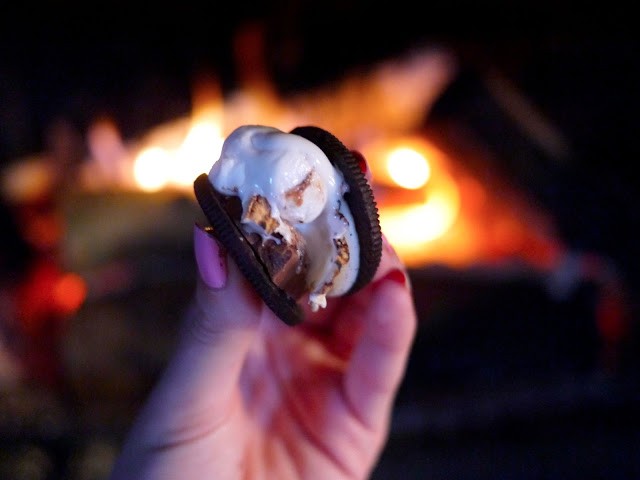 If you can't get to a fire, pop one half of your Oreo on a paper towel, top with chocolate, then your marshmallow. Microwave for about 15 seconds, pop the other side of your Oreo on top & squidge (technical term).
Summer serving suggestion: Serve beneath the stars. Winter serving suggestion: Consume within a fort made from sofa pillows.