Carl Clarke has been one of my favourite London chefs for a while now. I've been to all of his pop-ups and couldn't have been more excited when he announced his new venture, "Disco Bistro". It's taken me a while to get over there (East London is pretty much another planet when you live this far west), but oh boy, was it worth the trip! I dragged DP along with the promise of some of the best fried chicken this side of the Atlantic (we all know the way to an American boy's heart is paved with fried things & hot sauce).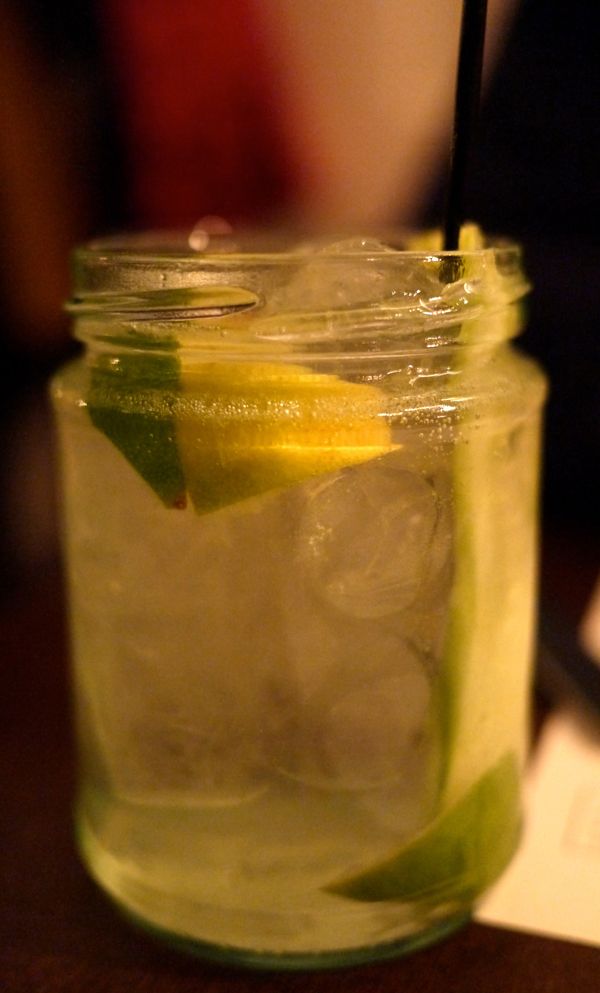 We drank G&T's from iced mason jars & snacked on irish soda bread while we drooled over the menu.
Indecisive (and greedy) as ever, we plumped for both types of chicken wings & scallops to share.
Unable to wait, we burnt our fingertips & tongues diving into the wings; but God it was worth it. The sticky variety were sweet & sharp, the sauce sort of caresses you with honey before giving you a little slap of vinegar. The spicy ones were rich & fiery with a beautifully crisp batter. I can't bring myself to pick a favourite, I actually think they work very well together.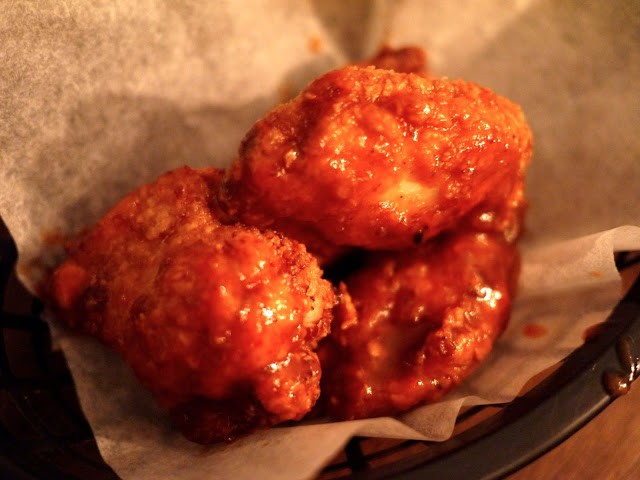 The scallops were perfectly cooked & served in their shells.
I'm not the biggest fan of black pudding on its own, but it's a dream with scallops. I had hoped the apple sauce would be tart, it was a little sweet for my tastes but I was so pleased they'd left the coral intact, I barely even noticed. I follow Carl on Twitter & had seen him rave all day about the Dexter steaks that had just arrived, so we went for the steak with bone-marrow & the chicken burger with beef dripping fries.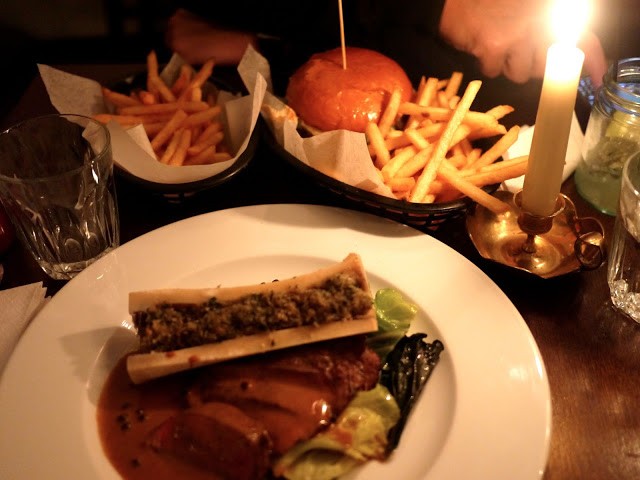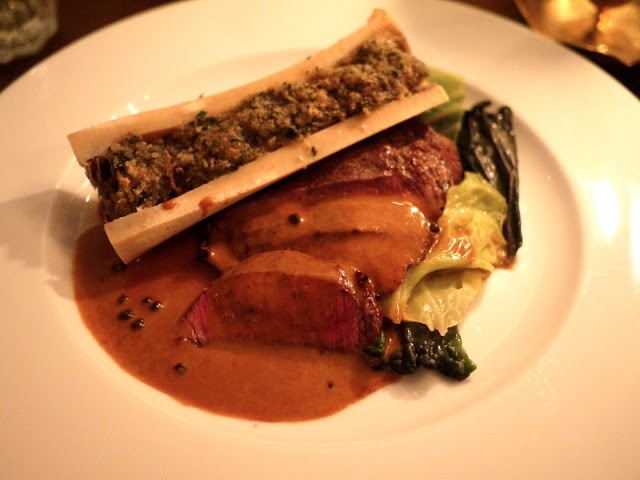 The steak was excellent but forget about that for now. The chicken burger… oh the chicken burger!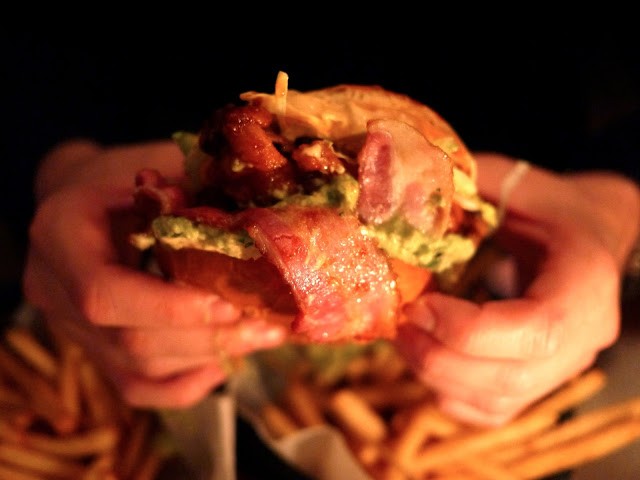 A beast of a burger, bursting with fried chicken thigh, tossed in hot sauce, piled high with guacamole & bacon with a spicy mayonnaise. Who know something so bad could be so good? This was a tough one to share & we both agreed we would trek over to East London any time for this bad boy.
The restaurant itself is perched above a pub in a winding little street near St.Pauls. Candlelight, ad hoc art work, taxidermy littered walls & a buzzy crowd make it a great spot for a date or just a chilled dinner with friends.
For pudding we had Yorkshire rhubarb with jelly, cream & miso crumbs; essentially a deconstructed rhubarb crumble. And hot gingerbread doughnuts with lemon curd for dunking.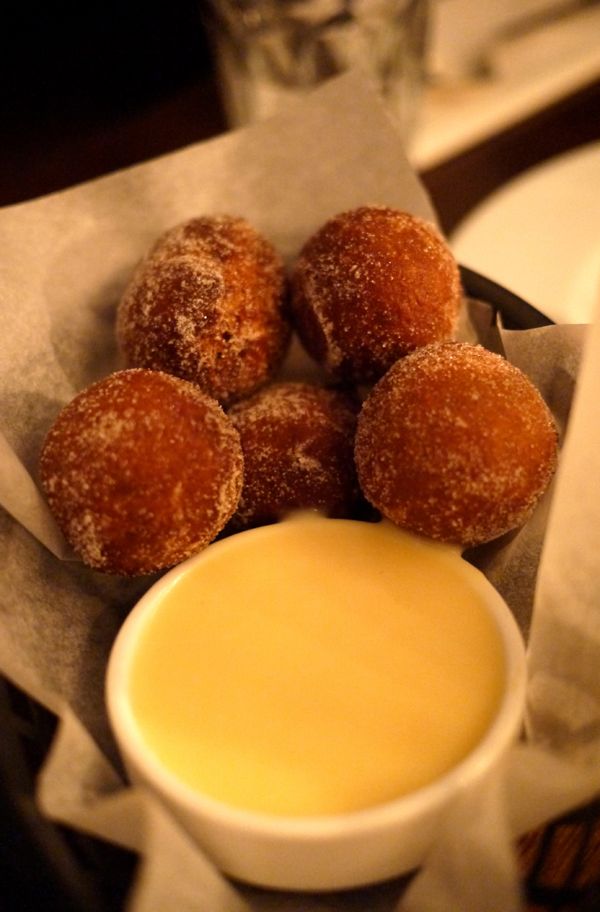 Proper comfort food executed beautifully. Sorry to rave, but I really recommend checking this place out before they move on this summer. You don't want to miss it. Follow them on Twitter to keep up with the ever changing menu & give them a buzz on 07850 630 129 to book.