I love a good risotto.
There's something deliciously comforting about this rich, creamy, cheesy bowl-a-love.
The one thing I don't love is making it. All that stirring, standing around feeding it stock while it slowly comes to life? Leaving your guest(s) to fend for themselves while you clang around in the kitchen?
Nope, not for me.
Thankfully all this recipe requires is a quick fry, a stir and then you bung the whole thing in the oven.
Effortlessly simple, hugely rewarding.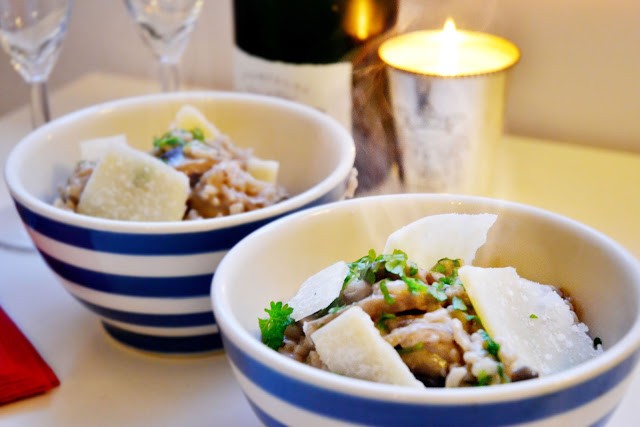 To serve 4 people you'll need:
10g (1/2oz) dried porcini mushrooms
50g (2oz) butter
1 onion, chopped
2 cloves of garlic, crushed
2 large flat mushrooms, sliced
6 or 7 chestnut mushrooms, sliced
200g (7oz) Aborio rice
1 glass of white wine (and another for you, chef)
1/2 pint vegetable stock
80g (3oz) freshly grated parmesan
Splash of cream
Salt + pepper
Parsley, chopped
You'll also need a casserole dish with a lid
Start by soaking your dried mushrooms in 1/2 a pint of boiling water, pop them to one side for about an hour, then strain with a sieve, keeping the excess liquid (if you really don't have time to do this you can skip the dried mushrooms and just add an extra half pint of veg stock later on, but you'll lose out on some of the mushroom flavour punch).
When you're ready to roll, put your oven onto preheat (180C/350F) with your casserole dish inside. Meanwhile fry your butter, onions and garlic together. When the onions soften, add your fresh mushrooms. Stir them all together and cover so they sweat out all their flavours and mingle together.
After about 10mins they should be ready. Add your soaked mushrooms and rice. Fry for a couple minutes before adding your wine.
Once it's all absorbed, remove your dish from the oven and carefully pour your rice mixture into it. Cover with your left over mushroom stock and your vegetable stock.
Add a couple pinches of salt and a good few grinds of pepper.
Stir together, cover and pop into the oven. Leave for about 15-20mins. Then remove from the oven, stir in your cheese & cream, cover and put it back in the oven for about 5-10mins.
When it's ready stir through your parsley and serve immediately with a few more parmesan shavings.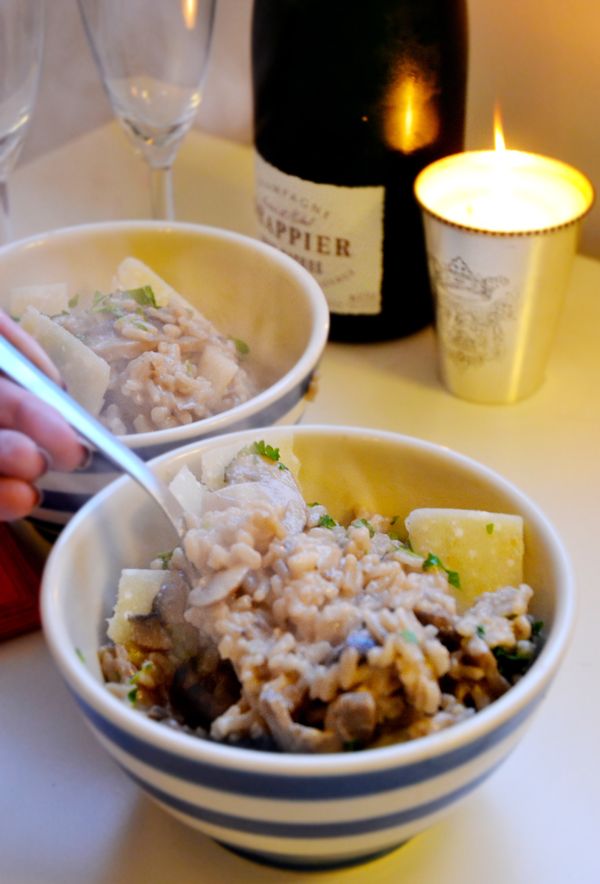 Fool proof garlic mushroom risotto, with none of the hassle! Now if you'll excuse me, the left overs are calling me from the fridge…