This is one of my all time favourite dips.
Whenever the girls come over for a movie session it's first on their list of requests (the second is anything featuring Ryan Gosling, but come on… he is a dream boat).
It's jam packed with flavour, but only has around 100 calories per serving.
The boys love it too because it's salty, spicy & tastes like something you'd have on a beach in Mexico. (The salsa, not Gosling.)
I serve mine with salted tortilla chips, margaritas & frosty Corona beers.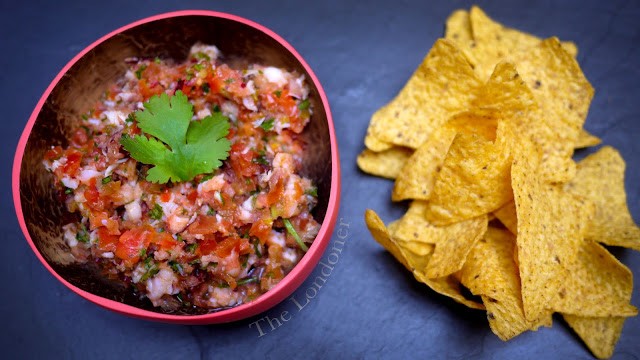 To make enough for 4 people, you'll need:
300grams (12oz) Cooked & peeled king prawns,
About 25 Fresh, plump cherry tomatoes,
1 Red onion,
3 heaped tbsp Jalapenos (or more if you like it firey),
1 handful Fresh coriander (cilantro),
Juice of 1 1/2 limes
Sprinkle of rock salt
Ok, now the directions for this recipe are pretty complex, so brace yourself…
Ready?
Chop the hell out of all your ingredients & sling 'em in a bowl!
I know, I know, nothing this easy can possibly taste good, right?
Oh ye of little faith!
The combination of these punchy, fresh, flavour filled ingredients (in just the right amounts) will blow your mind, trust me.
Great for a drinks party, nibbles before dinner or just a night in with a movie.
If you're feeling particularly jazzy, serve your dip in half a painted coconut shell like I did.
Now shake those maracas & shout
Caliente!
as you wiggle your way to your guests.
Spring break all year round!
Ps. If your hair's looking a little lack-lustre or you're having trouble with some of the cravings mentioned in
my Anti-Diet
, chop up an avocado & stir it in too. It'll make it a bit creamier & it's ridiculously good for you.
.