I follow a lot of foodies on Twitter & the one restaurant name that keeps popping up is Aubaine.
I usually steer clear of 'chain' restaurants, but "fresh", "seasonal" & "French" are words I struggle to ignore.
After dinner last night, I'm glad a caved.
Despite having 6 restaurants across London, the decor was surprisingly intimate & refreshing.
Parisien style lighting, with cosy cream booths & little white chairs at the bar.
Pastel macarons teeter in piles in the window & glass jars of meringues adorn the shelves.
Each table has flowers & candles… it's all just so deliciously French!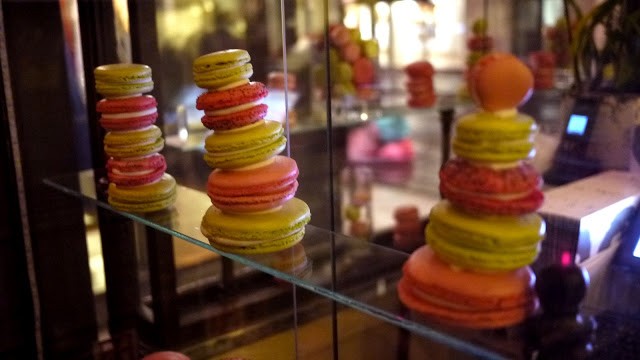 The regular menu is brimming with goodies but the daily specials list was just perfection. We started with octopus carpaccio and a pretty exceptional mushroom risotto.
Followed by scallops & roast rack of lamb.
Instead of a pudding menu, you're brought a slate of mouthwateringly beautiful treats to choose from.
All in all it was a lovely evening.
Our fellow diners were a mix of business men sealing deals & couples snuggling on the sofas. A really great option if you still haven't booked a table for Valentines day. You'll find restaurants on: Brompton Cross, Regent Street, Kensington, Selfridges, Mayfair & now Dover Street (this is the one I went to). You can Book online & follow them on Twitter . A 3 course meal is about ÂŁ40 a head without wine. I haven't been to Paris in months & Aubaine was just the escape I'd been looking for. .