There are some days where you just want something mean.
Something rough, tough & utterly satisfying.
Say hello to The Manwich.
Man.wich – Noun:
Two large hunks of crusty bread, surrounding gooey melting cheese, thick juicy steak, peppery rocket & lashings of mustard. Eaten with two hands. Not to be shared.
Enjoyed by hearty men or particularly naughty women.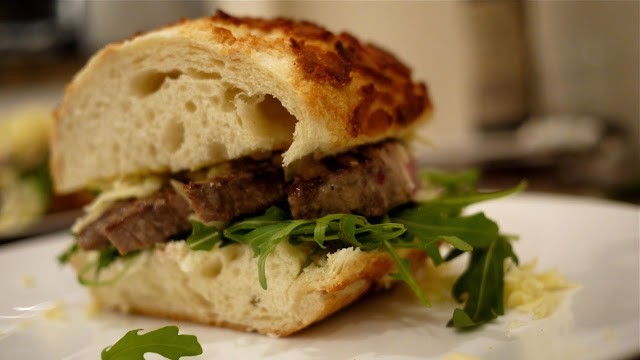 To serve two you'll need:
Your favourite crusty bread (I used a tiger loaf from Gails at Waitrose),
2 sirloin steaks,
Borsin soft cheese,
Strong cheddar cheese (grated),
Rocket,
Strong English mustard.
A great red wine or some really cold beers.
Begin by heating up a frying or griddle pan until it's seriously hot.
When it starts to smoke you'll know it's ready.
Dust your steaks with good quality sea salt and lay them in your pan. (Don't add pepper yet as it will burn.)
Your sirloins should have lots of lovely fat marbled through them, so you don't need to add oil or butter. Let the fat from the steak do the work.
Flip your steak every 30 seconds (more or less), this insures even cooking & the outside will begin to caramelise.
How long you do this for will depend on how you like your steak:
Rare: 4-5mins
Medium: 6-7mins
Well done: 8-10mins
When your steaks are done, take them out of the pan & leave them on a chopping board to rest.Â
This will ensure they stay nice & juicy and your Mandwich wont go all soggy when you bite into it.Â
Don't worry about them getting cold, it wont take you long.
Cut your loaf into 2 big hunks, and split them down the middle.Â
Spread a good layer of Boursin on the bottom side.Â
Top with rocket.
Now, sprinkle your steak with a little pepper & slice using a very sharp knife.
Lay the slices on to your rocket.
Top with your grated cheddar.
Slather the top piece of bread in mustard & place it on top.
Grrr.
Serve with your drink of choice & enjoy!
If this doesn't satisfy you, nothing will.
.