A large portion of fish and chips contains 1,400 calories, buckets of saturated fat, re heated oil, starchy potatoes & next to no nutritional value.
A vast portion of my Fancy Fish 'n' Chips contains around 400 calories and a heap of goodies.
Sweet potatoes are one of the best things you can eat, they're crammed full of antioxidants, vitamins & fibre, you name it, they've got it.
Halibut is lean, tasty & incredibly good for you.
The only naughtiness comes from a couple of spoonfuls of mayo (so if you're calorie counting, switch to extra low fat) and olive oil which will make your hair shine & your skin smoother.
If you're serving this to guests, you may want to describe it as "Chili halibut goujons with spiced sweet potato fries accompanied by a fresh dill & caper sauce."
And we'll just keep the "Fancy Fish 'n' Chips" name between us, shall we?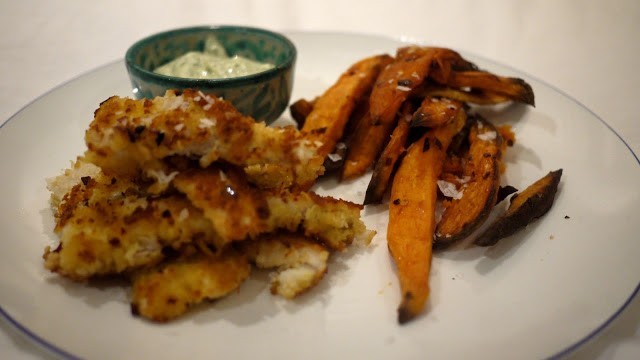 Ok, to serve two people you'll need:
For the fish:
2 fillets of halibut or any white fish of your choice.Â
(Ask you fish monger to skin them for you & chop into fingers or goujons)Â
2 cups of breadcrumbs
1tbsp of dried chilli flakesÂ
1 large eggÂ
Olive oil
For the fries:Â
5 sweet potatoes, peeled & cut into strips
2 tbsp chilli flakes
Rock saltÂ
Olive oilÂ
For the sauce:
(The sauce makes enough for about 4-6 people, so just pop the extra in the fridge)
3tbsp skinny mayonaiseÂ
1/2 cup Crème fraicheÂ
3 sprigs of fresh dill
2tbsp capersÂ
1/2 a fist full of fresh chivesÂ
3 or 4 cornichons (little gerkhins) & a tbsp of the juice from the jar
Juice of half a lemonÂ
Pre-heat your oven to 180°C (350°F).
Line a baking tray with tin foil (shiny side up). Throw your peeled & chopped potatoes into the pan, drizzle with about 3tbsp of olive oil, your chill flakes and a big pinch of salt.
Use your hands to spread the oil around and make sure all the chips have a good, light covering.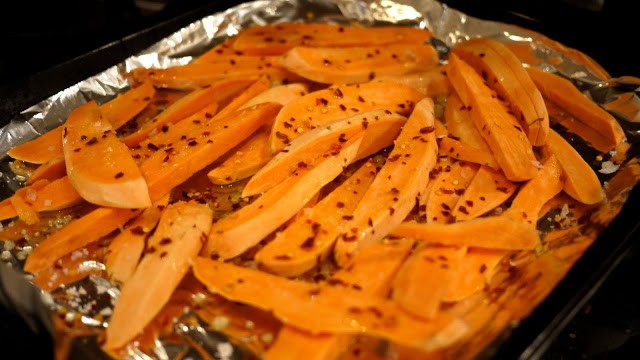 They'll need to cook for about 25-30mins, but keep checking on them and take them out & toss them around a few times.
While you're waiting, you can work on your sauce.
If you have a mini processor use that, if not you can just use a knife & have your dip a little chunkier. It will still taste delicious.
Chop the dill, the capers, the chives & the cornichons as finely as you can, but don't just make one big moosh.
Add your mayo, Crème fraiche, cornichon juice & lemon juice.
Mix them all together until you have something that looks like this: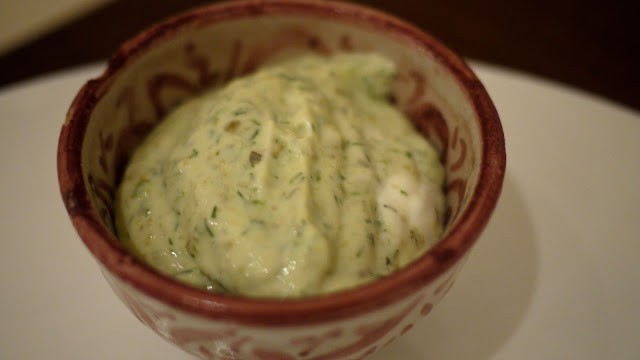 Now, it's time to get to grips with your fish.
Mix your breadcrumbs with your chilli flakes & set them aside in a bowl.
Crack your egg & whisk it in another little bowl.
Set yourself up with a little assembly line like this for breading your goujons.
Take each strip of fish, submerge it in the egg, pull it out and roll it in your breadcrumbs.Â
Put it on a clean plate, and keep going with the rest of them.Â
You'll have a breaded little mountain in no time.Â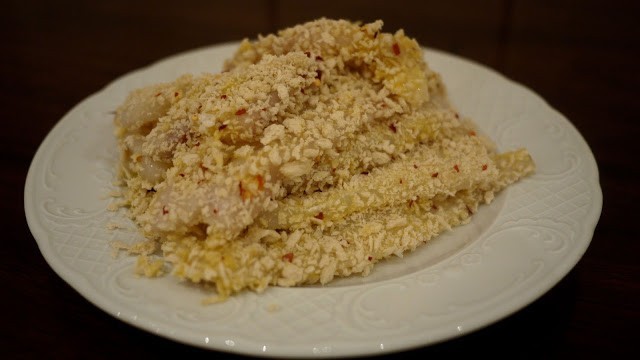 Check on your fries.
If they look ready, turn the oven off, take them out and put them into a bowl.
Put them back in the cooling oven to keep warm.
This will mean they don't sit in the fat, they'll keep warm & start to crisp up a little.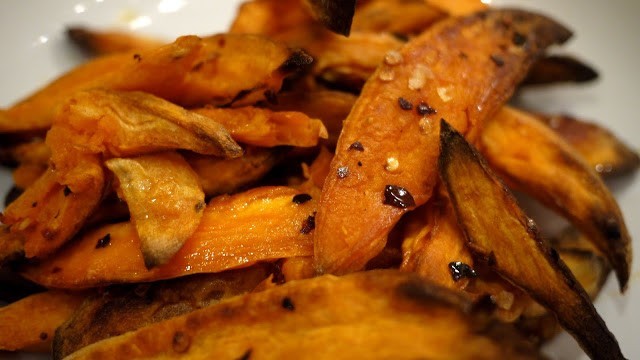 Heat a frying pan on the hob.
When it's almost starting to smoke, add enough olive oil to cover the bottom & swill it around.
Turn it down to just above a medium heat & gently lay your goujons into the pan.
When the edges of your fish start to turn white & you can see the crumbs turning golden, turn them over.
Cook for annother couple of minutes on this side & they should be done.
If you want to check, take one out and cut it open. It should be white all the way through & not slightly clear/pink anymore.
Take them out one by one & pile onto a plate.
Scrape up any breadcrumbs left in the pan & sprinkle them over the top.
Try & serve your sauce in little pots, so everyone has their own dipping bowl.
Plate up & voila!
Crunchy, spicy, cool, sweet, salty & smooth… all on one plate.
Delicious.
.