Happy New Year!
What. a. night.
If you're feeling anything like I am today, you need this hangover cure in your life.
'Invented' by my brother & I, it will see you through the year with minimal effort, pain & misery.
Grab your sunglasses & your slippers & get into that kitchen.
You can thank me later.
You will need:Â
Tortilla wraps
Bacon
Eggs
Hashbrowns
Beans
Cheddar cheese
Ketchup
& a full fat Coke.Â
This is barely a recipe, more of a remedy.Â
Cook your bacon, eggs, hashbrowns & beans. Grate a big ol' hunk of cheddar, & heat up your tortillas.Â
If you want the pinstriped, dapper look my wraps have, just use a griddle pan to heat your wraps, it gives them a great smokey flavour.Â
Now, assemble your masterpiece.Personally I like: bacon, hashbrowns, egg, beans, cheese & then ketchup… but I'll leave it up to you.Â
Wrap it all up, pour yourself onto your sofa.Â
Crack open an ice cold, full fat can of Coke & devour.Â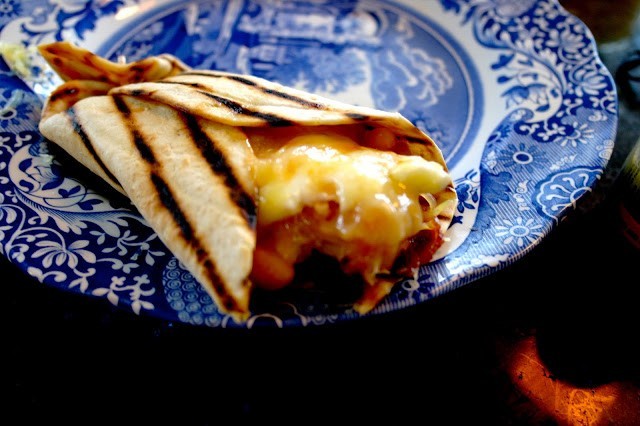 Try not to drop molten cheese on yourself.
Now, if you're interested… here's the science bit.
The tomatoes in the beans & the ketchup are a great source of Vitamin A & C, beta-carotene & lycopene (an antioxidant).
The bacon & the eggs are packed full of cysteine which (in lab tests) has been shown to neutralise lethal doses of alcohol.
The bacon will also start to replenish the salts, which you will have lost dancing the night away.
The caffeine & the sugar in the coke will give your brain & little kick start, blast those cobwebs away & rehydrate you.
The cheese… well, the cheese is just delicious.
Certified by Dr. Custard, MD, D. O. G.
.