A few weeks ago I had a lean back, belly rubbing, groaningly good meal at Mishkin's, the Jewish diner in Soho. The newest hot spot from the chaps behind Pulpo & Spuntino, some of my favourite central haunts. The decor is what you wish real New York diners still looked like, redbrick walls, checkerboard floors, big leather booths and 1970s wallpaper in the loos. In the evenings they turn the lights down & the music up. It's busy, buzzy & de-licious.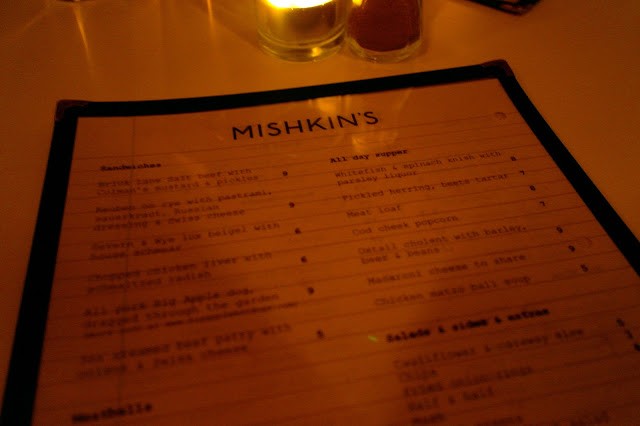 We started with one of the specials, smoked salmon, capers & cucumber. Exceptionally good salmon, served simply.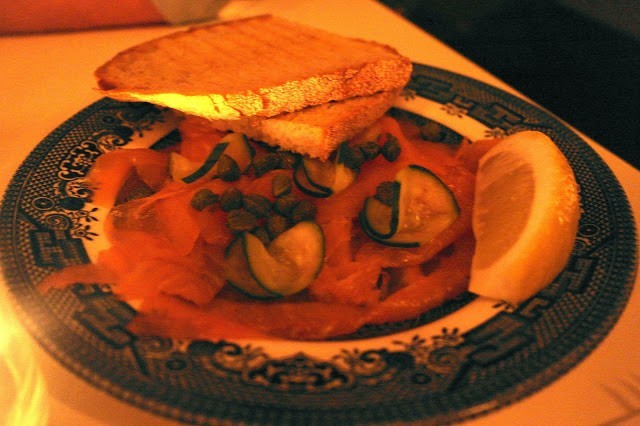 Next, we moved on to the salt beef bagel with parsley sauce.
I have to say, this was outstanding. They get the bagels from my favourite place on brick lane, the beef was soft & juicy. My date's favourite dish, by far.
The cod cheek popcorn with lime & jalapenos is the perfect mix of comfort, spice & citrus. Like a sort of Brighton fish 'n' chips served up on a glorious beach in Mexico.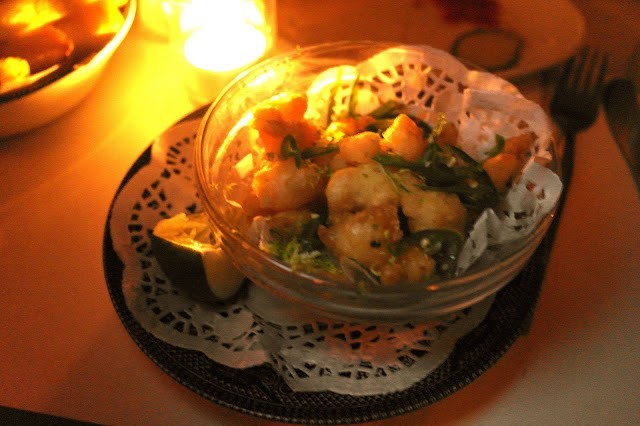 Now… 'London's best burger' is a hotly contested subject and deserves a blog post of it's very own. This mini, juicy, onioney, cheesy, meaty morsel rockets right up the list… safely perching in my Top 5. According to a Mishkins tweet , the secret is to steam the burger & bun over the onions. The result is a uniquely moist patty, with stringy, gooey cheese and a squidgy bun. I do love a squidgy bun!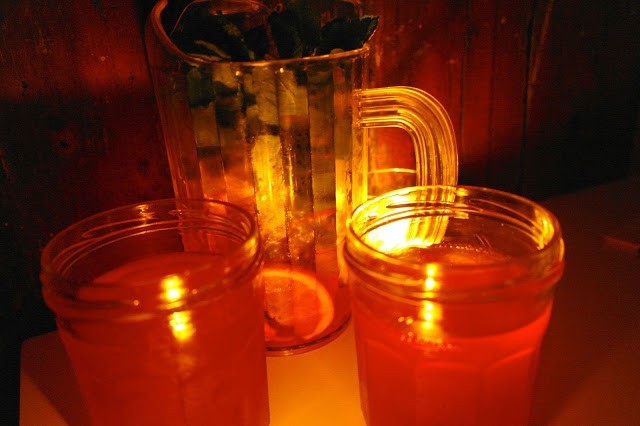 The sharing sized mac 'n' cheese was generally delicious. I really don't have much more to say about this, just try it.
Although this is a 'jewish diner', it's not exactly kosher. If you're going to fall off the pork wagon, it may as well be with one of Ali's Big Apple Hot Dogs. "Dragged through the garden" with all the goodies it deserves. (I blogged about Ali a while ago, and while I enjoyed the dog, I much prefer the ones he serves himself. I probably wouldn't have this again.)
Whatever you get, order a side of 'half & half'. A bowl of skin-on fries and the crunchiest onion rings you'll ever try. So big they required two hands, my kinda comfort food!
I've read a few scathing reviews about the service, which to be perfectly honest, seem bizarre. We were greeted by a lovely girl (who stood about as tall as my elbow), and spent the evening being checked on and chatted to, having our drinks topped up and laughing with genuinely lovely staff. If you're expecting silver service, you're going to be disappointed. But if you're used to chirpy, nice people doing the best they can on a busy night, you'll fit in fine. It's worth reserving a table. For a date ask for the BBC soundbooth at the back (complete with an 'On Air' light up sign for when you need service). For groups book a booth, they're lovely. Great for 4-6 people. If you're just passing by, just pop in and ask if you can sit at the bar. There's usually room for a little'un. We vastly overordered & washed it down with more than a few cocktails & the bill still only came to £75. If you were sensible, you could very comfortably relax in the £25 a head range. Find Mishkin's at: (020) 7240 2078 25 Catherine Street, Covent Garden, London, WC2B 5 ( Map )