One day you're someone's girlfriend. Girlfriend's "aren't allowed" to think about weddings, table plans, venues, dresses or anything, because well it would seem desperate and totally inappropriate. (Naturally you have most certainly thought about all of these things more than a few times since you were 6, but there's no reason to mention this or the Top Secret Pinterest board you've been working on for the better part of a decade to your boyfriend just yet.)
Then the next day, you're someone's fiancé. Suddenly you're charged with this huge responsibility of creating "the best day of your life" (and that of your fiancé, respective families, & friends too, btw).
Where on earth do you start with a mission like that?!
First, don't panic.
At the end of the day it's a party. A party for you & your favourite person in the whole world, surrounded by people who love you both and just want you to be happy. Even if you managed to plan the worst day in living memory, it would only be something for you and your husband to laugh about for years to come. The ultimate goal is for a long and happy marriage, not one perfect day. So let go of a little of that pressure.
Secondly, don't think that everyone else knows what they're doing.
There's a wonderful myth we all grow up believing, it's the idea that Grown-Ups have everything figured out. It's not true, everyone is just winging it. A week after I got engaged I was bombarded with questions I didn't know how to answer – "When's the wedding?" "Where's the wedding?" "What's the colour scheme?" "Who's making your dress?" "How many guests?" and I felt genuinely perplexed as to how anyone could know these things so soon after saying "yes!"
All I can say, and I'll keep saying, is don't panic. Honestly it'll all fall into place along the way.
Here's where I would start–
Sit down and have a chat about what you both want out of a wedding day.
Religious or civil?
Big or small?
Fancy or relaxed?
Home or away?
A good marriage is based on communication, so you may as well start here. Establish what both of your dream weddings would look like. It doesn't mean you have to stick to it, I wanted to get married in the town hall and have lunch at a tiny restaurant with a few friends afterwards, but I guess you could say I was flexible!
Ceremony Choice
Hopefully at some point by now you would have discussed religion, so that should be an easy one.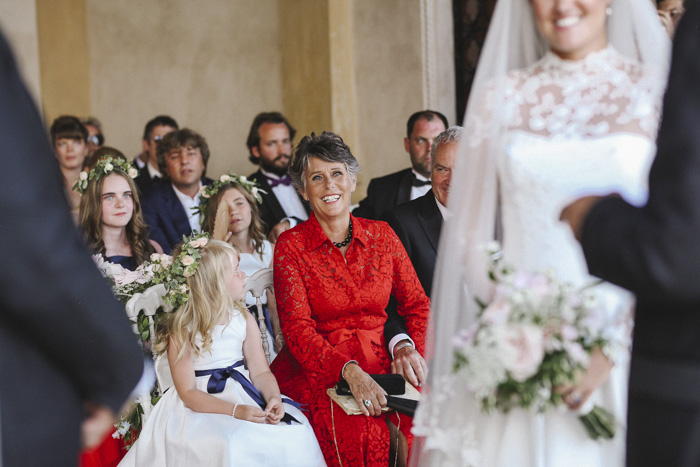 Size
Big weddings have their pros, a huge bash with everyone you know, a chance to entertain friends, families, colleagues, enter a new chapter with a bang! But they're incredibly expensive and you could find that you don't get to spend time with your loved ones or new husband on the day.
Small weddings are intimate, romantic and make those who were invited feel special knowing how much you value them. They can also be expensive (as soon as you start looking into weddings you'll sense this ongoing theme!) but naturally you're paying less as there are fewer people to cater for. The downside is that you have to be ruthless with the guestlist and inevitably some people will be hurt they weren't invited.
My husband and I sat down and made a list of the people we really couldn't live without being there, then a few who we would love to have. We really wanted it to be as intimate as possible. We didn't add anyone to the list who we hadn't spent time with in the last year, which was tricky but necessary to avoid the crowd you only see at weddings and funerals. Plus ones were invited on the basis that we had also spent time with them. It wasn't an easy process but finally we cut the list down to under 100 guests, which we felt was ideal.
I recommend having an idea of guestlist before starting the venue hunt. It'll give you a good idea of the capacity you need.
Destination
Whether to have the wedding at home or abroad seems to be a problem invented by our generation. Very few of our parents would have married away from home, but at least it's a nice problem to have! It's obviously very personal to each couple.
Had we been from the same area, met at school and decided to marry, then we would naturally have gotten married in the garden at home. It would have been easy for everyone we knew to get there and get home again. The perfect English country wedding! But as we both moved away from home a decade ago, have lived all over the world and each have more friends in New York than we do our hometowns, sadly it wouldn't have made sense. So we wanted somewhere with an airport people could access from anywhere, stay in hotels at various price ranges and really enjoy their trip.
If I could share one piece of really boring, horribly practical advice that you won't want to hear – look into marriage law in the location you choose to marry in. Find out what happens should the unthinkable happen and you need a divorce. What are their rules on division of assets, custody of children, etc. It sounds dreadful to think about these things, but a friend put it this way "when I buy a car I don't buy insurance because I expect to crash or even think I will, but just incase… it's there". This is something you can then decide on together, and do the legal ceremony at home before or after the real wedding. Then live happily ever after and never have to think about it again!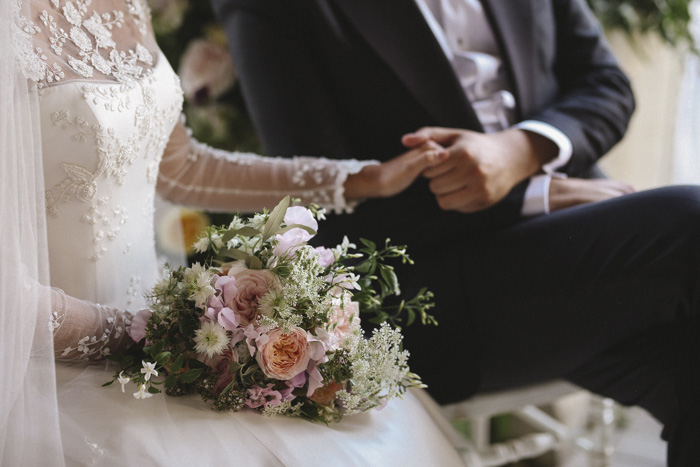 Style
Fancy or relaxed is another personal one. It depends on who you are as a couple, what you enjoy and what your friends will enjoy.
We chose a quick and relaxed ceremony followed by a very decadent evening with people in all of their black tie finery. Which was heavenly. Your heaven might involve wellies in a barn and a banjo player, which is what makes being able to plan your own idea of heaven so brilliant!
Budget will inevitably effect this decision.
Budget
If you only take one piece of advice from this post, I really hope it's this one. Do not overspend on your wedding day. It may feel like the most important thing in the world right now, but trust me when I say you do not want to start your new life together in debt. Nothing, nothing is worth that. You can have a truly beautiful homemade wedding for £5000 or you can have a stonking bash for £5mil, but base it on what you can comfortably afford to spend, not what you've seen on Pinterest. If you need to take out a loan, it's not worth doing. (Which is true of most things!)
Some people will have parents who insist on paying for the day, in which case find out what they can comfortably offer and make a promise to yourself that you won't push them on it. Personally, getting married at 30, having moved away from home such a long time ago, I didn't feel comfortable going down this route. I wanted to make and pay for my own decisions and didn't want to feel like a possession being given to her husband, but it really depends on your individual situation and values. There is no right or wrong and lots of parents would be upset if they didn't pay! Just know that if someone else is footing the bill, they deserve their own guestlist and they will push through decisions you may not be thrilled with… but hey, it's free!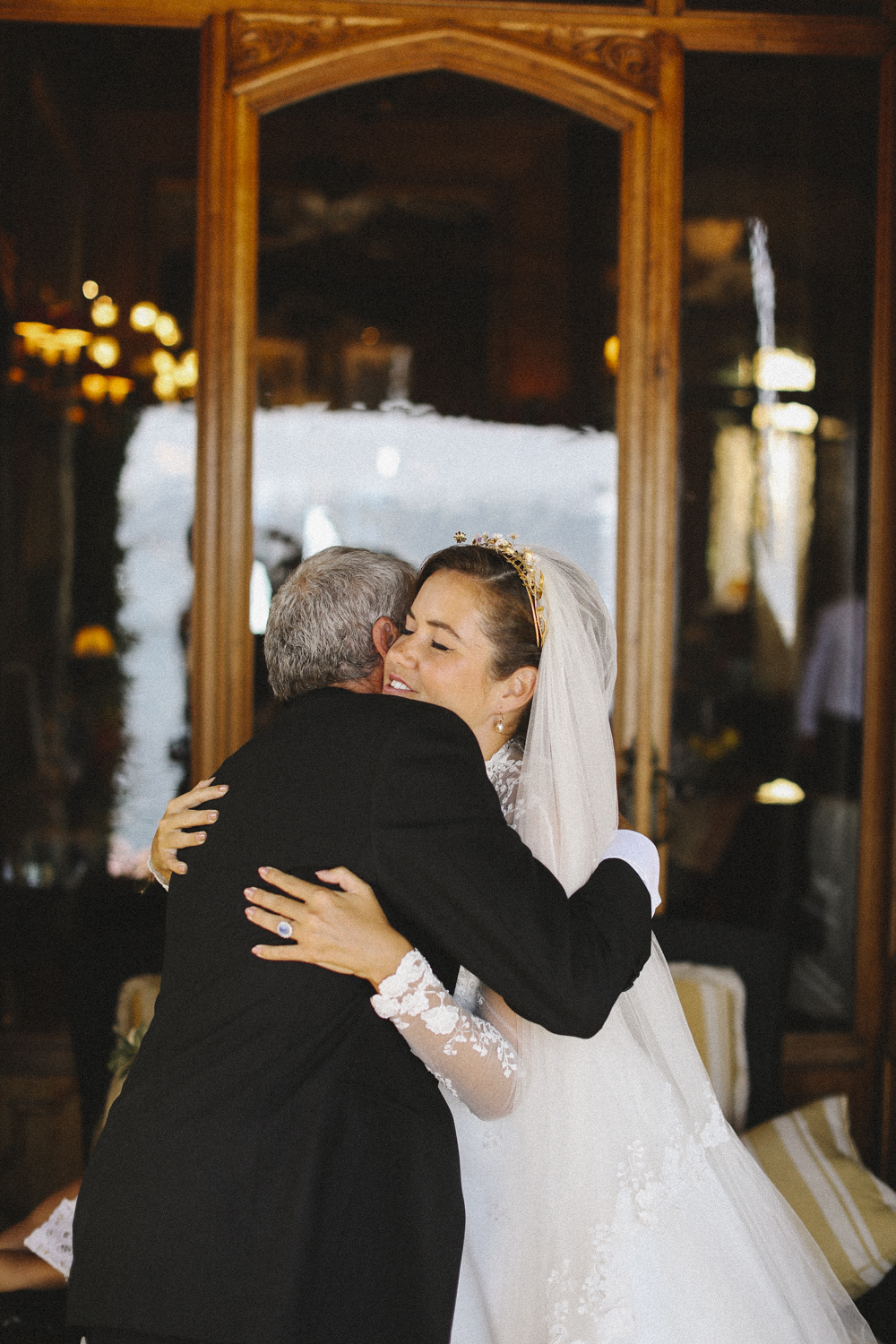 Budget is a pretty vast topic which I could go on about forever, just know that absolutely everything is going to cost double what you think it will. I was woefully ignorant when starting the planning process, I really had no idea what a wedding would cost. This is partly because I have very little experience event planning but largely because people double prices for weddings. Take marquees for example, the same marquee costs three times as much to hire for a wedding as it does a birthday. THE SAME MARQUEE. It's a tent! What possible difference could it make?! But that's weddings. Some people suggest just booking things for "a birthday", rather than a wedding. I didn't want to risk upsetting suppliers and having drama on the day, but some people swear by this route. 
Keep a spreadsheet (I delegated this to my husband) of all costs and quotes, whether they've been paid or when they have to be paid. When we looked at various venues we ended up costing each wedding individually so we could compare them fairly.
Venues
Choosing a venue (for those not getting married at home) is tricky business. There are a few things you should take into account –
Do you want to legally marry on site?
Capacity.
Closing time (a lot of venues make you shut down at midnight which is an issue if, like me, you want an evening bash)
Do you need accommodation? For how many? Is there more nearby?
Do they let you choose your own caterer?
What's included in the price?
Is it easy to access?
Is it beautiful?
A lot of these things you can establish without visiting. Do research online into "wedding venues in ____" and you'll find lots. Make a shortlist of everything that suits, then visit the shortlist. Never, ever book a venue without visiting it, however beautiful it looks in pictures. This was a really eye opening experience for me when visiting Puglian venues. Places I had been tempted to just book, really didn't cut it in real life.  When you do visit, do a tour with the owner/host. Think about the "flow" of the day, – guests arrive here, welcome drink here, through to ceremony here, confetti throw here, pictures here, drinks and nibbles here, food served here, dancing here, etc. Then start from the beginning of that flow, and film the full walkthrough on your phone. I can't tell you how much this helps. When visiting a few places you're bound to get muddled and forget things, this saves a lot of time and energy. I did it for every venue I visited and it also helped enormously when we got to booking flowers, seating arrangements, bar placement, etc. as I could show people exactly where things should be.
Flow of the day sounds silly but is incredibly important. You want to take your guests on a journey, reveal new places for them, keep hitting them with the "wow factor" every time they move on. Most importantly however, you want everyone to be comfortable and not have to move too far, so it's worth working out early on.
Always find out the venue's options in case of rain. This becomes Plan B. The very best piece of advice I was given was that you have to love your Plan B, or there could be tears on the day!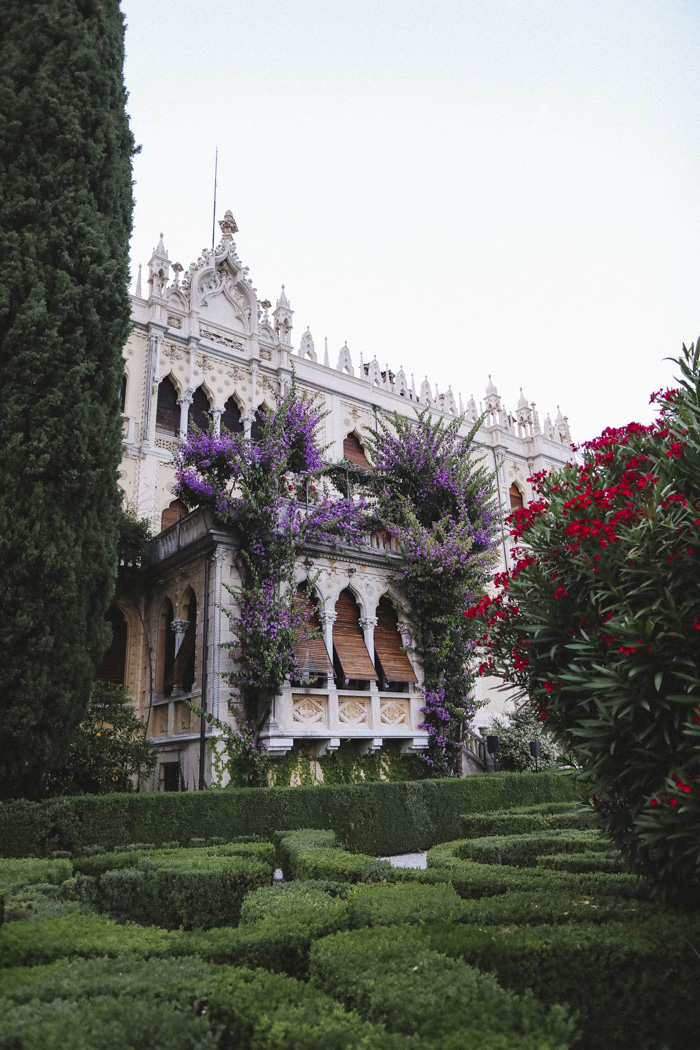 Planners
If you're planning on getting married abroad, I thoroughly recommend a wedding planner. This may seem like an unnecessary expense, but they come at vastly different price ranges and are completely invaluable. Find one who speaks the local language (even if you do too!) because on the day the last thing you want to be doing is arguing with caterers and directing florists. Find someone who works for a fixed fee (rather than someone who charges a percent of the wedding, which in my opinion is just crazy – one planner wanted to factor in the cost of mine & my bridesmaid's shoes so she could take 30%)
For Italy I highly recommend my planner, SposiamoVi. Silvia was so kind and patient, working as a co-ordinator rather than a traditional planner, as I was pretty clear on what I wanted every step of the way. They can have as much or as little input as you like.
For elsewhere, ask around, check Google, check Pinterest, ask for a quote and a Skype interview. Checking out planner's Instagram pages is a great way of getting their vibe.
Planners have all of the local knowledge and should be on hand to answer all of your questions throughout the planning process. You'll have lots!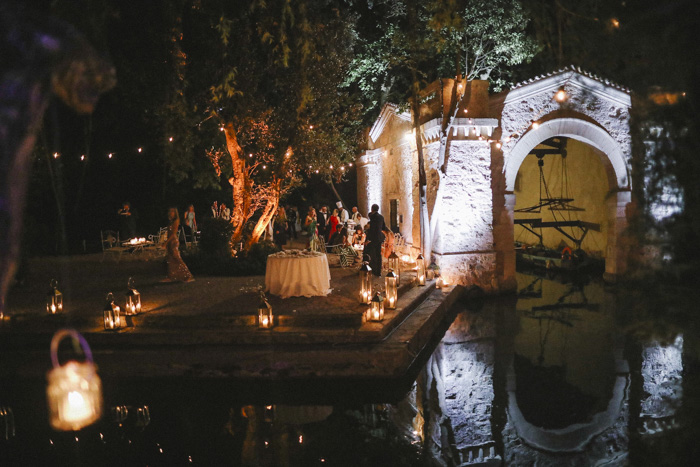 Catering
Catering was the most important element for us. We fell in love over food and spend much of our time thinking about food or eating it! Many of our friendships revolve around the same theme! We both love Italy and knew we wanted the food to be as authentic as possible.
Once the venue was booked we reached out to local caterers saying that we were planning a wedding at this venue, on this date, for this many guests, we wanted a sit down meal, using local seasonal ingredients, as classically Italian as possible. We listed our favourite restaurants in the area and across Italy who all served the old-school vibe of food we wanted. We asked for a quote and a suggested menu. We made a shortlist of three, and visited them all. The decision was Goldie Locks easy, the first was too pretentious, the second too basic, and the third was just right! We booked the deeply Italian and unassuming Padovani Benuzzi who made us and our guests one of the best meals I've ever had, which is unusual for a wedding! And the cake… oh the cake. I still dream about it!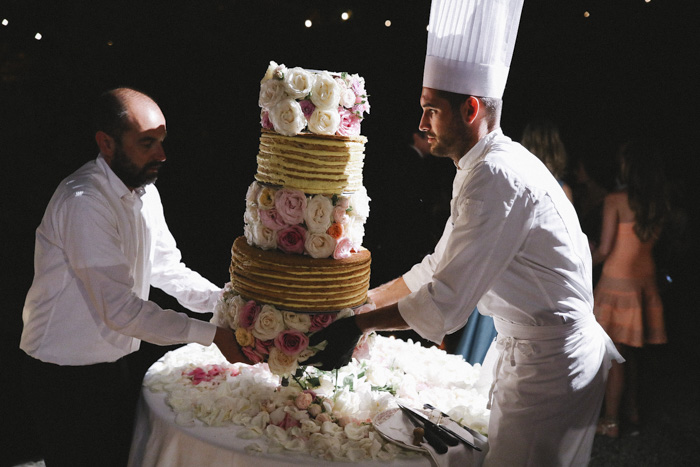 They also supplied the wine and the bar. The wine was Italian and very good, the bar came in various price options. I decided to way over order for the number of guests we had, both on bar size, staff and booze. Largely because I didn't want people queuing for drinks rather than tearing up the dancefloor. I gave a list of cocktails I wanted served, and printed this to be placed along the bar for indecisive guests.
It's worth remembering that if you're planning a destination wedding that you're going to have to visit a few times before the big day to meet with caterers, suppliers, etc. So try to choose somewhere easy to get to!
Also note, that just because you love a restaurant doesn't mean you should book the chef to cater your wedding. There is a vast difference between managing a dinner service and serving 150 guests hot food at the same time. Event catering is an art in itself.
Colours
A lot of people have asked me how I decided on a colour scheme. This really only fell into place with the venue, and wasn't something I'd put any thought into. One venue I liked was a beautiful dusty yellow, so I would have decorated with lemons and olive branches. Another was a muted pink, so would have gone beautifully with flickering church candles and dusty pink roses. In the end the ceremony and dinner space had the most incredible frescos on the ceiling, so we tied our flowers in to match those. My little bridesmaids were always going to wear white, my maid of honour chose a navy dress, so we matched the bridesmaids sashes to this. It just so happens that blue and white is my favourite colour combination so it worked beautifully! The dress my mum fell for was the most incredible dress I've ever seen her in and was a classic red lace, I love the look of our photos together with the red, white & blue combo, and the photos of her and dad together. Really it all just came together pretty naturally, I wouldn't stress about it or tie yourself down too early.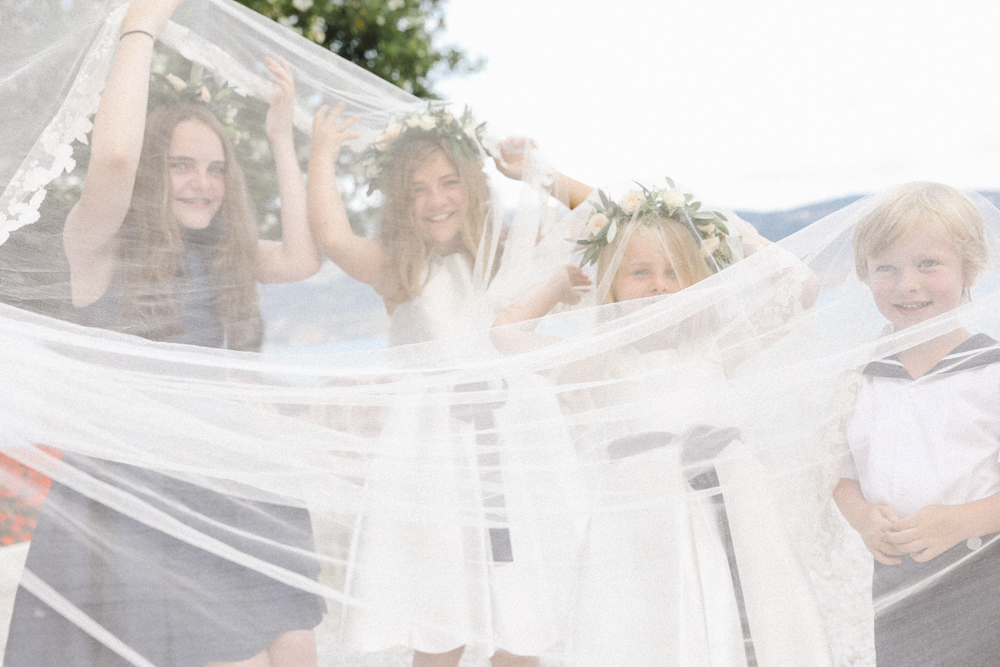 Photos
A photographer is a pretty key part of any wedding. You want to look back and remember the day, and my advice would be to pay for the best photographer you can afford. It's not something to scrimp on. We're lucky enough to live in the age of Instagram! Making it incredibly easy to scroll through people's work and choose people who's work you admire (which is how I found Andrew). Email them, give them the date and location, ask about availability and a quote. Then set up Skype interviews with your favourites.
Be sure to write up a shot list and give it to your photographer and planner (if you have one) of shots you really can't miss. Certain relatives, groups, scenic shots.
Give yourself time to get shots without the groom before the wedding. Have your bridesmaids and family get together a little early and shoot then. This'll give you more time to actually enjoy that newlywed bliss right after the ceremony.
One thing I was adamant about was that I would receive all of the photos, not just the photographer's selection. Andrew did such a wonderful job on the day, but had I only had his selection I would have been disappointed. Naturally everyone has their own aesthetic, and so many brides want very formal, airbrushed, perfect scenes, so that's what photographer's supply. I wanted the between moments. I wanted the kids messing around rather than standing solemnly. I wanted the real bits. Which we got in the end!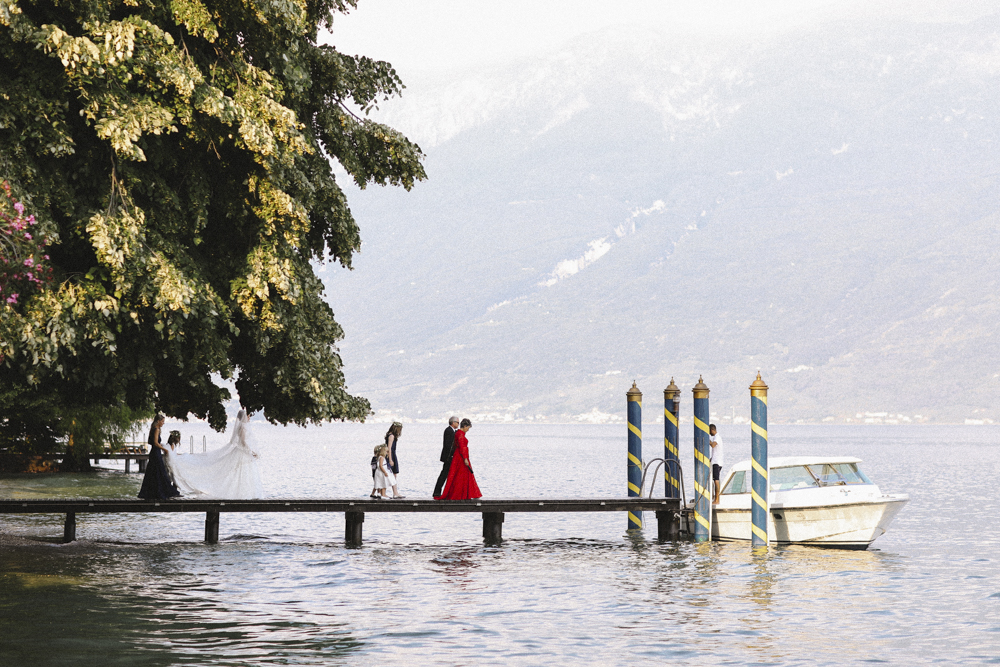 Invitations
Once you have a date and a venue, lots of people choose to send out Save The Date cards. We chose not to, as we were having a destination wedding we wanted to send out the invitations as early as possible, along with a wedding website with all of the dates, times, locations and hotel choices on there. I listed hotel options for every budget, how far each was from the venue along with their pros & cons. A lot of the hotels had 12 rooms, so it was important for people to get the info as early as possible.
If it's not an issue for you, perhaps sending out Save The Dates in advance would be better, followed by a proper invitation closer to the wedding.
I wanted classic, timeless stationary so chose Wren Press to print mine. They were so kind, so professional and much much cheaper than anywhere else! (Which was the first nice surprise of the planning process!) I also booked a calligrapher to do the names and addresses, sadly she doesn't have a website I can share.
View this post on Instagram
Registering
We asked guests not to buy any gifts. Partly because we'd been living together for years so weren't exactly "setting up a life together" and mostly because we were asking guests to come to Italy.
If you do register, I suggest adding this info to your wedding website or including a little card with the invitation explaining how to find your list.
Table planning
This is not something people often say, but I loved table planning! Having gotten the RSVPs from (almost) all of our guests, getting to sit down with my husband and scheme, glass of wine in hand, was one of my favourite elements of the whole process!
You know your friends and family better than anyone, so this is your chance to create some really fun scenarios. Put people together who you know would get along or really like each other already.
We opted not to avoid have the wedding party at one top table, instead getting family members to each "host" their own table. I put my elder siblings and in-laws all together with other fun people I knew they'd have lots in common with, and placed the little's table beside them (as they were the only ones to bring littles). My younger brother is in finance so really enjoyed having him host a table of high-flying finance types. I put all the fashion designers and artists together, knowing they'd have lots to talk about. Musicians and film people go together like cheese 'n' pickle. My parents I put with their oldest friends and my new in-laws, and they're now the best of friends too! I subtly placed singles together with other singles (and watched in complete glee as they hit it off!)
Looking back, the wedding dinner really was the most special evening of my life so far. Seeing everything I'd worked on from afar come together, tasting the food, the scent of the flowers and candles, watching relationships bloom around the room, the happy chatter and clink of glasses, I wish I could do it all again.
I used an online table planning tool which was clunky but did what it needed to!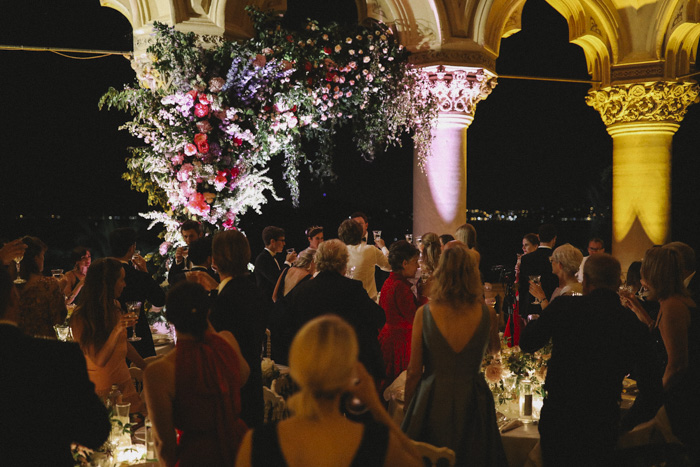 Flowers
Talking of flowers! I worked with the utterly wonderful Nikki Tibbles. I created a moodboard for what I wanted, showed her the video walkthrough of the venue (see? useful!) and explained the incredible gardens there, the flowers, the smell of roses and jasmine wafting through the trees. I wanted to feel as though all of the flowers could have come from the garden and just grown into the space. She translated this into her own moodboard, which I loved, and then closer to the wedding we visited the venue together. We cried! She loved it just as much as I did and went wild gathering inspiration and ideas. We settled on a budget and she took care of the rest.
Back in London I went to her warehouse where they'd set up mock tables of how they'd look on the day. I was blown away and couldn't possibly have asked for a better experience.
I've known Nikki for years and loved her work for even longer. Had she not been able to do the wedding, I would have chosen something much more simple from a local florist. I made a shortlist of these by looking at the location tags of wedding venues I liked and seeing which florists had posted work from there! My planner also suggested some and looking at wedding photographer's Instagram accounts also revealed a few. It's worth asking your venue for suggestions on who they've worked with in the past, too.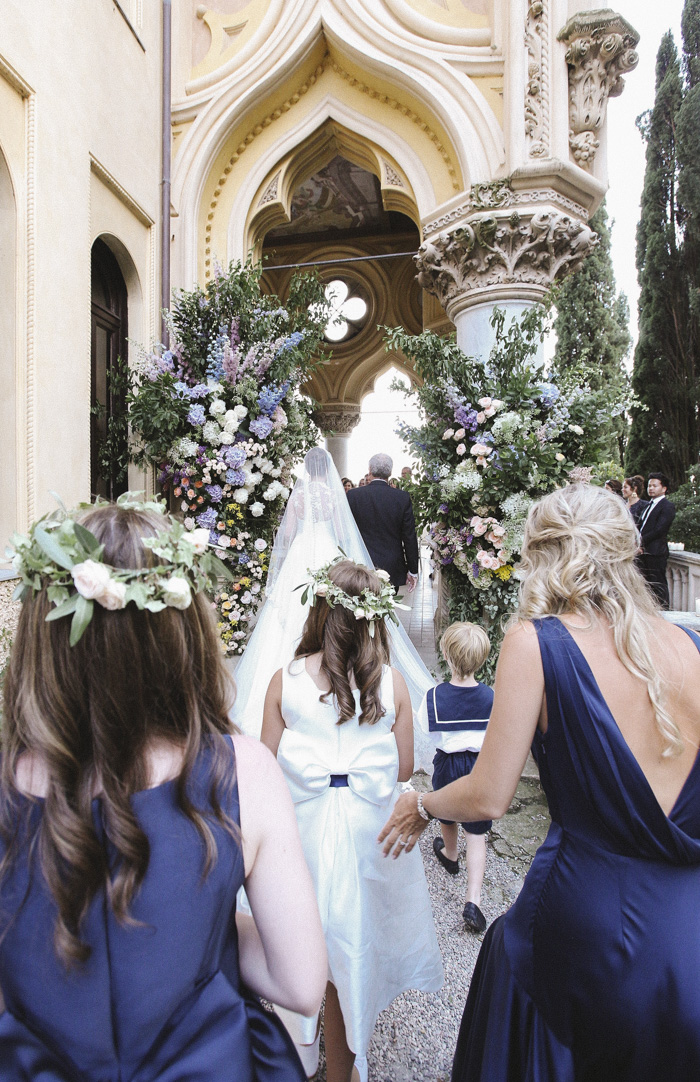 Music
Personally I prefer a DJ to a band, I'd rather listen to Aretha Franklin herself than see a local singer give it their best shot only to be ignored by a chattering crowd. But that's me.
I had a favourite London based DJ who I was desperate to book, called Hugo. He has the unique talent of bringing old and new together seamlessly and in a way that feels so fresh and exciting. Having him come from London obviously meant paying for travel and accom ontop of his fee, but it was worth every penny. He kept us all dancing away until the early hours, young and old, all coming together over a shared love of great music.
Should you be more of a band person, they can also be incredible! Try and find reviews online and hopefully YouTube videos of their performances.
For the pre-ceremony drinks and pre-dinner drink we created our own playlist and plugged it into speakers hidden throughout the gardens. A mixture of old Italian classics, Motown, soul, the dreamiest songs to watch the sun set over the lake.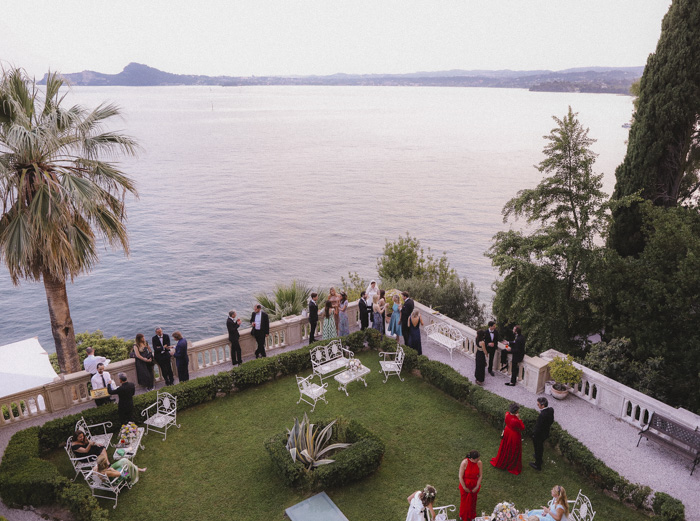 Beauty
Whoever you choose to do you hair and beauty prep, make sure you do a couple of test runs before hand. You really don't want to be shocked on the day!
You can see all of our getting ready prep here.
Just be sure to leave yourself much longer than you think you need to get ready. It's better to be waiting around than rushing.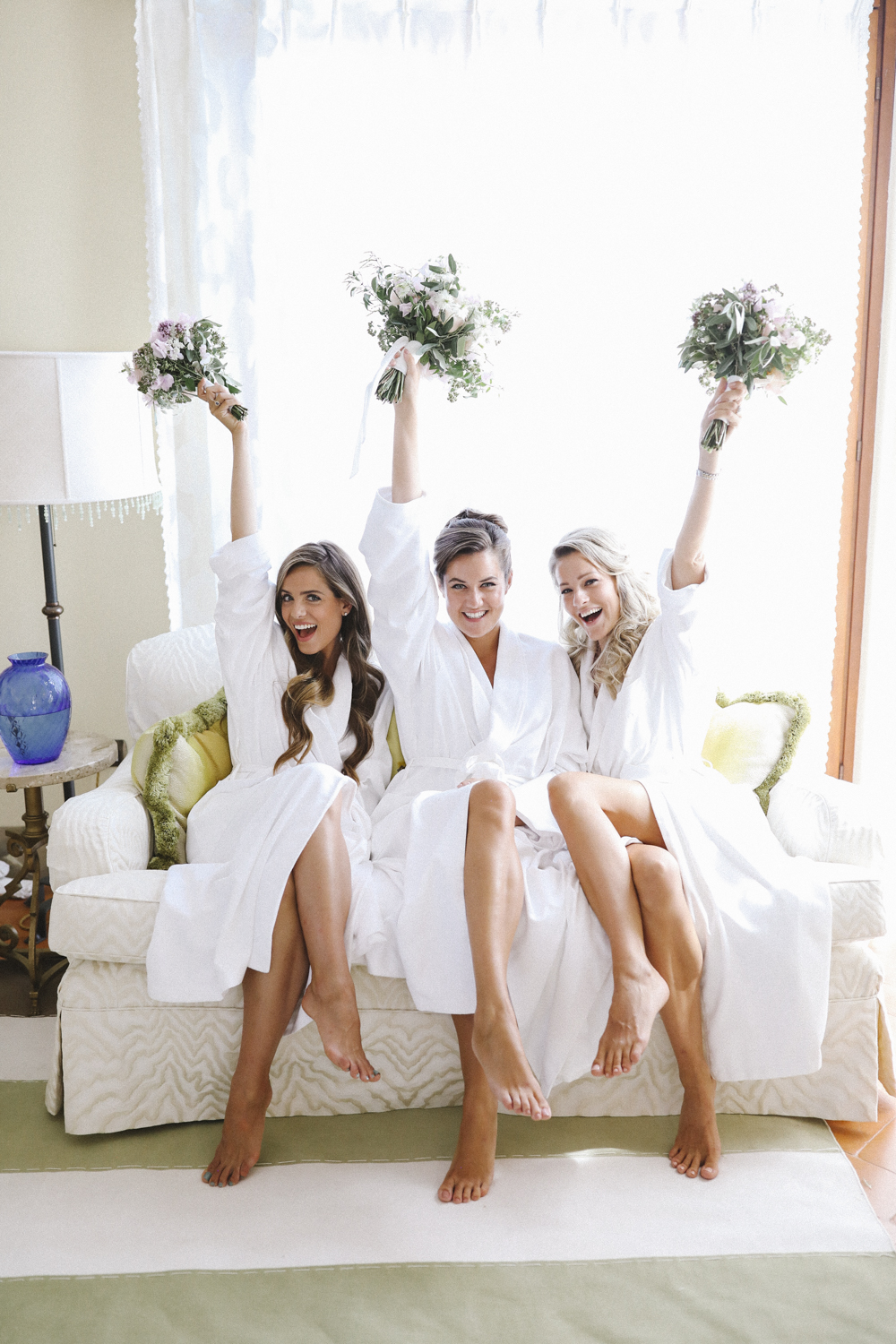 Really the biggest piece of advice I could share is just to enjoy yourself. This is such a short time in your life, try not to get stressed and wound up about things than really just don't even matter.
Don't go on some drastic wedding diet and starve yourself all year. Happy brides are the prettiest. No-one gets a prize for being the thinnest girl to walk down the aisle. You'll just make yourself miserable (and hangry) when you have better things to be thinking about! Your husband and friends love you as you are, you just need to catch up and love yourself too.
Things will undoubtably go wrong on the day, there will be some sort of drama, but it doesn't matter. Stay above it, choose to see the good bits, not the bad and you'll have the best day imaginable!
If you want to see more of my wedding, you can join us here.
Pop any extra questions below and we can all have a go at sharing our best advice.