Pea soup is a summer staple, you really only need a recipe the first time you make it and after that you'll be able to throw it together on a moments notice with your eyes closed and one hand behind your back (not that I'd recommend it!)
Basically, it's a peas of cake.
But that's not to say it's not impressive. A beautiful, emerald bowl of creamy, fresh goodness, with a sartorial twist.
Little white polkadots!
It can be served hot or cold and makes the most perfect summer's day lunch or starter for an al-fresco dinner party.
To serve 4 (or two with leftovers!) you'll need:
1 tbsp olive oil
1 clove garlic, chopped
1 onion, roughly chopped
200g frozen peas
300ml hot vegetable stock
Handful of fresh basil
Handful of fresh mint
100ml double cream
salt and pepper
mini mozzarella balls to garnish (or cream, or crème fraîche)
Heat your olive oil in a deep saucepan on a medium heat. Throw in your garlic, onions and fry until soft.
Add your peas along with the stock and bring to a boil. Simmer until the peas float to the surface, about 5-10mins. Add your herbs, stock, a pinch of salt & couple grinds of fresh pepper, and liquidise. I use a blender, but you could use a hand whizzer too – less washing up!
You can serve it immediately or put it to one side and then pop into the fridge once cool. Beautifully refreshing on a hot day when served from the coolbox, and you can make it a couple of days ahead, too!
Whenever you're ready, pour into bowls. Shallow ones ideally, or your polkadots may sink.
Dot in a few cherry sized mozzarella balls, or a few blobs of cream.
Serve with a few extra herbs for people to throw in as they please.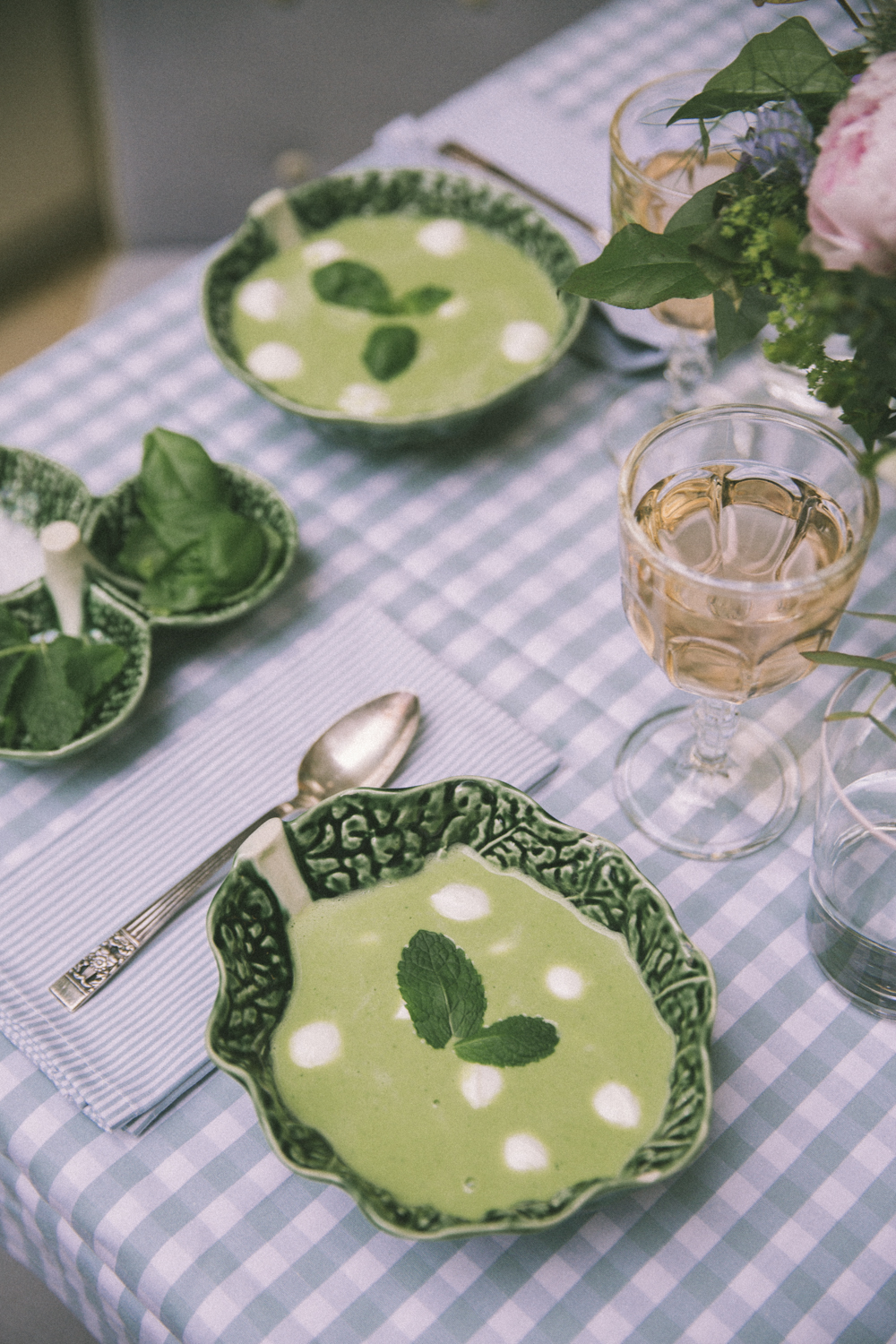 Unbe-leaf-ably simple.
Ad - Shop this post