Almost every bride I've come across has expressed their utter dismay at wedding dress shopping.
They hated the process, the hunt, the feeling that you're being rushed and pressured to buy (no matter how far in advance you start shopping!), the fact you have to squeeze into sample sizes designed for teeny tiny models, and most of all the fact that it just didn't feel "like the movies". That it wasn't special and that the right of passage they had so looked forward to, was a myth.
Of course there are the lucky few who stumble upon their dream dress right out of the gate, but as far as I can tell they are the exception that proves the rule.
It turns out that shopping for "The One" is almost as tricky as it was choosing "The One" to marry!
But for any brides out there who are losing faith, don't.
Take a deep breath, try and get some perspective and start a fresh.
I did just that, and it was then that I found a place that renewed the romance, the excitement and the joy of wedding planning.
Phillipa Lepley.
A little shop on The Fulham Road, with a lot of heart.
More boutique-y than some of the other, bigger wedding dress shops.
Stepping inside feels intimate and immediately relaxing.
You're met with ivory gowns in every shape and style imaginable, along with a small team of beaming girls, all eager to help.
You're offered champagne and invited to take a look through the dresses, to see what jumps out at you.
They then use your picks to suggest others that may suit, and will scurry into back rooms to find others they think you'll love!
I visited with The Mother of The Bride and the Maid of Honour, leaving us in one big giggly, swooning mess!
Still utterly unsure of what I wanted or what even suits me best, I opted for a variety of styles and ended up with quite the dressing room downstairs.
First, The Acanthus Leaf Dress.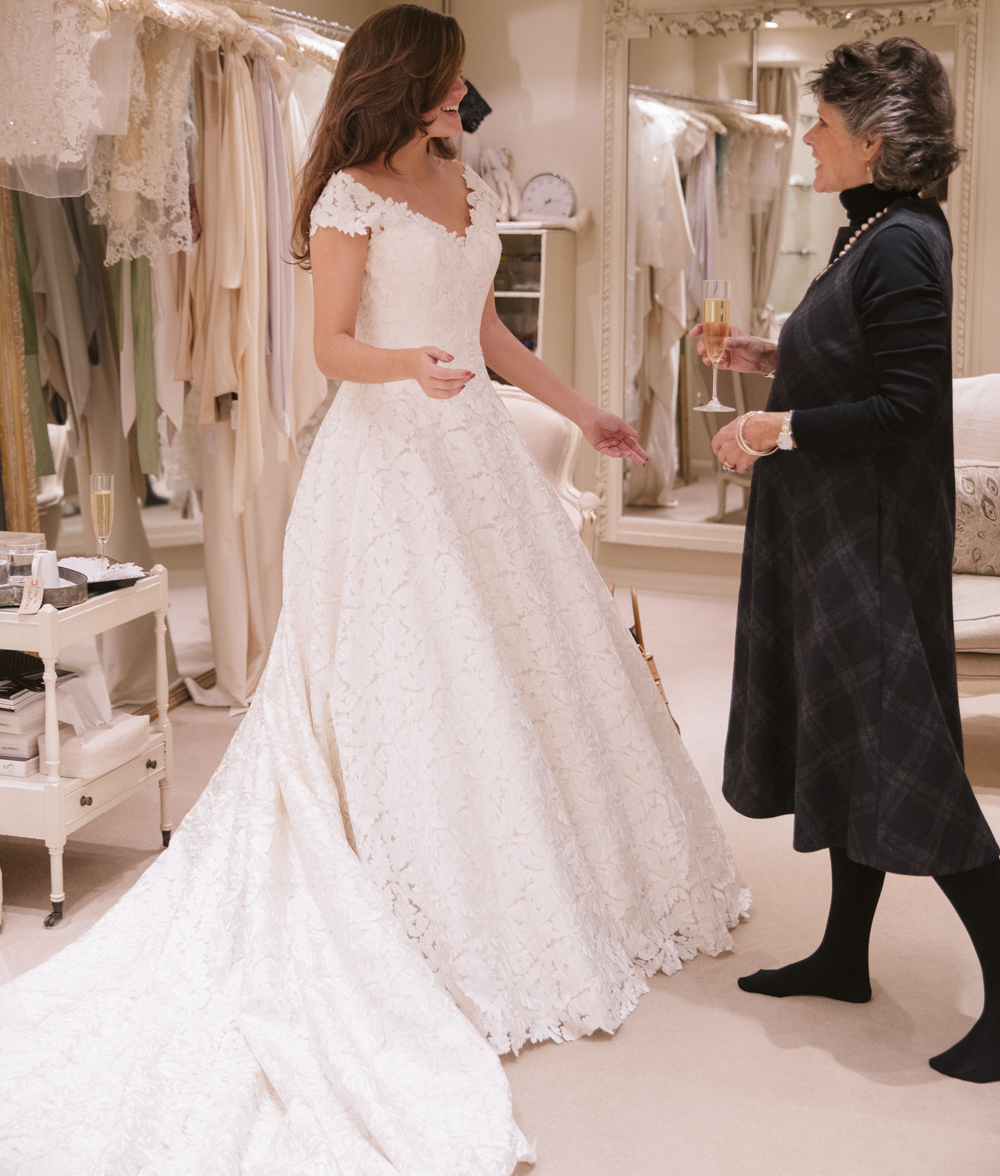 A real Princess dress and as classic as they come.
But it's only as you get closer that you see the twist on this classic.
What looks like lace is in fact embroidered little leaves, all intricately sewn into place.
It's as though your fairy godmother just swirled the forest floor into a gown, fit for a princess.
Bibbidi bobbidi boo!
Next, Lily of the Valley.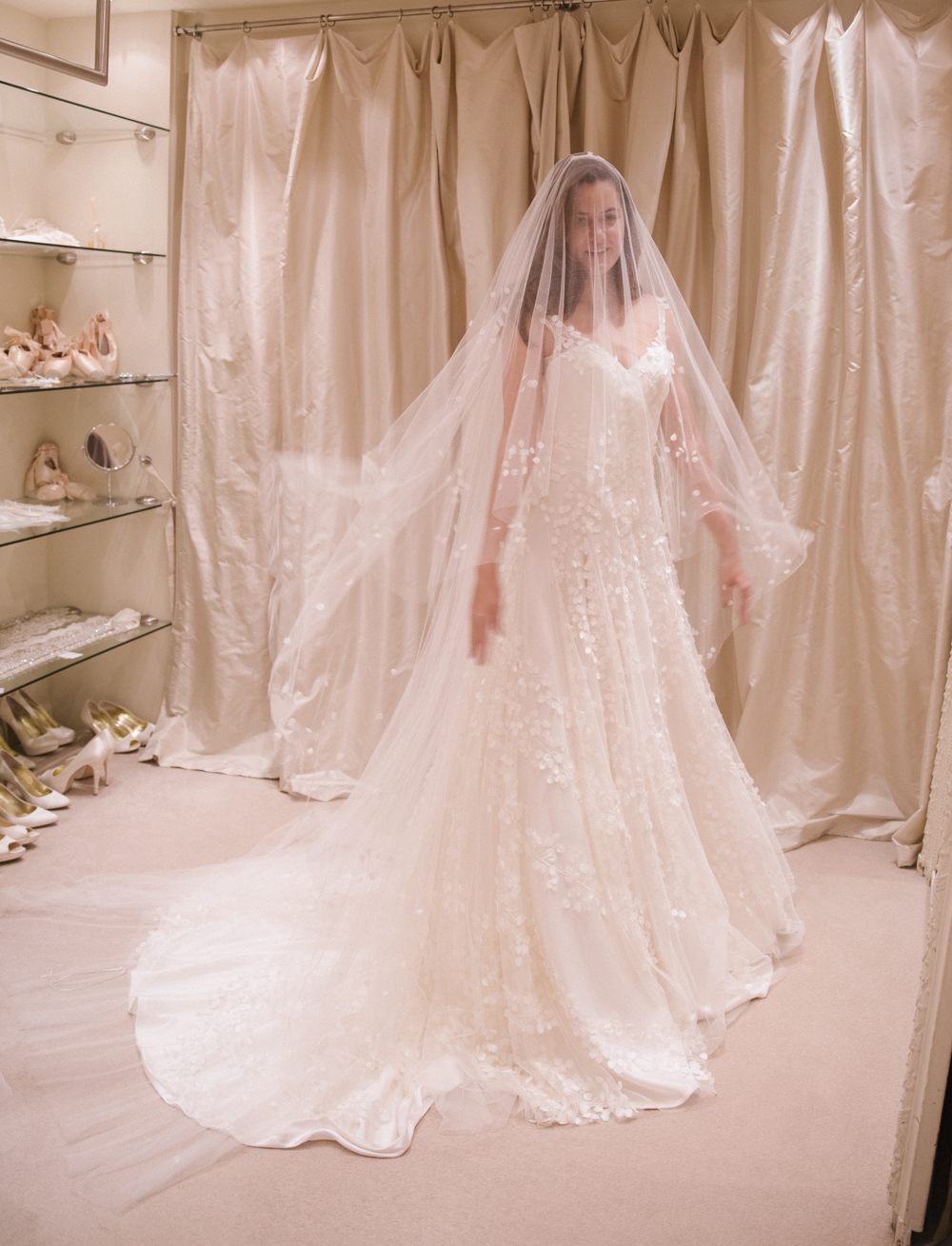 A corseted slipper satin dress with Lily Of The Valley petals delicately placed on a tulle overlay.
Like a flurry of blossom caught on the breeze.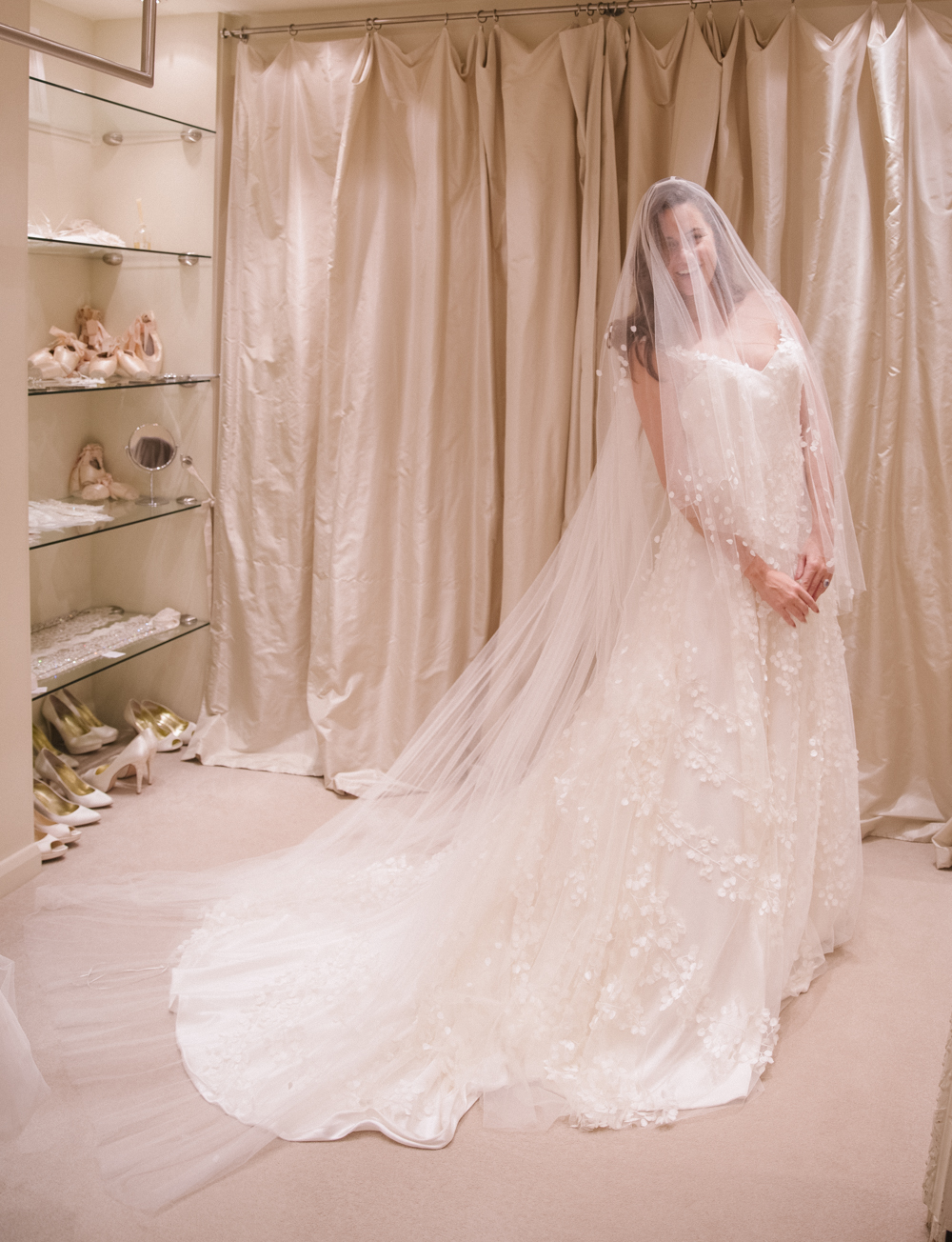 Light, flowy and very romantic.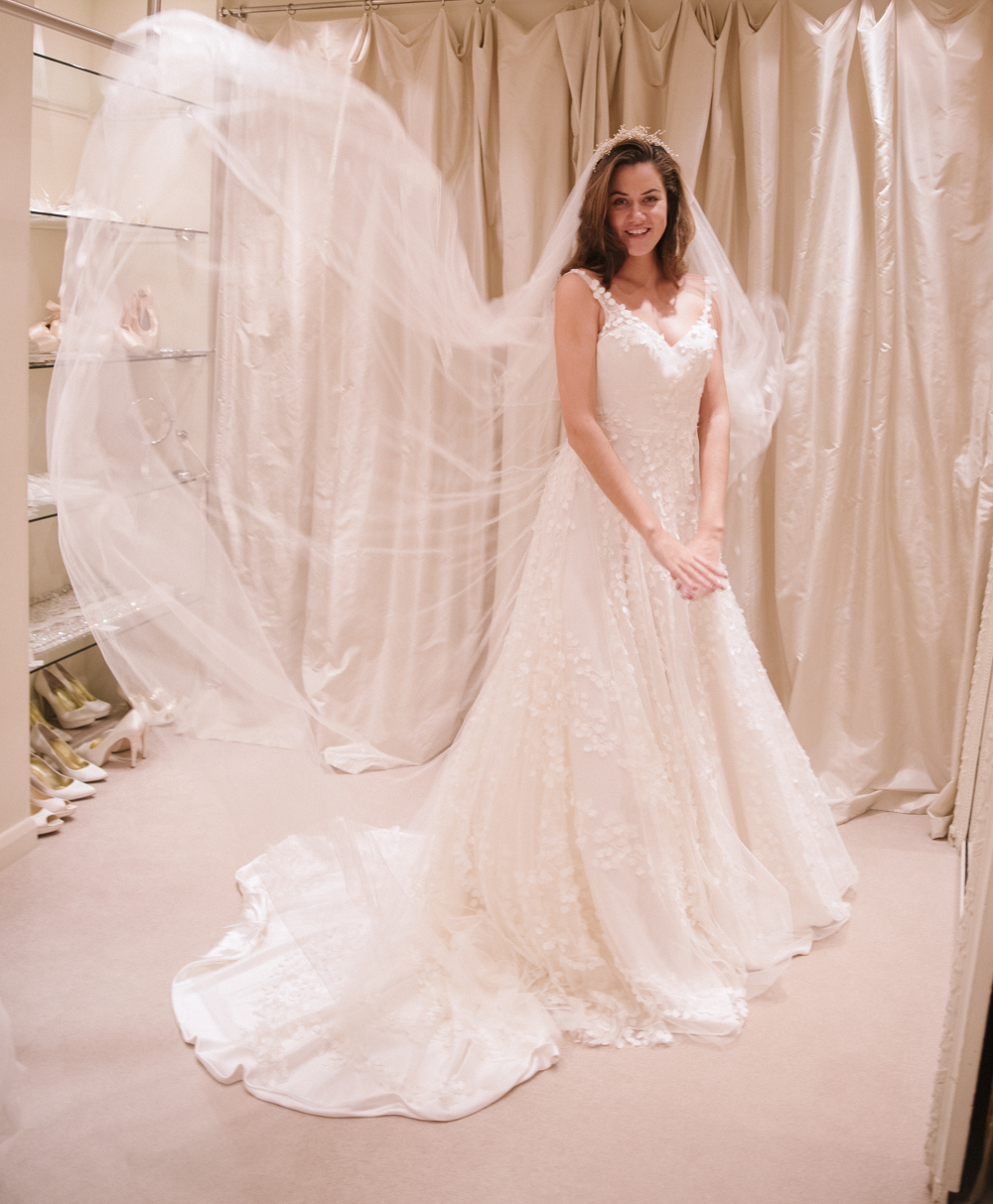 I couldn't resist trying The Sophie Wood Anenome.
Hand embroidered with tiny flowers, and tied with a pretty pink sash.
Complete with matching veil.
Which made us all cry, again.
Then there was Sabrina.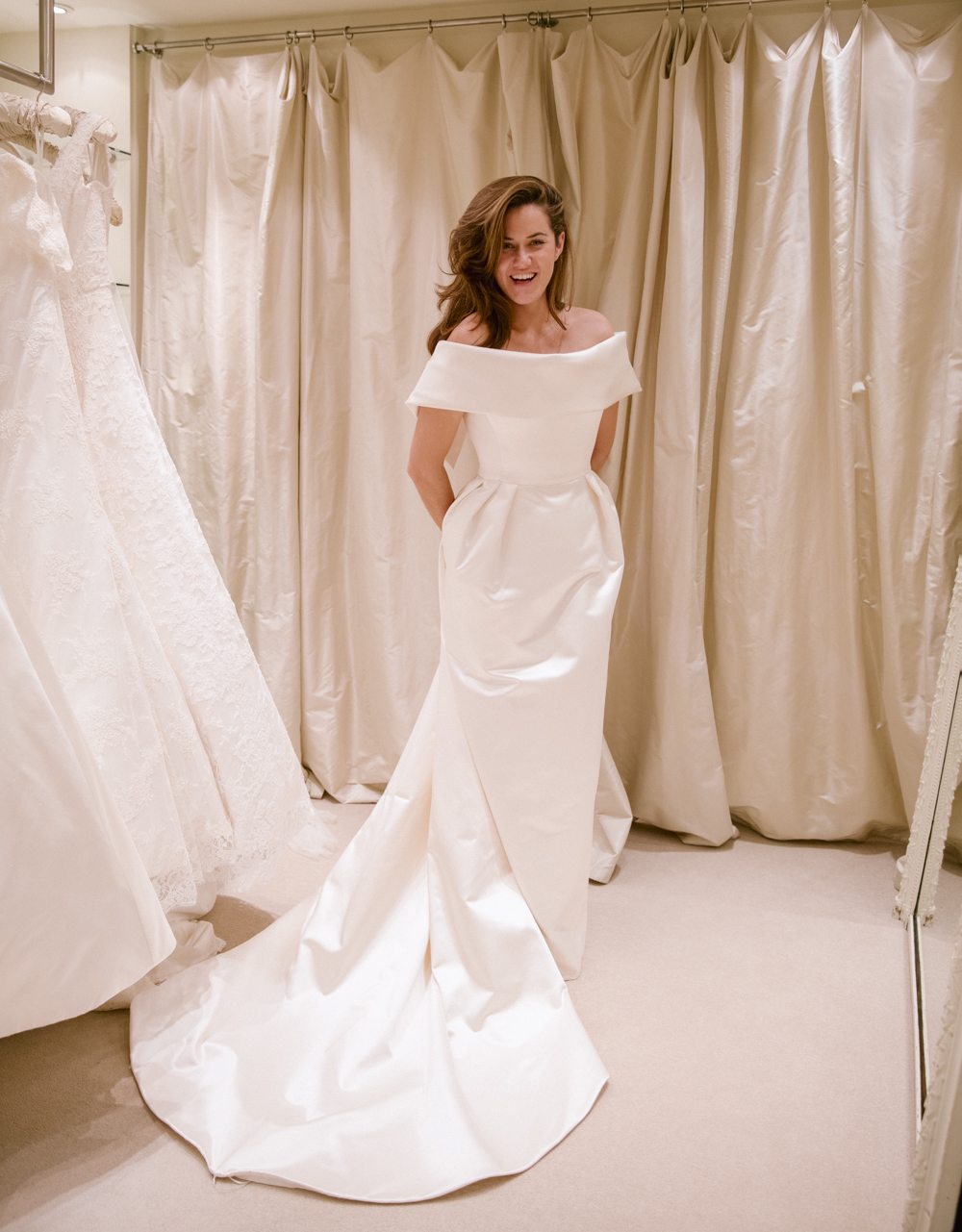 I am besotted with this dress.
It's something I would never have thought of, and I just think it's heavenly.
Made with structured heavyweight duchess satin it pulls in the waist, flatters and elongates, and just feels a million dollars.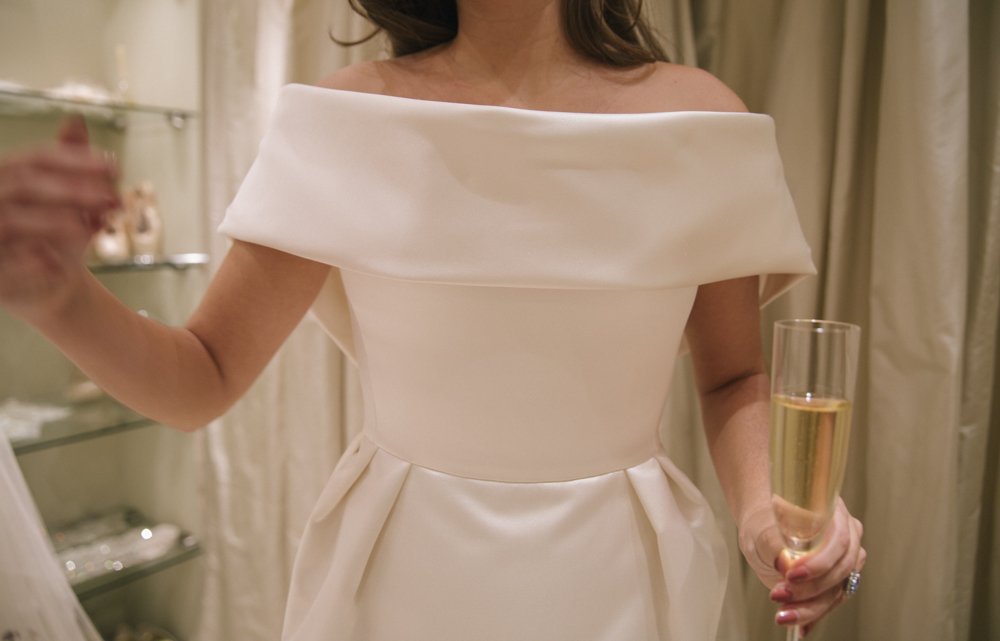 A red carpet number, I think.
Back in Princess land, I slipped into The Olivia.
A signature Phillipa Lepley dress: An A-line that skims over the hip and falls into a structured full skirt. Two layers of silk organza give a beautiful, frothy softness to the silhouette.
A light and airy look, styled with a nude tulle top embroidered with lace and organza flowers that glitter when they catch the light.
All tied up with a matching satin sash.
Followed by something much sleeker and as light as air.
The delightfully named Venice Crepe Buttercup.
The skirt skims over the hip and puddles into a mid-length train.
All finished with the most beautiful, buttercup lace.
And then there was The Bolshoi Ballet Ivoire Scroll, perhaps the most elaborately named dress I've ever tried on!
But doesn't it live up to its name?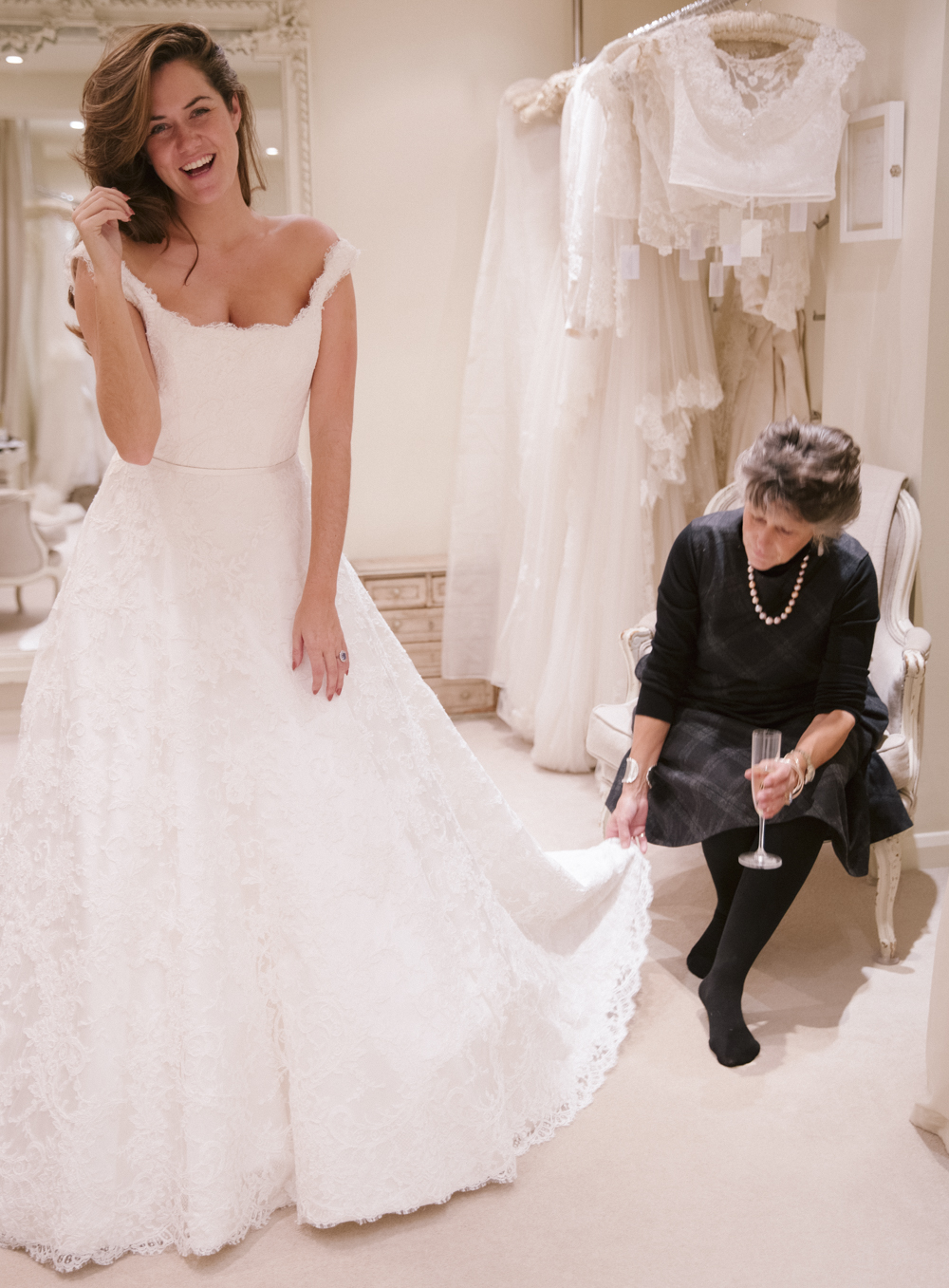 A sumptuous structured dress, nipping in at the waist and highlighting the decolletage, finished with a French corded-lace overlay and delicate little satin belt.
It seems that as much as I thought I wouldn't be into Princess styles… I just can't stay away from them!
Deep down inside, I simply must be a Queen in waiting!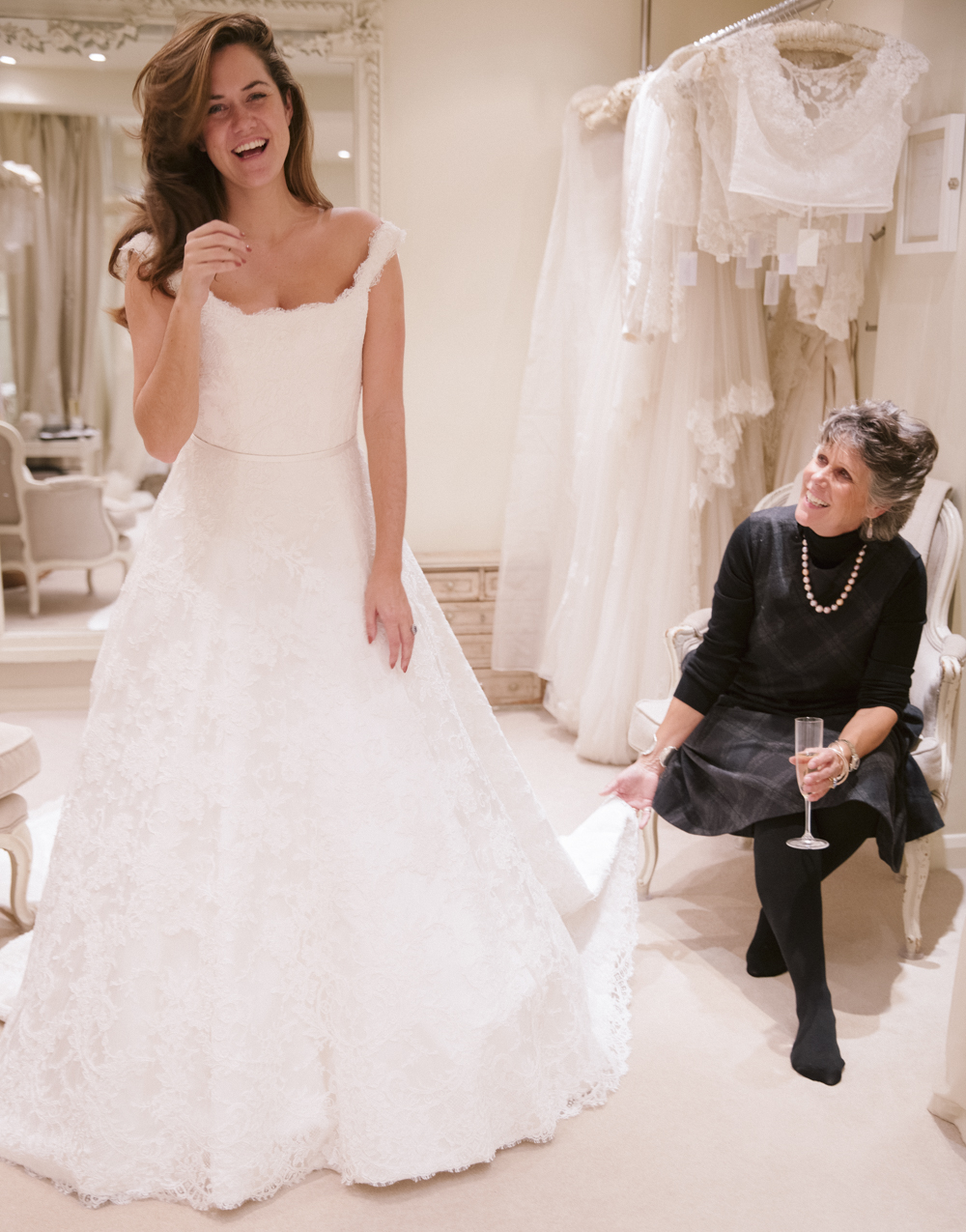 But no I'm spoiled for choice and need your help.  I can't quite decide on a style… what do you think?
Light and sleek?
Structured and glam?
Lacey Princess style?
All comments gratefully received!
And for any brides to be out there, gather your dearest,book an appointment and pop in to see Phillipa. She's a game changer, and will revitalise your wedding butterflies. It really should be fun after all, or what's the point?