There's a new weird and wonderful exhibition at The Saatchi Gallery.
This time it explores the much-maligned "selfie".
Should selfies be considered art? The Saatchi curators certainly think so. Hastily snapped iPhone pictures sit up alongside painstakingly painted self portraits by Van Gogh, Rembrandt, and Frida Kahlo.
"In the 16th century, it was only the artists who had the skills, materials and tools to create self-portraits, now we all have that wherewithal through our smartphones." Saatchi chief executive Nigel Hurst, who came up with the concept for the show.
"For the last five centuries, humans have had this compulsion to create images of themselves and share them; the only thing that has changed is the way that we do it. Selfies are easily the most expansionist form of visual communication that any of us have experienced for generations, which makes them noteworthy in their own right. We can't ignore them as a cultural institution."
Warhol and Emin mix with Pitt and Kardashian and there are ample opportunities to throw your own into the ring.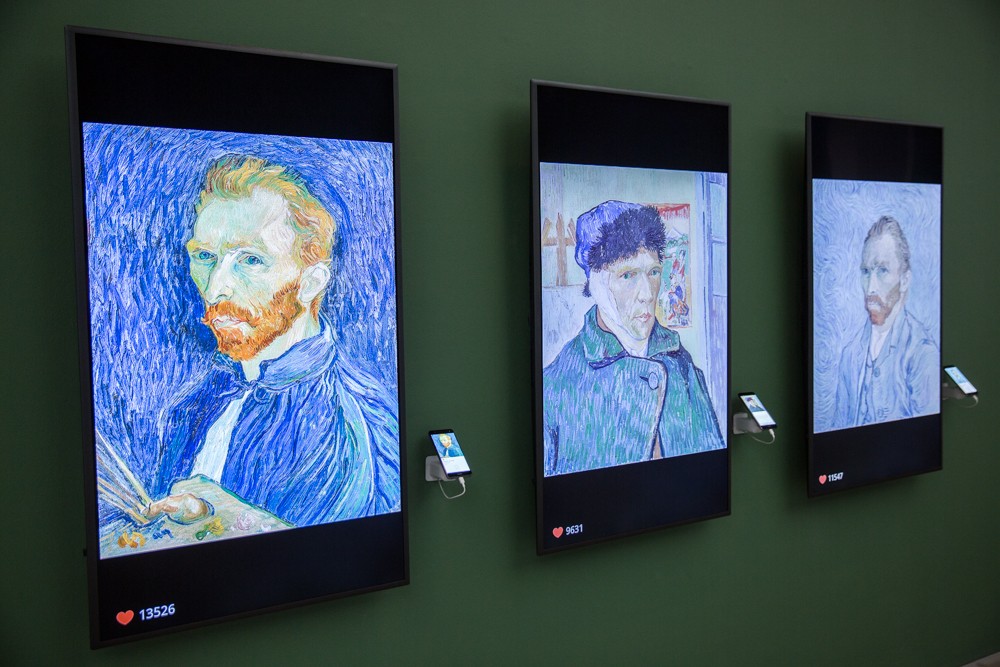 Old masters have their portraits displayed as Instagram posts.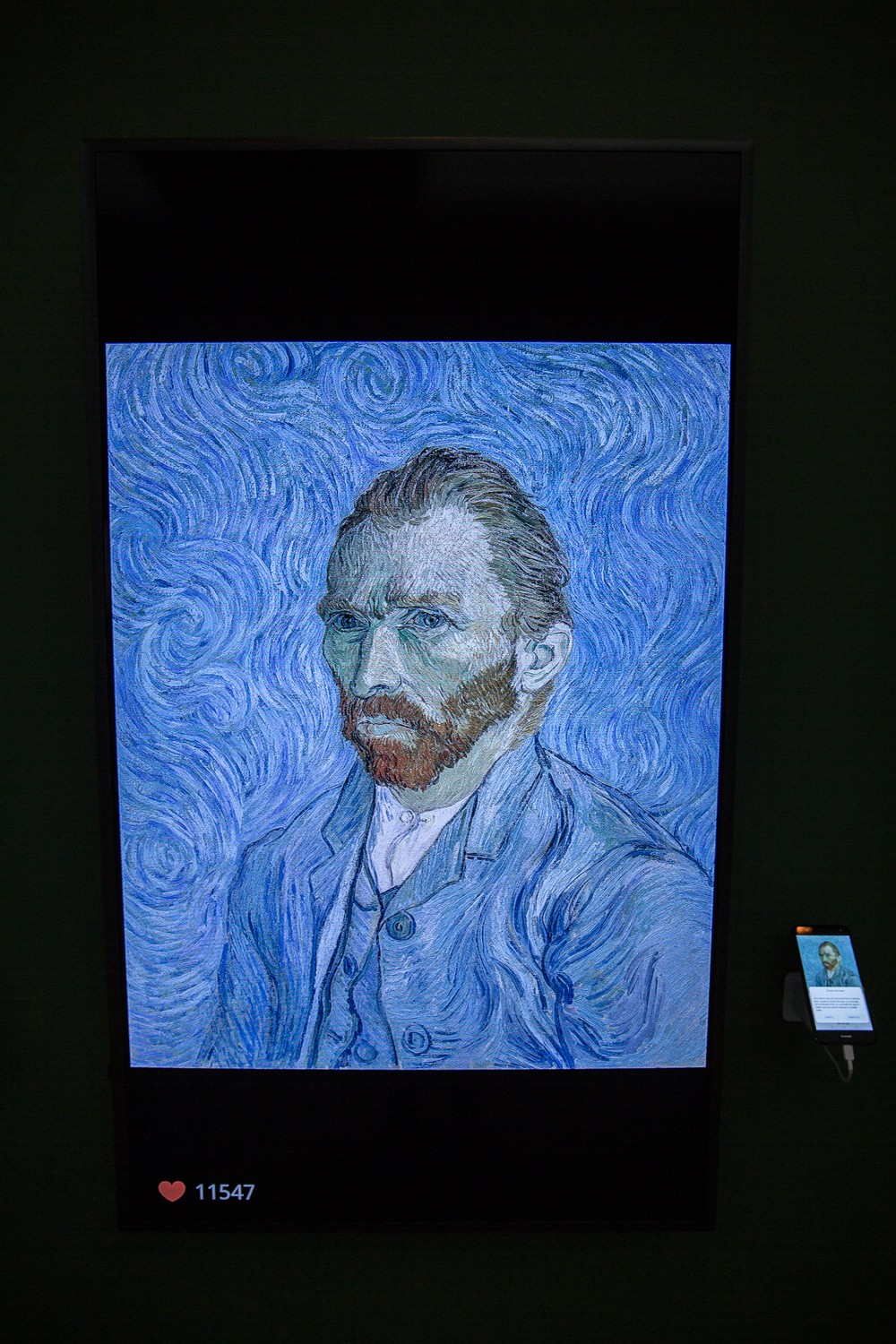 Complete with like buttons.
"These are artists who I guess when we're at school we're not asked whether we like them or not – they are held up as people of genius. It's not to be taken too seriously, but it is nice to give people the opportunity to decide, for example, 'Rembrandt is not my cup of tea, but Picasso is.'" Hurst.
It's a lighthearted exhibition, thought provoking and only occasionally a little creepy.
Rafael Lozano-Hemmer's installation, a room that projects live CCTV footage of you exploring it certainly falls into the eerie category.
As you walk around the room the cameras follow you, zoom in on your face, mark your distance between other visitors. A stark reminder that we're all being watched, all the time.
Though you do have to wonder how much it matters when as a society we're conservatively estimated to take over a million selfies a day.
Perhaps my favourite piece in the gallery is called "Pom Pom Mirror" by Daniel Rozin.
A nest of wriggling, furry pompoms undulates and reacts to whoever stands in front of it, creating a silhouette of their reflection.
Amusing guests of all ages.
Check my Instagram Stories for a video of it at work (you have to use your phone to access stories, just click on my profile picture).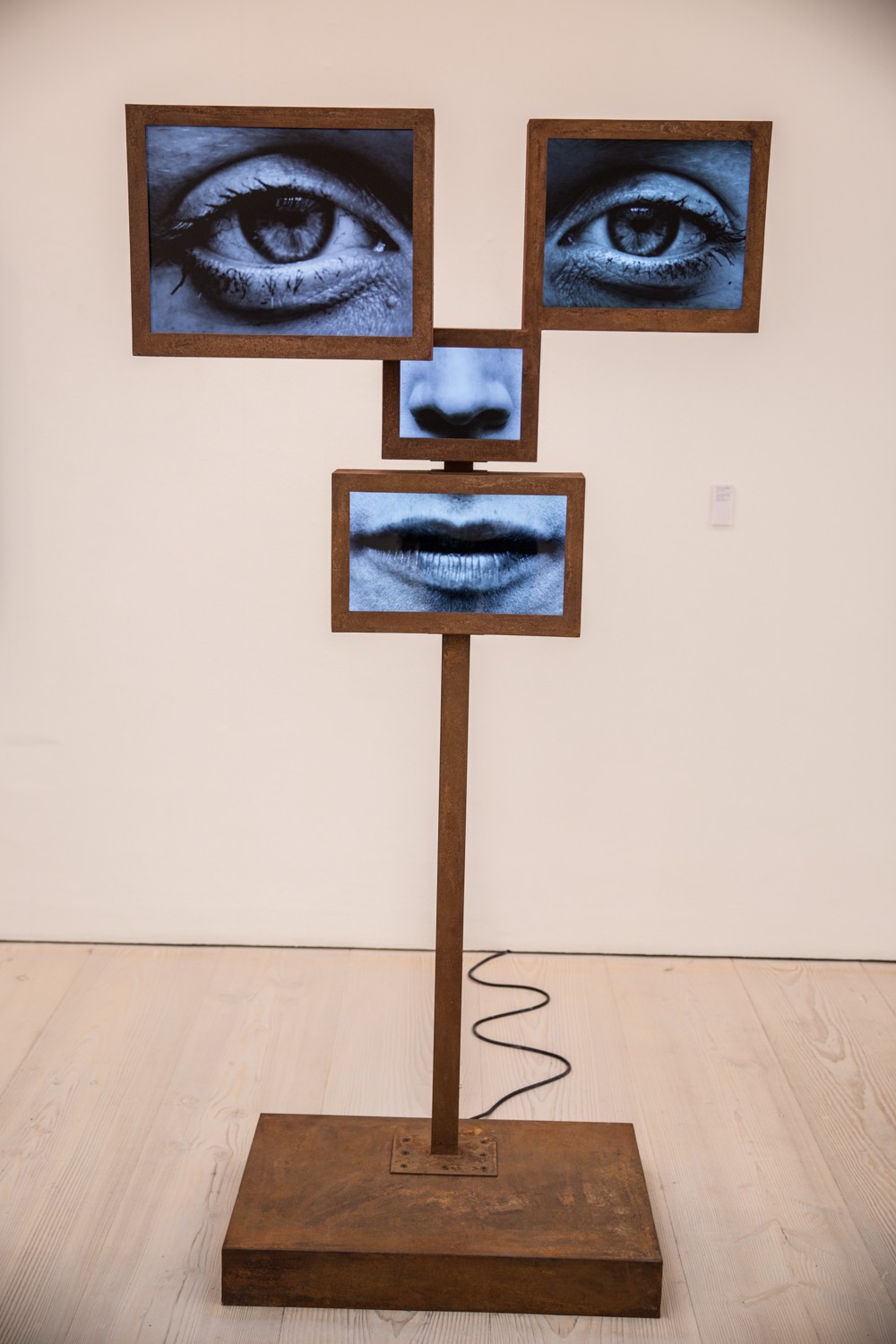 I think the show is well worth a visit, it's free and open every day until May 30th.
While you're in the area, why not make an afternoon of it?
A short walk away, just around the corner in-fact, you'll find a little square of restaurants.
Polpo's always a safe bet for a quick lunch.
You can sit out under a canopy of white umbrellas and watch the world go by with a glass of wine.
And a creamy bowl of cacio e pepe, naturally.
When you're done, you can wander up the Kings Road and check out the shops.
It's one of the few streets this side of London which isn't quite as homogenised as the rest, so you can still find something a bit different, a bit special.
And at the end of the rainbow you'll find a pot of gold, I mean tea.
Grab a table outside The Ivy and make the very most of their "Chelsea in Bloom" efforts.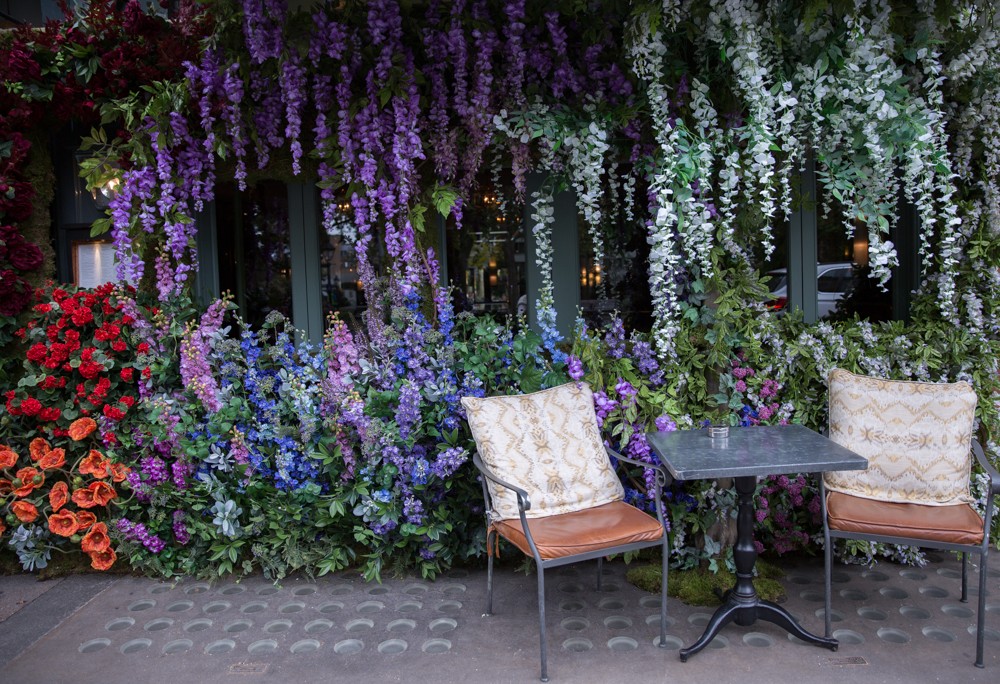 Cream jumper // Striped shirt (old – similar)
Skinny jeans // Gingham shoes (bargain of the century)
Ad - Shop this post