Smoothie bowls are taking the world by storm.
Mark my words, by this time next year there will be "Acaii Bowl shops" on every highstreet.
And with good reason!
They're delicious.
A frozen fruity treat that makes a delicious breakfast, lunch or afternoon snack. A fresh way of eating fruit and veg that feels just like having a bowl of ice-cream.
If you have a good blender there's no reason not to give them a go at home.
I use this brand of blender (UK/US) because it's indestructible and I could use a few more indestructible things in my life!
It's particularly good at smoothing frozen things, so if you're looking to invest in a new blender I thoroughly recommend them.
Anyway. Back to the bowls!
The secret to a good smoothie bowl is starting with as little liquid as possible.
You can really use any sort of frozen fruit you want, for this little pink number I kept it simple with bananas and raspberries.
2 frozen bananas (chopped before freezing)
2 handfuls of frozen raspberries
A couple splashes of almond milk
Add your frozen fruit to your blender and give it 10mins to very slightly defrost. Then have a go at blending, turn it off, push it all down, blend again, keep going.
If things still aren't moving, let the fruit defrost just a little more and add a splash or two of liquid (almond milk, juice, water).
Patience is key here, soon things will ease up a bit and before you know it you'll have something that looks like this…
*Ahhhhh* – angels sing!
Transfer into a bowl or two.
And now the fun starts.
Top with whatever your heart desires.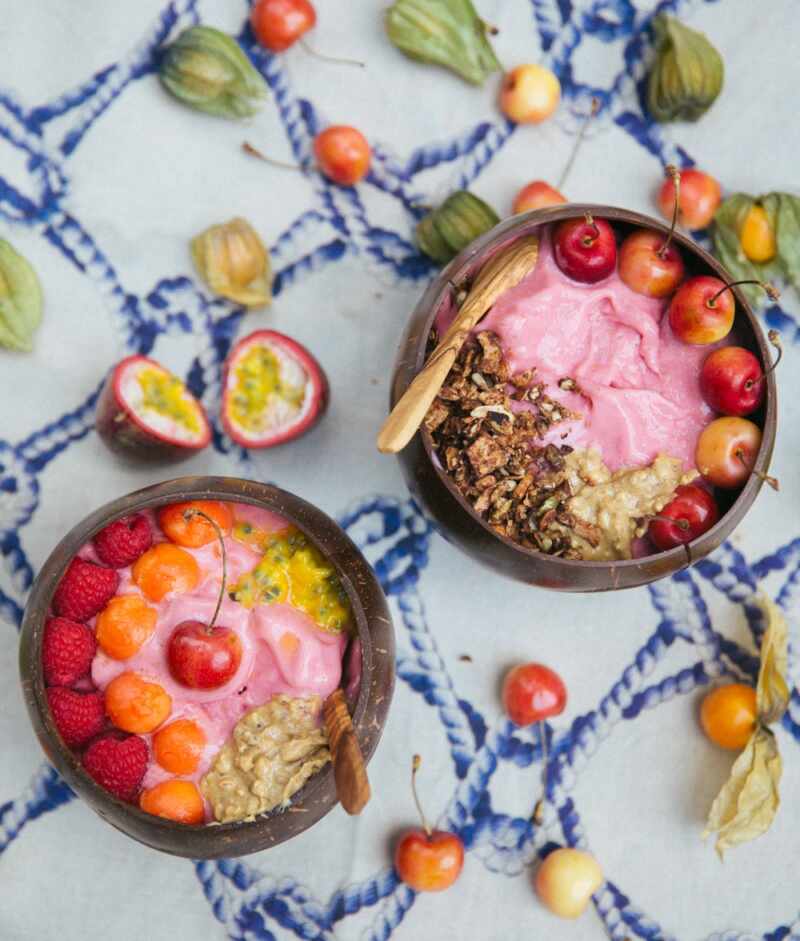 Berries, cherries, papaya, dragon fruit, passion fruit, pineapple, cherries, lychees, whatever you like.
Throw on a handful of granola for some crunch.
A scoop of sugar free nut butter for a creamy treat.
Play with textures and flavours.
Make your very own ice-cream sundae of dreams!
Pick up your bowl and go and eat it cross legged somewhere cosy, or curl up with a book (or maybe a box set?!)
There's absolutely nothing formal about these beauties, and I guarantee that once you try them you'll never look back.
Have a play around, experiment with flavours and different frozen fruits 'n' veg. If you like I'll pop a few mini-recipes up with some ideas now and then?