A few days ago I checked out a rather nifty little exhibition in London.
Yayoi Kusama has taken over the Miro Victoria gallery and it is marvelous!
As soon as you go in, nip up the stairs to your right and check out the pumpkins.
Born on 22 March 1929 in Matsumoto City, Kusama grew up in a family who made their living by cultivating seeds, and as such she has a fascination with the natural world.
She identifies with pumpkins especially and admires their unique forms.
"'Pumpkin head' was an epithet used to disparage ugly, ignorant men, and the phrase 'Put eyes and a nose on a pumpkin' evoked a pudgy and unattractive woman. It seems that pumpkins do not inspire much respect. But I was enchanted by their charming and winsome form. What appealed to me most was the pumpkin's generous unpretentiousness. That and its solid spiritual base" (Yayoi Kusama, Infinity Net: The Autobiography of Yayoi Kusama
You'll find brass pumpkins in various sizes throughout the gallery, but behind this door is where the fun really begins…
A girl with a stopwatch guards the room and make sure no-one overstays their welcome.
Inside, there's magic.
"All the Eternal Love I Have for the Pumpkins" 2016 Yayoi Kusama

A patent black floor, littered with glowing, polka dot pumpkins, surrounded on all sides by highly polished mirrors.
Check out this video…
Pumpkins for as far as the eye can see!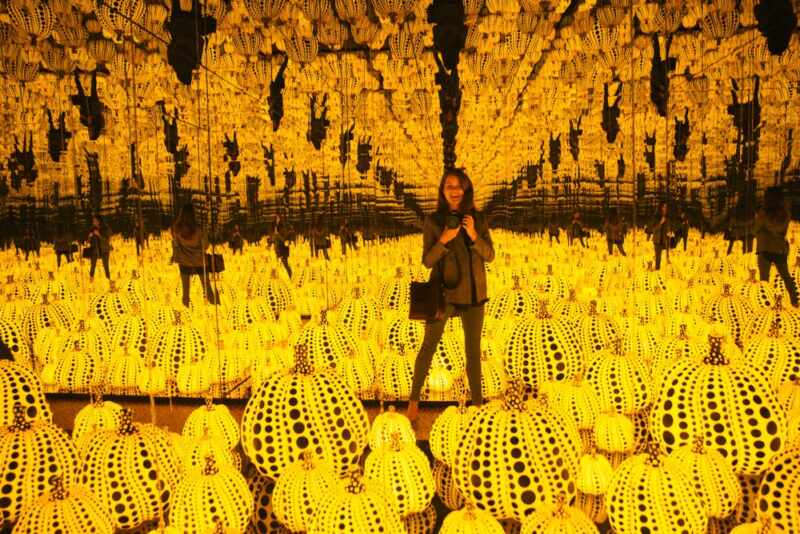 You get the room to yourself for 30seconds to a minute, depending how busy the gallery is.
It's more than enough time to feel fully immersed in the world of Kusama.
Downstairs you'll find "Chandelier of Grief", 2016
Another mirror room, with a twirling chandelier reflected through mirrors and glass.
There's more room to walk around in this one, and it can feel as though you're waltzing through a dream.
Keep going and waltz right out into the garden.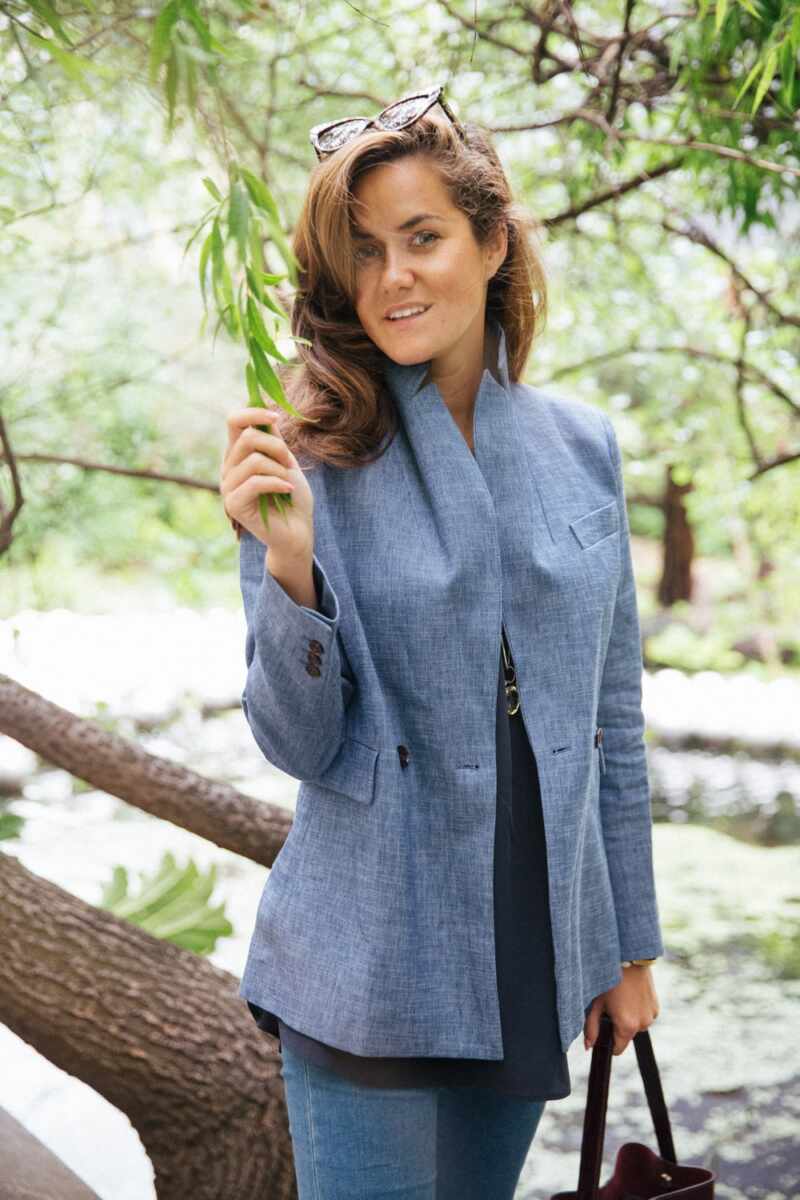 "Narcissus Garden" 1966

You'll notice a glittering cube on the deck.
Duck and climb inside.
You'll find yourself inside "Where the Lights in My Heart Go", 2016
And come on, you are in the Narcissus Garden, where better to take an epic selfie?!
If you keep strolling on to the edge of the garden, you'll find a staircase…
…no, not that one.
Keep going and climb all the way to the top.
Blue blazer // Sparkler necklace
Silk shirt (also in white) // Skinny jeans
Silk slipper flats // Bucket bag
Ad - Shop this post