This is one of the very best kinds of "skinny" recipes.
One that didn't start with any skinny intentions whatsoever, just a combination of delicious things, that actually turned out to be a better, healthier version of something that's already pretty fantastic!
My dad loves a bar of Cadbury's Fruit 'n' Nut and will quite happily eat a family block of the stuff in one sitting.
All that sugar is pretty evil and doing terrible things to his waist line, never mind his heart!
But now I've shown him something better.
A spring version of my Christmas Chocolate Avalanche:
Packed with fresh, fruity flavours and a big bold punch of chocolate.
It's the perfect centerpiece for your Easter table. Everyone can take a shard and nibble away, without any dread of a sugar hangover.
The fresh pomegranate bursts as you bite into it, the chewy mango adds a wave tropical memories, the sharp tang of raspberry powder gives a little lift to the deep, dark chocolate, sweetened with a sprinkle of rock salt.
(This sounds counter intuitive, but the salt really adds a sweetness to the dark chocolate. Even loyal milk chocolate fans will love it, trust me!)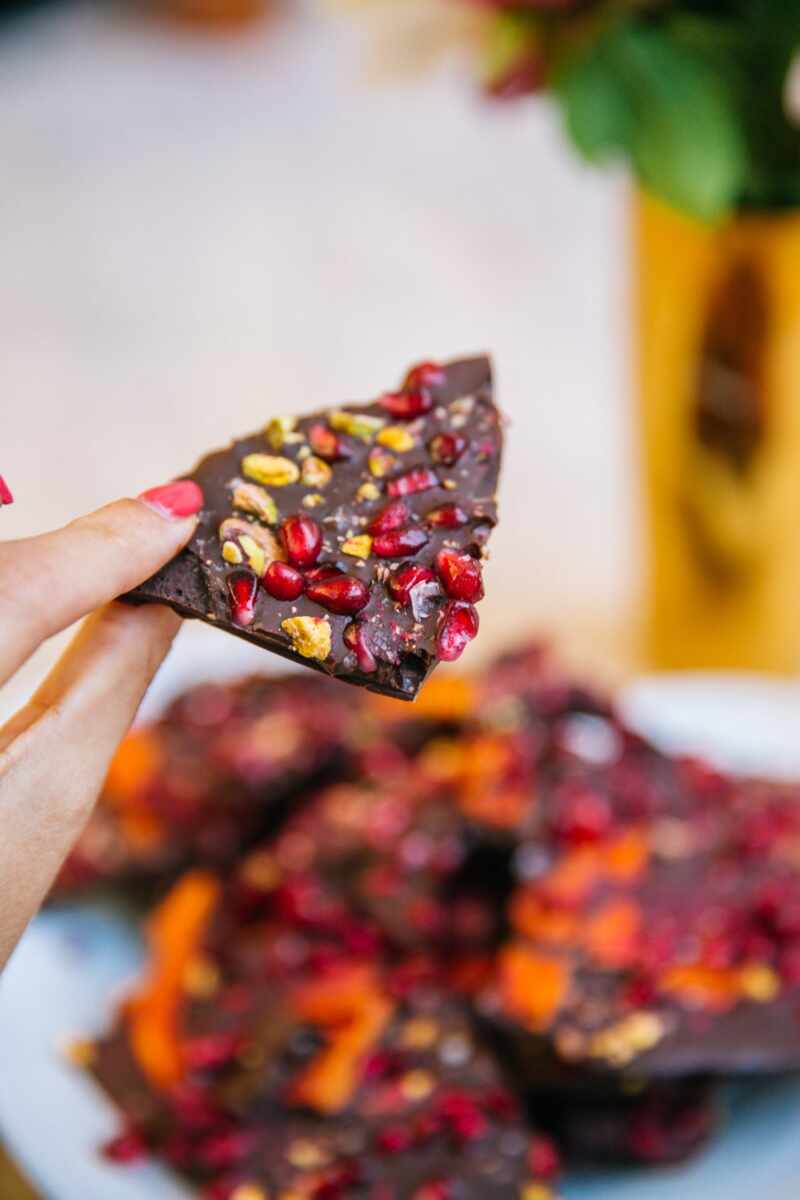 It's really very simple to make. Grab;
6 100g bars of good quality dark chocolate
Half tsp cayenne pepper
2 handfuls of pomegranate seeds (I cheated and bought a pot from the supermarket, don't tell anyone)
A few strips of dried mango
1 handful of shelled pistachios
1 handful of pecans
Pinch of rock salt (needs to be rock salt, not table salt)
Dusting of dried raspberry powder (sold in health-food shops or online)
Large baking tray + cling film or grease proof paper
Start by melting your chocolate. Place chunks or shards of it into a big metal bowl, over an inch or two of boiling water in a saucepan. (Like this.)
While it's melting, pop your nuts into a sandwich bag. (Chuckling at the idea of men taking this instruction the wrong way. I mean like this:)
Smash them up with a rolling pin or bottom of a saucepan.
Grab a pair of scissors and chop a few strips of dried mango into chunks.
Once your chocolate is nice and smooth, stir through your little cayenne kick.
Turn the heat right down, and prep your baking tray.
Just cover it in cling film or grease proof paper. Try to keep it as smooth as possible, or you'll get a wrinkly bottom.
(Your chocolate will have a wrinkly bottom, that is.)
Once prepped, pour your chocolate over it.
You want a nice natural puddle shape.
Sprinkle your chopped nuts over the top.
Add your chopped mango.
A sprinkling of salt flakes, followed by your pom seeds.
Dust with raspberry powder.
It really is a thing of beauty at this point!
Worthy of the Saatchi Gallery if you ask me.
Leave to one side, or pop outside to cool.
Once it's solid, lift away from cling film and break into shards.
Pile high onto a pretty plate and serve to your favourite people.
Or keep it to yourself, I won't tell.
It won't keep for much more than a day or two, so just tuck in and enjoy it while you can!
The springiest of spring chocolate bars. You'll be livin' la vida cocoa!
Whether you make it because it's skinny or just 'cos it's real ghud, be sure to tag me (@rosielondoner) in your Instagrams.