We awoke in our jungle treehouses to find that the rain had finally passed.
We padded through the estate, and down to breakfast.
Seeing as its a jungle resort, you might think that there's no beach to wriggle your toes into at Hotel Chocolat.
Au contraire, my friend!
If you're craving a little sea air, just let the front desk know and they'll whisk you down to their boat.
You'll slice your way through the Caribbean sea, past the lush, tree covered coastline.
Glide over the waves…
Towards a little jewel of a bay, tucked away between The Pitons.
Sugar Beach.
Here you can pull up a sunbed, grab a cocktail and get that much needed dose of vitamin sea.
We lay under thatched umbrellas and swam through the crystal clear waters.
We bobbed, and chatted about anything and everything in the floating sunbeds.
Borrowed a couple of snorkels and explored the netherworlds.
Naturally maintaining elegance and dignity at all times.
Hungry from a morning of underwater adventuring, we dove into the Sugar Beach Bayside for a late lunch.
Opting for a table full of starters;
Octopus tostadas.
3 kinds of ceviche.
Crab cakes.
Coconut shrimp.
Every type of condiment you could hope for, including the epic local hot sauce.
Followed by a couple of grilled lobsters.
We ate slowly and made the most of our Bayside lunch, with sandy toes.
Far too full of wine and seafood to manage another swim, we popped up to the spa.
Potentially the most beautiful spa I've ever visited, I may add.
You'd miss the entrance if you weren't looking for it. Just a hole in some bushes, leading you into a winding, wooden tunnel, lit by flickering lanterns.
Birds and crickets sing outside as you delve deeper into the forest, eventually emerging in a candlelit atrium.
Here you go through all the formalities of choosing treatments and defining preferences, and then you're led out into the trees.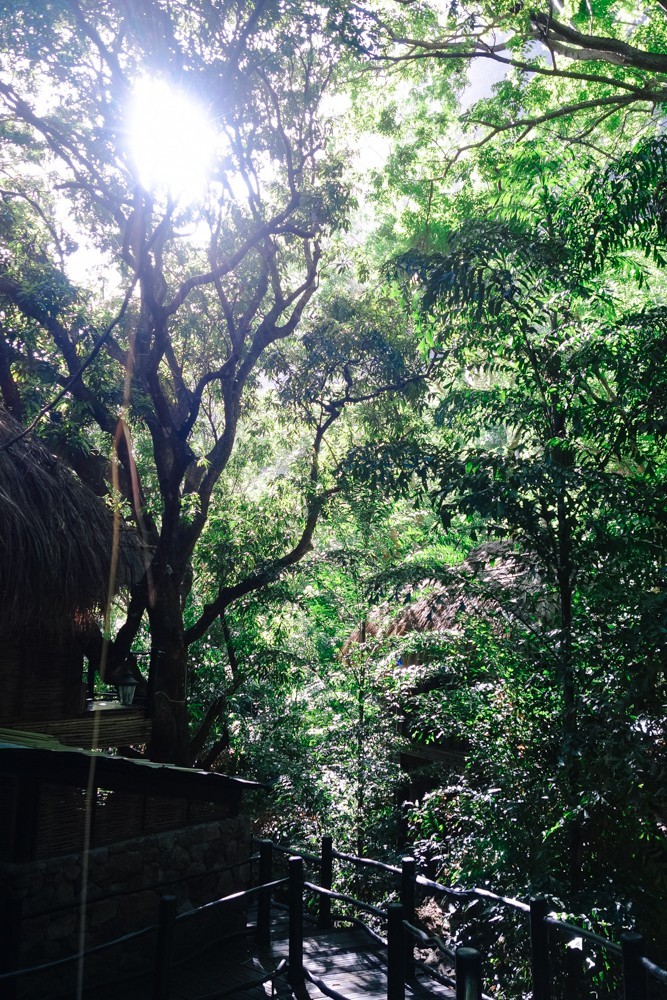 Just watch out for the wildlife!
You're led into ice-cold changing rooms and pointed towards an outdoor shower.
Jump in and wash of all that salt and sand. The shampoo smells like all your favourite scents rolled into one and you wash your hair looking out over the jungle, with the sun on your skin. Even the water seems magical when it dances and pours in the light.
All clean, you wrap up in a fluffy robe and allow yourself to be led to your own private treehouse.
Inside a fan spins, lazily overhead and the room smells like coconut and chocolates.
You lay down and drift away into bliss as every inch of you is smothered in cool coconut oil.
I never wanted to leave!
But we had a sunset to catch!
Back at the beach we ordered our frosty cocktails, from the little pink bar.