The time had come to say goodbye to the heavenly Hayman Island.
We packed our bags and made our way to the marina for the final time.
And we found a small dinghy, ready to take us over to Hamilton Island.
Shunning the airconditioned finery of the cabin below, we took up our seats in the crows nest.
Watching as the ocean and its island freckles sailed by.
Eventually coming to a stop and saying our goodbyes in Hamilton harbour.
All set for the next stage of our Aussie adventure!
Hamilton Island is much larger than Hayman.
There are lots of villas to rent, restaurants to go to and different spots to explore.
The marina became an immediate favourite of ours.
Lined with palm trees that rustle and wave in the wind, and rolling banks of green grass. A dreamy spot for a rest in the sunshine.
But the best bit of Hamilton Island?
You have to get everywhere by golf cart!
We rented a house through AirBnB and the buggy came included. I took full control and didn't let my poor man anywhere near the steering wheel!
Deep down I'm secretly an 80 year old who's ready for a suped-up mobility scooter. Who won't even hesitate to run over your foot when you're not looking.
The island is incredibly picturesque.
Somehow they even managed to make a chippy look adorable.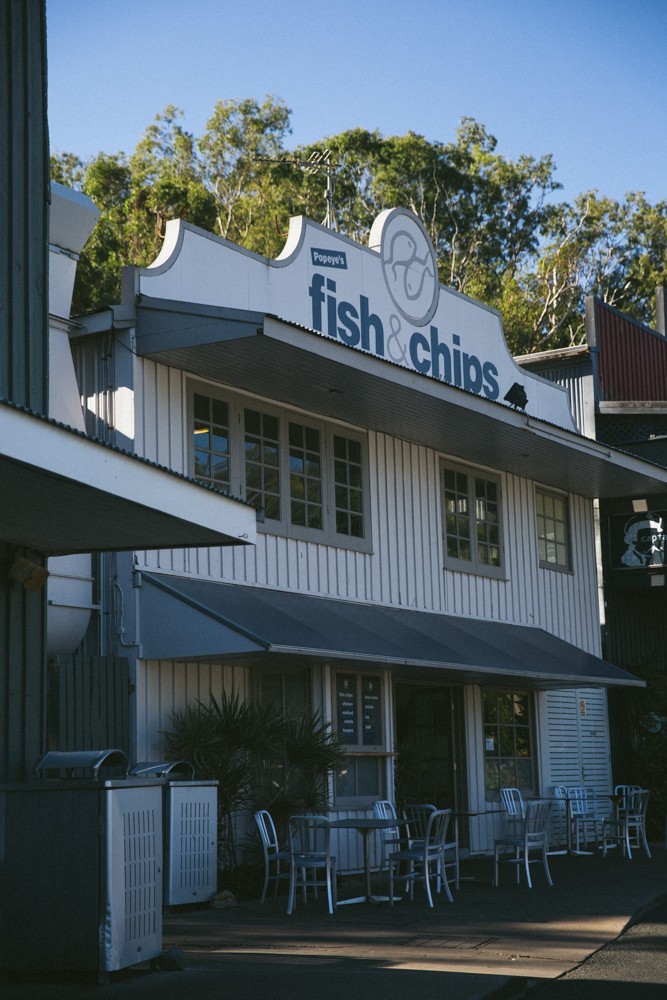 If you find yourself on Hamilton looking for lunch, grab a roast chicken from the chip shop.
Order a pot (or three) of garlic mayo.
Head over to the picnic benches.
Roll up your sleeves, and get stuck in!
We did just that, and it was way too good to wait for a photo. So here's one of the "roof" instead.
Around the marina you'll find little shops and stalls, some selling clothes, others selling trinkets.
One or two dolling out good advice.
If you drive up to the very top of the island, you're treated to the most wonderful sunbath, breeze and view.
Wearing a cool blue smock from these guys, who seem to be knocking summer dresses out of the park this season!
I know I mention them all the time, but I've popped a few more favourite below just incase you're on the hunt for a summer holiday piece (or two, I won't tell).