These photos feel like they were taken a lifetime ago, though it's only been a few weeks!
A while before I left for Australia, I did a little shoot with one of my all time favourite magazines, Elle.
They whisked me away to Paris to shoot for an afternoon, and I couldn't resist a little behind-the-scenes peek!
All based around street style, I was asked to bring along a few outfits. Starting with a monochrome look, that I felt was very Parisian!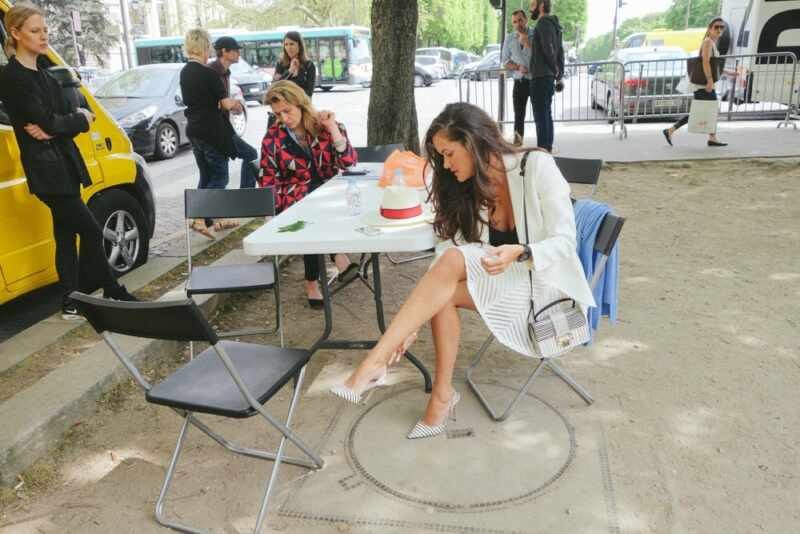 I was slathered and preened by the expert team.
Before getting to work with the gorgeous, wild, brilliantly crazy photographer – Riccardo Tinelli.
Very high energy, Ricardo is all "GO! GO! GO! Twirl baby, dance, jump, be crazzzzyy!" in the most magnificent of French accents.
White blazer // White skirt // Silk cami
Striped Jimmy Choos (now half price – try here & here for sizes) // Jimmy Choo Bag – Sold out
It was seriously hot work.
We'd chosen the muggiest day in roasting Paris to shoot!
I piled my hair up to keep it out of the way between shoots… but the stylist loved it, and insisted I keep it up. (Thank goodness!)
We shot the second look at the foot of the Mini Palais.
We stopped for a quick lunch break at the Mini Palais.
Consisting of a steak tartar & a vibrant green risotto.
Even a quick bite to eat is done properly in Paris!
We chattered through lunch, heard a little of what it's like to work for one of the world's biggest magazines (busy) and discussed the rising threat of social media; one which Elle at least seems to be taking in its stride. Harnessing bloggers for shoots and collaborations, Instagram accounts in every country, and a worldwide web presence.
Proof, if ever it were needed, that social media and online media doesn't mean the end of print, it just means its time to evolve. It's good to grow and change is healthy.
But there was no more time for chit-chat, it was time to shoot my final, possibly favourite, look.
"Come on bebé, work eeet! Less like thiiissss, more like theeees!"
Silver May bangles getting a serious close up!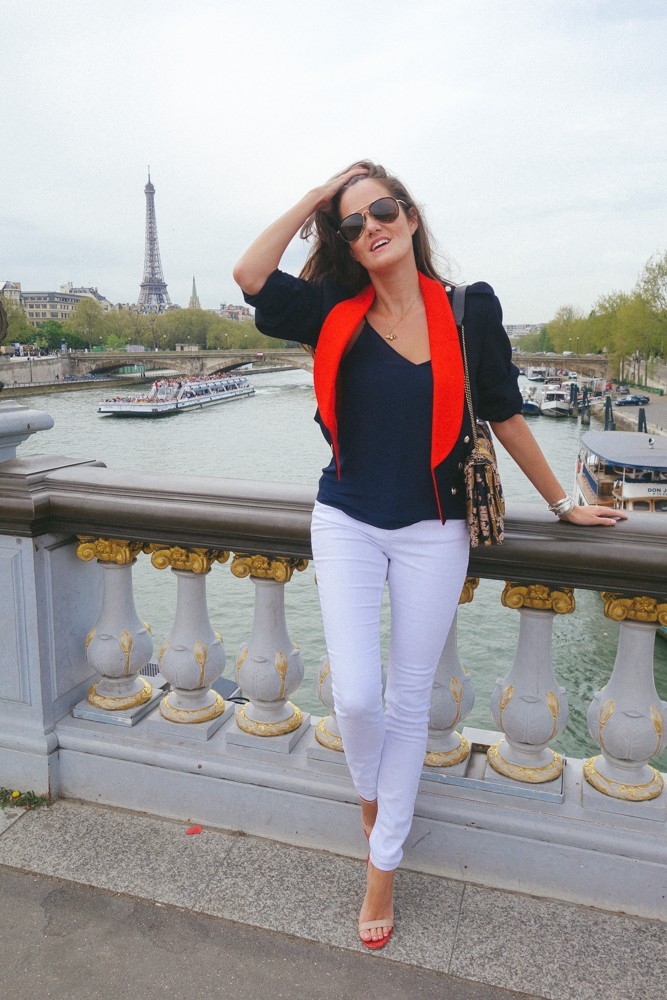 Vintage jacket (similar) // White jeans
Camilla Elphick Sandals // Lanvin Handbag (in the sale!)
Linda Farrow Sunnies // Silver May Bangles // Silver May Bee Necklace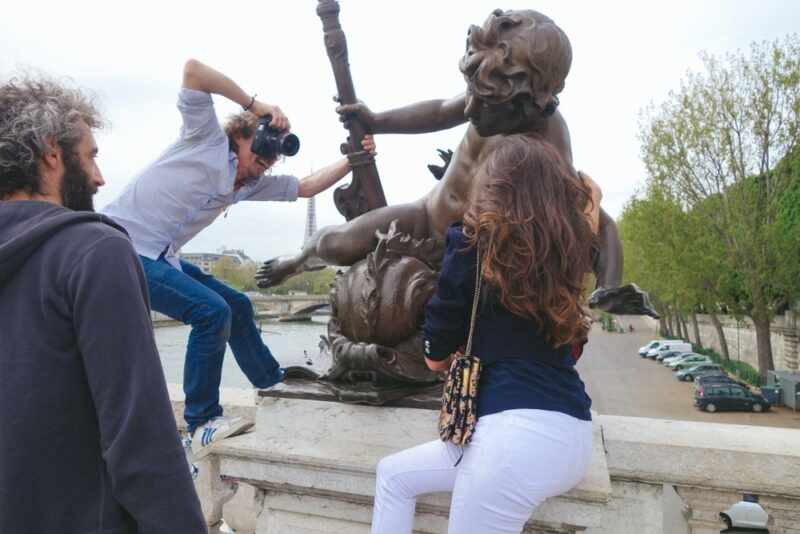 A few groups of readers saw my Instagram, worked out where we were shooting and came over to say hello.
To say you're a stylish, gorgeous bunch is the understatement of the century!
Check out Elli's Instagram!
To finish the shoot, we did a "photobooth" set up.
Let me tell you, there's not much more intimidating than trying to get cool photobooth shots in front of an entire team of people laughing and shouting! But we gave it a good go.
After many a kiss and goodbye we said arevoir to the Elle International team.
Tania, the happy snapper behind-the-behind-the-scenes-camera, and I went to L'Avenue for a celebratory bite to eat… and a few bubbles, because Paris.
We shopped a little & took a few tourist snaps.
Before jumping the channel and coming back to London.
A short, whirlwind of a trip!
You can check out the online versions of the Elle article here –
France – UK – Japan – USA – Taiwan – China – Korea – Russia – Hong Kong
Paris is always a good idea.