I have finally nailed the perfect chicken satay recipe!
How long have I been going on about chicken satay? 2, 3 years?
Well, possibly about 22 but I haven't had the blog for that long SO YOU CAN'T PROVE IT!
Anyway, after a process of trial and deliciously sticky (pun intended) error, I finally think I've cracked it.
A simple, seriously delicious, fool-proof recipe for the starter of all starters, chicken satay.
Tender chicken, served streetfood style with rich, peanut dipping sauce.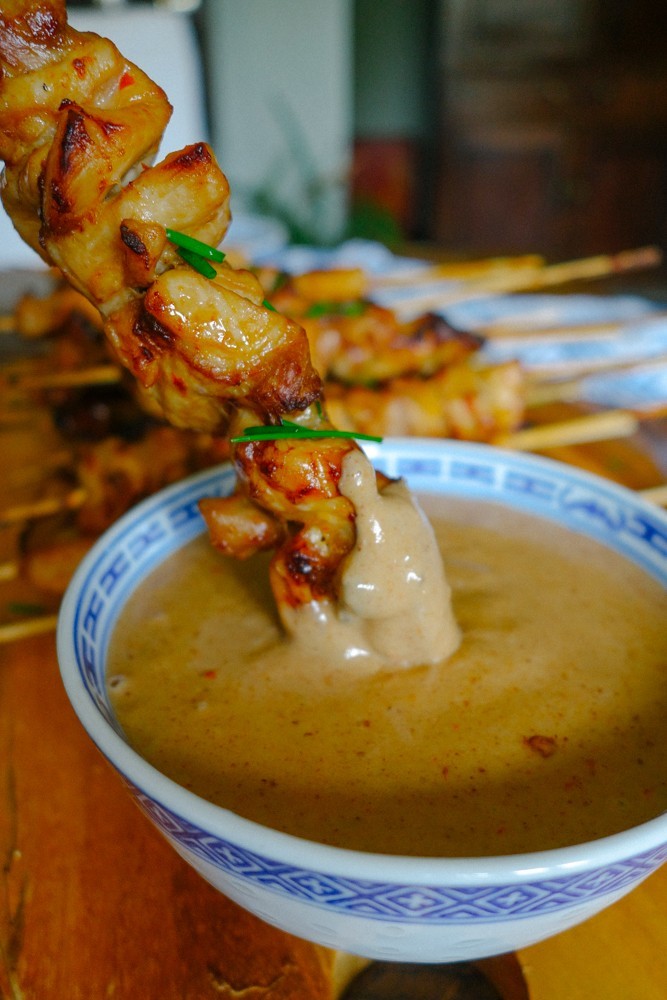 *Angels sing*
I made loads for a lunch party, but here's the recipe to feed two and you can double as you please:
Satay Chicken:
600g Chicken thighs – deboned (sometimes you can buy these as "thigh fillets")
1 clove Garlic, crushed
1 chilli, chopped
3tbsp Soy sauce
2tbsp Coconut oil (or sesame oil if you're out)
1tsp Honey
Wooden skewers, soaked in water for an hour+
Satay Sauce:
2tbsp Coconut oil
Half small Onion, chopped
1 chopped Chilli 
1 clove of Garlic, crushed
150g (half pot) Peanut butter (100% peanut, no added sugar. Like this one.) 
1tsp Honey 
200ml (half can) Coconut milk
splash of Fish sauce 
Soy sauce 
You'll want to start by marinading your chicken. A day ahead is best, but give it at least 3-4hrs. Blend together your garlic, chilli, soy sauce, coconut oil, honey and pour into a flat bottomed dish.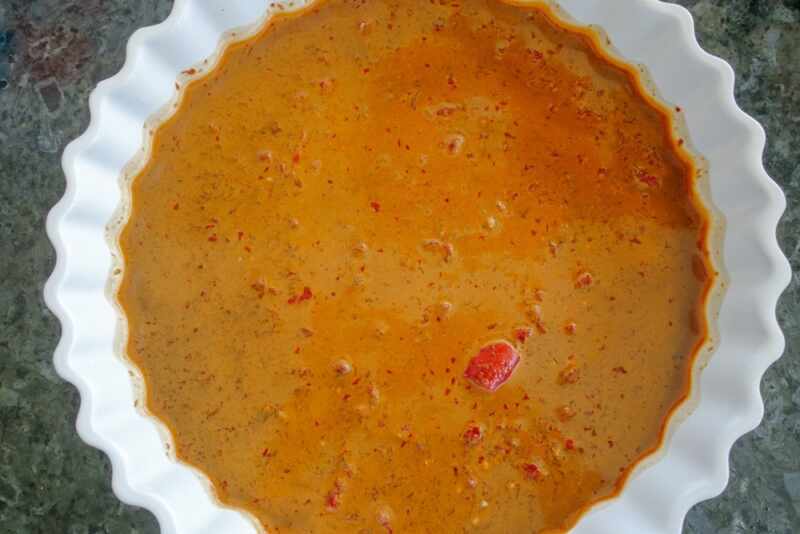 Chop your chicken into chunks and add to the pot.
When all your chicken has been sliced 'n' diced into bitesize bits, toss it around in the sauce.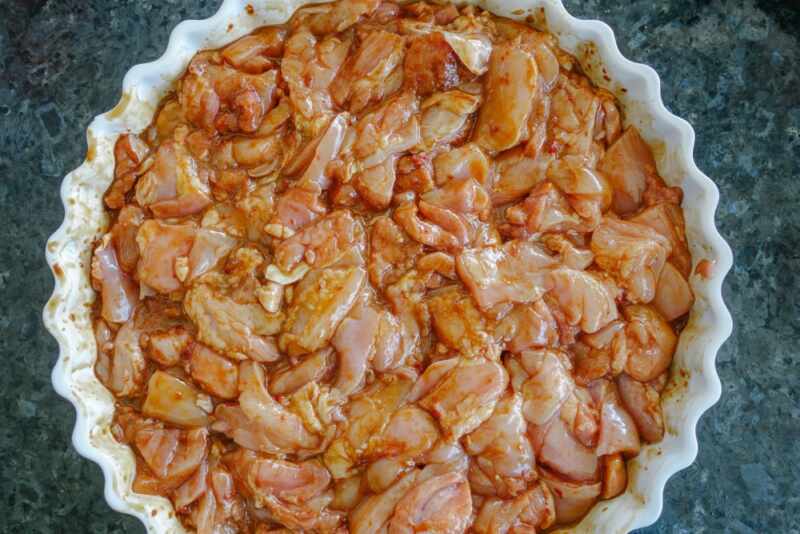 Cover with clingfilm, and pop into the fridge until you're ready for it.
The sauce can also be made ahead, so while you're on a roll why not get started?!
Heat the coconut oil in a pan over a medium heat. Toss in your onion, chilli and garlic.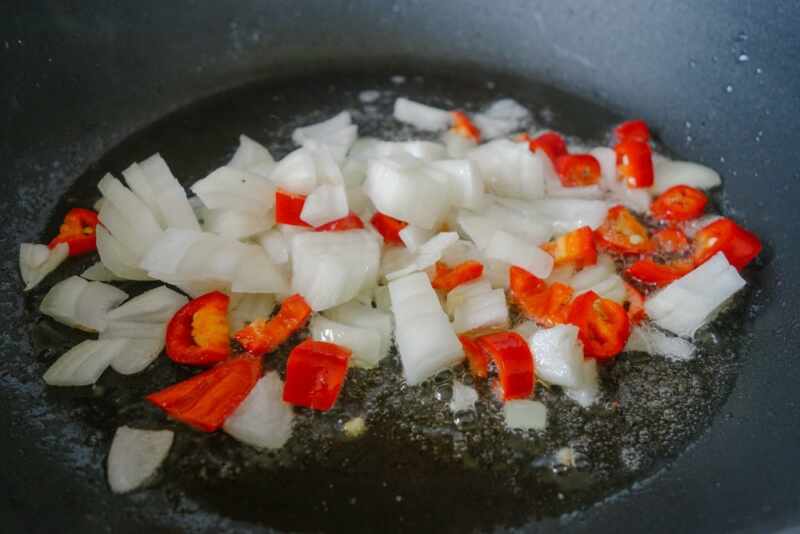 Fry until soft.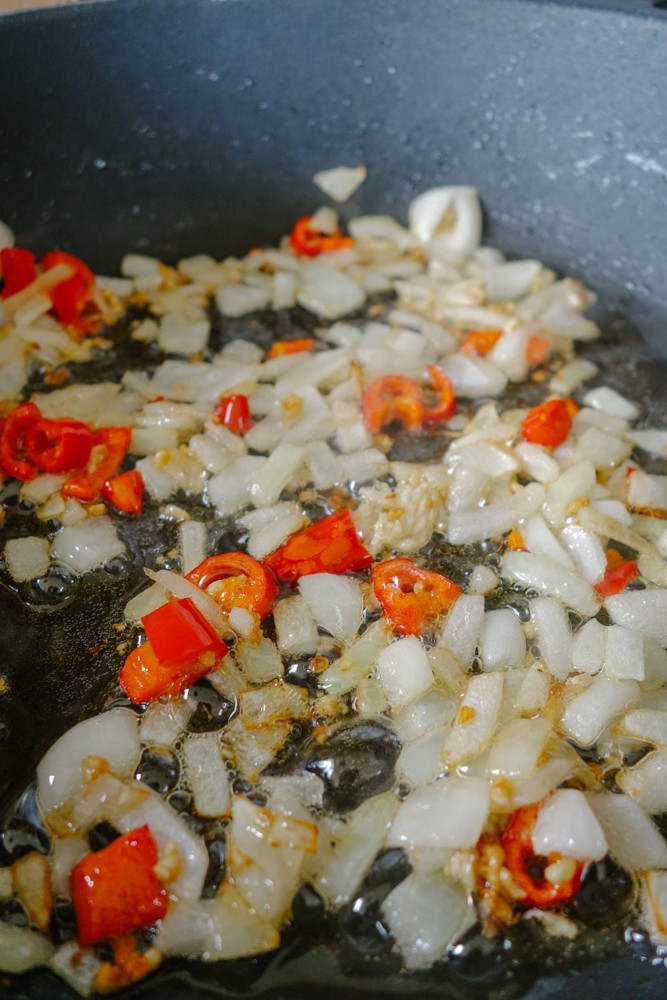 Turn the heat down a little.
Add your peanut butter & honey. Stir quickly and don't let the bottom burn, there's nothing worse than a burnt bottom.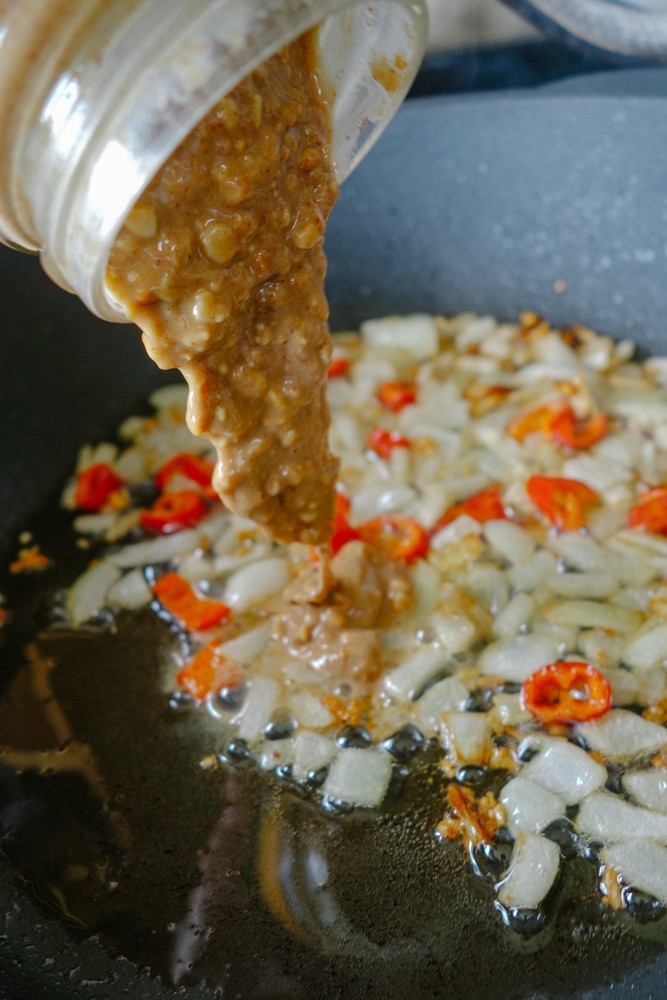 Once it all starts to come together, quickly & carefully transfer to your blender/processor. Seriously, be careful. This stuff is hot!
Add the coconut milk and blend.
If it's too thick, you can loosen the mixture with a little more coconut milk.
Pour into a dish/pot/jar, and pop to one side.
When your chicken is ready to roll, thread it onto your skewers.
Place onto a rack over a baking tray.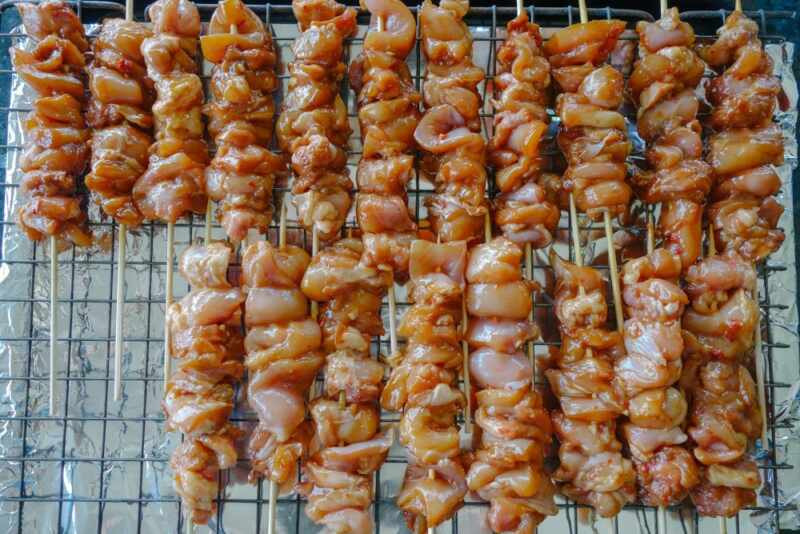 Turn the grill (broiler) on to a medium-high setting.
Grill the chicken for about 10mins, until nice and browned. Take it out.
Turn them over, and cook for another 10.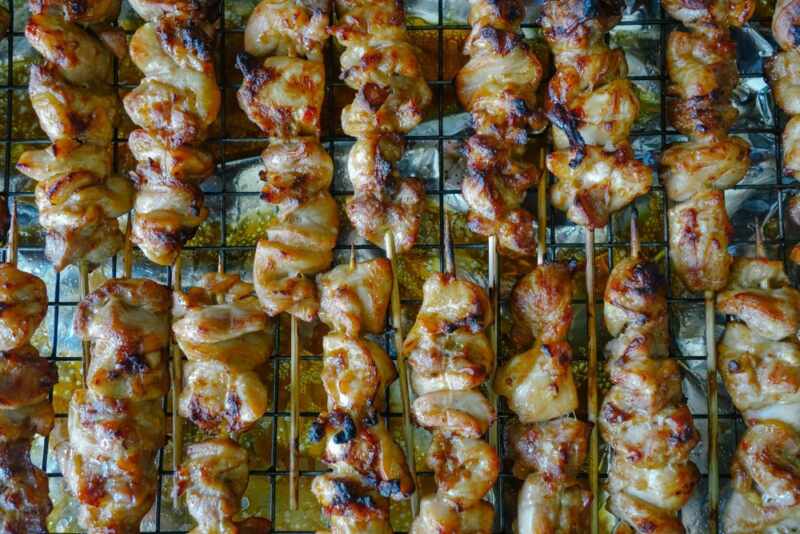 Pile onto a serving plate.
Serve with buckets of your sauce (if it's gotten cold, warm it gently on the hob.)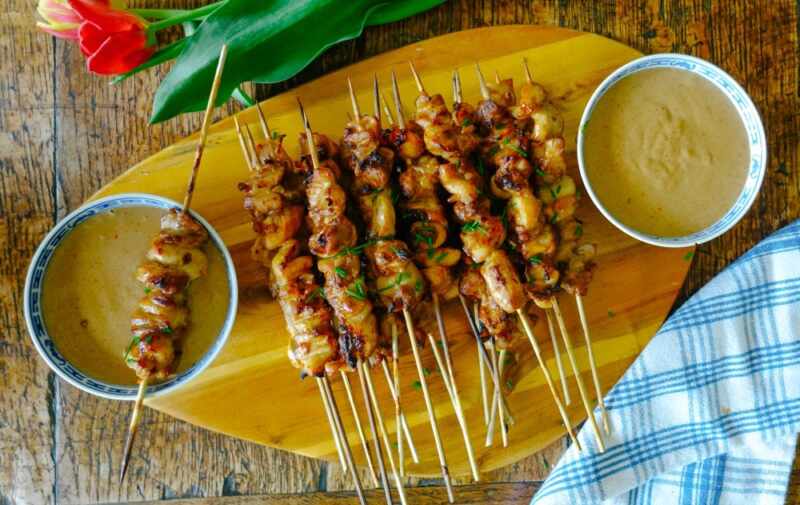 Sprinkle with a few chopped chives, or coriander if you're feeling fancy!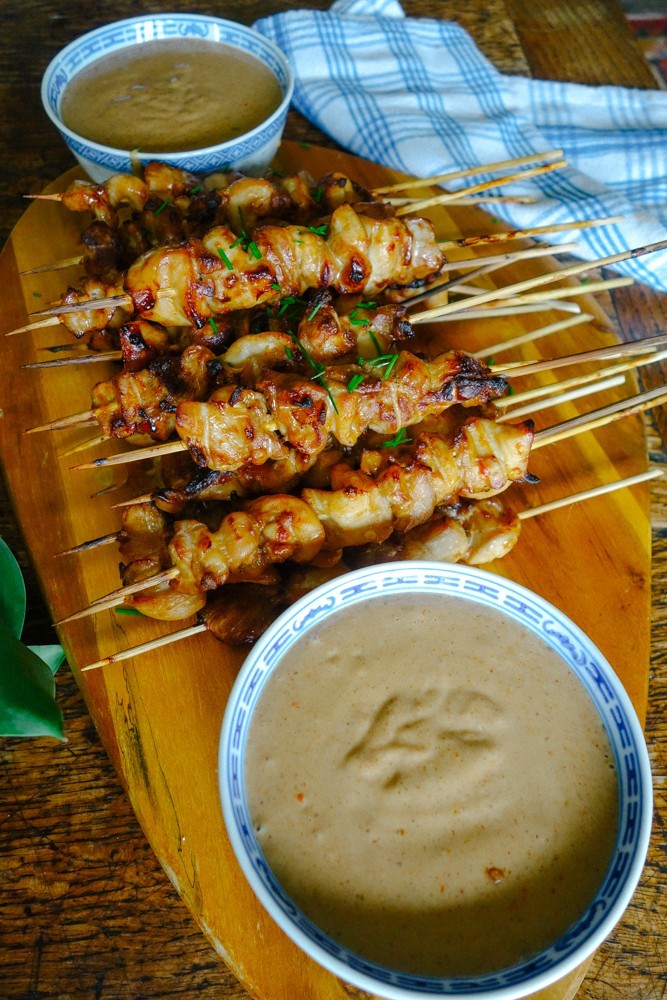 And dunk to your heart's content!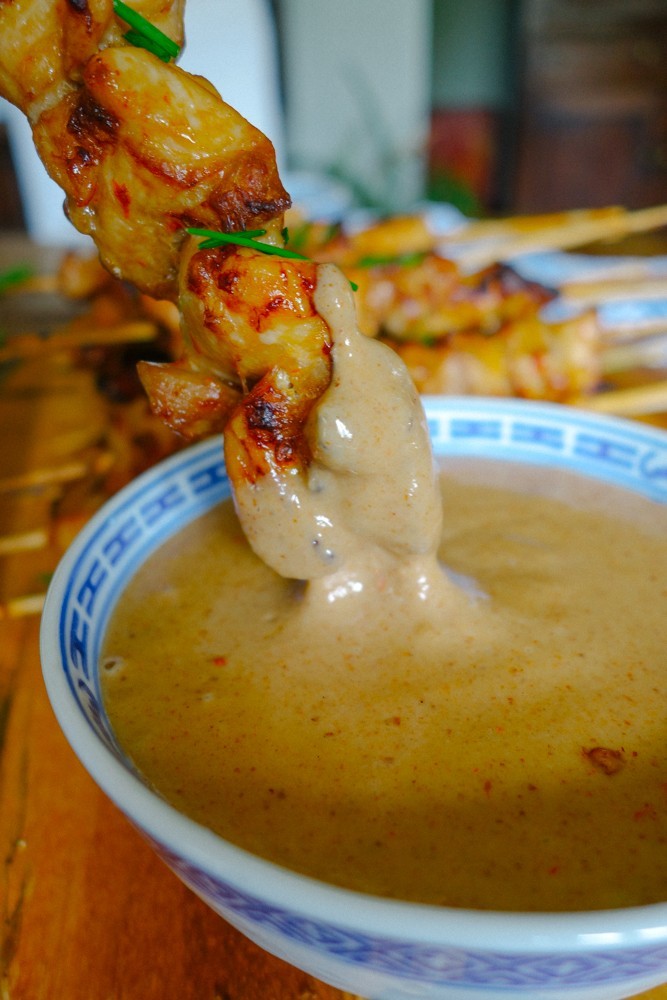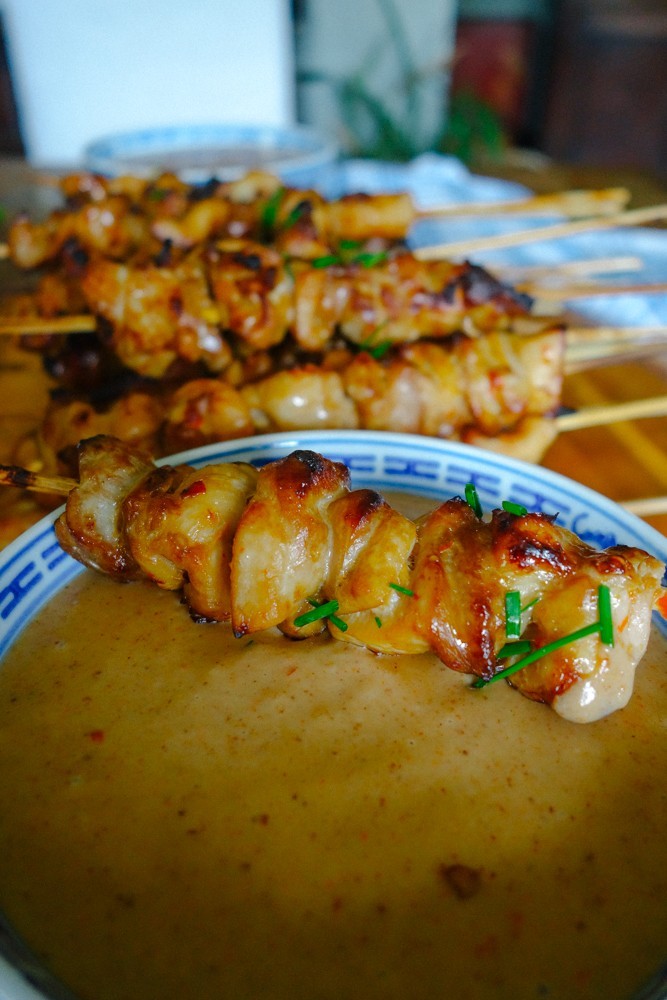 Leftover sauce (you made quite a lot) is cracking on noodles, sandwiches, stir fries, anything you can think of.
Give it a go this weekend! And if the sun shines, why not try doing the chicken on the bbq?
Just don't tell anyone, because once your friends know you can knock up a mean satay… they won't be able to satay away!
You know what you could watch while eating it? Sex and the Satay!
Ok, I'll stop now.