Walking around Soho thinking "what am I going to eat" is one of my favourite pastimes.
There are so many incredible options open to you, and now there's one more.
I've waffled on about the brilliance of Bone Daddies many a time, and now I'm all set to waffle on about a new one!
Shackfuyu is a Japanese junk food popup in an old pizzaria. The dishes are nibbly and made for sharing with a few drinks.
They play old school rock 'n' roll, the staff are bloody lovely and it's the perfect spot to fuel up between meetings in Central.
The menu changes frequently, but here's what we gave a good going over…
Cracking spicy chicken wings. Tingly fire, but not blow your head off spicy. Very moreish!
Mackerel sashimi with avocado.
A real thing of beauty.
Cocktails come in little Alice-in-Wonderland style bottles, that begged to be poured over ice.
Who are we to refuse such a request?!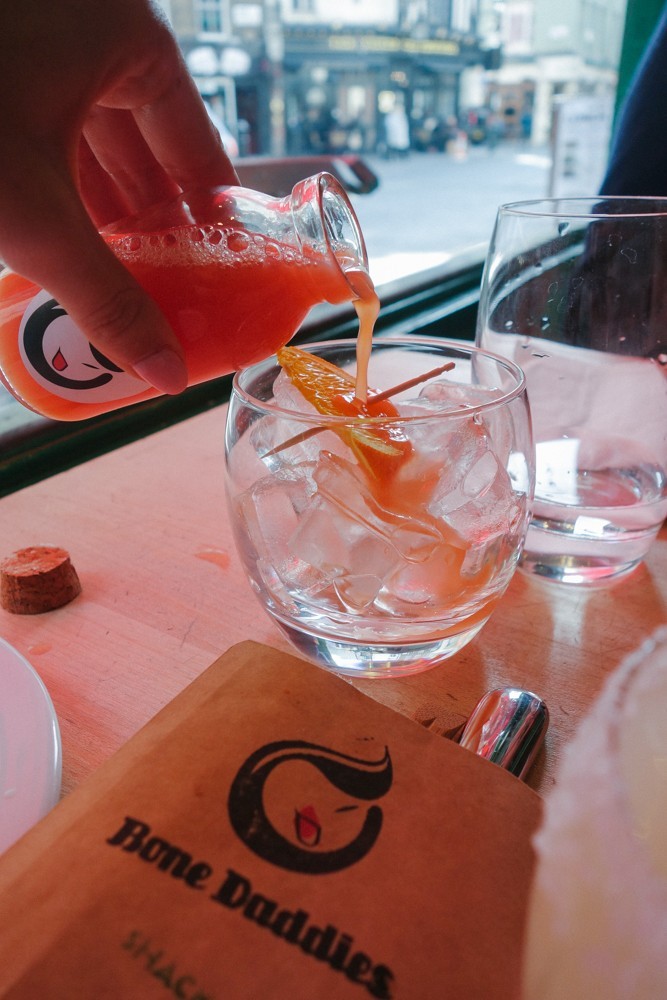 I went for the yuzu margarita with a salted rim…
… which is really quite sour!
But sucks you back in for more.
The cauliflower in miso orange ponzu dressing is a real corker of a dish.
Light but comforting and seriously flavour packed.
The prawn toast is everyone's favourite and a must-order when you go!
The scallops are huge and more than a little epic.
One between two is more than enough, and the sauce is enough to make your eyes roll.
Mentaiko mac 'n' cheese. Topped with roe, crumbs and bacon.
Beef picanha with kimchee butter.
My favourite dish.
Gently seared beef, swimming in a rich, salty butter.
Delicately sliced and served beautifully pink.
Especially good along side the sweet, salty, melty miso aubergine.
It is one helluva place for a feast, or a late night drinking session with kick ass nibbles.
As you can probably gather, I will be going back! And highly recommend you make the trip too. Website here.
We went on a sunnier afternoon than today looks like it will be! And headed off to soak it up. When the sun shines in London, you make the most of it!
(^ a new take on an old favourite! Sturdy, well made and flattering on all sorts of shapes)
Converse trainers // Prada tote // Sunnies (HS versions)
Ad - Shop this post