Something monumental has happened.
Yesterday I had the best brunch I've ever had in London!
I know, I know, I couldn't believe it either! For some reason the newspapers haven't picked up on this astonishing news yet (slackers), so I'll give you the scoop.
Hotbox is Shoreditch's newest hot spot.
Ever since my trip to Lockheart's in Dallas I have been praying for great BBQ in London so was pretty excited to check it out.
Starting, as all good British stories do, with tea.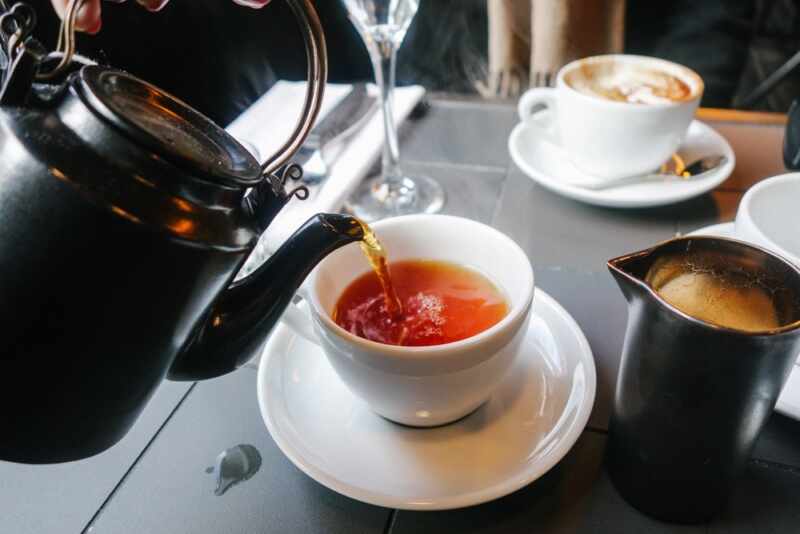 The whole brunch thing is new to Hotbox. Until recently they've only been open for suppers.
But they're not letting inexperience daunt them! Smashing expectations with a "Liquid Brunch" offer of unlimited prosecco, mimosas and Bloody Mary's for £25.
There are 5 variations of Bloody Mary's on offer.
Our favourites were the Green Mary:-
Classic base mixed with chimichurri, jalapeño Tabasco and a cucumber spear.
And the Spicy Mary:-
Classic base, with horseradish and a chilli salt rim.
Closely followed by the Smokey Mary:- A whisky base with smoked pork jus and smoked salt.
Just the wake up you need on a frosty Sunday morning!
We couldn't resist getting down and dirty with the menu, so ordered the lot.
Chicken 'n' waffles, huevos rancheros, pork belly eggs Benedict, truffle egg toast.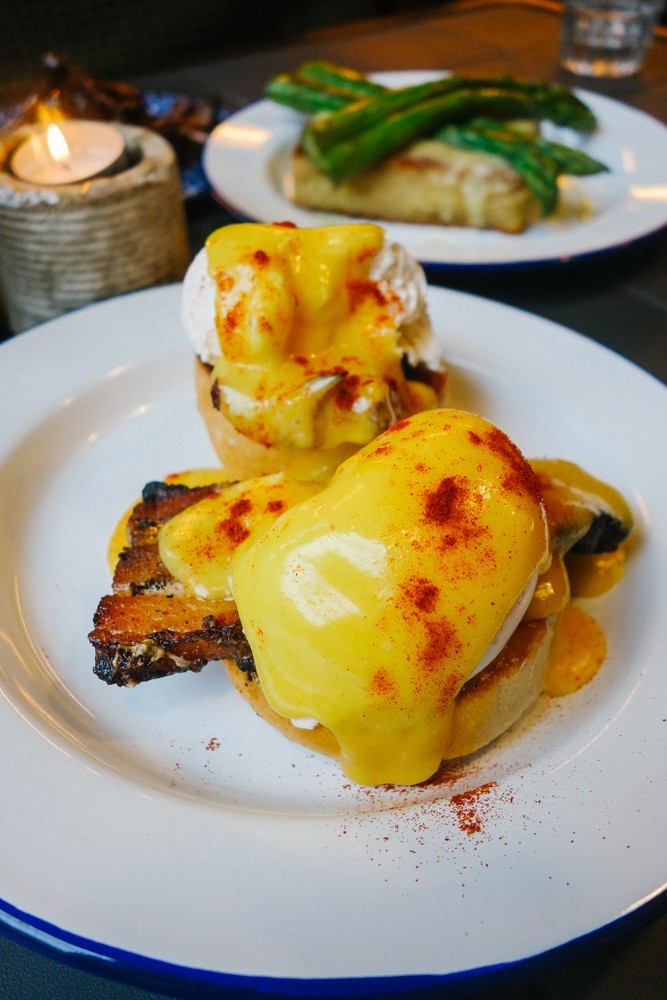 The eggs Benni are sublime. The smoked pork belly goes so well with the sharp, rich hollandaise. It's an incredibly decadent dish.
The chicken and waffles are perfectly cooked and a classic combo.
It's all just so very… Instagramable! (You can follow M here. He'd love it if you did!)
The huevos are fresh, zingy, gently spicy and very moreish.
But the truffle toast…. oh the truffle toast.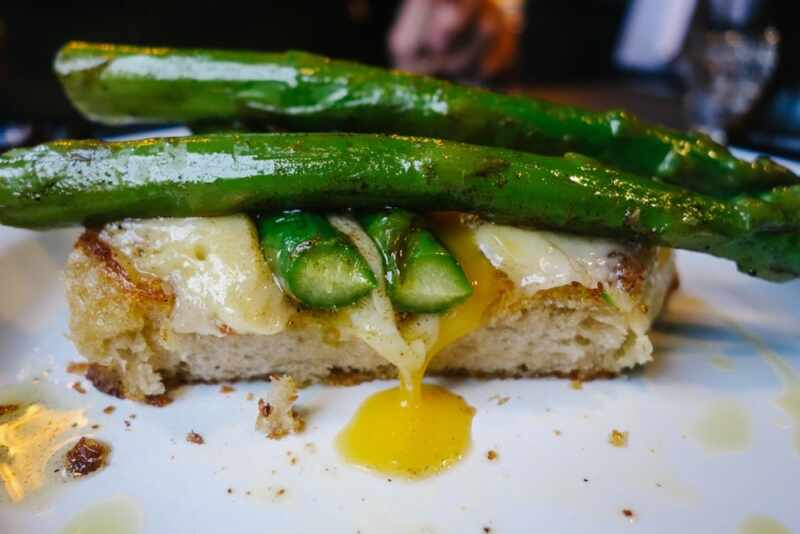 Just look at that runny egg yolk cascading from the toast, freeing itself from that layer of molten fontina cheese and nibble-able asparagus.
A thing of beauty.
Having nailed the first round, we moved on to the second.
Skillet smoked hash, buttermilk pancakes with bacon, buttermilk pancakes with berries
The skillet hash is ok. Ours didn't have as much meat as we'd hoped, which is always upsetting.
The berry pancakes more than make up for it!
Thick, fluffy and comforting. If I could just wrap myself up in one and nibble it slowly, my life would have hit its peak and it would be all down hill from then on.
I'm a sucker for Mexican corn and this does not disappoint.
Salty, fresh, zingy, cheesy, delicious.
The bacon pancakes are hands down the best 'Murican pancakes I've ever had.
I don't say that lightly.
The avocado toast is delicious and a must-order for any self confessed avodict.
Now to be perfectly honest, we could all have stopped after round two… but we are not quitters! When round three reared its head, we saddled up.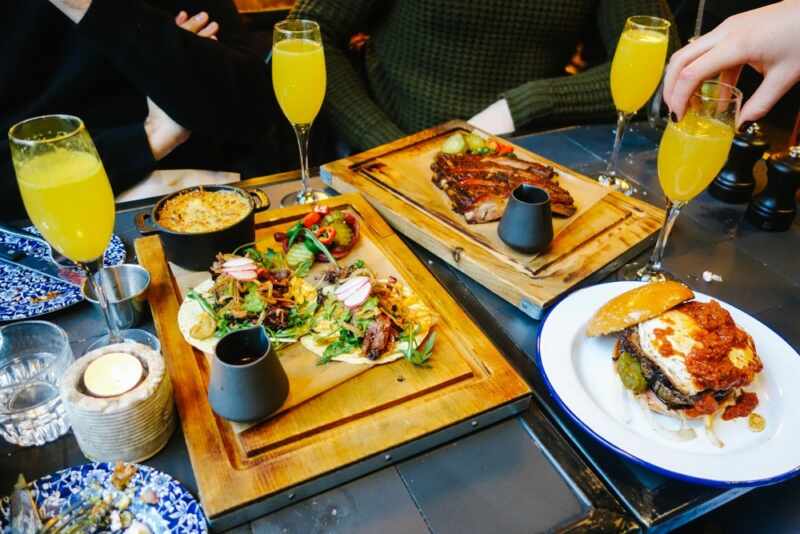 Beef rib tacos, 8hr smoked ribs, brunch burger, bottomless mimosas.
Now, I know I keep hooting on about how great this place is but I can't help it!
These are some of the best tacos I've had this side of The Atlantic.
The ribs aren't as good, ours were a bit gristly and underdone. But the brunch burger is a true beast.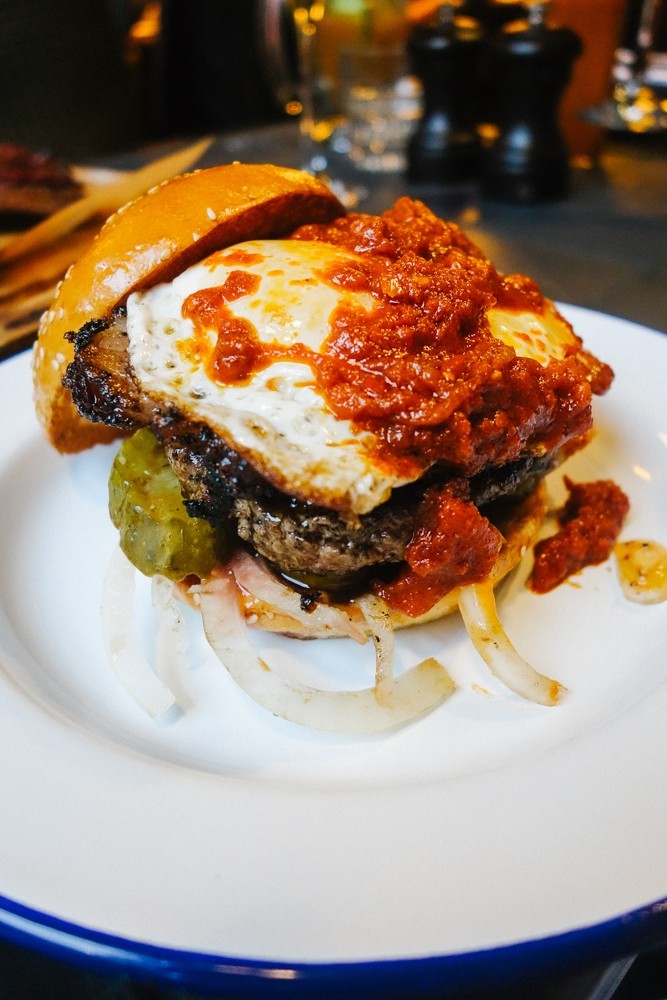 A filthy hunk-a-love that's pretty tough to get to grips with, but worth the battle!
Honestly though, all I wanna taco 'bout is these babies.
They come with their own tobacco infused hot sauce.
Drizzle 'n' dive!
Meaty, fresh, spicy, rich and muy, muy bueno!
Close your eyes and you could easily be in Cali.
Now, Miles always claims I only take hideous photos of him with his mouthful.
But in my defence, his mouth is always full!
Having stuffed ourselves silly, we settled into a Sunday food coma.
Only to be brought back to life by a waiter offering pudding!
We pulled ourselves together for one last (shared) dish.
The chocolate chilli lava pot, topped with banana ice cream.
The icing on top of a fantastic meal.
As you can probably gather, I thoroughly recommend a trip to Hotbox on a Sunday. It gets busy, so grab a group and book.
Now, we might have snuck in a few outfit shots along the way. If you're only here for the food look away now!
This next bit is exclusively for the fashionphiles, stripe addicts and bag lovers!
Wearing a shearling gilet under my coat is my new secret weapon against the cold. I absolutely loathe feeling cold, so this is a total lifesaver!
Ad - Shop this post