Last night the chap whisked me off my feet!
He took me to Claridge's for drinks and supper.
After sunset we made our way through the madness of Mayfair. Past a blur of suits, traffic lights, taxis and shop windows.
Inside, we whipped off our coats and warmed our cockles by the fire!
Timing has never been my strong suit.
I'm always half and hour early or half an hour late. Supposedly it's to do with being so wildly dyslexic… but whatever the reason, it's infuriating!
I've been so early for dates before that I've had to drive around the block a few times, just so I didn't look like a complete weirdo.
You know the best thing about being a couple? Not having to be cool anymore.
My chap is more than aware how much of a total weirdo I am, so it doesn't matter!
We whiled away our extra half hour in the Fumoir; a little red velvet box of a bar in the heart of the hotel.
He had a raspberry creation, and I plumped for the julep.
I just can't resist those metal cups and how frosty they get!
Seeing as I had a little extra time, I thought I may as well let you in on my outfit secret.
I've got a new shopping addiction, you see.
An American site with a hell of an evening wear section… and everything is heavily discounted.
Yep, even Louboutins.
It's called "Bluefly".
They have everything from Prada totes, to Burberry cashmere coats, rows of Jimmy Choos and more Chanel than you can shake a stick at!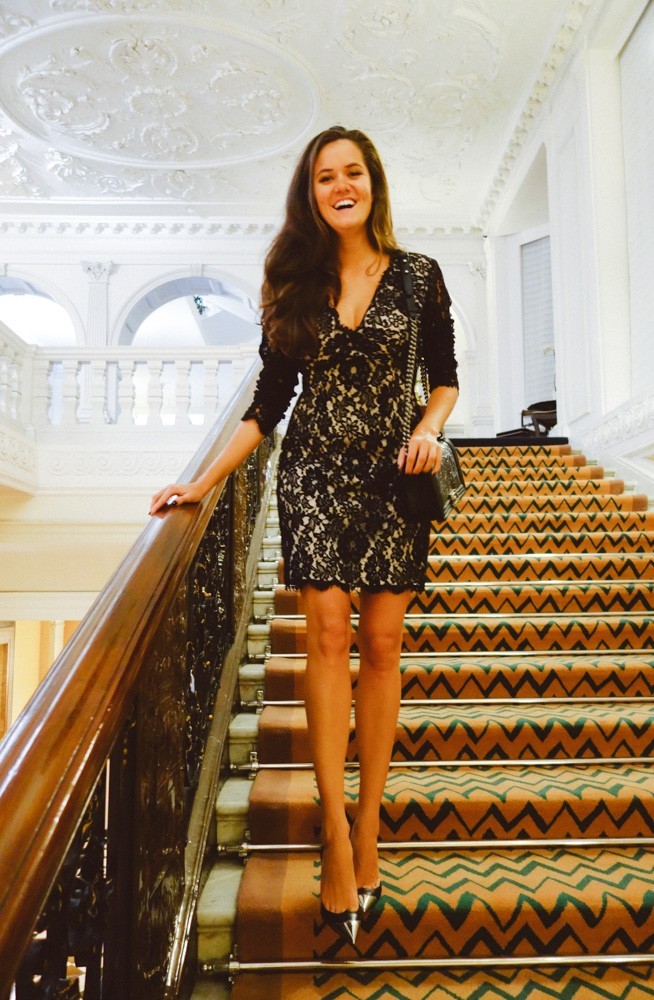 Lacy Black Dress // Capped Louboutins // Chanel Bag
[iframe frameborder="0″ height="120px" scrolling="no" src="http://currentlyobsessed.me/api/v1/get_widget?wid=29&blog=The%2BLondoner&product_ids=n_16644014,n_16622390,n_16622394,n_15935490,n_16179198,n_15935386,n_16179154,n_15935422,n_16179190,n_16182338&rows=1&cols=5&brand=0&price=0&hover=0″ width="600px"]
I'm pretty sure there's an extra 20% off everything for friends and family this week. (Use the code FAMILY.)
And another 10% off cashmere, incase you feel like stocking up on cosy before winter hits!
It's well worth a snoop if you're the bargain hunting type.
But I think it's about time we sat down for some supper, don't you?
Just across the lobby you'll find Simon Rogan's new restaurant, Fera.
A glorious, art deco temple, with glowing lights and a huge tree right in the centre.
Every table was soon filled with chattering, happy guests, all excited to see what the chef would come up with.
Everyone looked refined, demure and classic.
Always the picture of elegance, I fitted in seamlessly.
We started with champagne.
Perfect fuel for menu perusing.
Thankfully for indecisive gluttons, like myself, there's an "everything please!" option, in the form of a tasting menu.
Which starts with nibbles.
I'd love to tell you the formal name for this morsel, but it's not on the menu… so I'll describe it.
A light, creamy blue cheese mousse, flecked with drops of melba jelly on a fluffy sort of crisp. Cracking.
This was left off the menu too.
It was the lightest little fried ball I have ever tasted. A god amongst onion bhajis I would say.
This beautiful little number is "Stewed rabbit with lovage Mackerel, oyster and seaweed. Smoked roe and red cabbage."
The very best of the sea, in one mouthful.
Bread and butter.
Well, sort of.
The bread was still hot from the oven and the butter was caramelised.
It melted into the crust…
…and oozed its sweet, smokey, rich goodness all over the place.
It's a bit like being wrapped up by a crackling fire in an enormous blanket. This is the sort of bread and butter you could live on.
We opted for wines to match each course. I wont go into all of them, but one was the most wonderful glass of white I have ever come across.
Chablis 'Mont de Milieu' Château de Béru – Athénaïs 2011. If you like your white and spot it on a menu, give it a go! (Or you can get it online).
Our next dish arrived in wonderful wooden bowls.
Comfortingly plump, soft cauliflower dumplings with turnip and onion.
Followed by my favourite dish of all.
Chopped raw veal with oyster, topped with Wiltshire truffle, a cool slice of kohlrabi and an apple sauce.
Native lobster and kale leaves in a lobster cream with crispy pork and sunflower seeds.
Lobster with crackling! What more could you ask for?!
John Dory, grilled leek, crosnes and borage leaf.
Suckling pig with chanterelles, watercress, celeriac and sprout tops.
Tender, juicy and delightfully salty,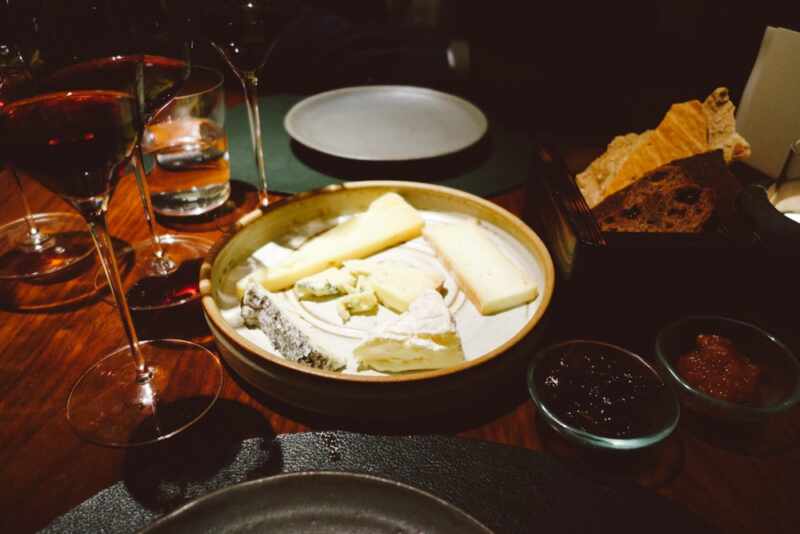 Cheese and desert wines.
Followed by the most beautiful black saison with blueberries and fennel.
A work of art in its own right.
We topped off the evening with coffees.
And nibbly bits, like these cicely cakes…
That had the most amazing, sponge like texture, and tasted significantly better than you thought they would.
We finished the meal with a trip to the kitchen.
And headed home through Claridges' glittering corridors.
I asked the mirror, mirror on the wall…
And it confirmed my suspicions.
Simon's new restaurant really is the Fera-st of them all!