So, we didn't quite wake up to the glorious sunshine we'd hoped for.
The air was thick, hot and heavy. The sky was grey and lumpy, so rather than running right out to the pool, we made our way down for a long and leisurely breakfast.
Any hotel that includes prosecco in their breakfast buffet is ok by me!
Breakfast is served on the terrace, but the heaving buffet tables at The GH are laid out in the ball room.
It's all very snazzy.
Sadly the cooked breakfasts are actually pretty terrible, but there are lots of other goodies to keep you occupied… and the coffee is second to none.
After our third enormous cup of coffee each, we decided to be thoroughly British and just brave the pool whatever the weather.
We wriggled into bikinis, slathered on sunscreen, plonked on a couple of hats and dragged our Kindles down to the lake.
Well, the floating pool on the lake to be exact.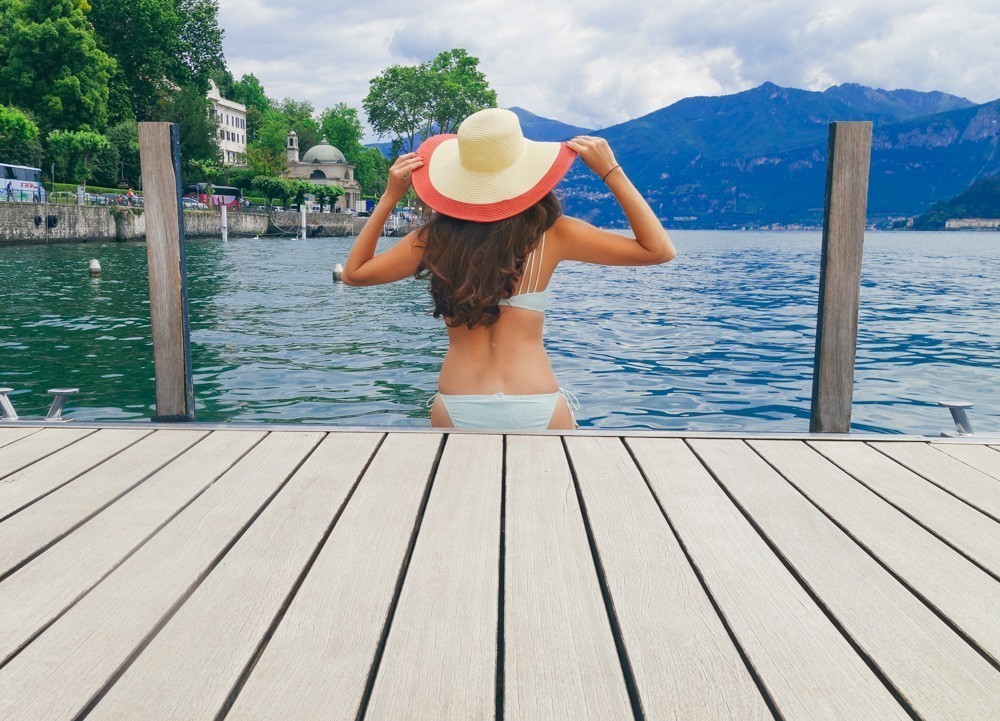 My bikini is from Reiss (who do surprisingly brilliant resort wear, by the way. Incase you thought – much like me – that it was just for office wear, party dresses and boyfriend's birthday pressies.)
My hat is from Joules; which is a very jolly shop indeed. No, seriously. I really think jolly is the only fitting word here! Take a look for yourself.
And finally, my swimming fish necklace (which you'll see in pics later) was handmade by my big sister, Aunt Sponge.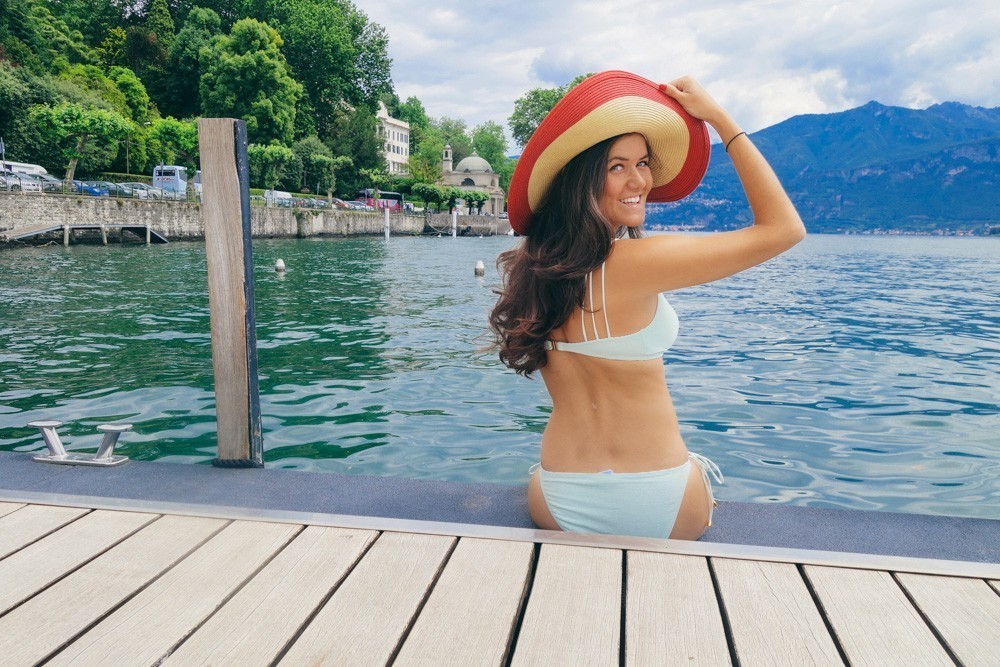 We made two friends.
Sam and Sydney.
But they started eyeing my toes rather fiendishly so I soon left them to their paddling.
It wasn't long before the clouds started to slowly dissipate and patches of glorious blue sky shone through.
Or "Enough blue sky to patch a Dutchman's trousers." as my late Grandma ("Ma") would say.
I do miss Ma. I often think about all the things I want to ask her. I want to know about her life in the war and her loves before my Grandpa ("Ba"). I wonder if she would read the blog and enjoy sharing my adventures… I look so like mum did at my age, I bet it would tickle her to see us as best friends now.
But I digress.
We were in Italy and the sun was finally starting to shine!
If that's not reason to beam with joy, I don't know what is.
We even took ourselves for a quick, cold dip.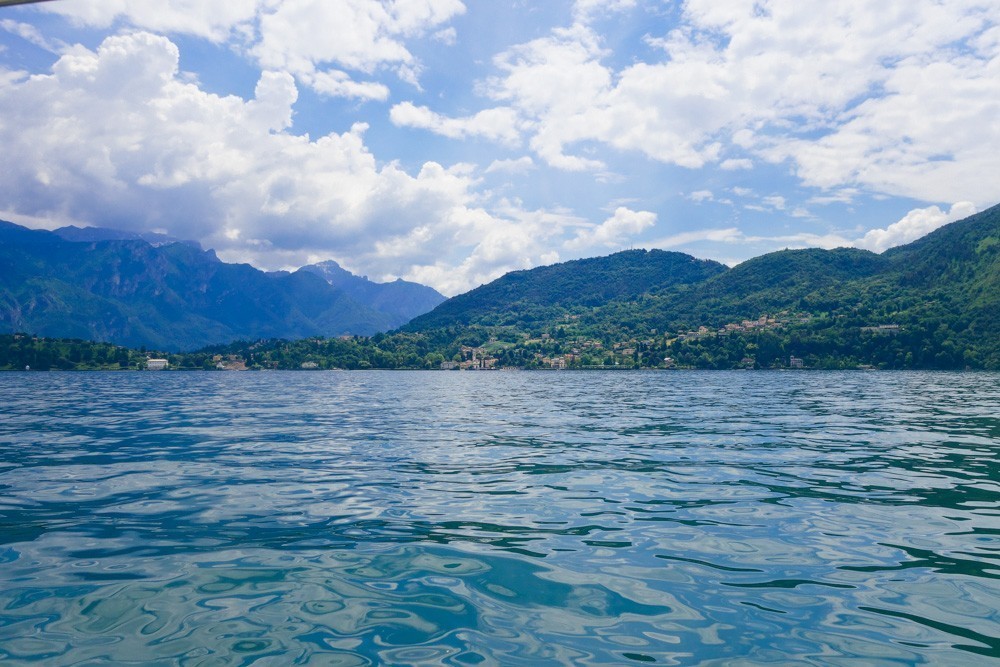 Eventually the muggy grey gave way and we were blessed with a truly Italian sun drenching.
Which we soaked up like hungry sponges.
Cooling off now & then.
Remaining graceful and elegant at all times, naturally.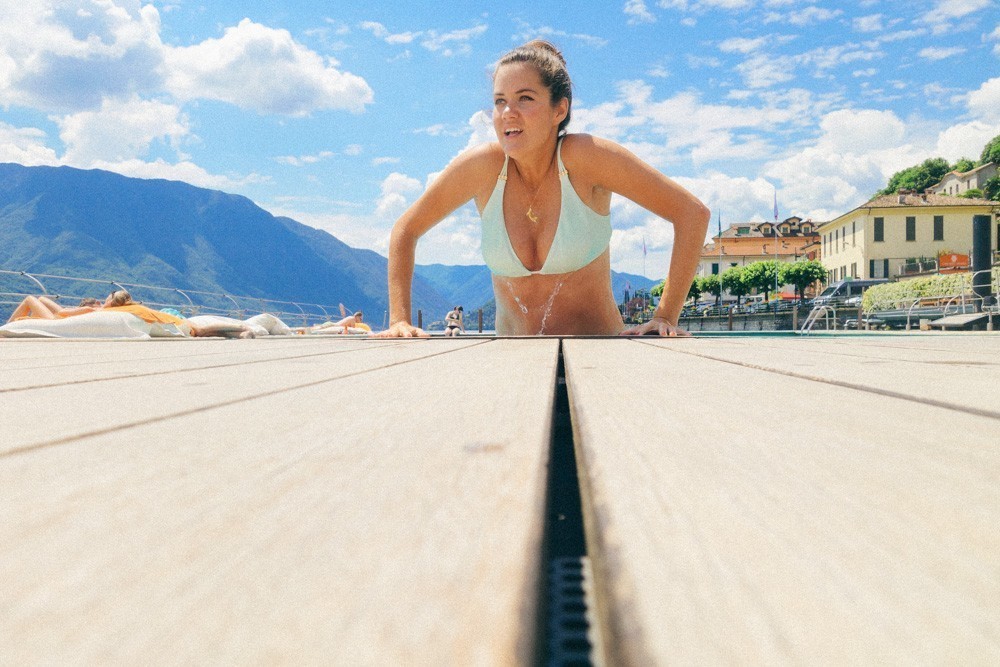 It only seemed fitting to celebrate our little holiday with a few bubbles.
And I even enjoyed a cool glass IN Lake Como.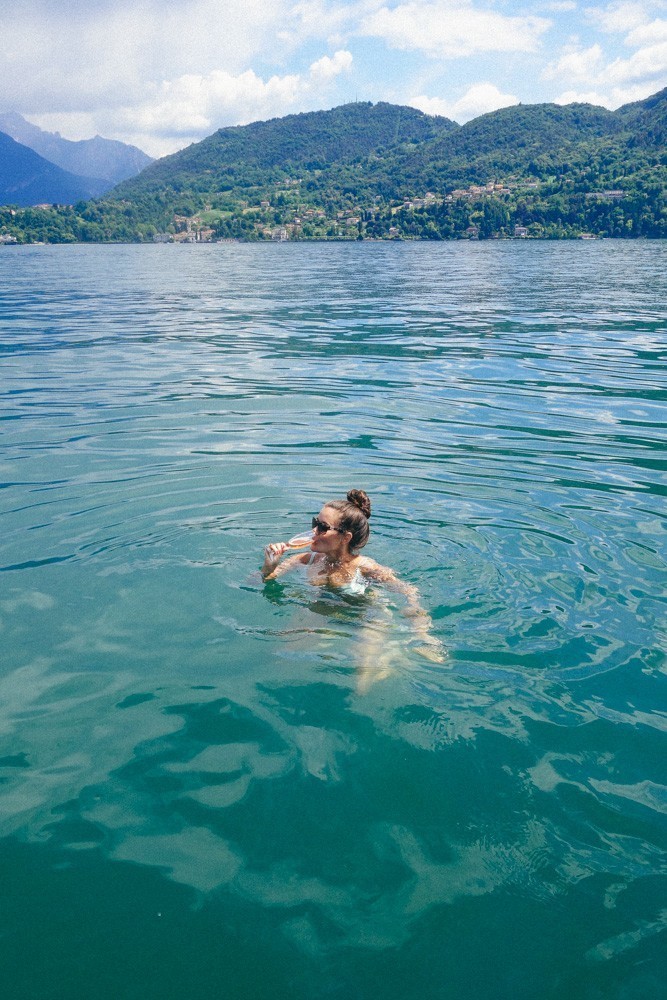 I'd like to think even a seasoned regular like Mr Clooney would give me a wink and a nod for that one!
We relaxed and roasted gently on our beanbags, while the ice gently clinked next to us and the occasional boat load of tourists sailed by, snapping furiously as they went.
Soon the idea of a big bowl full of homemade pasta was just too much to resist and we wandered off in search of restaurants (who would agree to feed us at three in the afternoon).
Peering through the winding, towering streets of little Tremezzo.
Maxi dress // Sneaks // Bag // Sunnies
We found a little place on the front for ham & melon (my favourite). I just love salty/sweet things!
And Bolognese gnocchi (Selina's favourite).
We spent the evening in Bellagio, but I'll tell you all about that tomorrow.
There's a good outfit post in there too! Apparently "the coolest thing you've ever worn!" according to Phoebe, who flipped through my photos the second I got home.