I like to call this Date Steak.
While some people's idea of romance may be delicately sharing a plate of chocolate dipped strawberries, I'd much rather dig into a really great steak and hear the gentle *glug, glug, glug* of a bottle of red emptying into two glasses.
The "T-Bone for Two" at one of my favourite restaurants is £80. With no sides.
You know I love a bargain. The entire spread I laid on for my date cost a whopping… £15.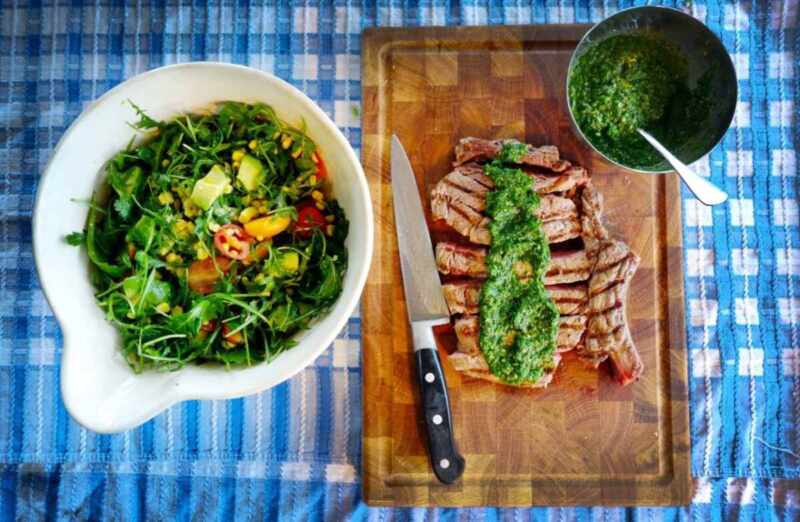 Chimichurri is a crackling little Argentinian sauce. It's bold, zingy and lives for grilled meat.
Honestly, they just sing together.
You could serve your steak with chips or mash but this salad is a real crowd pleaser, so if you want a light supper then just go for the greens
To make enough for two you'll need:
1 T-Bone steak
2 handfuls of flat leaf parsley
3 large garlic cloves
2tsp of dried oregano
3tbsp white wine vinegar
Half a cup of olive oil
Red chilli flakes
Salt + pepper
2 cobs of corn
Bowlful of rocket
1 avocado, chopped
2 handfuls of cherry tomatoes, chopped
Juice of 1 lemon
Start by heating up a griddle pan. Just as it starts to smoke, pop your corn into the pan. No oil. Leave it to cook & blacken in places, rolling around so it cooks all over.
Once it's a deep gold all over and freckled in places, it's done.
Chop it off the cob.
Toss it into a bowl with the rocket, tomatoes and avocado.
Squeeze over a lemon.
A drizzle of olive oil and a sprinkle of flaked salt.
Leave to one side.
Chuck your parsley into a food processor.
Add your oregano and peeled garlic cloves. Pulse until you're left with something like cut grass.
I wish you could smell this, it's unbelievable!
Pour your olive oil, vinegar, chilli flakes, salt & pepper into the blender and blitz.
Pour the resulting nectar into a pot & place to one side.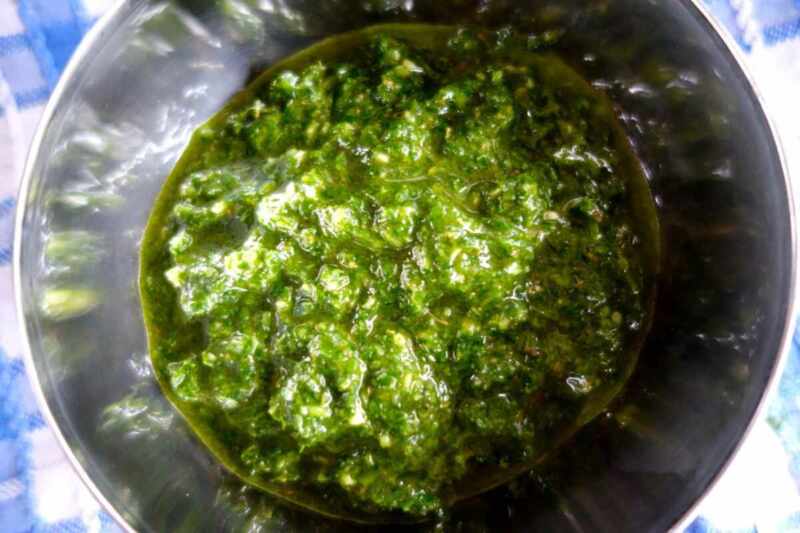 Get that griddle nice and hot again.
Sprinkle your steak with salt (I used smoked salt, which is awesome) and a few grinds of pepper.
When the pan's smoking, add your steak.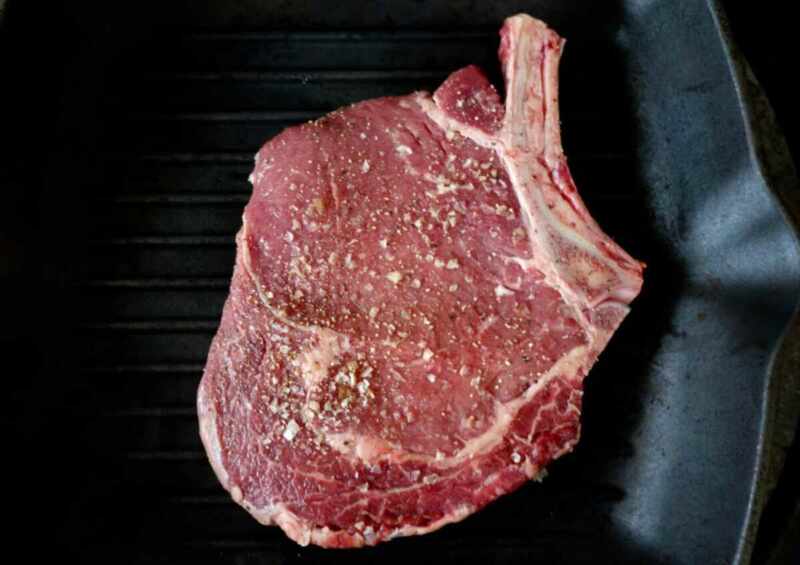 Let it sizzle away for a couple of minutes, then flip.
While it's cooking get your table ready.
Put your salad in a nice bowl, get a wooden board out for your steak and pop your sauce on there too.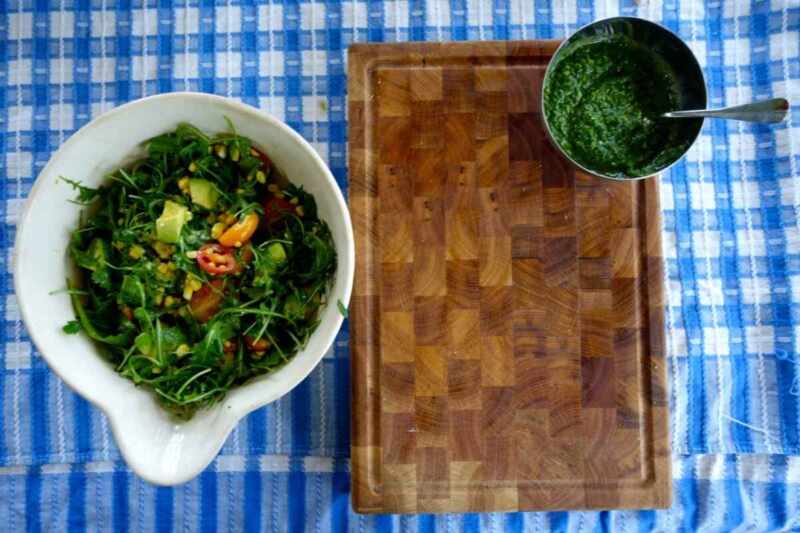 When it's cooked to perfection, take your steak off the heat and leave on another board to rest for a few mins.
Cover it in tin foil and a tea towel to keep warm.
Light your candles, pour your wine and then it should be good & rested. Pull it out of its juices and place it onto your waiting board.
Use a nice sharp knife to cut the bone away (leaving a bit of meat on there too) and then slice up the rest.
Smother your slices in that deep emerald sauce.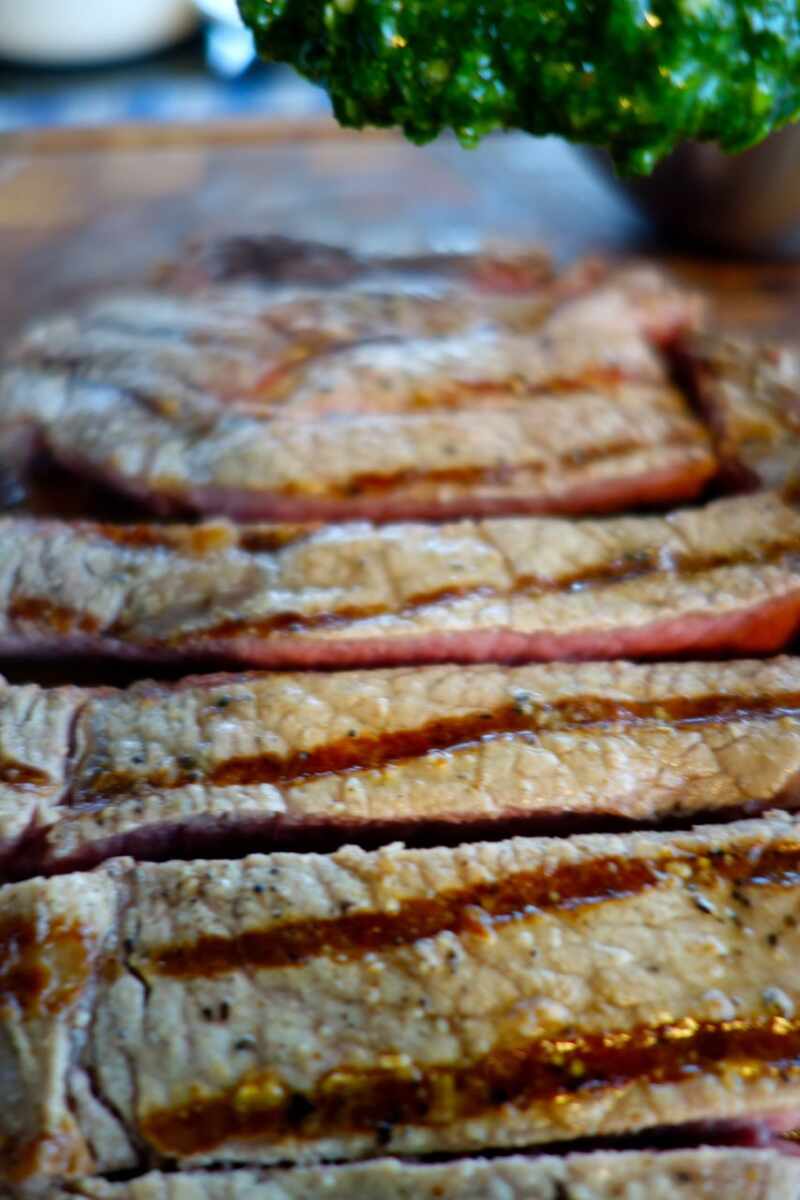 And tuck in!
Personally I'd save the bone for him to gnaw on at the end of the meal. It's a real prize!
Polish it all off with a few chocolate dipped strawberries. They're very romantic, y'know.