This is a little dream boat of a dish.
It's quick and utterly simple while still being dinner-party-impressive and completely delicious.
The tuna & glaze are rich and hearty without being too heavy and if you serve it (as I did) with pea & mint pureé the flavours just sing together!
(If you're not imagining a tuna fish and a pea in matching top hats & canes singing, then you should be. Do it now.)
Now stop being so ridiculous & look at this…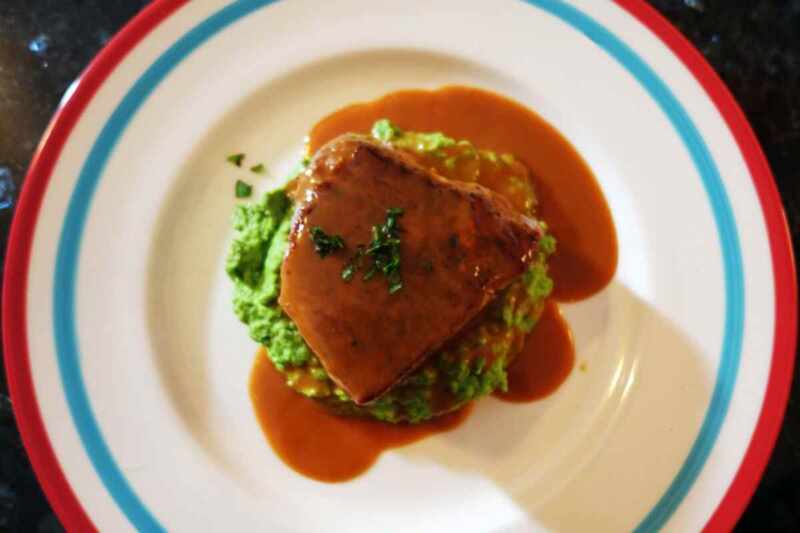 The whole dish takes about 10 minutes and you could easily get started a little ahead of time if you're cooking for friends.
To serve two you'll need:
2 fresh tuna steaks
olive oil
salt & pepper
About 4 handfuls of frozen peas
Handful of fresh mint
Lump of butter (about 50g)
Splash of double cream (about 2tbsp)
1tbsp wasabi paste
Juice of half a lemon
75g cold butter
2 tbsp soy sauce (or tamari if you're gluten free)
The first step is to make your pea pureé (or "Oh yum, mushee peas!" as my dad said).
Boil about 4 handfuls of frozen peas in salted water until they start floating on the surface. While you're waiting, chop up a handful of fresh mint.
When the peas are done, drain them and either mash them by hand or use one of these handy whizzers.
Pop in a chunk of butter & a splash of double cream.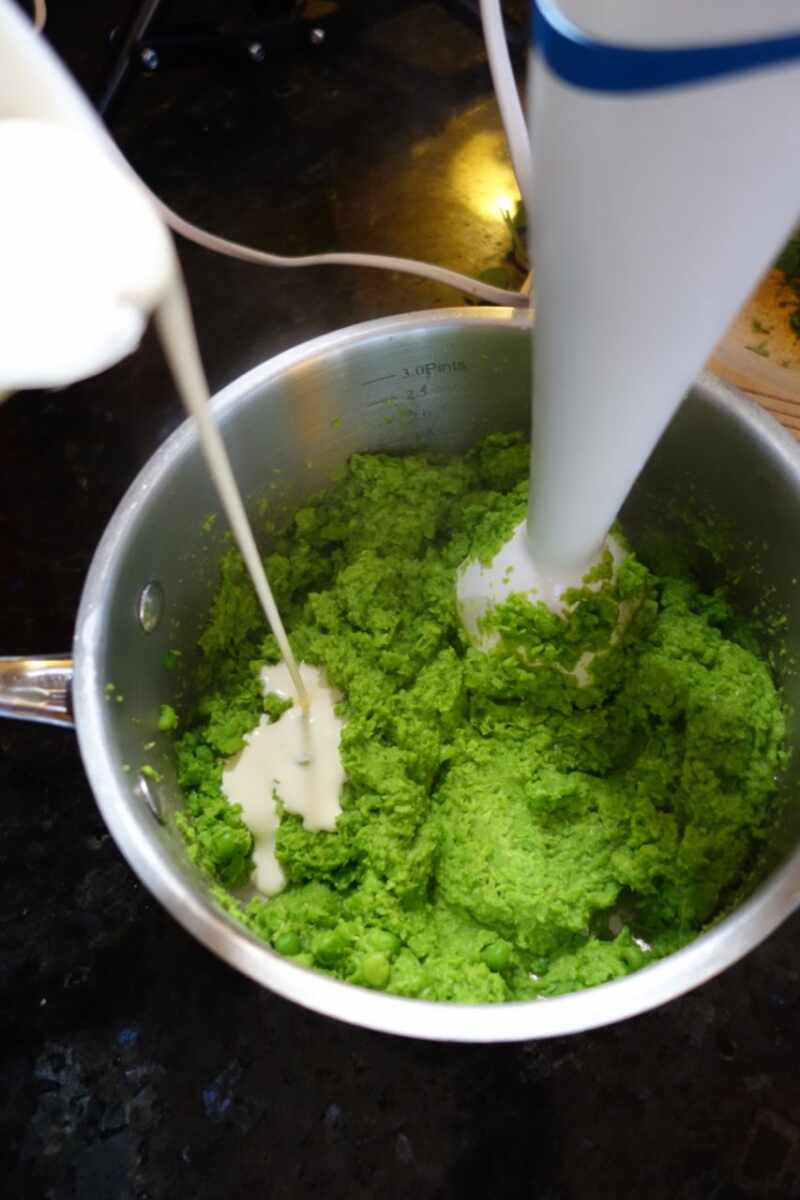 Mix it all together & pop to one side, somewhere warm.
Now you'll want to make your sauce. In a little saucepan over a medium heat combine your butter, lemon, soy & wasabi. Make sure the butter's cold when it goes in or the glaze wont work properly. Keep mixing it until you have a nice, glossy, rich sauce & put to one side (somewhere warm again).
Get a heavy based frying pan really nice & hot, so it's just starting to smoke.
While it's heating up, drizzle your tuna in olive oil and rub it all over.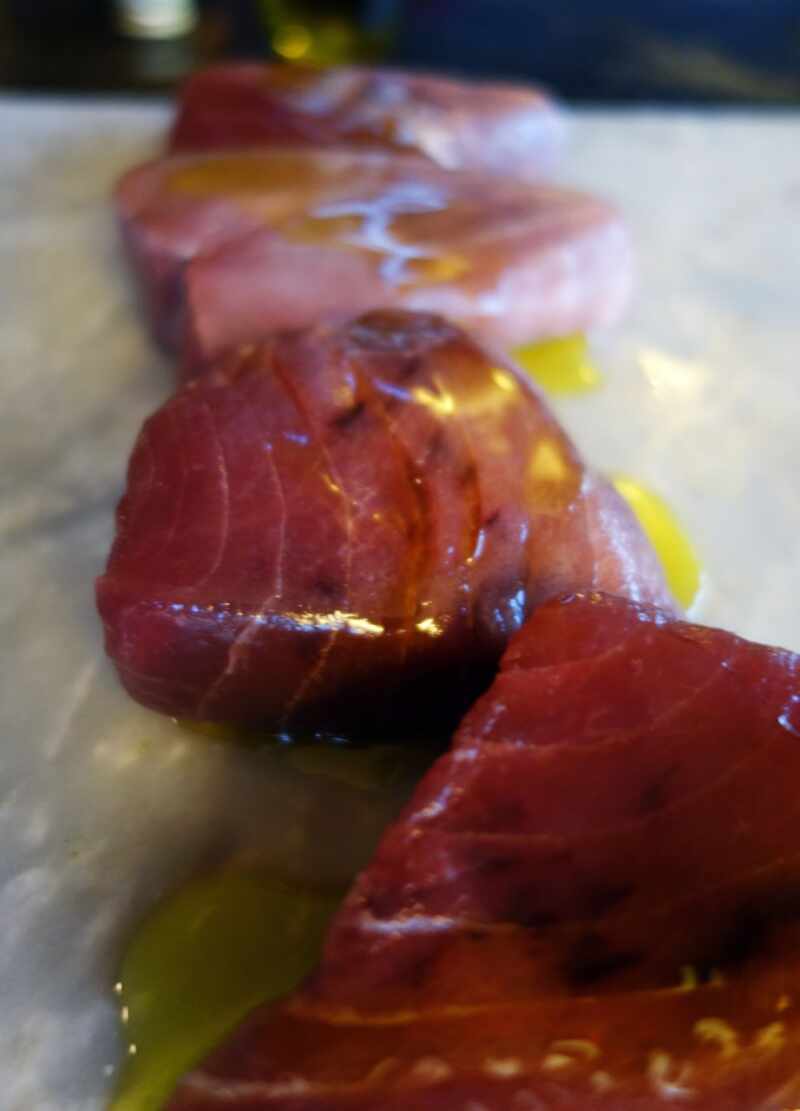 Sprinkle with salt n pepper on both sides.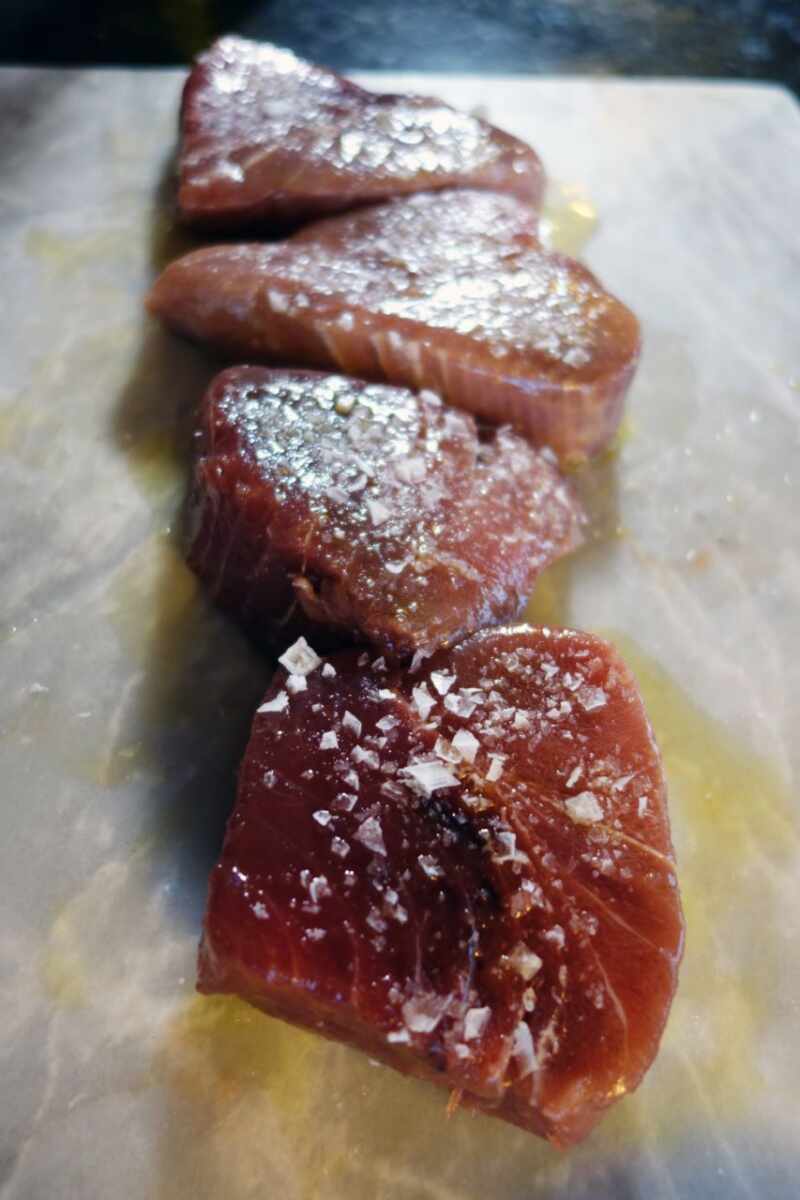 When the pan's ready, place your steaks in there gently. Leave to fry on each side for about 1-2mins, depending how rare you like your fish.
Pop a scoop of peas in the middle of your plate and gently place the tuna on top.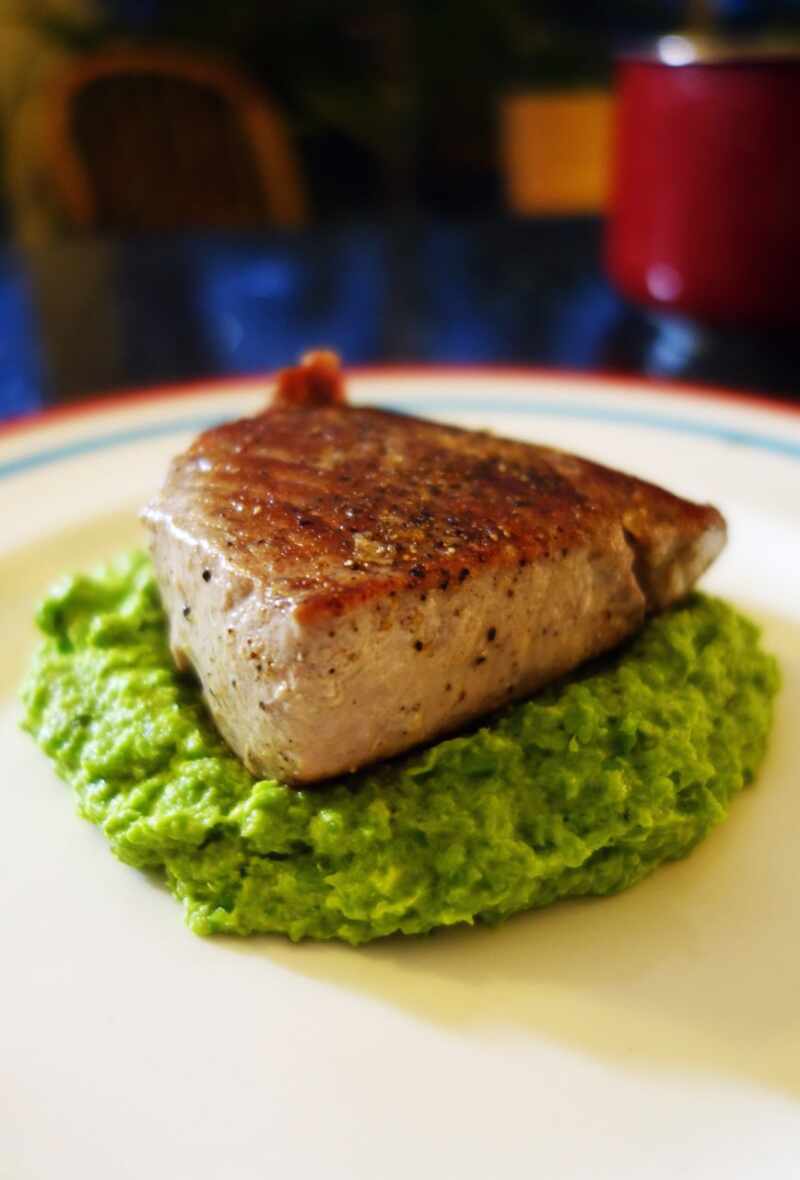 Give your sauce one last stir, and pour over the top.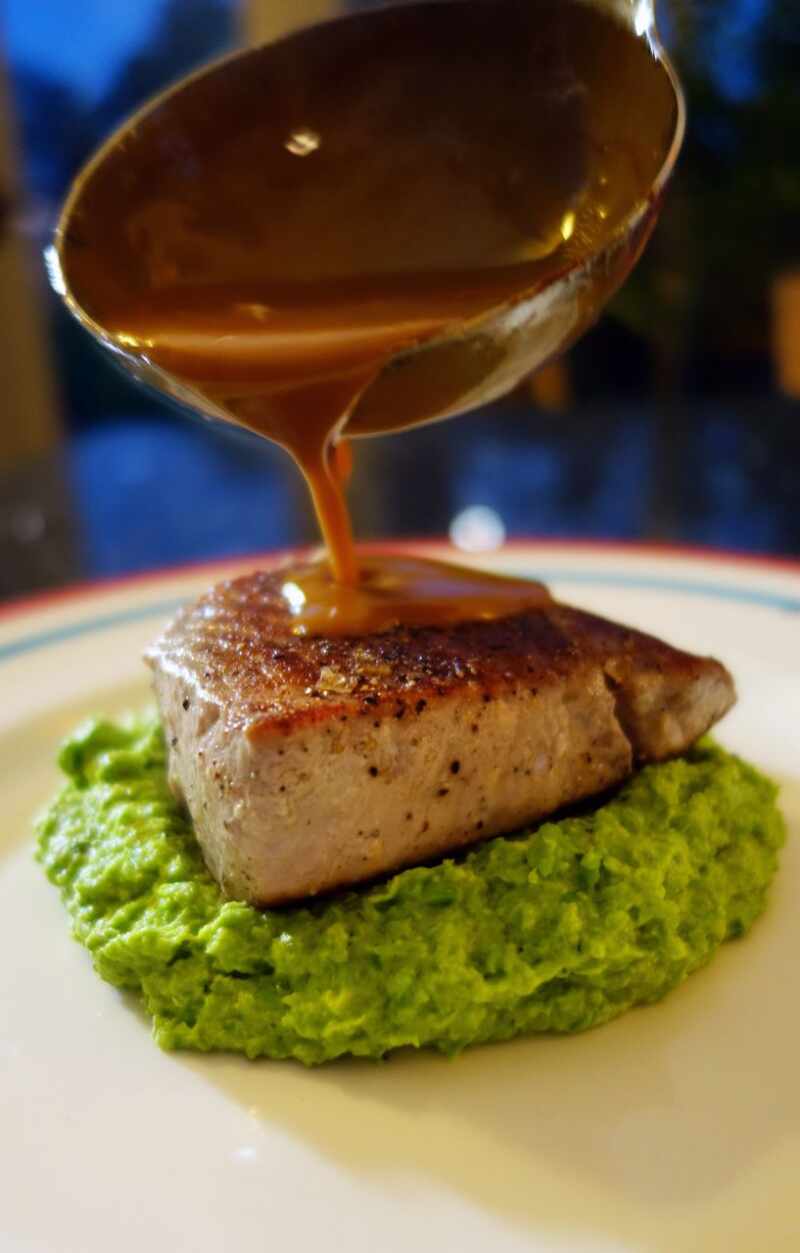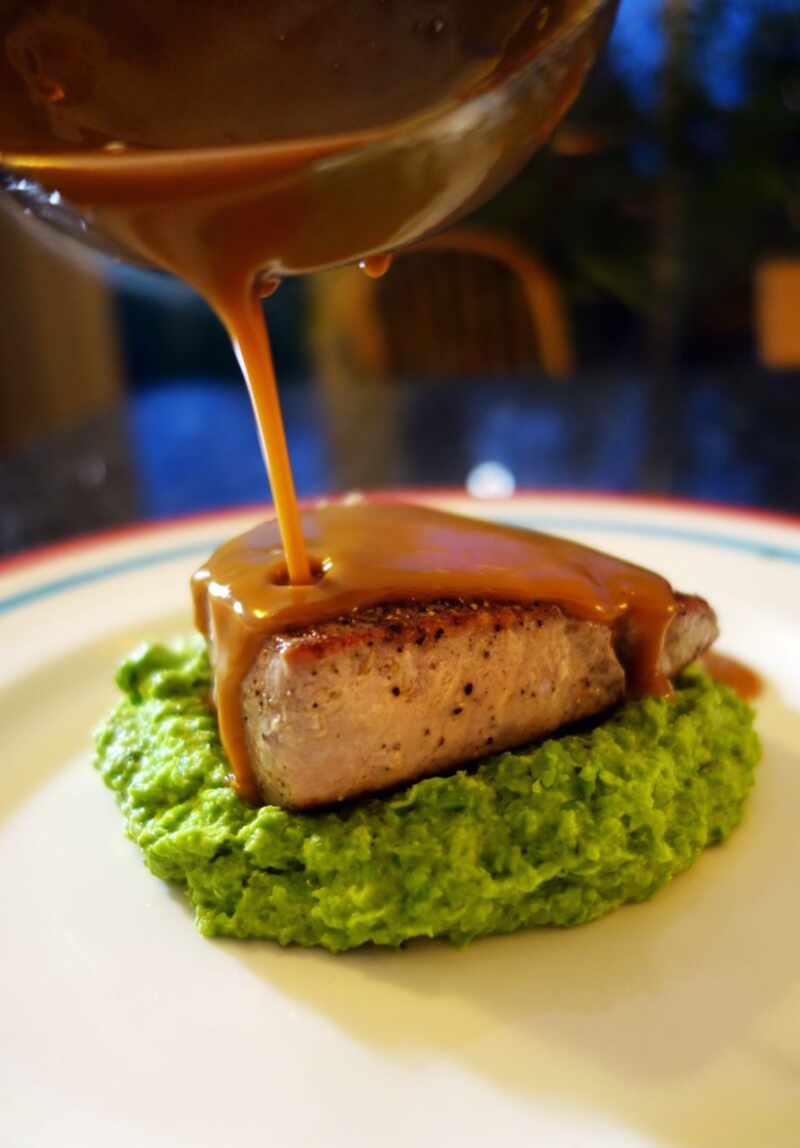 Sprinkle with a little extra mint, if you're feelin' fancy.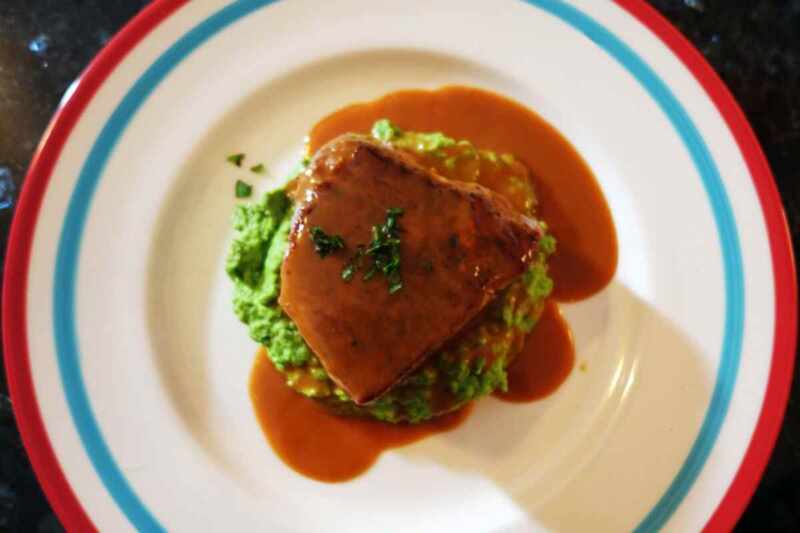 And dig in.
You've earned it!
It's surprisingly filling, despite not being piled high with potatoes (all that protein will keep you going for ages) and if you pay attention to your hunger scale, absolutely counts as part of your 80% on The Anti-Diet!
See? I told you it was a cracking little dish.