On Friday Kimberley & I went dancing. We wore little white dresses, towering heels and laughed and spun our way around the wooden dance floor until the early hours.
But I'm getting ahead of myself. Before we could party the night away we had to fuel up so headed to Haymarket's newest hot spot, Chop Shop.
The place is owned by the NYC Altamarea Group, so naturally has something of a New Yooiikk feel to it.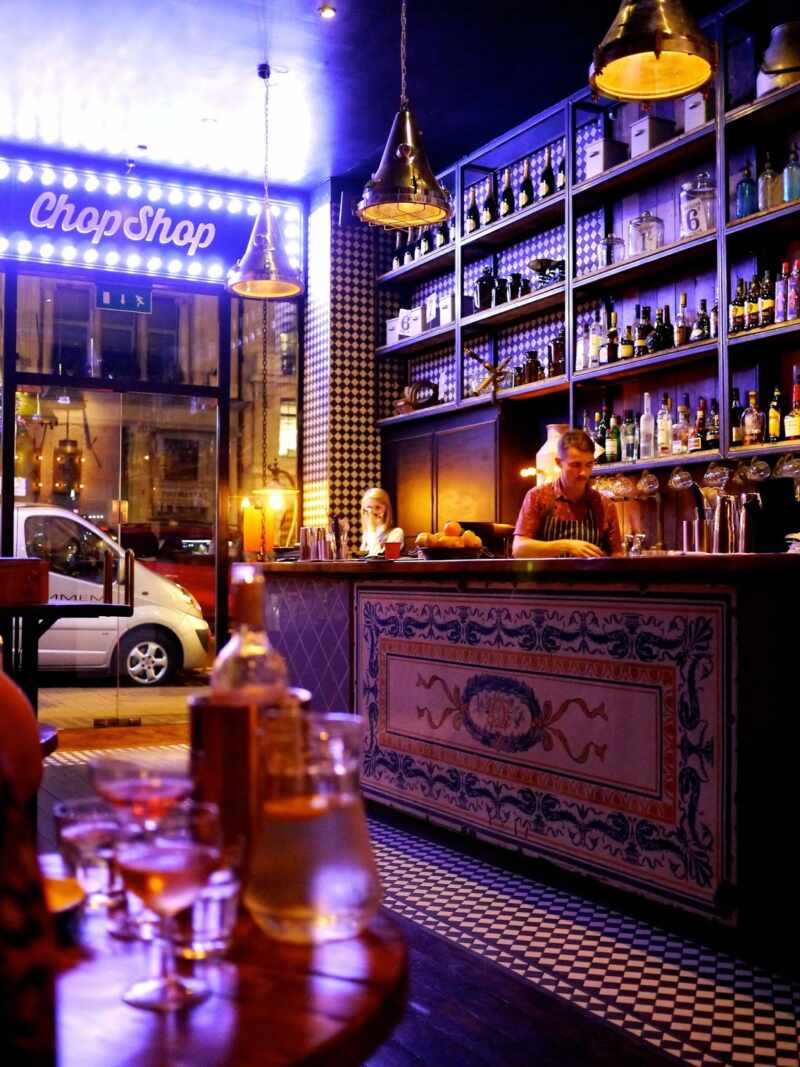 The menu is simple and very meaty.
Fillet steak, hanger steak, beef rib, pork, chicken, a huge sirloin for two… This is no place for vegetarians.
We started with "Royal Blush" cocktails.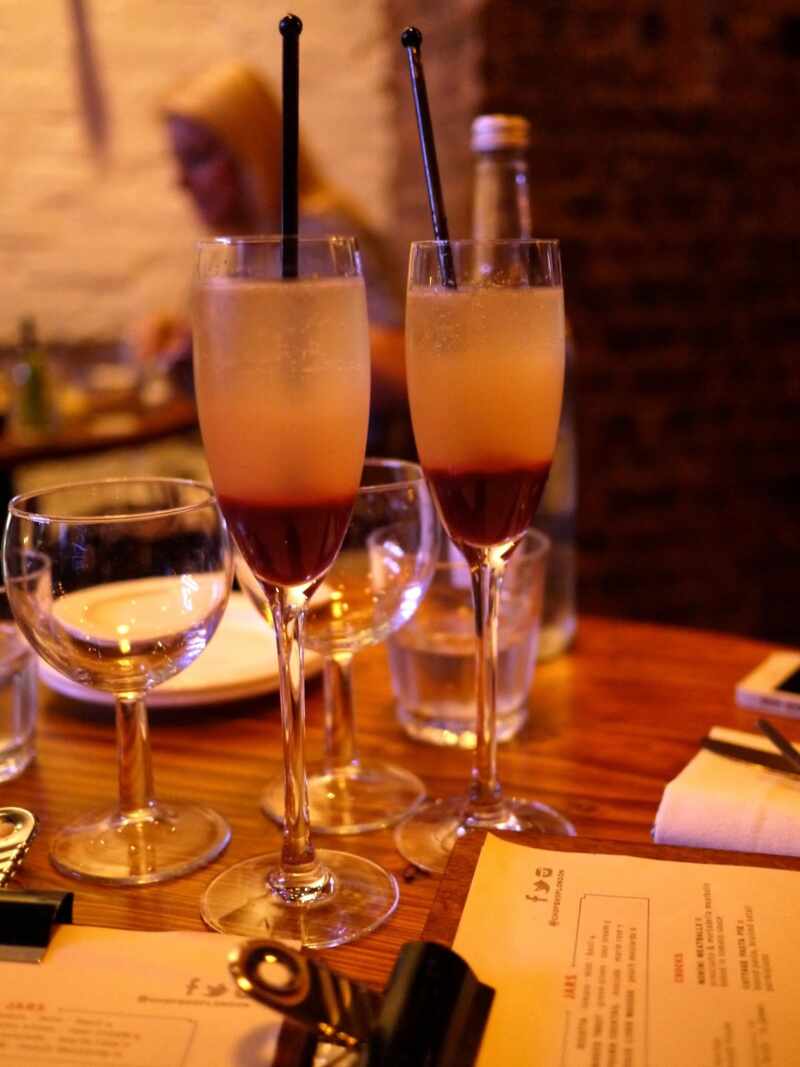 Vodka, mint, lime, cherry and sparkling wine.
Kimberley is in the process of starting her very own blog.
She's bought the same camera as me (the Lumix GF5), so I can give her a few pointers along the way!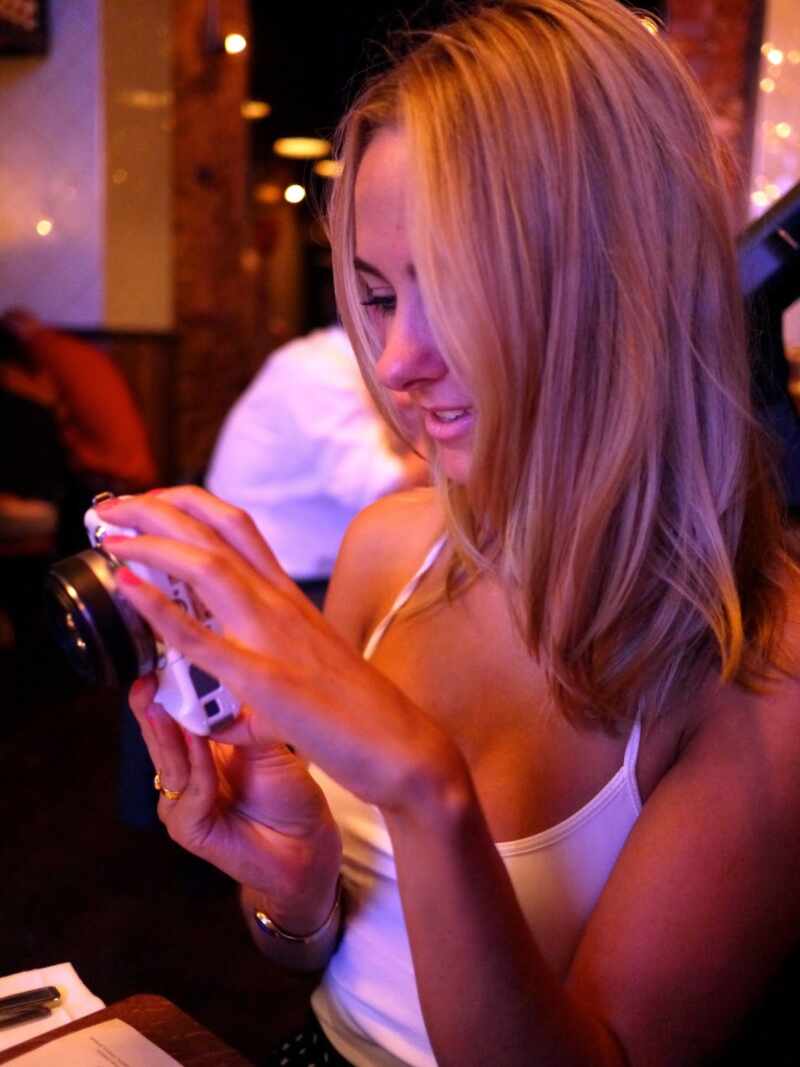 To start we went for things in jars.
Prawn cocktail and duck liver mousse, which was excellent.
Followed by crispy hot wings with a cashel blue cheese sauce.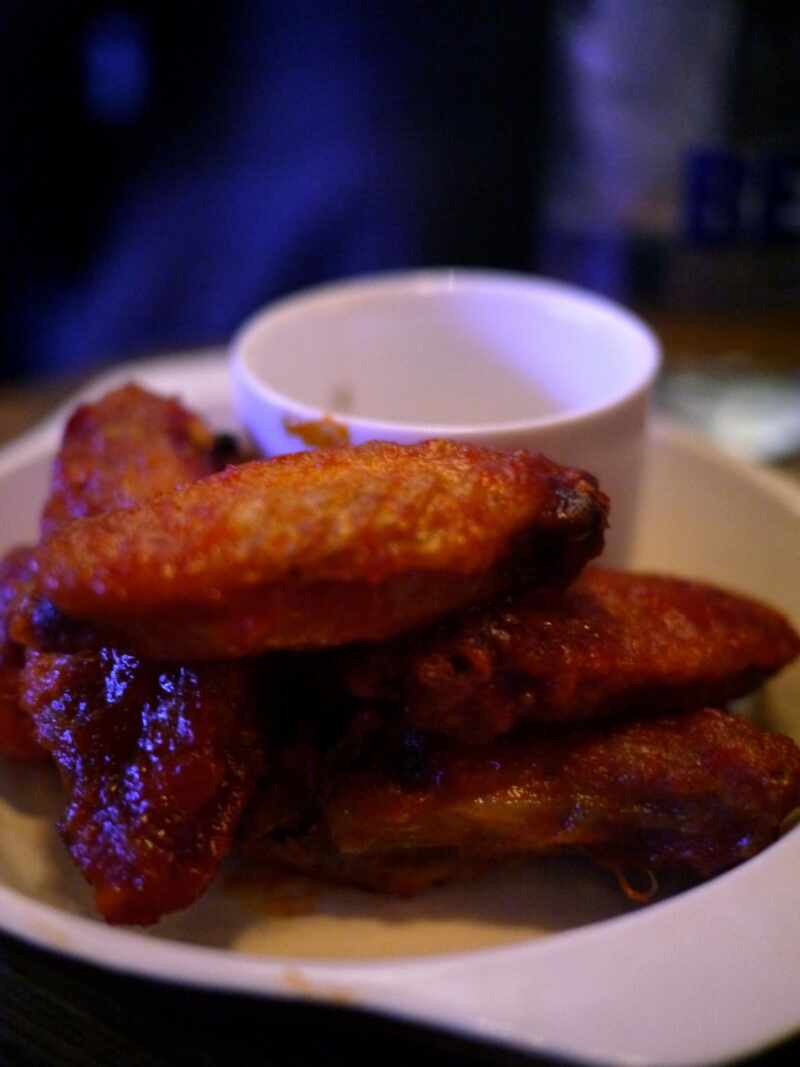 Aaannnd Kimberley chose the most inopportune time to practice her new found snap happy tendencies…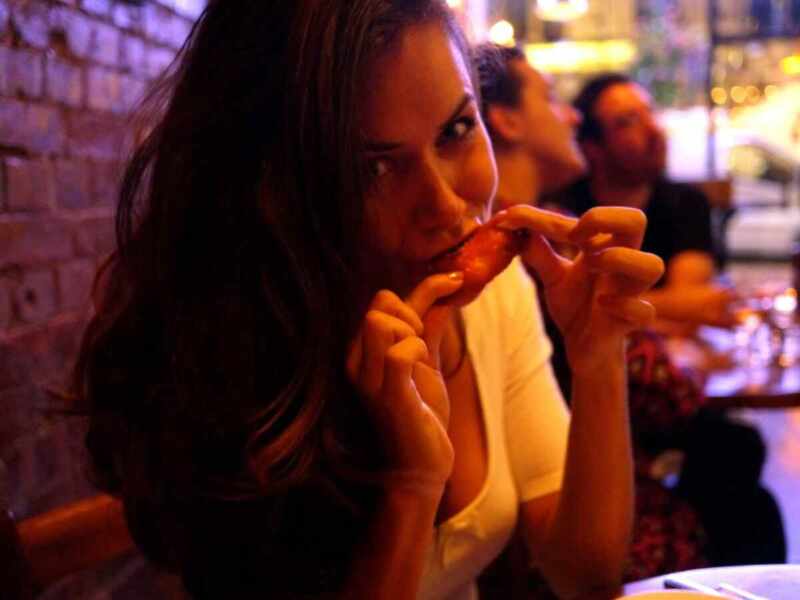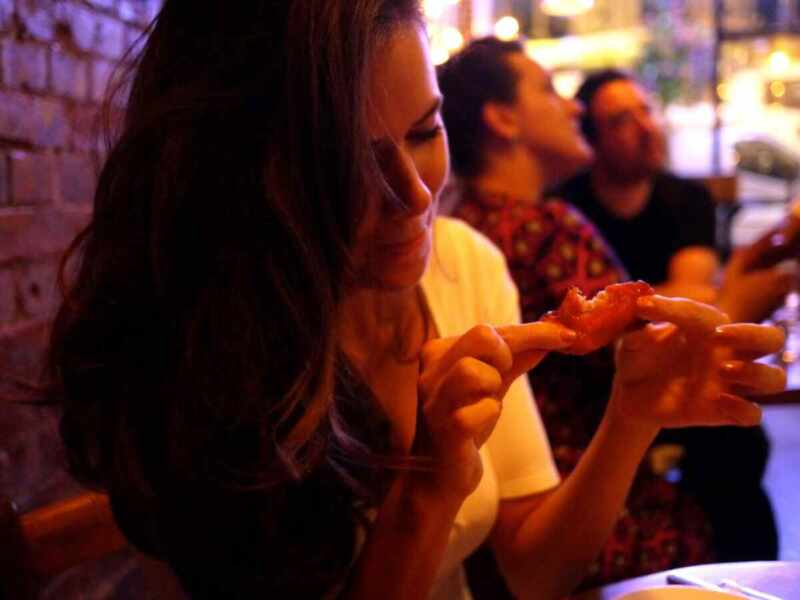 The restaurant is very new, so service is understandably a little slow.
We weren't complaining and busied ourselves tasting the entire cocktail menu.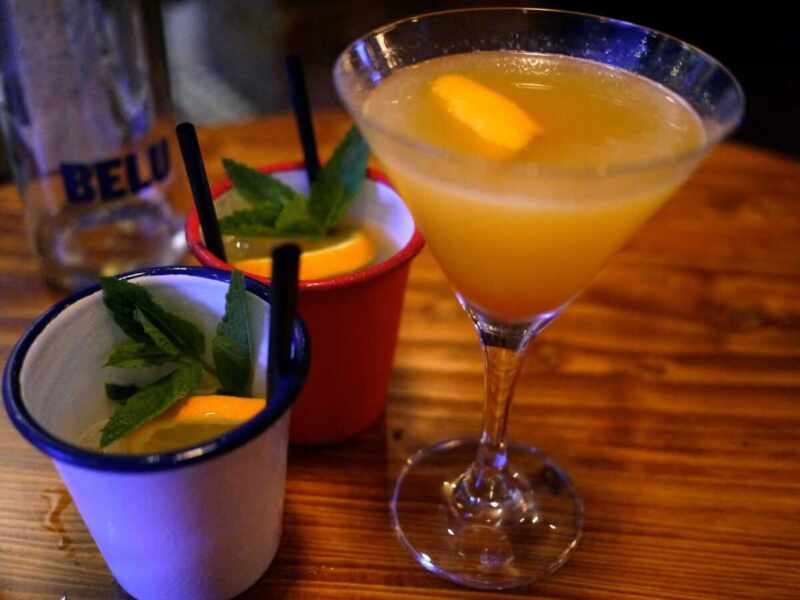 When my medium-rare, Creekstone USDA hanger steak finally arrived, I was very happy to see it.
It's got a much richer flavour than fillet but it's just as tender and juicy.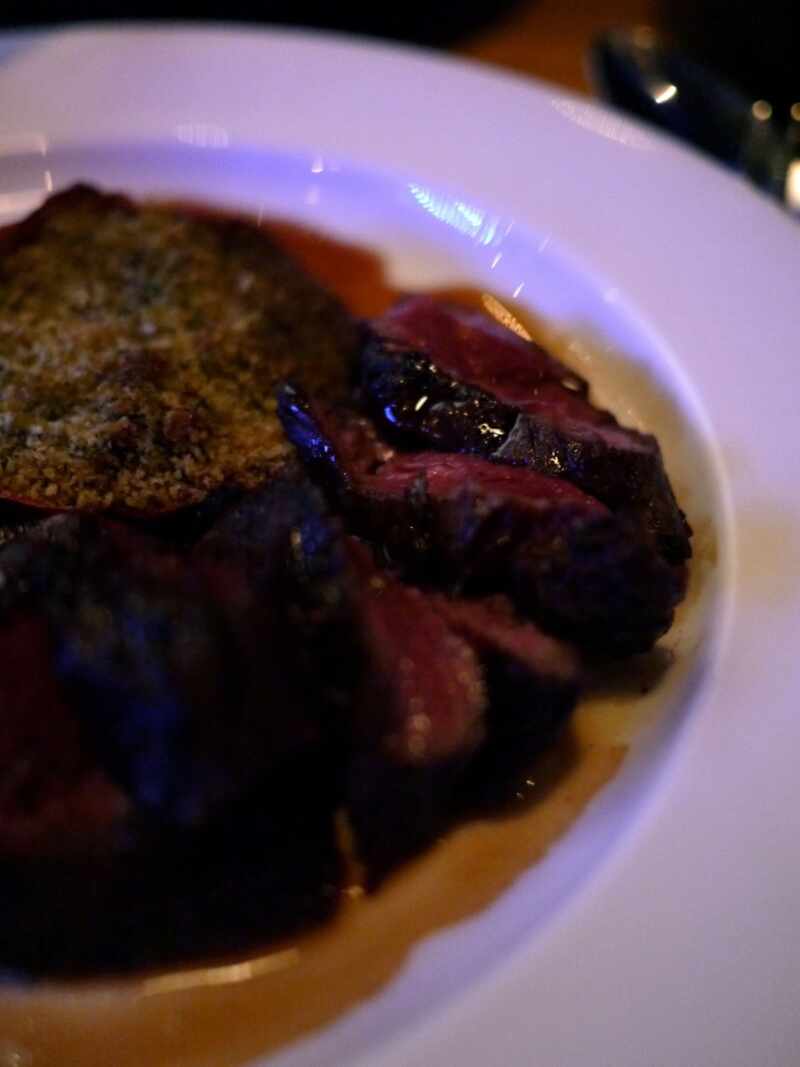 Sauce wise you can choose between salsa verde, creamed horseradish, vodka bacon peppercorn, red wine bone marrow or béarnaise
I had two on the side, salsa and marrow. Both were excellent and kept me dipping to the last drop.
Kim had soft polenta, rosemary braised wild mushrooms, braised chicken thighs & parmigiano.
Which looks and tasted like something your mum would cook you if you'd just had a terrible day.
Rich and comforting, but not much of a looker.
In an effort to appear healthy, we also shared carrots.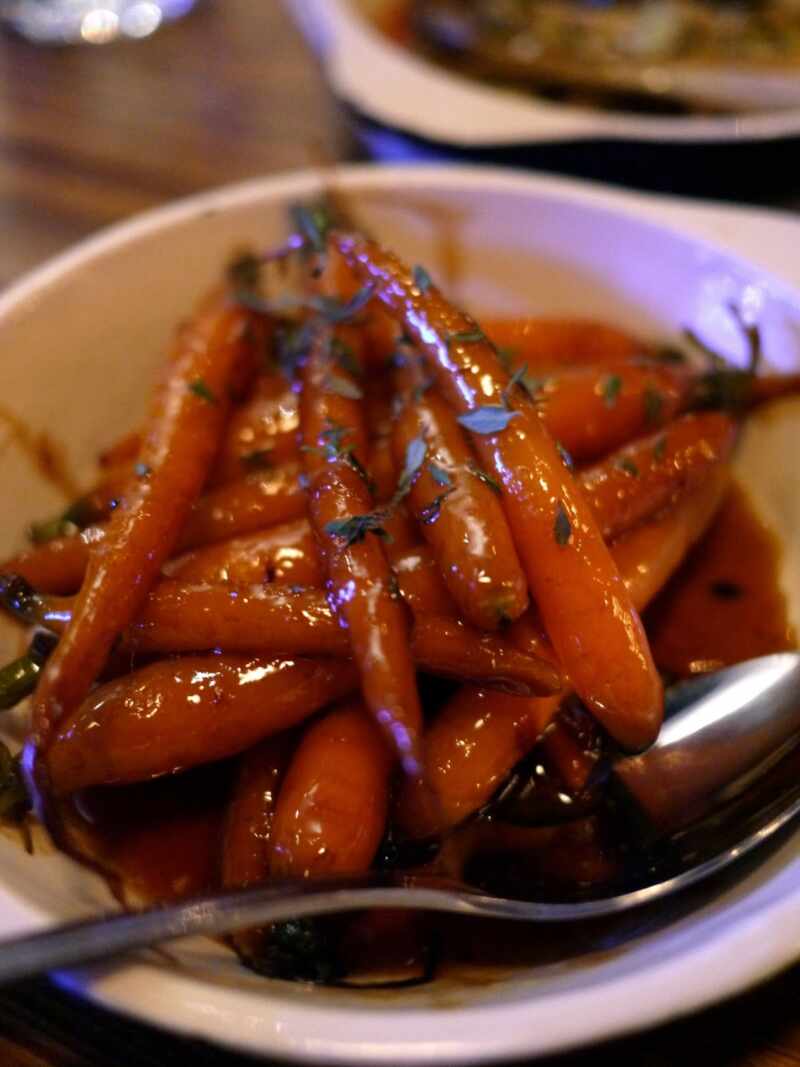 Which were glazed in honey, so probably not that healthy… but the thought was there.
Having started in jars, we decided to end in jars.
Pudding was served up by the enormously friendly Will, who highly recommends the butterscotch custard with salted caramel, chantilly cream and crushed shortbread cookies.
And the fudge brownie sundae with vanilla gelato, warm peanut butter sauce & salted peanuts.
Someone was pretty happy with our decision…
We polished off our cocktails and disappeared off into the night for a boogie.
I highly recommend Chop Shop for all serious meat fans.
They even do an "express menu" where you can have a starter, hanger steak and chips and a pudding for £22. Which I think is pretty good value.
The cocktails are great and it's perfect if you're heading out to the theatre or going dancing afterwards.
But the best part? You can book.