Birchbox were the people who invented subscription beauty boxes.
Every month they send out a box of goodies to their beauty hungry subscribers who get to try products they might not come across otherwise.
Since their New York beginnings they've inspired hundreds of business plans and ventures all over the world. In February they decided it was high time they take a slice of that glistening European market and launched in London, Paris & Madrid.
Every beauty blogger in the world knows them & I was very flattered to be asked to be one of their VIPs at Wireless festival this year.
Feeling a little under the weather (after the ball the night before) and on the hottest day of the year I dragged my behind out of bed and made my way to the KMS salon in Soho.
Here we were greeted with bucks fizz, sticky almond croissants & a whole team of stylists & therapists ready to whip us into shape, Birchbox style.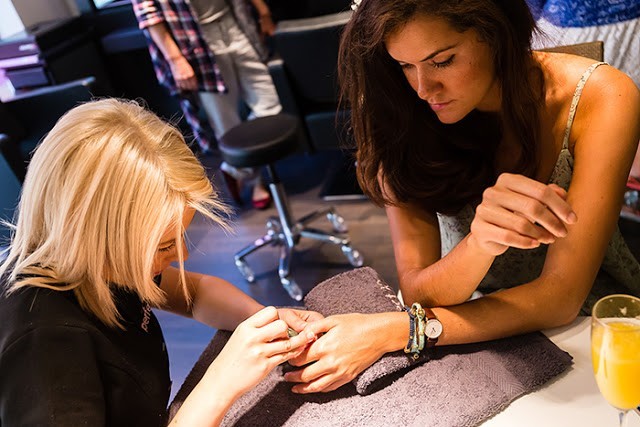 I opted to leave my hair as it was (too hot to go anywhere near a blow dryer!) and have my nails done.
We could choose from any of the colour club shades & I forced myself to go for something other than red for a change, plumping for "New York" the cream shade from the mini pack (which also comes with this peachy neon shade ). I had a smothering of cucumber sunscreenapplied by the lovely makeup artist along with some Bobbi Brown foundation and we headed off in a convoy of cabs.
When we arrived at the old Olympic stadium the blogging cameras came out straight away and the girls got down to documenting the adventure.
As a 'traditional' blogger I'm fascinated by the world of Vlogging (video blogging) and watched in awe as Lilly and Shirley did their thang…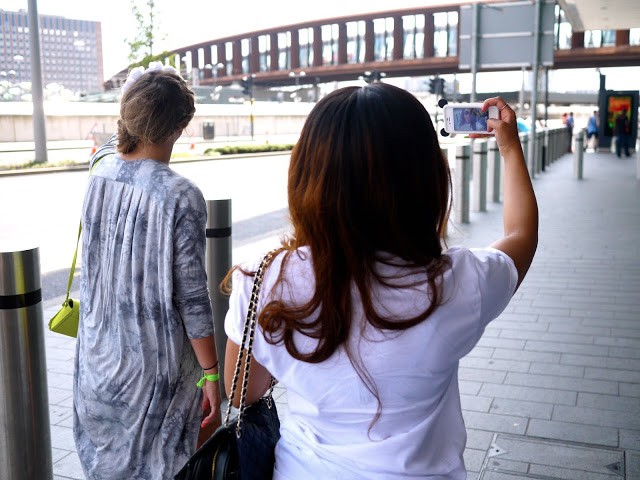 The baron landscape, empty buildings & huge spaces mean that arriving at Wireless feels a little like a zombie apocalypse. Drunken, staggering men who grunt & jeer only add to this effect & make the whole place feel a little surreal!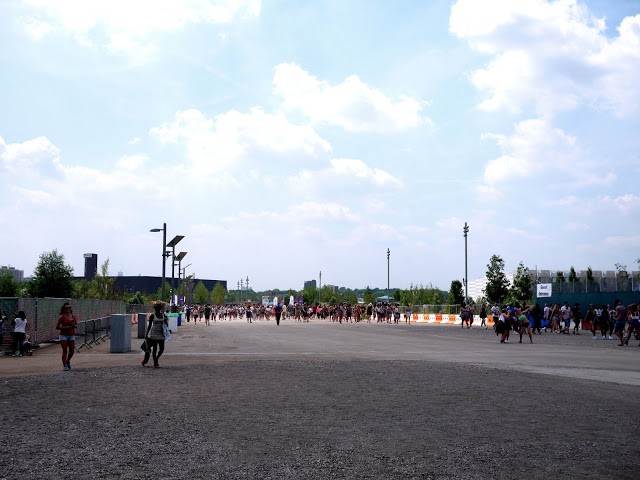 Thankfully we were able to escape the heat & were quickly whisked away to a quiet little area with shade, drinks & food.
Having powered up, we were ready to rave with the other zombies. We grabbed our drinks and got stuck in at the main stage.
[iframe frameborder="0″ height="120px" scrolling="no" src="http://currentlyobsessed.me/api/v1/get_widget?wid=29&blog=The%2BLondoner&product_ids=n_964911,n_1048332,41ef25cf71b0d13d7665bfdbf1a3952f,a763909fd6b82427440450cbc60600b2,n_1088517&rows=1&cols=5&brand=1&price=0&hover=1″ width="600px"]
I wore my floaty Nasty Gal dress, a great little flower crown I found on Topshop online, ASOS sunnies, DW watch, Elkin bracelets & Steve Madden boots.
My socks were little ankle socks that look like frogs wearing dicky bows… but that's neither here nor there.
Everyone was out in their best boho finery.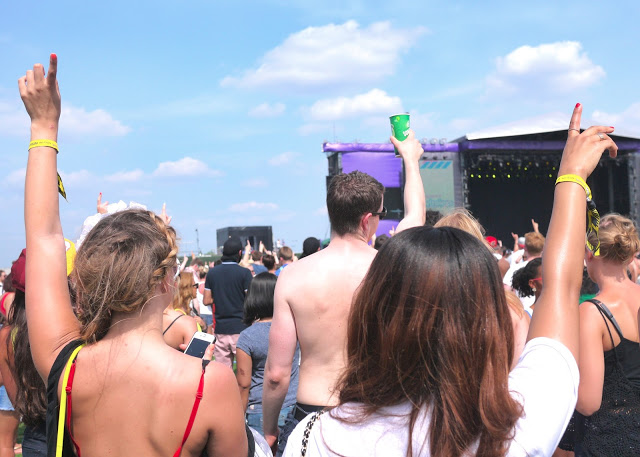 I for one was very grateful for a backless breeze!
The line up was amazing. We were treated to Jay Z, Justin Timberlake, Rihanna, Emeli SandĂŠ, Rita Ora, Kendrick Lamar, Miguel, Macklemore, Earth, Wind & Fire… and that was just the main stage! I've never done Wireless before, being somewhat of a Glastonbury baby growing up I've always been pretty loyal… but I would absolutely do Wireless again next year. I also really didn't think I was a beauty box kinda girl but I have to admit I've been converted by the goodies Birchbox send out every month. It's well worth a look if you're a total beauty addict or just someone (like me) who just doesn't know where to start when faced with a beauty hall!