Last night was the last episode of Game of Thrones (this season, not ever. Breathe!).
I had an old work friend over to watch it with me, and I had promised him supper.
In order to be give my full, undivided attention to GoT I needed something quick, simple, utterly delicious, and shareable. Minimal washing up was also a priority.
My old favourite spiced tomato & pancetta clams were the clear choice.
1 pot for cookin'.
1 pot for servin'.
Done & dusted in under 10 mins.
Hot, rich, decadent and just a little bit lazy. The perfect TV dinner.
The sauce makes this awesome soup, perfect for mopping up with big hunks of crusty bread.
To make enough for two you'll need: 2 big scoops of fresh clams, (put them straight into salted water when you get home & they'll release any grit they're holding on to) 2 cloves of garlic, crushed Splash of olive oil 1 big handful of chopped pancetta (if you're pork/meat free you can always leave this out. It's still great without) 2 red chillies, chopped 1 glass of white wine 1 can chopped tomatoes 1 handful chopped parsley Juice of 1 lemon Heat a large saucepan on a medium/high heat. Once it's good & hot add your olive oil followed by the garlic, pancetta & chillies. Cook until the garlic just begins to turn golden & the pancetta browns. Throw in your clams, wine, tomatoes & parsley. Cover with a lid & swirl it all around together. Keep it cooking for about 5mins, or until the clams have almost all popped wide open. Squeeze in your lemon & pour into a serving bowl (or just pop onto the table in the saucepan if you're feeling rustic).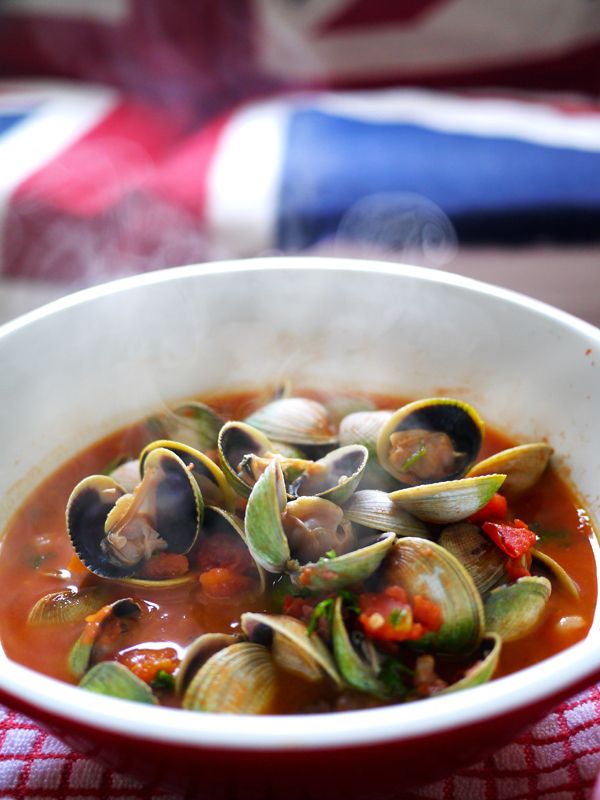 Serve with a loaf of tearable (not terrible) bread & dive in. Discard any unopened clams as you go.
Dunking absolutely compulsory.
Try not to get over excited & burn your fingers.
Unless you're Daenerys Targaryen, in which case you can probably jump right in… Khalessi.